Why Jaipur is famous as the Pink City of India?
Jaipur is popularly known as the Pink City of Rajasthan, which is not only Pink but also the most colorful city of India. The city is the mixture and combination of Indian culture and modern experiences. Jaipur is probably the first planned city of India. It was planned to design in Pink color, as the color signs for hospitality. The city is known to give an unending experience to the tourist as well as the localities.
Pink city has its own vibes and flavors which blends to perfection and brings a completely different exposure. Jaipur is all about forts, museums, food, monuments, shopping and many more things. As a tourist or a newbie in the city, it is always considered to explore the city as a local but in the end, it becomes too messy.
Why Jaipur is known as the Pink City?
The moment you arrive in Jaipur you will witness that the walls of most building are painted in "pink" terracotta color. The color resembles the city's heritage and culture. Going back in the history, when Maharaja Sawai Ram Singh was in power and when Prince Albert came to Jaipur during the India tour in 1876. Maharaja wanted to impress the Prince and hence, he planned an extreme strategy.
Maharaja constructed a large concert hall and named it after Prince Albert Hall Museum. Then, he decided to repaint the entire city for beautification and chose terracotta pink for the same. The color was durable in all weather conditions.
The color represents hospitality. The queen of Maharaja Sawai Ram Singh loved the color and asked the Maharaja to make a law that every house in Jaipur should be pink in color and use of any other color is illegal. The law was passed in the year 1877 and it is effective till today.
Pink city has its own vibes and flavors which blends to perfection and brings a completely different exposure. Jaipur is all about forts, museums, food, monuments, shopping and many more things which makes it the most memorable trip in the Pink city..
Things to do in Jaipur – the Pink city of Rajasthan
1. Hawa Mahal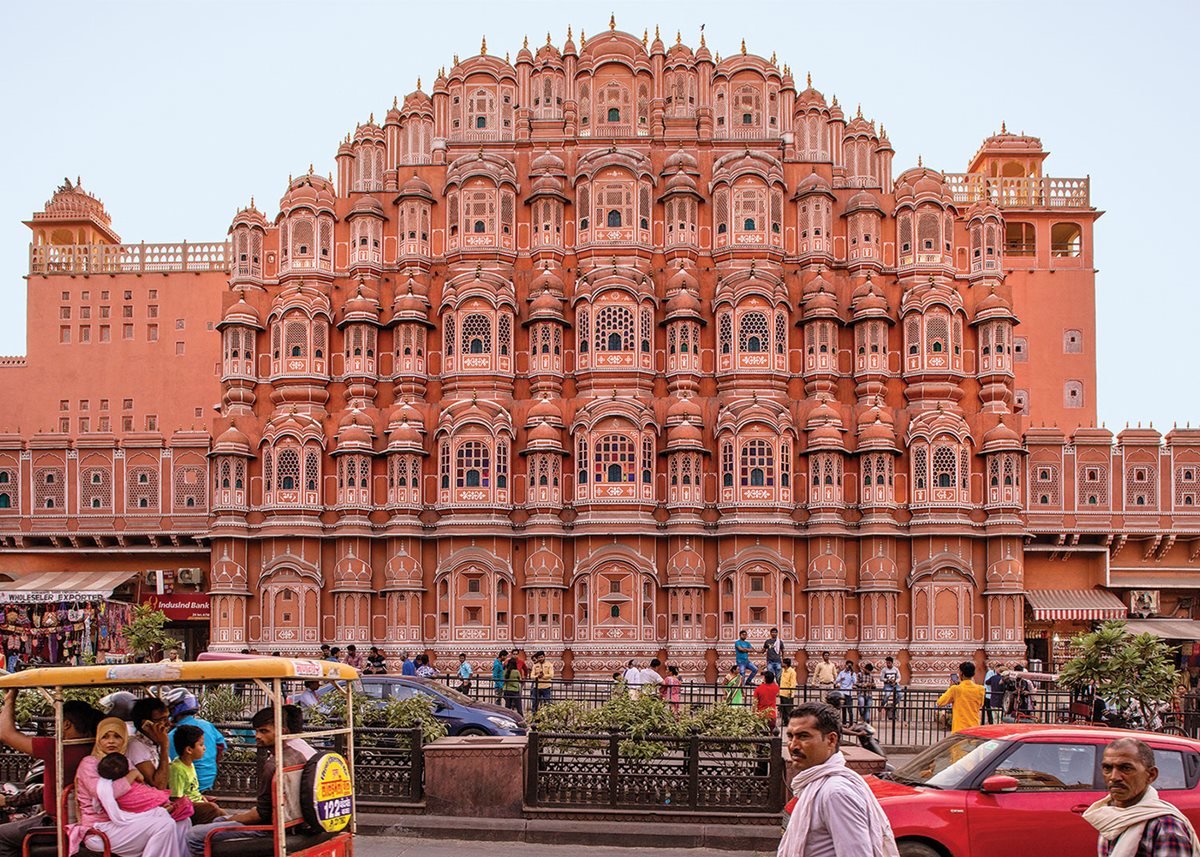 Hawa Mahal is the perfect blend of Rajput and Mughal Architecture, built by Maharaja Sawai Pratap Singh in 1799. The Hawa Mahal was built for the royal women to enjoy festivals and events. It is made of beautiful pink and red sandstone.
The structure is in such a way that royal women can enjoy the street view and city life without coming in the sight of the public. Its shape is like a crown of Lord Krishna which has 953 jharokhas also called as windows in a five-story building. This makes it a must visit place in the pink city.
Read more – Hawa Mahal in Jaipur – A Complete Travel Guide
2. Jal Mahal
Jal Mahal, as per the name suggests is the water palace in Jaipur. Its tropical architectural style with a mixture of Rajput and Mughal structures are just amazing to the human sight. It is located in the middle of the Man Sagar Lake and it was built for the royal family to go on a summer gateway. It is best to visit Jal Mahal when it is raining, It looks dreamlike and breathtaking under the night sky.
3. Amer Fort
One of the most famous forts & palaces to visit in Jaipur. The Amer fort is located on a hill.  In the olden days, the Amer fort was a strong defense around the city. The Indian and Mughal blend of architecture is immensely beautiful. It is said that even the attackers did not want to destroy it. When exploring this place, surely experience the light and sound show which presents a rich history of this fort and city.
Best part at Amber Fort is to witness a Kathak performance on a full moon night. The event takes place at Deewan-E-Aam of Amber Fort. The fort is a combination of Rajput and Mughal architecture.
Read more – Fascinating Elephant Ride In Rajasthan
4. Nahargarh Fort
Nahargarh fort beautifully displays the unique blend of Indian and European architectural style. Another uncommon feature of this fort is that the Madhavendra Bhawan had 12 similar suites for queens. Its construction was done in such a way that the Maharaja was able to visit any queen's suite and none of the other could acknowledge it. The fort's roof has a restaurant, which is a beautiful place to witness with a chilled beer and it's alluring city view from the top.
5. Shopping in Jaipur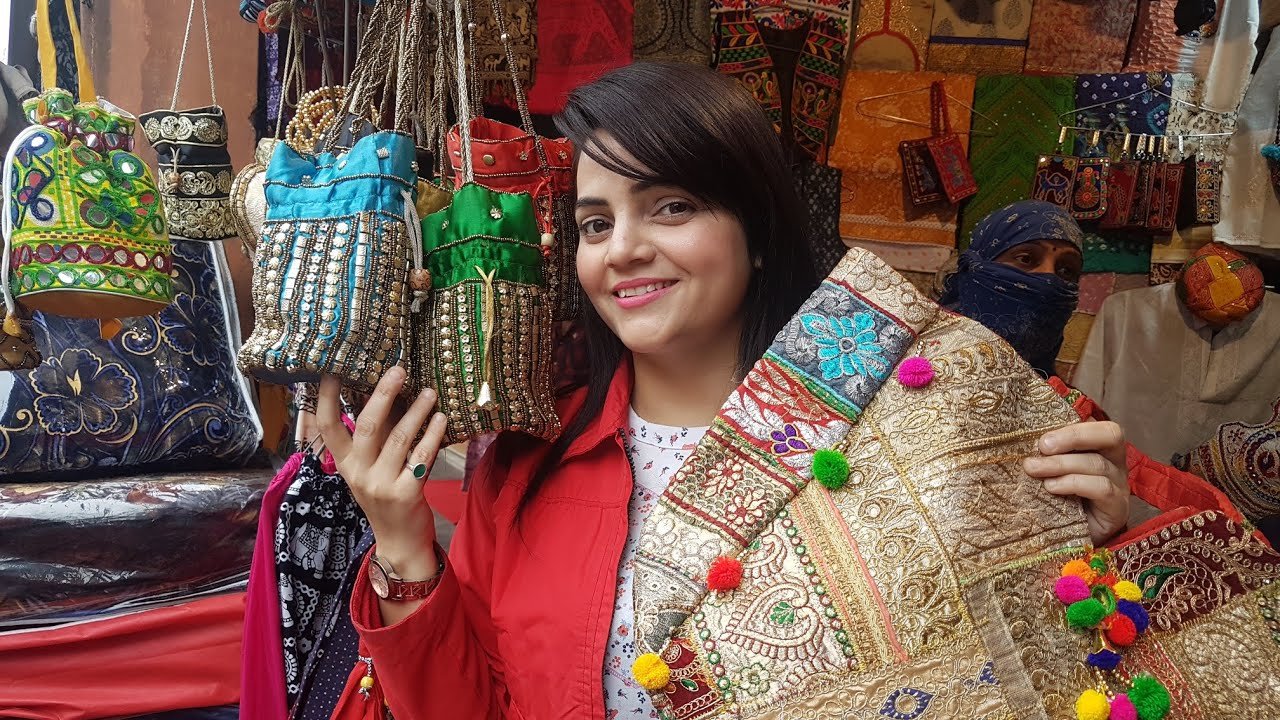 If you are in Jaipur and you do not explore shopping then it can be the biggest misfit. When passing through M.I. road stop by the Rajasthani Handicraft Emporium, a brand by Rajasthani government to promote handicrafts. It exhibits terracotta pottery, paintings, silver and lac jewelry, and Kota Doria sarees and other such amazing Rajasthani handicrafts.
Local specialties like leheriya dupattas and sarees or traditional tie and dye clothing can be reached out in Chaura Rasta and Bapu Baar.
World Trade Park is an interesting blue glass building which looks like a corporate building but it is a shopping mall and has an English theme food court and other brand stores in it. Check the link for best places for Shopping in Jaipur. 
6. Chokhi Dhani
If you are looking forward to experiencing the Rajasthani culture, Chokhi Dhani is the place. It has the energetic ambiance of Rajasthani village where one can explore the magic show, puppet show, folk performances, camel rides, elephant rides and much more activities with authentic Rajasthani food. Chokhi Dhani gives a nice break from city life to homely rural life.
Explore more about Chokhi Dhani Village – Rajasthani Culture And Cuisine
7. Food exposures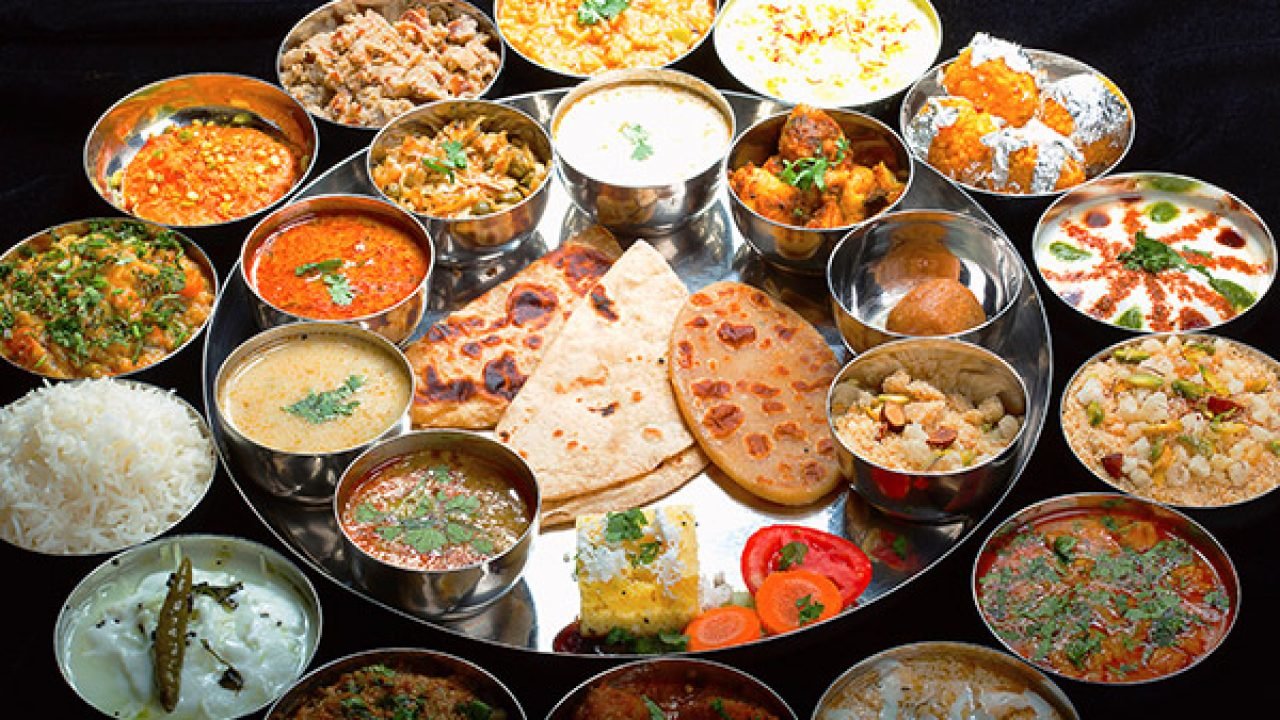 Food is another specialty of Jaipur. Indian Coffee House situated at M.I. the road brings the perfect picture of olden days of coffee. The days when intelligent and brainstorming discussion were discussed over a cup of hot coffee. A perfect place to relive those times.
Try some famous Restaurants of Jaipur. 
A must try things in Jaipur is Jaipur ki kachori famous at Lakshmi Misthan Bhandar in Johri Bazaar and Doodh Mishthan Bhandar in Lal Kothi.
Aunty's cafe is the oldest street food cafes in Jaipur.
Also, especially all the ladies out there, do visit Poochka & Company to satisfy your taste buds with Pani Puri in 20 mouth watery flavors.
The most amazing thing to not just try but surely have is paan by Annu mobile paan bhandar in Raja Park.
Read more about – Top 15 Rajasthani Foods to try when you are Travel in Jaipur
8. Heritage Hotels
When exploring Jaipur, why not live a king? Yes, this can be done with cities various heritage hotels. One can experience history and royalty in the most remarkable way with royal architecture, courtyards, royal structures, and green gardens. Thus pleasure the king inside you with staying at the heritage hotels of the pink city.
Here are the few reasons Why to Visit Jaipur?
9. Ranthambore National Park
Ranthambore National Park was the hunting ground of the Maharajas of Jaipur. One can spot tigers, bears and go on bird watching tours to get your adventures self out. Also, Dastkar Craft Centre has a nice collection of handicrafts to buy. Hence, Jaipur visit is incomplete without Ranthambore National Park.
Distance between Jaipur and Ranthambore National Park is about 180 km. Ranthambore is famous for its wildlife tours and exploration of flora and fauna.
10. Hot-air Balloon Safari
Not only the lands of Jaipur has to offer you but also the sky of Jaipur has to offer the most extraordinary experience to you. Jaipur has hot-air balloon safari to take the fascinating view of the forts & palaces and entire Jaipur city with its colors.
Read more – Top Destinations to Enjoy Hot Air Balloon Safari in India
11. Raj Mandir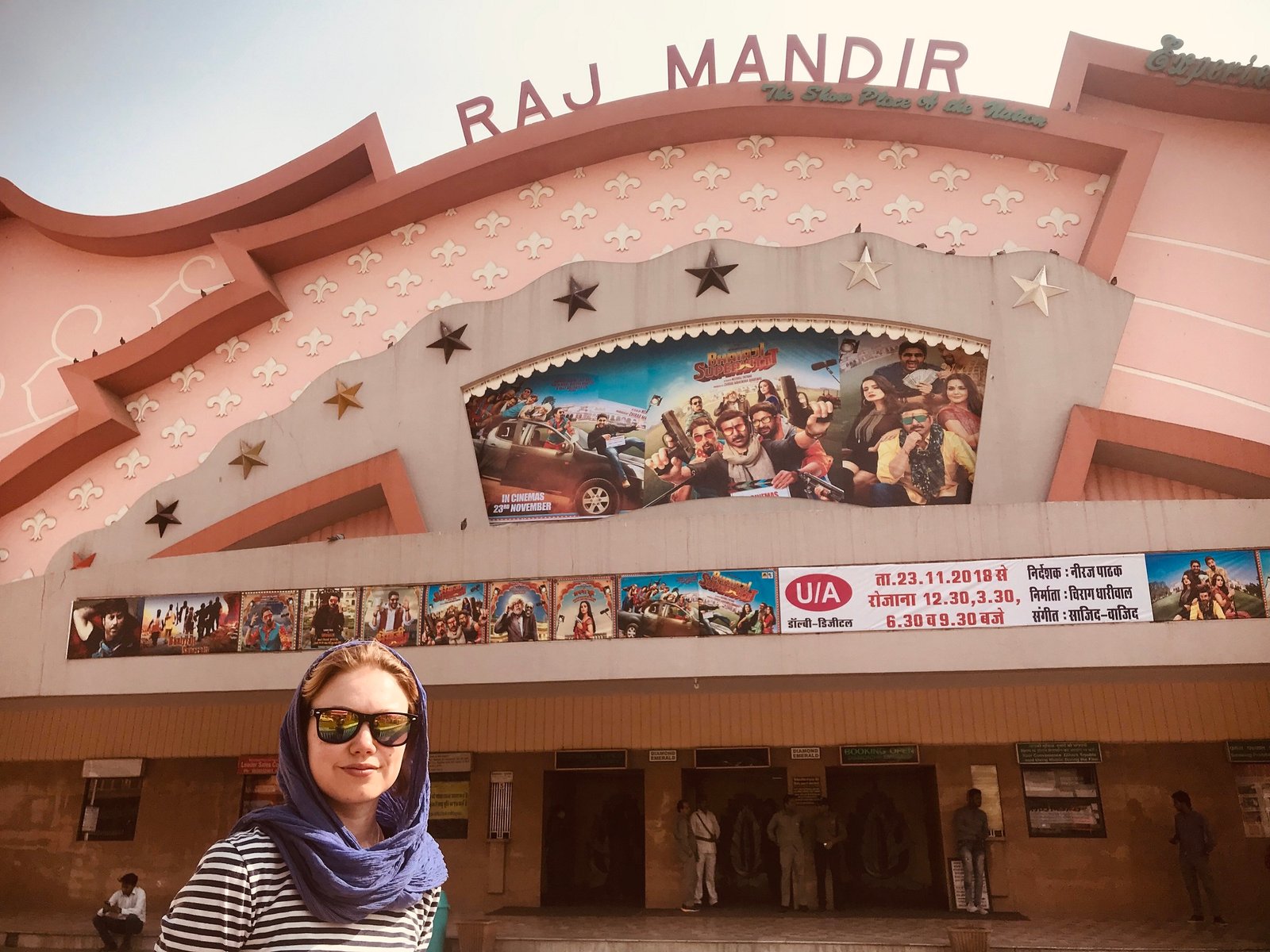 Raj Mandir is a historic movie theatre in Jaipur. The theatre has been hosting movie premiers over the years. It's interesting interior and meringue like shape is a place that needs to be visited a witnessed.
12. Jantar Mantar
Jantar Mantar is an astronomical observatory founded by Maharaja Jai Singh II. Day and month were detected with the help of the astronomical device found here following the shadows and the position of the sun. This is declared as a UNESCO World Heritage Site.
13. Jaipur Literature Festival
Apart from forts, Museums, and markets, Jaipur is also known for its yearly literature meet up. Every year mostly around January, the country's biggest literature festival is organized – Jaipur Literature Festival. Here giant literature experts meet and celebrate the literary works.
Explore famous fairs & festivals of Jaipur. 
14. Statue Circle Garden
Statue circle garden is the perfect place to get your lazy evenings out with a breezy leisurely walk in this garden. As it is in the heart of the city, one can enjoy sighting the city and enjoying the watery winds passing through the fountains. Also, it has a small dairy at the corner selling delicious coffee in Jaipur, just grab a glass of thick coffee topped with ice-cream, chocolate syrup and lots of chocolate chips making it perfect.
15. Birla Mandir
Birla Mandir is located on the foot of Moti Dungari hills. The beautiful structure was built using night glowing white marbles, making it a masterpiece of art. The place is soothing and with beautiful vibration a perfect place to calm yourself.
16. Jawahar Circle Garden
Asia's largest circle, and to stroll in Jawahar circle garden is the most relaxing thing to do in Jaipur. It has a rose garden, jogging track, a musical fountain, food joints and a lot more things to explore.
17. Cultural Attraction
The theater is an inevitable part of the Pink city. Ravindra Manch is one of the oldest theaters in Jaipur and hosts cultural activities in the city. Also, Jawahar Kala Kendra is a must visit place for art lovers. Art and culture related plays and cultural festivals are running all through the year.
18. City Palace
The City Palace located in the city. While exploring the palace do find two huge silver urns. They were made by Maharaja Sawai Singh II to carry drinking water of Ganga river while his visit to England. Also, do visit popular Govind Dev Ji's temple. As per the belief, it is said that the image of Lord Krishna is the same as how he used to look while his reincarnation on Earth.
19. Cycle City Tour
Something new to the city flavor is exploring the city while cycling. Cycle in Jaipur and Virasat Experiences gives you a bicycle to help you experience the Pink city in the most different way.
Here are the basic Jaipur Travel Information
The above-mentioned list of activities are the best things to look forward to Jaipur the Pink city. So pack your bags and travel to Jaipur – Jaipur calling.
Frequently Asked Questions about Jaipur
Q. Which are the famous local cuisine of Jaipur?
A. Famous local cuisine in Jaipur are dal Baati Churma, Ghevar, Laal Maas, Pyaaz ki Kachori, Mirch Vada, and Gatte ki Sabzi.
Q. Which are the famous restaurants of Jaipur for Rajasthani traditional cuisine?
A. Famous restaurants of Jaipur for Rajasthani traditional cuisine are Suvarna Mahal, Cinnamon, Chokhi Dhani, Shri Thaal Village, Shri Panch Bhog, and Surya Mahal.
Q. What is Jaipur famous for?
A. Jaipur is famous as Pink City of India and it is also the Capital City of Rajasthan. Jaipur is famous for Rajasthani traditional Jewelry, traditional fabrics and handicrafts, and also for traditional rajasthani cuisine.
Q. Which are the popular luxury resorts and hotels in Jaipur?
A. The Oberoi Rajvilas, Jai Mahal Palace, Rajasthali Resort and Spa, Rambagh Palace, Le Meridien and Hotel Clarks Amer.
Q. Which are the famous palaces and forts in Jaipur?
A. Jaigarh Fort, Nahargarh Fort, City Palace, Jal Mahal and Amber Fort.
Q. Which is the largest fort in Jaipur ?
A. Jaigarh Fort is one of the largest fort in Jaipur.
Q. What is the best time to visit Jaipur?
A. Best time to visit Jaipur from the month of October to March. This is the ideal time for sightseeing.
Q. Which are the famous museum of Jaipur ?
A. Albert Hall Museum, City Palace Museum, Doll Museum, Jaipur Wax Museum, and Anokhi Museum of Hand Printing.
Suggested articles-