Rajasthan Hot Air Balloon Safari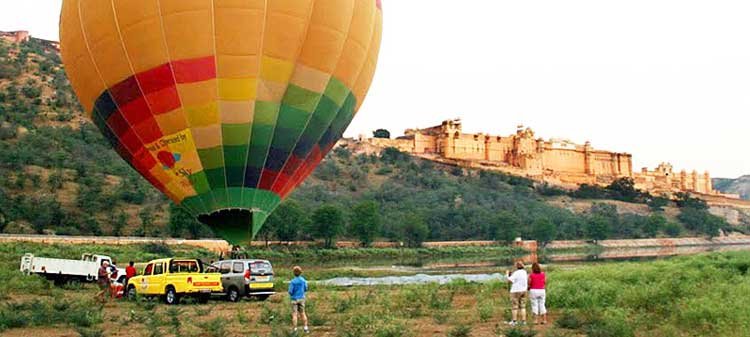 Rajasthan is an attractive tourist destination. There are several cities in the state that attract tourists for various reasons – camel rides, elephant rides, colorful culture, shopping, trade fairs, and of course the magnificent forts and ancient palaces. However there is one more exciting reason to look out for when you visit Jaipur, the Pink City. This capital city has exciting hot air balloon rides and is an experience to remember forever. The best part is that you can get an aerial view of the magnificent landscape below. One such kind of adventure sport that the capital city of Rajasthan is famous for is the – Balloon Safari.
It is a truly amazing experience to view the fabulous city of colors, the Pink City and ancient palaces from above. Not only can you enjoy the ride, you get an aerial view of the entire city from above. Take away an adventurous experience to remember forever.
Where to Experience Balloon Safari in Rajasthan?
The magnificent Amber Fort is a world famous tourist destination. This is where the hot air balloon safari is organized. At times the start location will be changed based on wind conditions. The pilot will decide based on weather conditions taking scare of safety of passengers onboard. The duration is 1- 3 hours long. Passengers remain standing throughout. The weather at this place generally is stable and smooth which is ideal for Balloon Safari.
Important Facts to Note / Things to know before you go on your next Balloon Safari:
It is necessary to organize balloon safari by observing the wind conditions in the region. So these are generally a couple of hours prior to sunrise/ sunset as the winds are ideal at this time. The weather is ideal for smooth rides which are 5.30 am / 4 pm. Based on wind conditions the balloon rides are cancelled at times but chances are more at noon.
Though the ride is one hour formally, it is better to keep aside at least 3 hours of your time. This includes inflating, gearing up, duration of flight ride, etc. Generally, it takes around three hours in duration. The balloon flies as high as up to 1200 feet above ground level. However, it all depends on weather conditions, topography to fly at a particular altitude.
There are some requirements taken into consideration like height, age of the individual who is on flight etc. Although there is no age bar, kids less than 5 years are not allowed to alight. Moreover any kid or adult should be a minimum height of 1.5 meters.
Those who are weak or have fear of heights may not want to alight as you have to remain standing throughout the flight. On a single ride there are a total of 4 -5 members on flight. Pregnant women are not allowed to fly the hot air balloon for safety reasons.
If there are cancellations then passengers are notified about it prior to the Balloon Safari Start. However, cancellations are few. So the next times you plan a trip to Rajasthan do visit the Hot Air Balloon Safari for a truly amazing experience. Hope the above facts will help you plan your trip in advance so you take care before the Balloon Safari.