Top 10 Reasons to Visit Kutch Rann Utsav 2021- 2022
Rann Utsav is a cultural fiesta began as a 3 day festival over a decade ago by Gujarat Tourism initiative. It is now one of the biggest and longest carnivals to celebrate in India. It is spread over a vast area of almost four soccer fields.
There are indoor games, outdoor activities, camel rides at the beaches, cultural activities, folk dance performances, and various tent accommodations available for all your needs.
Rann Utsav Festival Date – Nov 12th, 2021 to February 28th, 2022
The daytime temperature is at times 49 degrees and nighttime is below 3 degrees. There are a large number of visitors visiting this 3 month long festival for several reasons.
"Kutch nai dekha toh kuch nai dekha" is not said for no reason at all!Here are the top reasons to visit Great White Rann Festival 2021-21.
1. Witness the Full Moon reflecting in White Sands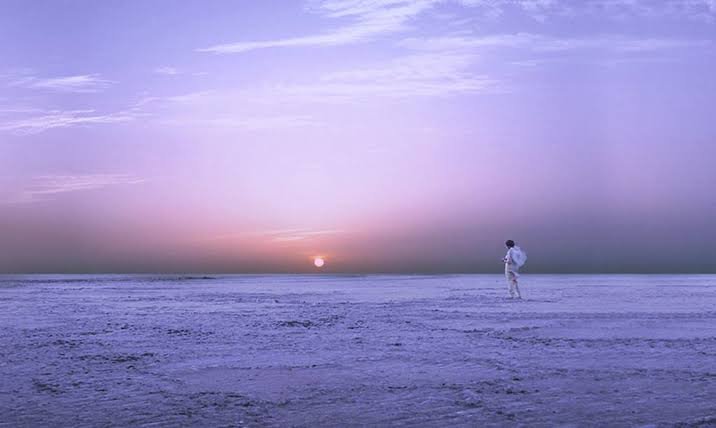 It is such a mesmerizing sight to watch the reflection of the white full moon on the white spread of sand in the Rann of Kutch. Check the full moon dates and book your holiday in advance so that you can witness the great white desert in all its beauty on a full moon night.
Spend the night watching the moon, the white sand turning into snow white beauty and the lights of surrounding Rann Kutch Utsav shimmering around you.
Read more – Top Destinations in India for New Year Party 2022
2. A Birds' Eye View of the Great Rann of Kutch
You would have such an amazing experience to get an areal view of the world's largest salt desert. This is also for the adventure freaks who would like to take a ride in a hot air balloon ride that overlooks the various shades of the salty sand desert.
You will surely enjoy the view from such a great height and feel like a flying bird watching down across the large spread of white wilderness of Rann of Kutch.
Read more – Christmas Celebrations in India
3. Enjoy the Best Outdoor activities and Adventure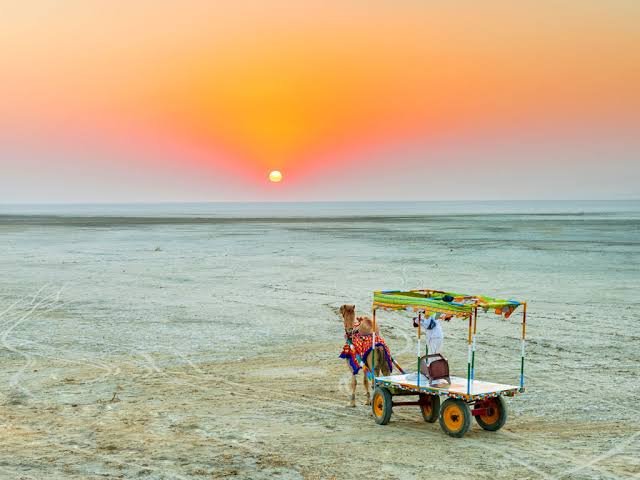 There are various type of outdoor activities that the participator can take part at the Rann of Kutch. Many confuse the outdoor activities with adventure activities but here there are unique kinds of entertaining activities for all ages and is great for a family time.
This includes Star Gazing, Paint Ball, Trikke Riding, exploring the place by a segway, and riding in the ancient style of desert transportation – the camel. There are also adventure sports including para-motoring, ATV mean machine riding, rifle shooting, archery, bicycling etc.
Read more – Famous Festivals and Event in December in India 2021
4. Visit the Beaches and Seashores of the Arabian Seas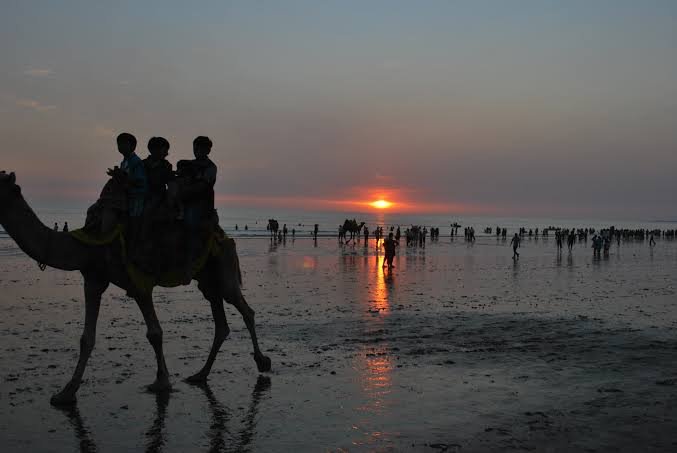 The areas around the Great White Desert of Kutch also have some white sea shores and beaches. You can see camels decorated and carrying people on top of them for a beach ride at Mandovi Beach. There are tangy snacks especially the famous Kutchi Dabeli that originated here.
There are water sports conducted here and you can also go for swimming or even horse riding on the beach. The view of the sunrise and sunset is such a mesmerizing sight you cannot forget.
Find boats of all shapes and sizes made here as this is a prime region for the shipping industry for over 500 years. You can also visit the wind farms close to the beach that makes the sea beaches of Mandvi city more beautiful.
Read more – Famous Festivals and Events Celebrated in January in India in 2022
5. Learn and explore the Art and Crafts of the Local Villages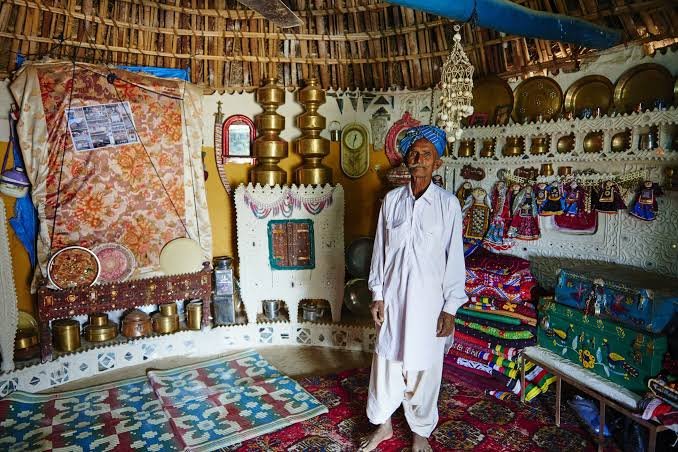 There are surrounding villages near Kutch including Gandhi Nugam, Bhirandiyra, and Khavda famous for the exquisite fabric and textiles. See how this textile industry makes the fabric in the market.
Visit these villages so that you can also purchase these handlooms and handicrafts at reasonable prices. It is an amazing learning experience about the art and craft industry and textile industry for the visitors.
Several talented artisans with great skill from the above mentioned villages also organize workshops where you can learn, see and purchase these amazing things from Rann Kutch Festival.
6. Visit the historical palaces of Prag Mahal and Aaina Mahal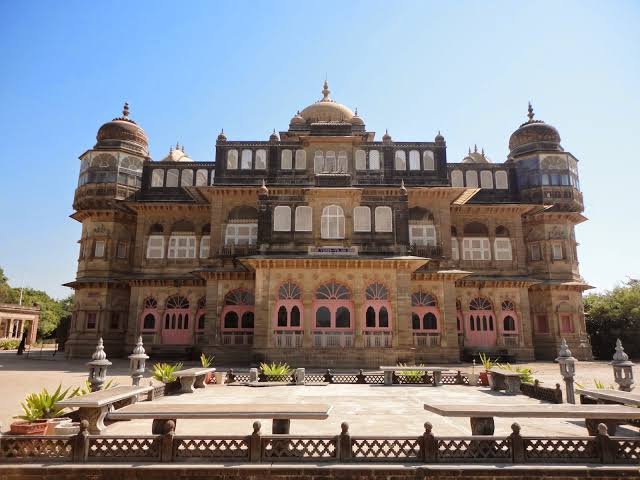 These amazing palaces are preserved thorough centuries and even the earthquake of 2001 where the region was shaken. It was then re-done so that visitors can see it once again. The two palaces are situated within the same plot of land.
Aaina Mahal is a place constructed with shining glass, smooth fine tiles and aesthetic antiques that makes it a dream palace – how the king ordered them to be built. It is called appropriately 'Aaina' meaning glass.
The Prag Mahal is famous for the walls ornately carved out. There is also intricate jaali work done on the windows of this palace. It is a great architectural marvel you have to see when you visit the Rann of Kutch Festival 2021-22.
7. Witness the ruins of one of the World's first Civilizations
This is a great place for learners, scholars, and history buffs. You get to see one of the oldest civilizations in the world. The ancient civilizations of Dholavira shows the planning of the city infrastructure, carvings and remains.
You can also see the metallic materials found there. This is one of the places to find the ancient artifacts, objects, and planning of one of the oldest civilizations in the world.
8. Taste the Authentic Kutchi cuisine and Winter Specials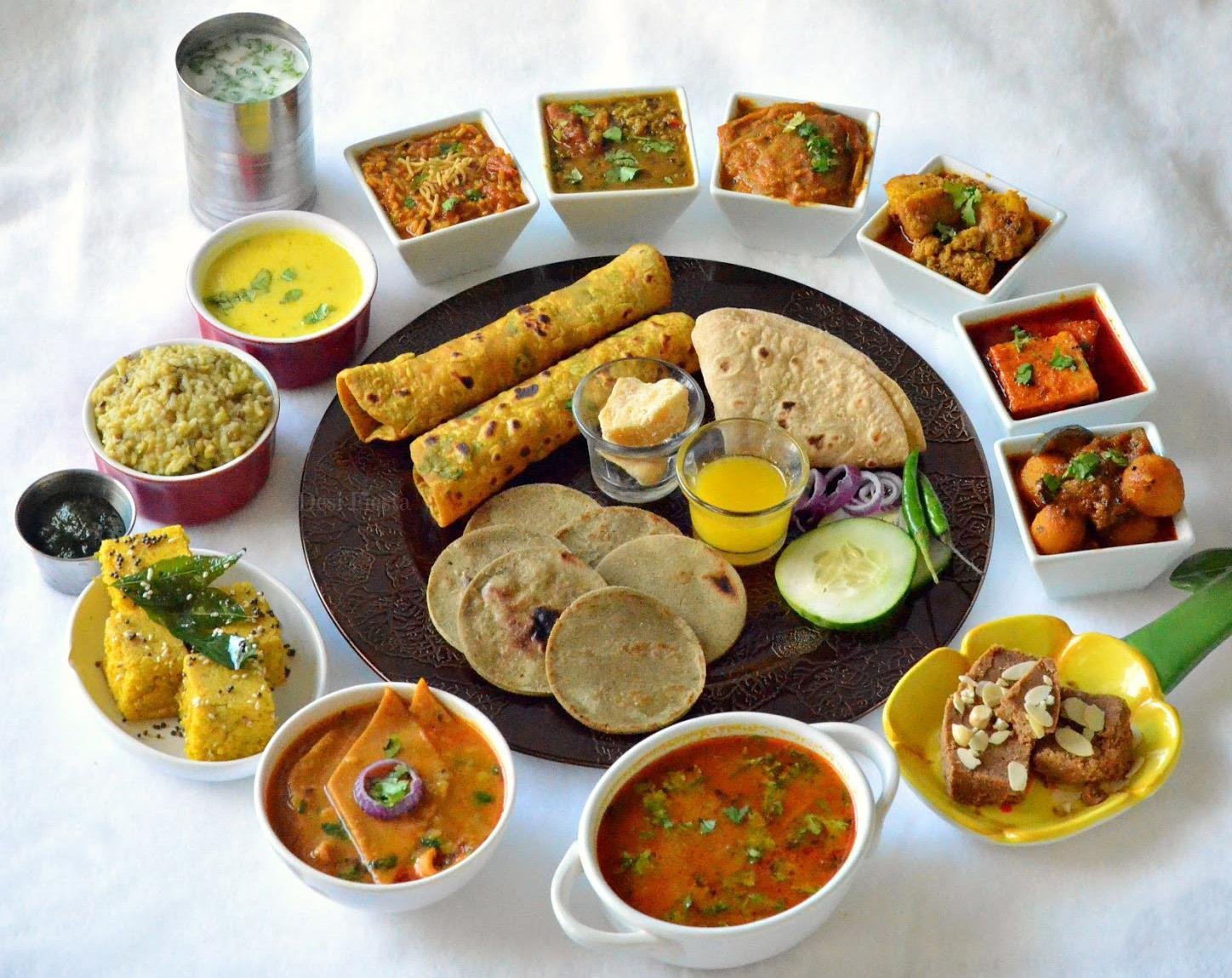 India is a country well known all over the world for the warmth and hospitality offered traditionally. Kutch is an amazing city where you can experience this especially in the winter special recipes served with love and warmth. Some of the unique and delectable gastronomic delights include Kadak Roti, Bajri, Chhas liquid with Khichdi, and not to mention the tangy Dabeli.
A meal is complete with a sweet tangy betel leaf supari to get a sweet taste in the mouth. Some of these delicacies are offered specifically during the cold winter months while the festival of Rann Utsav 2021-22 is on. There are two dedicated fully air-conditioned massive halls for scrumptious Kutchi food.
In addition, there are also food stalls that offer food around the clock or at night for those who get hungry during night.
Read more – Top 10 Cities of India that is famous for its Food
9. Spot Rare Migratory Birds and Wildlife at Kutch
There is amazing flora and fauna which is a rare gem in this white desert wilderness. The land gets marshy and you can find raptor bird species in the wetland of Kutch. Spot the various species of eagles and falcons, great Indian Bustards, Houbara Bustards and Floricans. There is also scope to spot the wild ass in these wet grasslands.
Moreover, during the months of March – October the Rann of Kutch tourism also organizes a massive gatherings of various birds species. However, it is also dried up utterly during October – November when the Rann Kutch Utsav starts.
The wetlands dry up and you can only see the white sands that look like snow. The birds and animals migrate to other places for hydration. So, if you visit the Rann Utsav during January – February then there is more scope to spot wildlife.
Read more – Top 10 Wildlife Destinations for Luxury Vacation in India
10. Shop Until you Drop at the Rann of Kutch Utsav 2021-22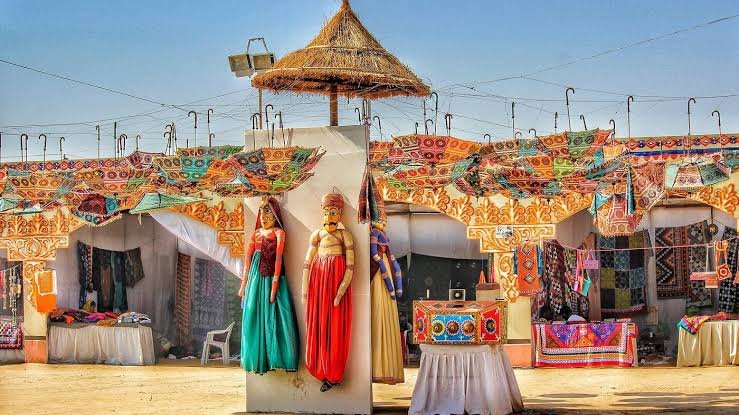 When you visit another place there is always some souvenirs to shop for from there. So, here too you will find distinct products to shop for and carry home. Females would want to shop for the fashionable cholis or blouses or scarfs /odhnis to cover the head and protect from the sun.
These are done up with mirrors and sequins and look like traditional party wear. There is also warm clothing to shop here as nights are freezing cold. This includes Abha, Khanjari wear and also Shawls with embroidery work. There are also junk jewelery and ornaments in big numbers.
Other great things to shop for include Gold and Silver chunky jewelery, famous Bandhini sarees or dupattas, Lacquer, Ajrakh Block Printing shawls, copper bells, and a famous local art work known as Rogan Art done with Oil Paints.
Famous Marketplaces in and around Kutch include:
Rainbow Textiles, Ganghara
Khamir Crafts Stores, Bhuj
Aslams Collections Bhuj (outskirts)
Shrujan – Thread of Life
Bhandini Bazaar
Roopali Handicrafts
Read more – A Complete Travel Guide for Shopping In India