An Exhilarating Trip to Ladakh and Kashmir
The high hills, heavenly atmosphere, clear skies and blue waters of Ladakh and Kashmir complement its name as the Paradise on Earth. Unleash your adventurous soul at the undulating land and the sloppy mountain ranges of Kumarakom and Himalayas. As you relish steaming hot butter tea at one of the highest peaks of the world, the panoramic view of green valleys the floating clouds just above you are some of the best gifts of your life.
1. Trekking at the mysterious hills of Ladakh and Kashmir
Where after every few miles there are steep hills and twisted pathways, there can be no better option than trekking to enable a hassle free exploration of the land. As you trek through the Lamayuru to Darcha trek, you come across several colourful and heritage monasteries of Ladakh, which are treasures of rare manuscripts, old statues and artefacts, exhibiting the blend of India and Tibetan cultures. Lamayuru, Phutkal and Lingshet are some of the distinguishing monasteries here. The Ripchar Valley trek takes you through the mystic Zanskar Valley. The small hamlets here offer you nice home stays, where you can wake up to the tweets of numerous birds and fragrance of bright flowers.
You can also check some important travel tips of Ladakh 
Explore: Top Tourist Attractions and Things to Do in Nainital, Uttarakhand
The trek through Zanskar Valley is a thrilling experience and a challenge to the trekkers. Besides the arresting beauty of nature, you also get a chance to step at the defence land of India, Kargil. If you want to unravel the hidden gems of nature, you must not miss a trek from Markha Valley with Stok Kangri climb. This is one of the most difficult trekking pathways of Ladakh that takes you through an additional pass of 4900 metres. Get the rare experience of trekking over a river; the Zanskar river frozes during the chilly winters and trekkers enjoy sliding through the glacial river under negative temperature.
Read more:- Travel Guide to Discover Pangong Lake in Ladakh
2. Adrenaline boosting sports of Ladakh and Kashmir
Archery is one of the traditional sports of Ladakh and Kashmir. Archery festivals are held at the villages of the snow land, where you can witness men and women in costumes and heavy jewellery attending the game. The archery festivals at these hamlets are a grand affair, often accompanied by surna music and drum beats. Be a part of this sport here not only to learn unique tricks of archery but also to enjoy the local festivities in the local way. Polo, another traditional sport of the region is a royal game. Special Zanskar ponies are used to play the fast and furious game of polo at the green valleys of Ladakh and Kashmir. Local delicacies and drinks are inevitable parts of these sports. The sandy valleys of Diskit also offer adventure lovers fun rides on two humped camels. If you are looking for a nomadic lifestyle, explore the deserts of Ladakh and Kashmir over these camels. Explore best of the experience while having Camel Safari in Ladakh.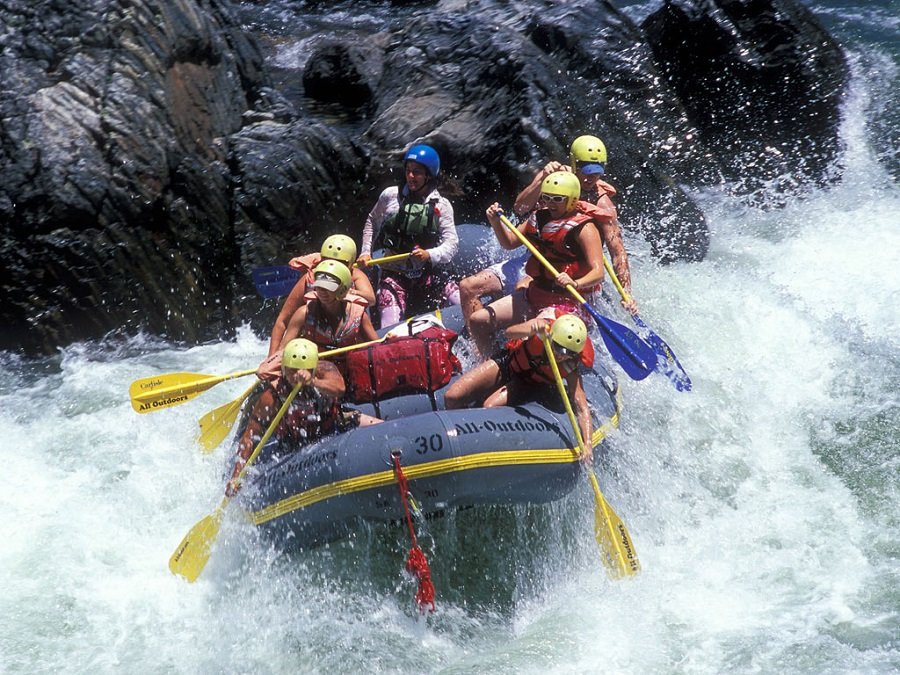 You may also like to read: Top 5 Best Places For Hiking in India
3. Exciting water rafting through the meanders of Kashmir and Ladakh
The Lidder and Jhelum rivers of Pahalgam are popular destinations of white water rafting. As the cold water splashes against your face, this challenging adventure sports acts as a stress buster. Water rafting at Kashmir are classified into various grades and hence with the assistance of expert trainers, novoice to experts everyone can enjoy this sport here.
The Zanskar and Indus Rivers of Ladakh also offer white water rafting. But the deep gorges and stretches of these mighty rivers are challenging for water rafters and hence you have to be strong minded to plunge into the glacial waters of these rivers.
Read Some More Suggested articles: 
Mountain biking, jeep safari are some other adventure sports that brings you close to Kashmir and Ladakh.
Suggested tour Packages of Ladakh:- 
Check out some of the most famous adventurous activities of Ladakh:-