5 Star Hotels to Stay in Jaipur
Jaipur is a land of beauty, richness and nature. You can find a lot of different types of hotels here. There are a few heritage hotels (palaces turned into hotels), five star hotels, resorts, budget accommodation and many others. If you are looking for some luxury accommodation, heritage hotels and star rated hotels are available.
Here are the top five luxury hotels to stay in Jaipur.
1. Rambagh Palace
Rambagh Palace was built in 19th century as a royal abode. In 1972, Taj hotels took over this palace and converted into heritage hotel with 79 rooms including suite of the king and queens. Each room is decorated in an antique style with silk drapes and upholstery that were used by royals. The most luxurious suite is the peacock suite which overlooks Mughal terrace. This palace includes business centre, fine dining, fitness centre, high speed internet, indoor pool, spa, tennis court, golfing, running course, horse riding, volleyball court and many others. You can also enjoy polo, upon request. This hotel has won many awards for hospitality and other services.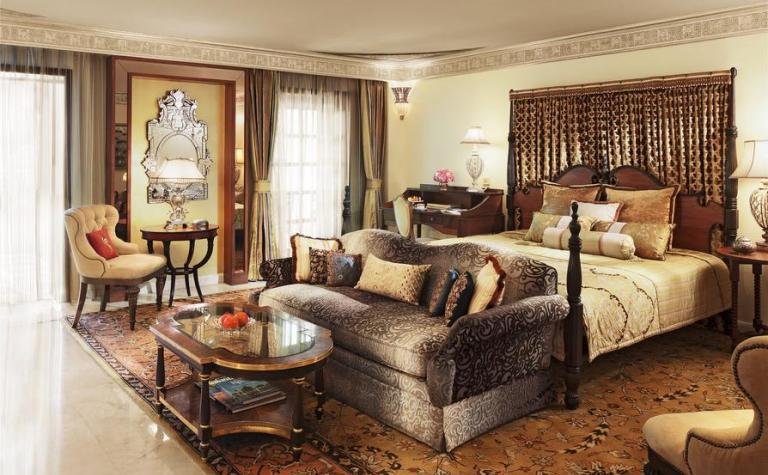 Get Detail of Royal Heritage Hotels In Rajasthan
Related article: Jag Mandir Palace Boat Ride – Everything You Should Know Before You Go
Suggested tour: 8 days Delhi Agra Jaipur Amritsar Tour
2. The Oberoi Rajvilas
Oberoi Rajvilas is an exotic hotel to enjoy Jaipur in a royal style. The hotel has recreated a yesteryear palace like resort on 32 acres of land with pavilions, pools and other elements to resemble a palace. There are rooms, villas, luxury tents and suits in this hotel. This is a luxury resort with ultimate richness. Each room is decorated with canopies, outdoor decks and ancient upholstery. This hotel has many amenities like theater, tennis court, golfing, fitness club, internet, outdoor pool, executive retreat, business center, museum and many others. The restaurant in this hotel serves continental, Mediterranean and Indian cuisine. There is a Thai spa inside the hotel. You can also watch elephant polo near the hotel. See More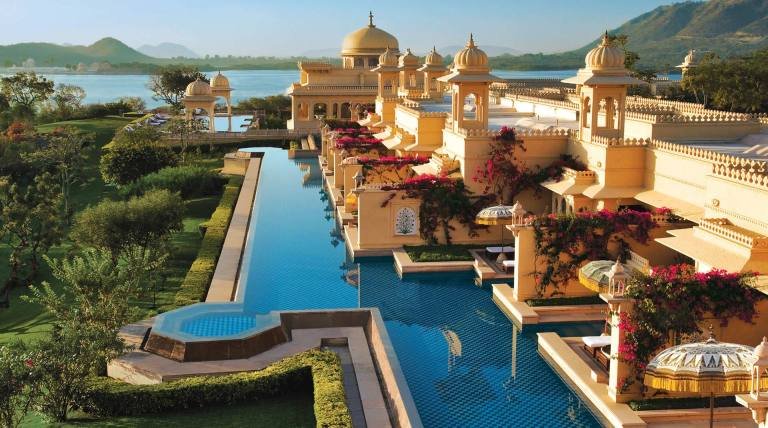 Best of Jaipur tour 9 Days Delhi Agra Jaipur Varanasi Tour Package
3. ITC Rajputana
ITC Rajputana is a five star hotel with richness of Rajasthan royal decor. There are 218 rooms with authentic royal style. There are 46 royal rooms, 55 chambers and one club room. There is one presidential suit and 16 normal suites with majestic beauty. There are many amenities in this hotel like shopping, theatre, museum, meeting space, fine dining site, high speed internet, outdoor pool and many others. There is even a childcare service available inside the hotel. The decor is elegant and light with a luxurious atmosphere. There are many tourist attractions within 10 km radius.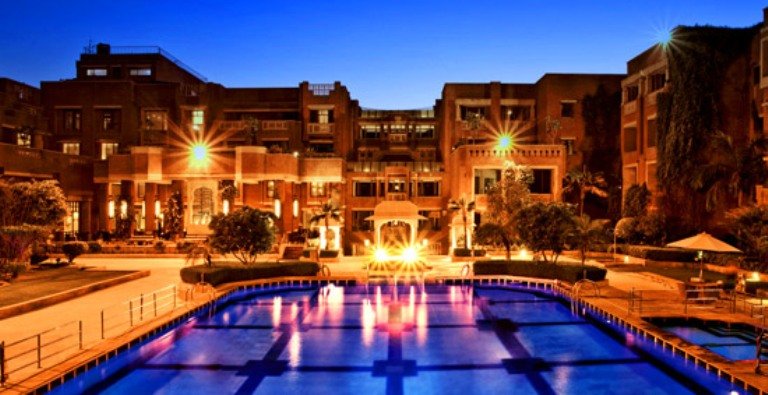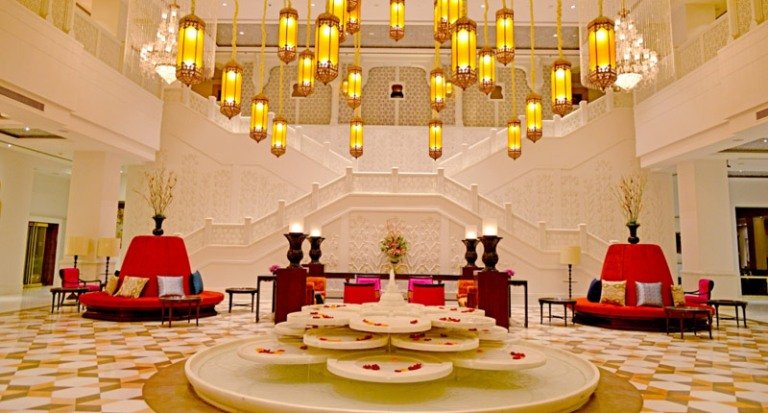 Suggested article: 10+ Best Winter Holiday Destinations in India
4. Lebua resort
Lebua resort is for those who want a modern boutique spa destination. There are 60 suites and 3 villas in this vibrant residence. All decors in this resort are influenced by Jantar Mantar observatory in Jaipur. The most important feature of this resort is the spa. This is the place for rejuvenation with Mediterranean and Indian treatment. All the suites have balcony view of Aravalli hills. There is a restaurant in the resort that serves both European and Indian cuisine. There is a night sky bar with wide selection of wine and finger foods. You can also enjoy activities like elephant polo, star gazing, camel rides, kite flying, hot air ballooning, table tennis and other sports activities. Basic amenities include banquet, fine dining, meeting space, spa, internet access and others. You can also book ecological tourism activities here.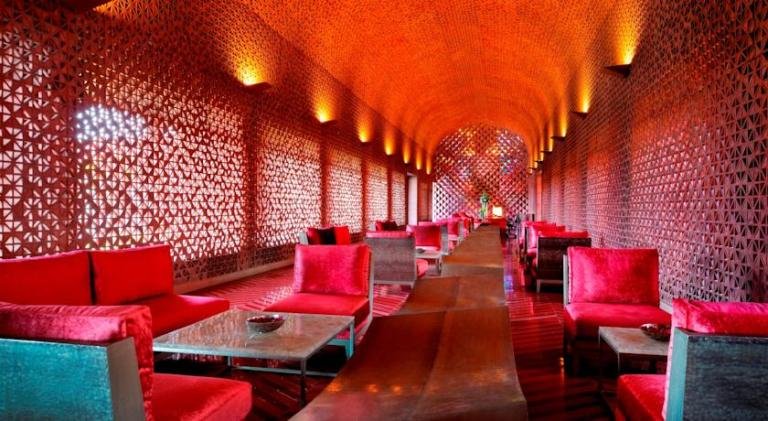 Related article: 15 Reasons Why You Should Visit India
Explore: Top 10 Tourist Places in North India for Winters
5. Fairmount Jaipur
Fairmount Jaipur is a classy accommodation with delectable amenities like spa, theatre, museum, dining space, fitness centre, high speed internet, outdoor pool, business centre and many others. There are 255 rooms with good view of the surrounding areas. There is a lush garden for outdoor social events. This hotel is located in the heart of the city. Thus, it is easy to travel to all tourist attractions in Jaipur from here. It is very close to the famous Amer Fort and 15 km away from the highway. It is also easy to reach from airport.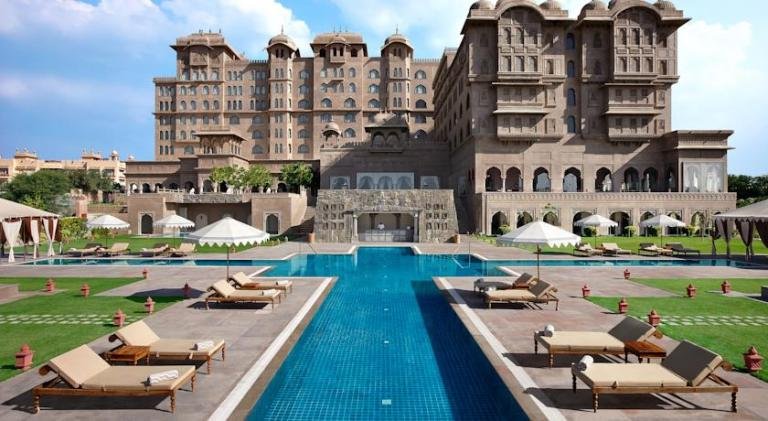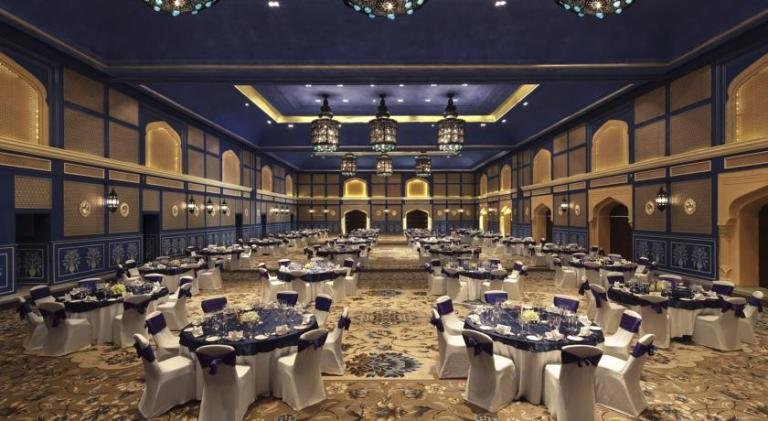 There are a lot of hotels in Jaipur. But, it is wiser to prebook your rooms. Most of the hotels get fully booked during prime tourist season. Before starting to your destination, call the hotel and checking your booking status to avoid any problems.
Read More: Amazing Traveller's Guide to Prepare your Rajasthan Tour
Best offer on 6 Nights 7 Days Agra Jaipur Udaipur
Related articles: