Chokhi Dhani Village – Rajasthani Culture And Cuisine
Chokhi Dhani Village is a replicated traditional Rajasthani village styled luxury resort. The village helps you enjoy all sorts of Rajasthani cultural elements including cuisines, architecture, performance arts and much more. It is basically a five-star rated resort with numerous amenities and facilities inside.
Apart from accommodation, you can find numerous cultural and traditional activities happening inside the resort during evening, from around sunset to late night. Guests of the hotel and public can enter into the resort to enjoy these facilities and performances. The best part of Chokhi Dhani is the dining facility.
This is one of the best places to enjoy authentic Rajasthani cuisine. If you are looking for enjoying the original culture of the land, you ought to visit this place.
Also read: Best things to do in Shekhawati
Things to do in Chokhi Dhani
Chokhi Dhani Village resort
This resort is the accommodation region in the village. One need not stay inside the resort for enjoying all the amenities and cultural attractions.
However, if you wish to enjoy luxury along with culture, you can choose to stay in the resort. If not, you can choose to stay in hotels around the village resort. Some choose to stay in Jaipur and enjoy a day trip to Chokhi Dhani.
Read also: Gangaur Festival, Rajasthan-Learn about the Festival of Marriage and Love
Dance performances
Among the entertainment options in the village, you ought to enjoy the traditional dance of this region. Performers conduct Kalbeliya dance, Chari dance, Ghoomar dance, and much more.
Fast music dances are performed while the dancer holds seven to eleven pots on the head. Beyond dance performances, you can find other performances like puppet shows, fire act, magic show and much more.
Must read: Information about Baneshwar Fair of Rajasthan
Indian acrobatic shows
There are numerous acrobatic shows where artists walk on rope, cycle through mazes, climb on poles and much more. Most of the shows focus on balancing acts and flexibility of the performers.
Must read: Top Tourist Places in Bikaner
Animal back rides
The village provides many different rides around the area. Top animal rides to enjoy in this region are bullock cart ride, elephant ride, camel safari, horse ride and much more. The most commonly opted one is the camel ride.
Must Read: Top Things to Relish in Ajmer of Rajasthan
Sightseeing
Top places are sightseeing are Rathkhana, Veer Tejaji temple, Jaisalmer Re Dhani, Jungle Devta, Babaji cave, Mewar re Dhani and others. Most of sightseeing spots are replicas of original monuments located around the state.
Read also: Places to visit in Rajasthan in November
Head massage
The local style of massage is called as Champi Head Massage. You can find authentic masseur who is specialized in this massage. This massage is said to relieve stress, immediately.
Suggested Read: Top 8 Places you have to Visit near Jaipur
Bioscope
There is a station for bioscope inside the village. Bioscope is a small machine on stand with six eye holes for six people to watch a private show, standing close to the bioscope. You can enjoy a film explaining the history and culture of Rajasthan.
Must Read: 10 Places to Visit in Mount Abu for Honeymoon
Photography
Cameras are allowed inside the village and you will have a million beautiful and colorful things to click. Apart from these, you can dress up in ethnic wear and take pictures. There are separate stalls for this activity.
Suggest article: Exploring Jaisalmer – Top 20 Places to Visit
Battle of Haldi Ghati
The performers inside the village recreates Haldi Ghati battle, which happened between Rajputs and Mughals. This recreation involves visual representation of the battle. The village also has a replica of Rathkana and Vaishno Devi temple, which holds ancient chariots used during this war.
Read also:
Museum visit
There is a small museum inside the village. You can spot displays that explain the diversity of the country, in this museum. You can find heritage showcases from different parts of the country like Sikkim, W. Bengal, Pondicherry, Goa and others.
Cuisine
You ought to taste at least a meal at Chokhi Dhani. The place serves authentic cuisine with fresh ingredients and in an authentic setting. Top dishes to try in Chokhi Dhani are daal bati churma, ghee based sweets and many others. There are numerous dining options inside the village from high-class luxury places to simple shacks.
Also read – Top 15 Rajasthani Foods to try when you are travel in Jaipur
Explore: Top 10 Tourist Places in North India for Winters
Shopping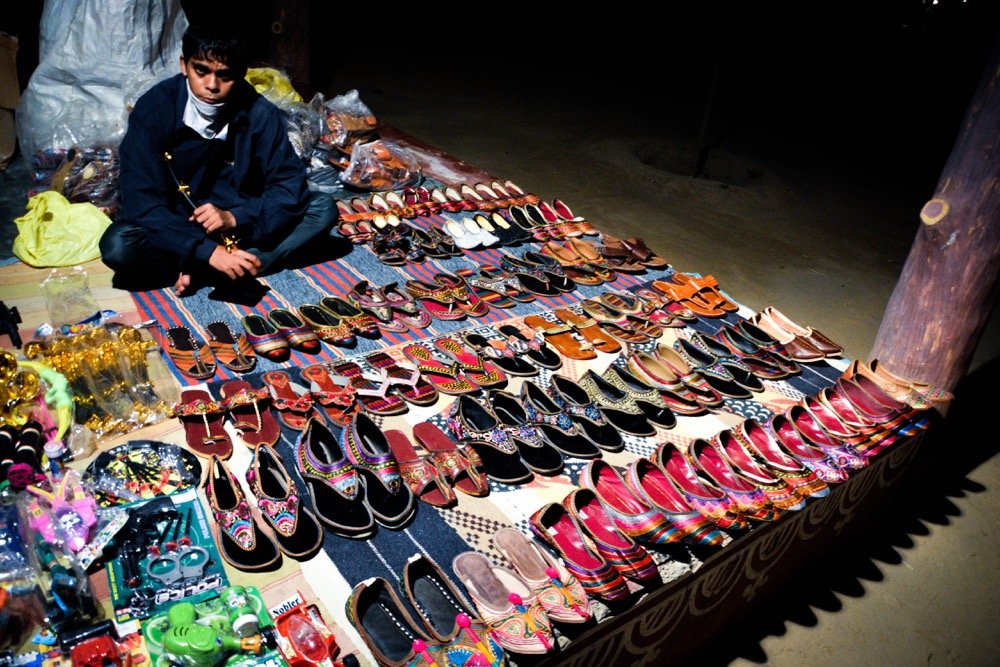 Chokhi Dhani is the best place for enjoying souvenir shopping. There are numerous stalls including Kalagram, where you can buy original Rajasthani handicrafts and other souvenir stores.
Top things to buy here are accessories, home décor, painting, clothing, handicraft and others. You can find numerous handicrafts made by local artisans.
Live workshops
Many artisans provide live workshop for tourists to enjoy hands-on experience on many arts and crafts. Top live workshops include pottery making, mehandhi art, cookery show and much more.
Astrology
Many fortunetellers erect stalls in the area to explain astrology and predict your future. Even if you do not believe in astrology, you would enjoy the rituals and performances associate with it. You will find many stalls, which use parrot for picking your card. This activity is very famous in India and ancient Egypt.
Games
You can take part in many desi games that take place in this village. The list of games might vary from time to time. Top games to enjoy in this village are shooting, bow and arrow, long jump, pyramid and much more. You can enjoy jungle safari through artificial forest, artificial cave, waterfalls and much more. This is for those who love adrenaline activities.
Opening time of Chokhi Dhani
The village is open throughout the week. The village is open from 5 in the evening up to 11 in the evening.
Entry fee of Chokhi Dhani
Adult – 700 INR (above the age of 9)
Children – 400 INR
Children below the age of three are free to enter. Also, children above 3.5 feet are considered as adults.
For multi-cuisine dinner buffet
Adult – INR 1,100
Children – INR 700
This tariff includes dance performances, snake charmer performance, vegetarian dinner, welcome drink, snacks, cultural events, costume photography, magic show, puppet show, mehandhi art, music performances and much more.
Rides, games, chaat shops, astrology and tattoo are not included in the tariff. The cost of the tickets differ from time to time. Check the official site to learn more about the ticket cost.
Location
Chokhi Dhani resort is located in Jaipur. Once you reach Jaipur, you can find public and private transportation to reach the resort. From any part of Jaipur, you can find buses, cabs and others to reach the resort.
Jaipur is an important tourist destination and a part of Golden Triangle Tour. Thus, it is easier to reach Jaipur from any part of the world.
The nearest international airport is located 10 km away from Jaipur. However, if you are visiting from an international destination, you can choose to reach India via Delhi international airport. From Delhi, you can find numerous flights from Delhi to Jaipur.
Jaipur can be reached from numerous destinations around the country via flight. From airport, you can find buses and cabs to reach Chokhi Dhani, directly.
The nearest railway station is located in Jaipur. You can find trains from numerous destinations of the country.
The luxury trains like Palace on Wheels, Deccan Odyssey and others reach Jaipur as a part of their itineraries. From the railway station, you can find buses, autos and cabs to reach Chokhi Dhani.
The nearest bus stand is located in Jaipur. Buses reach Jaipur from various parts of the country and all cities in Rajasthan. From the Jaipur bus stand, you can find numerous buses to Chokhi Dhani, every day. Apart from these, you can hire cabs from Jaipur and surrounding areas to reach Chokhi Dhani.
Best time to visit Chokhi Dhani
The place is at prime beauty throughout the year. However, summer and monsoon are usually avoided because of the climate being a hindrance to sightseeing and outdoor activities.
The best time to visit is from October to March. This is the winter season and you can enjoy a pleasing climate. Moreover, since it is the tourism season, you can find a long list of activities to enjoy inside the resort.
Other Related article of Jaipur