Top Most Famous Temples in India
Millions of tourists visit India for searching sacred observation.  So if you are also the one, who plan this year a calm religious tour, here below we select the top 10 temples in India which offer you a complete peace of mind, rejuvenating inner spirit and the most astounding views of the sculpture and architecture.
Most Famous Temples in India
1. Shirdi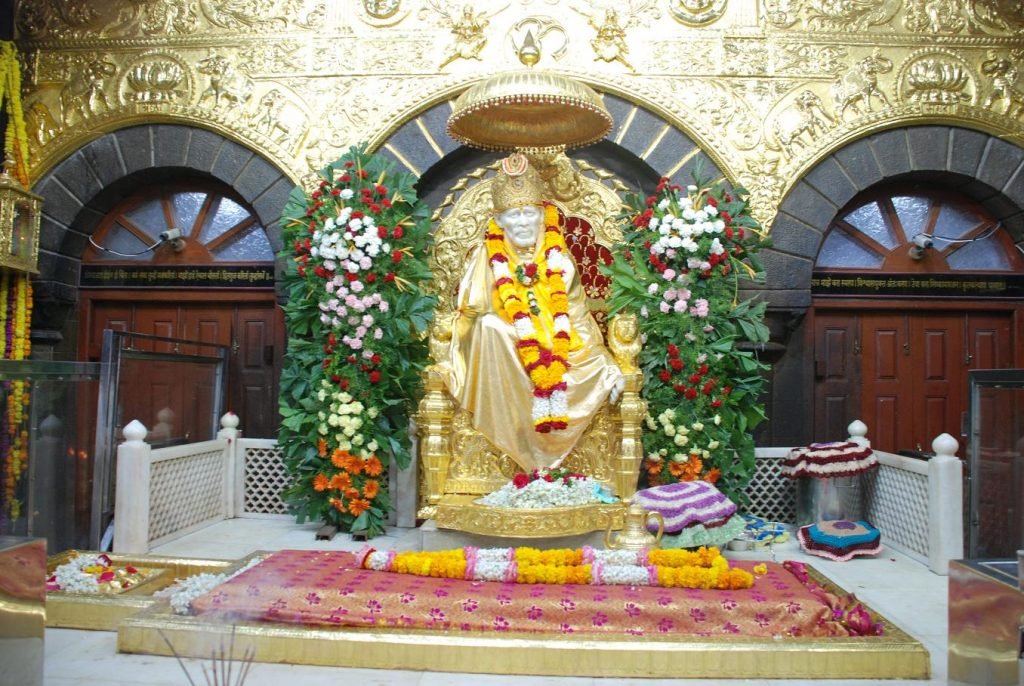 Location: Shirdi, Maharashtra
Devoted to Saint Sai Baba, "Shirdi Temple" is the third richest temples in India. The whole religious town Shirdi is identified through Sai Baba. "Sai Baba", the saint who is known and admired for his miracles and teaching give importance to "Shraddha" means trust and "Saburi" means tender feeling.
Millions of admirers, despite of their religion, come to the temple all year-round. The main festivals celebrated here are Ramanavami, Guru Purnimaand Vijayadashmi.
Not only in India, Sai Baba's admirers have extent the "Shirdi Sai Movement" in the 'Caribbean' and other foreign countries like 'United States of America', 'Malaysia', 'Singapore', 'United Arab Emirates' and 'Australia'. Tourist can also plan a weekends getaway from Mumbai to Shirdi.
Also read: Check out the list of adventure destinations in Himachal Pradesh?
2. Tirumala Venkateswara Temple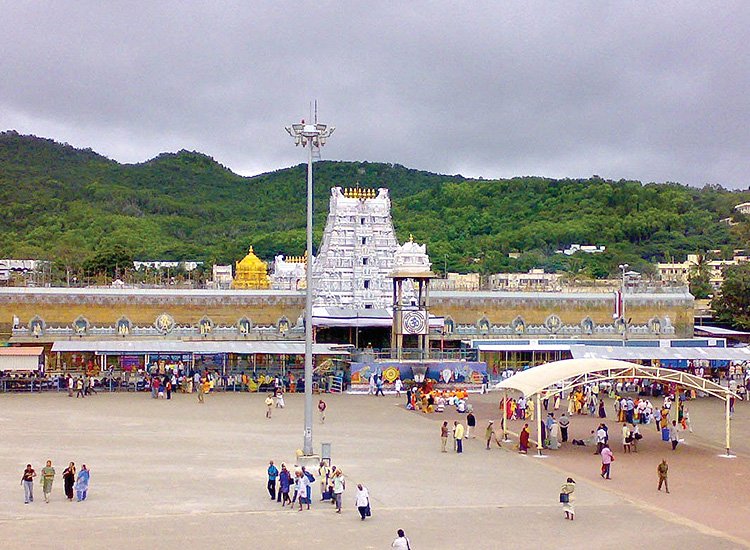 Location: Tirupati, Andhra Pradesh
One of the most visited temples in India"Tirumala Venkateswara Temple" is devoted to Lord Venkateswara who is an epitome of Lord Vishnu. Visited by around 50,000 to 1, 00,000 devotees regularly; the temple is popular not only for its religious belief but its Dravidian architecture and inscriptions also allure devotees. The temple wall carry's many inscriptions and the mark of various empires like the Pallavas, Cholas, Pandyas and Yadavarayas among the rest of the leading empires of those times.
Not only this, here in temple premises devotees perform many interesting rituals such as Head Tonsuring, Thulabharam, Arjitha Seva etc. to please the god.
The main festivals celebrated here are Vaikuntha Ekadasi, Ramanavami, Janmashtami, Rathasaptami and Vasanthotsavam. The 'Brahmotsavam' is the most important festival held every year in the month of September with full zeal and enthusiasm.
Also Read : 22 Best Places to Visit in Andhra Pradesh
3. Ramanathaswamy Temple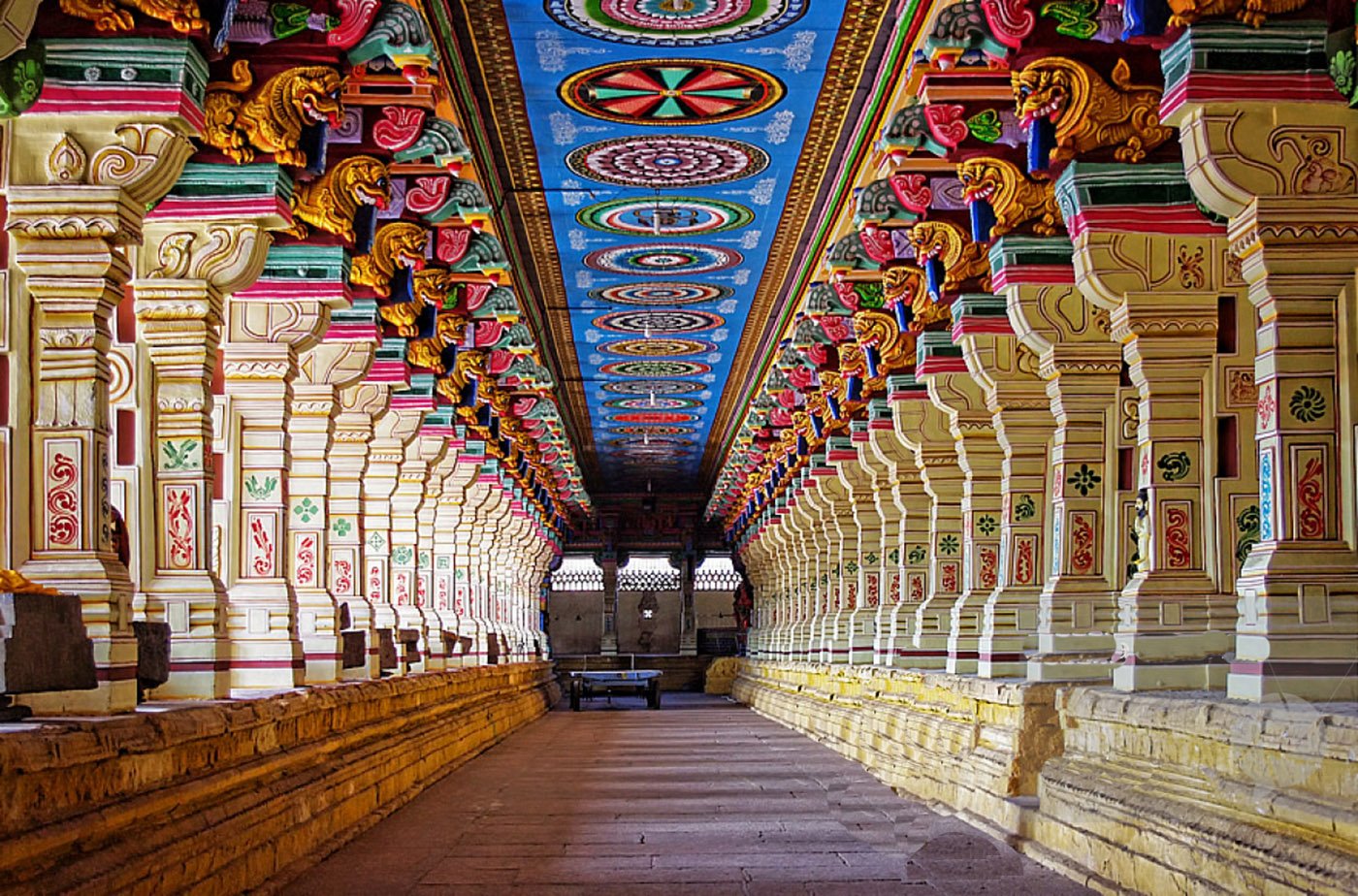 Location: Rameshwaram, Tamil Nadu
One of the 12 Jyotirlinga of Lord Shiva "Ramanathaswamy Temple" is also a part of the Char Dham. Ramanathaswamy Temple which is devoted to Lord Shiva is a main temple for both Shaivites and Vaishnavites.  According to legends, there are many myths related with the temple. It is believed that, here Lord Rama prayed to Lord Shiva for all sins he may have committed during the war with Ravana.
And for this Lord Rama sent Hanuman to bring lingam from the Himalayas. But due to late in return, his wife Sita made a small lingam and this lingam preserved as main deity in the temple. Mainly there are two lingams inside the temple – one small lingam made by Sita known as "Ramalingam" and the other brought by Hanuman known as "Viswalingam".
The main festivals celebrated here are Mahashivratri and Navratri.
Must Read: India's 10 Best Summer Destinations for Perfect Vacation
4. Somnath and Dwarka Temple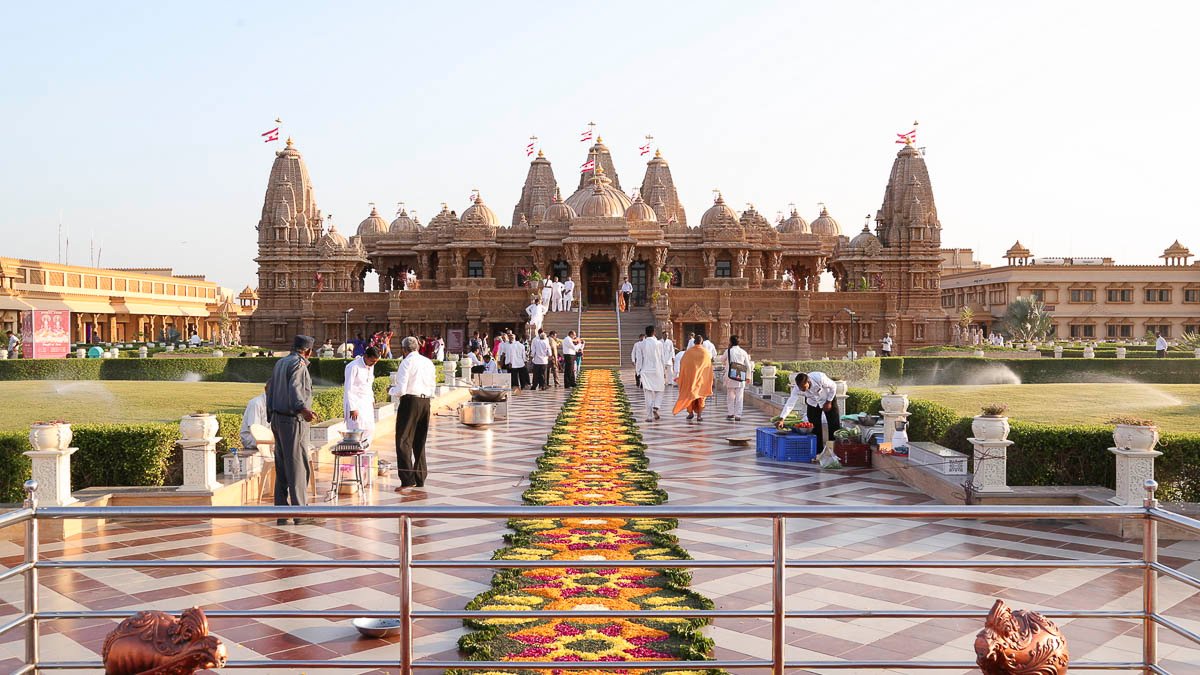 Location: Dwarka, Gujarat
Two splendid seashore temples "Dwarka" and "Somnath" are really amazing. A part of the Char Dham "Dwarkadhish Temple" is devoted to Lord Krishna. Nestled on the banks of River Gomti, Dwarkadhish temple has 5-storied building which is supported by 72 pillars fascinate tourists all round the world. Mainly the temple has two doors for entry and exit. The entry door is known as "Swarg Dwar" (gateway to heaven) and the exit door is known as "Moksha Dwar" (gateway to salvation).
Despite this, there are some features that allure devotees such as a flag fixed on top of the temple shows both sun and the moon (this flag is changed five times a day).
Last but not least the neatness of the temple and its surroundings has won it a nomination in the UNESCO list of World Heritage Sites.
On the other hand, just 230 km from Dwarka Temple "Somnath Temple" is devoted to lord Shiva. One of the most preferred jyotirlings between the 12 existing jyotirlings of India, Somnath temple finds remark in many ancient books, like Shivpuran, Skandpuran and Shreemad Bhagvat.  Not only this, many interesting legends are connected with this temple, it's believed that Som assigns to the 'Moon God', thus Somnath means 'Protector of the Moon God'.
Another interesting legend about the temple is that, Som made the temple in the respect of Lord Shiva as it was the god Shiva only who cured his illness (his father-in-law's curse).
Last but not least, the temple also has a Somnath Museum, Junagadh Gate, Beach and Sound and Light show to entertain the devotees.
5. Vaishno Devi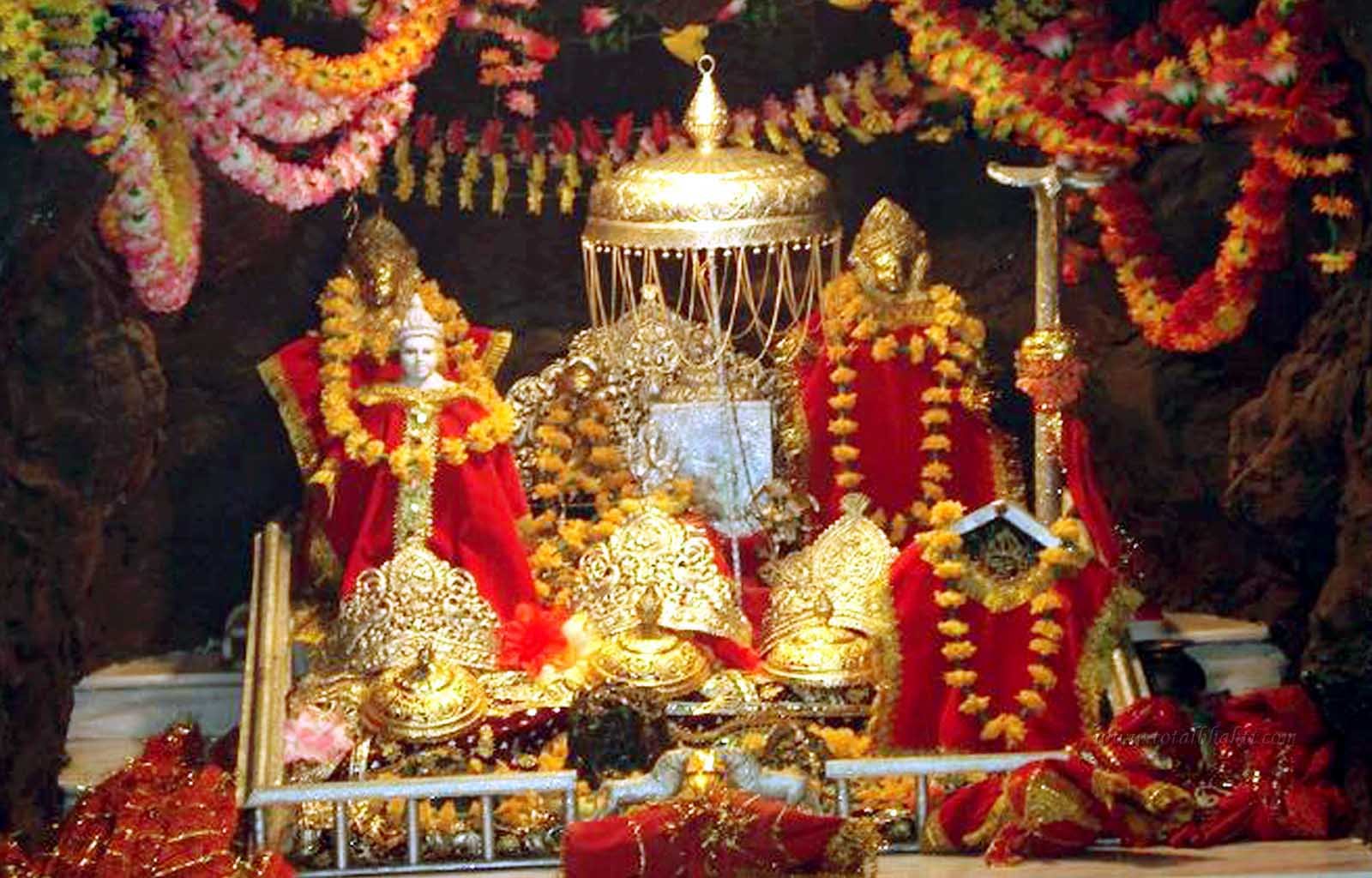 Location: Katra, Jammu
Located at an altitude of 5200 ft. in a mountain known as Trikuta, "Vaishno Devi Temple" is devoted to the goddess Shakti. One of the 51 Shakti Peethas, Vaishno Devi temple has three rock heads, known as Pindies, rather than of a statue. Millions of pilgrims flock here to take the blessings of Maa Vaishno Devi.  It's believed that Maa Vaishno Devi decides and calls her pilgrims to her doorsteps. A successful journey on this temple is possible only because of Maa wish. The temple is open all year round.
The main festival celebrated here are Navratri.
6. Jagannath Temple
Location: Puri, Odisha.
One of the parts of Char Dham "Jagannath Temple" is devoted to Lord Krishna. Inside the main Jagannath Temple, despite lord Krishna idol, you find the idols of Lord Balabhadra (brother) and Goddess Subhadra (sister). The main feature that allures visitors is the idols of the Jagannath temple which are surely different from other temples of the country. With big eyes, different complexions, here idols are made by a special kind of wood called the 'Daru Brahma' (found by the main temple preacher once in every 12 years).
The main festival celebrated here is the Rath Yatra. On this Rath Yatra, all the idols are taken on a ride on temple chariots that enthralls millions of pilgrims and tourists from all over the country and the world.
Note: There are many conditions on entering the temple. Only Hindus of Indian origin are permitted to enter the interiors and other practicing Hindus of foreign nationalities are restricted. Buddhist and Jain groups are allowed inside if they can give proof of their Indian origin.
7. Golden Temple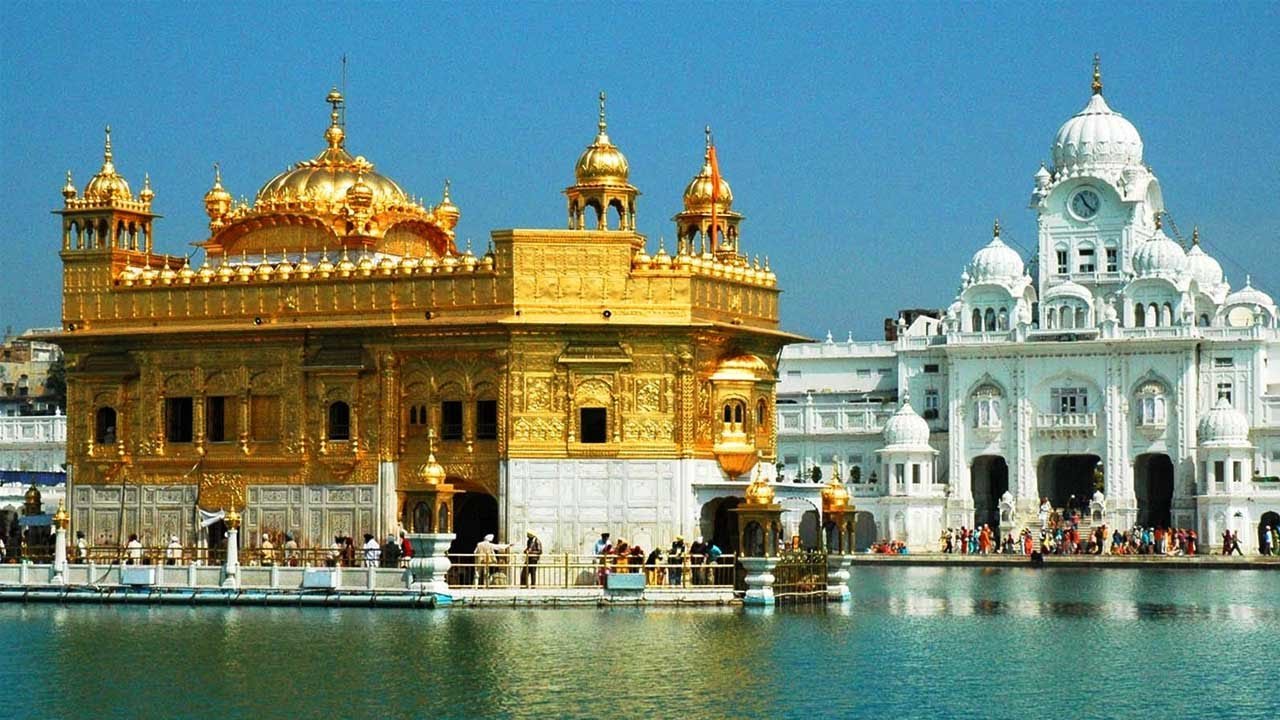 Location: Amritsar, Punjab
A Pilgrimage tour to Indian temple is incomplete without visiting "Golden Temple".  Sri Harmandir Sahib also called as Darbar Sahib or Golden temple is the most religious place for Sikhs. Its four doors open in four main directions welcome all religion people.
Despite these,the temple's architecture encircled picturesque sarovar and the divine lake that is believed, to reside Amrit or holy water, adds to the fame of the temple building. Last but not least don't miss the langar where thousands of pilgrims are fed regularly.
The main festival celebrated here are Guru Nanak Jayanti and Baisakhi.
Also Read : Golden Temple Amritsar- The Most Visited Place in the World
Suggested Tour :
8. Kashi Vishwanath Temple
Location: Varanasi, Uttar Pradesh
One of the 12 Jyotirlinga of Lord Shiva "Kashi Vishwanath Temple" is devoted to Lord Shiva. It is believed that by coming Kashi Vishwanath temple and taking a dip in the divine water of Ganga River, devotees will free from all the sins and get moksha (salvation). Some others believe that the blessings taken by coming Kashi Vishwanath and witnessing the jyotirlinga are equal to the blessings got from the darshan of the 11 other jyotirlingas.
The main festival celebrated here are Mahashivratri.
Also Read : 20 Best Places To Visit In Varanasi And Arounds
Suggested Tour :
9. Meenakshi Amman Temple
Location: Madurai, Tamil Nadu
Situated on the bank of the River Vaigai, "Meenakshi Amman Temple" is one of the ancient and largest temples in India.  Around 2500 year old temple building is devoted to Meenakshi, an avatar of Goddess Parvati, and her husband Sundareswarar, Lord Shiva.  If you think that's it, so wrong, there are many features that attract pilgrims and tourists from all over the country and the world.
Its various minor quadrangular complexes, 14 gopurams or 170 feet (52 meters) high southern tower, outstanding vimanas, hall of 1000 pillars, musical pillars, golden lotus tank and parrot cage are some fascinating highlight of the temple.
If you still want more, you can visit the in-house museum that dive you into its 2500 year old history.
Also Read – Famous and Magnificent Temples In South India to Travel with your Family
Suggested Tour : 15 Days – South India Temple Tour Package
10. Kedarnath Temple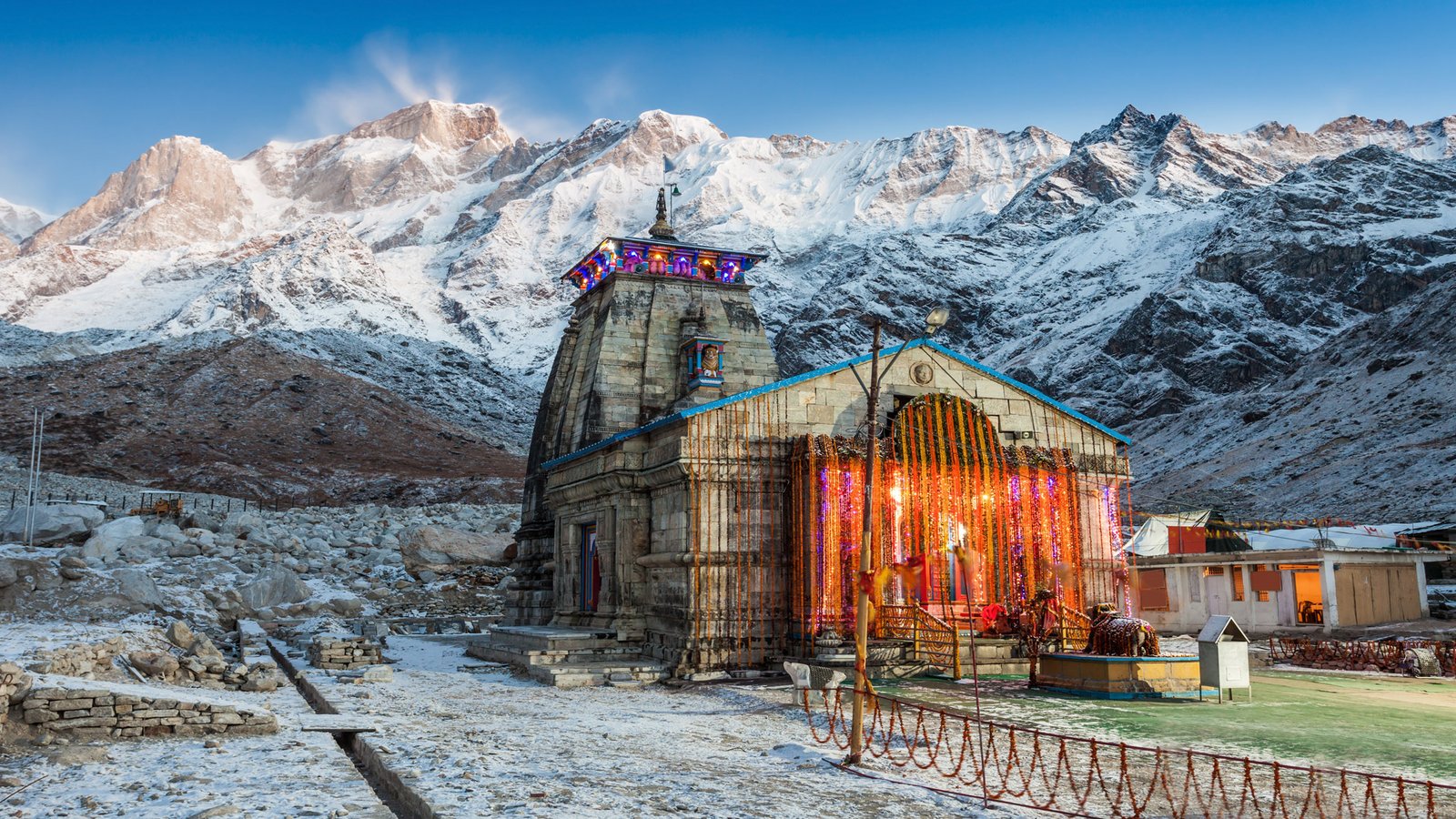 Kedarnath is situated amidst the snow capped Himalayan ranges in Garhwal, Uttarakhand this Shiva Temple is one of the oldest temples. People believe that the Pandavas constructed this temple built on a high hill. It is one great trekking experience up the hill at a distance of 14 kilometers. This temple is open only in from April to November months due to the freezing temperatures. The deity is worshiped at Ukhimath during the closed months. This is one of the top pilgrimage destination in India.
Suggested Tour : 9 Days – Chadham Tour From Haridwar
11. Gangotri Temple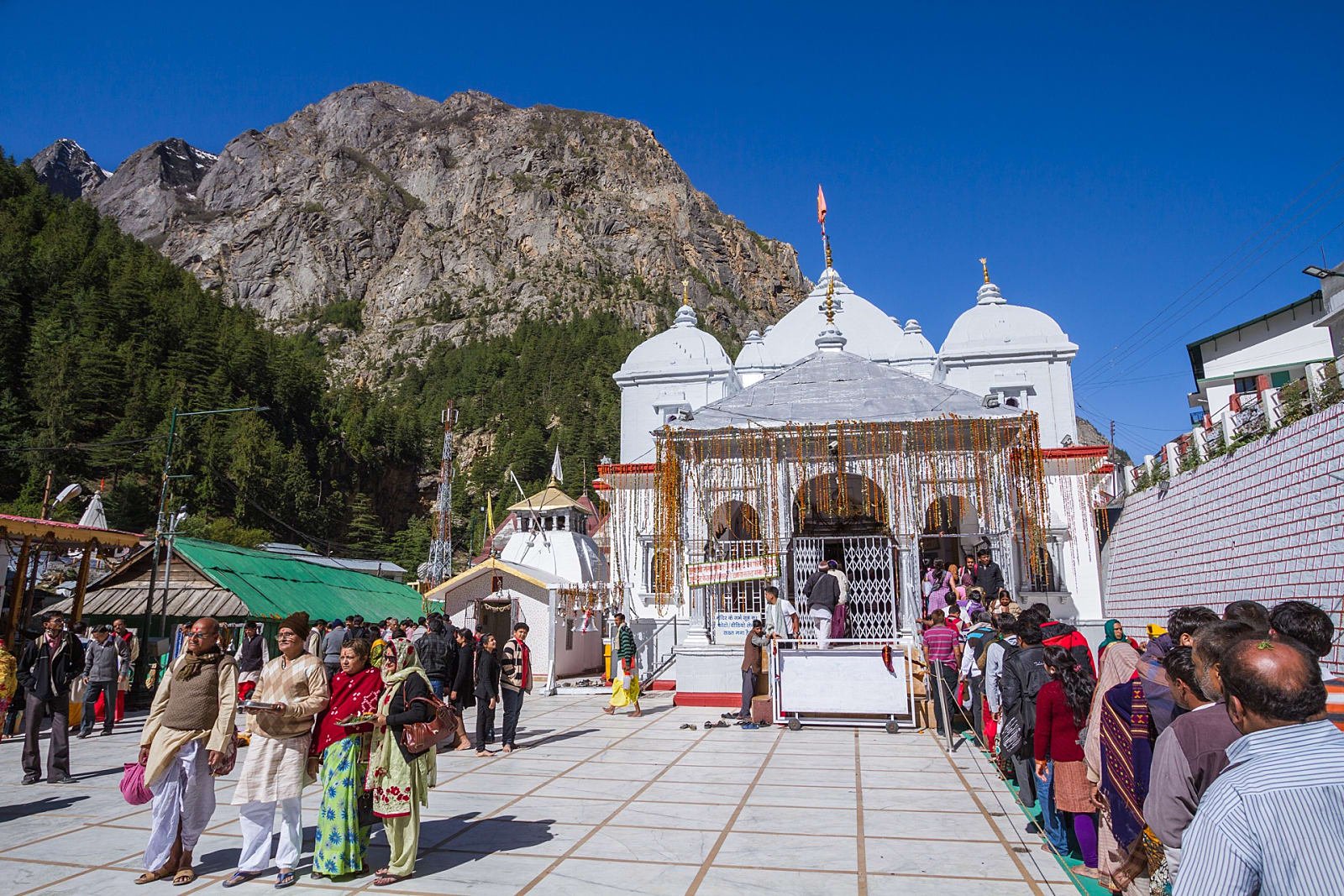 River Ganga is considered a Holy River and many people visit here to take a holy dip and also immerse the ashes of their loved ones after cremation. They believe the soul will attain moksha. This 18th century white granite temple called Gangotri is situated in the place from where the River Ganga sources. The deity is housed in Mukkyamatha temple most of the year. Only during April – May people can visit the temple the Gangotri temple hosts the deity.
Suggested Tour : 12 Days – Chardham Tour Package
12. Badrinath Temple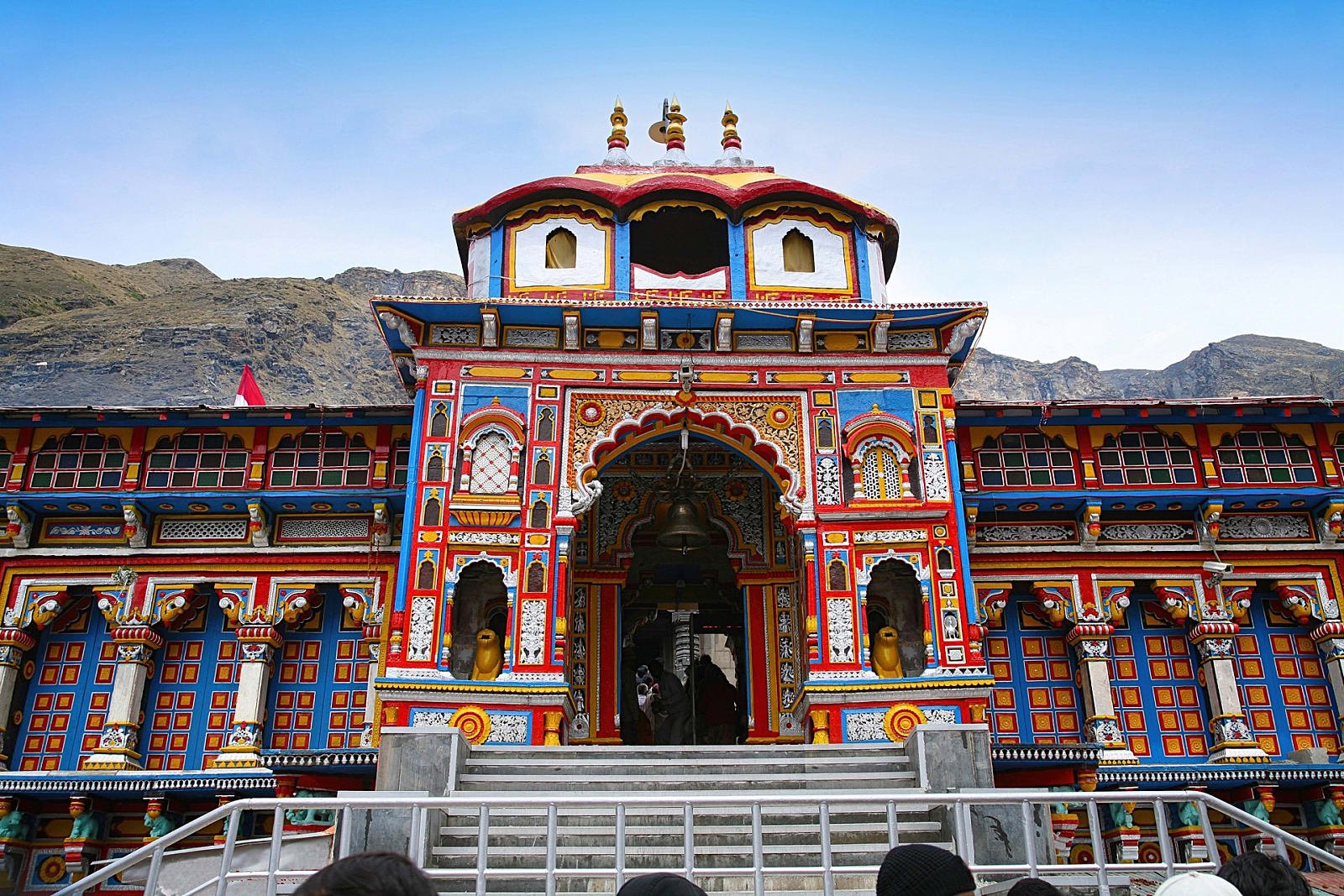 There are 108 temples or Divya Desam dedicated to the Hindu God Vishnu. This shrine is situated in the district of Uttarakhand called Chamoli in Badrinath. It is one of Char Dhams or holiest Vishnu pilgrimage sites in India. There is a special roof and great architecture of arches and stone facades.
The two most important and famous temple festivals celebrated here are "Mata Murti ka Mela" celebrated in September and "Badri Kedar Mela" celebrated in June for 8 days. The temple is open from April to November due to freezing temperatures in winter months. It also gives a spectacular view white trekking or traveling to the temple as it is elevated at 10,170 ft above.
Suggested Tour : 12 Days – Chardham Tour Packages from Delhi
13. Yamunotri Temple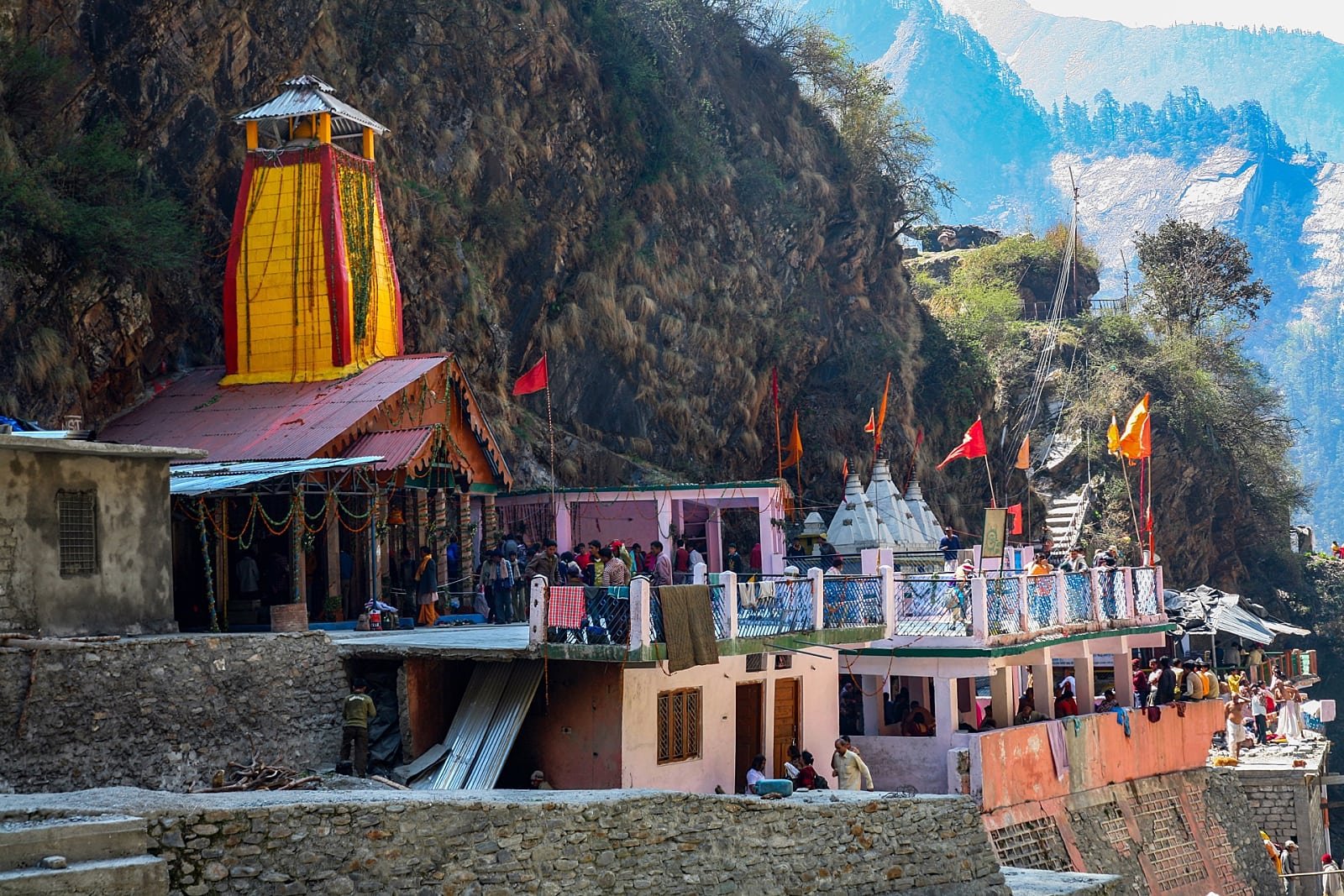 Yamunotri temple is dedicated to the Holy River Yamuna and is situated in Uttarakhand's Uttarakshi district. This is one of the most famous pilgrimage sites and temples in India. This is another temple that forms the Chota Char Dham Sites or minor pilgrimage site. It was reconstructed more than once due to natural calamities.
It is built at a height of 3291 so you have to trek for roughly 4 – 5 kilometers to reach. The black marble idol of Goddess Yamuna is shifted to Village Kharsali when the temple is closed. It is only open from the Annual Spring Festival of Hindu and Jain religions, Akhi Teej until Diwali. Pilgrims can celebrate the festival time here amidst several hot water springs of River Yamuna.
14. Shri Digambar Lal Mandir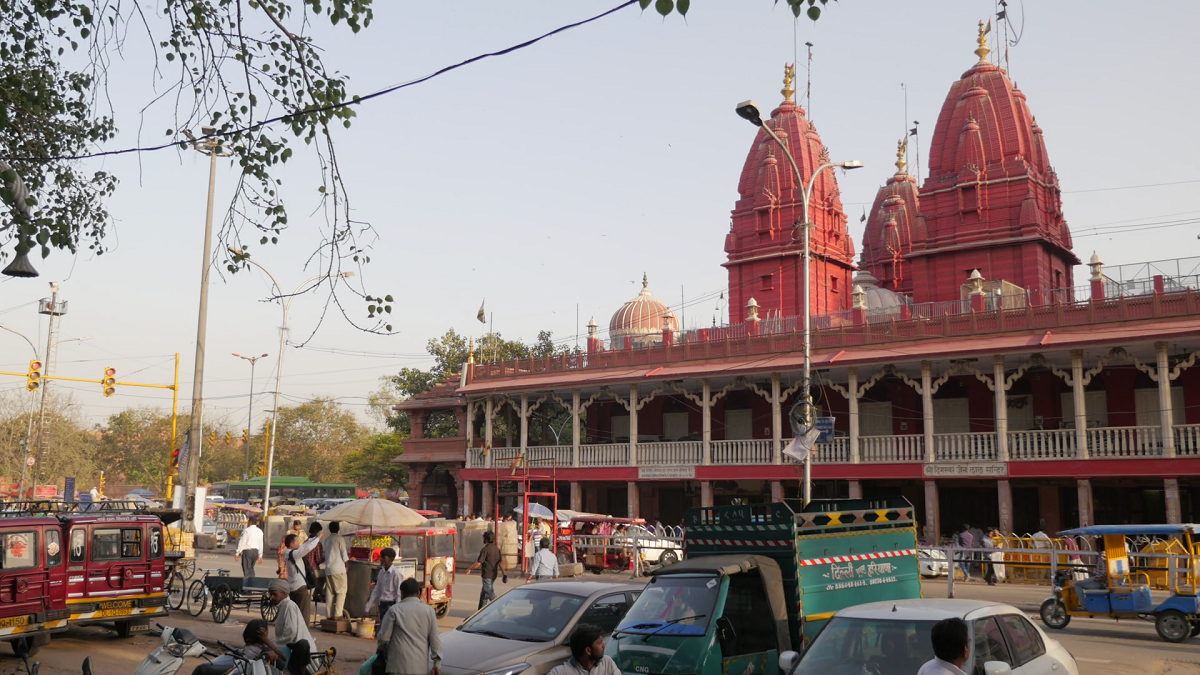 This Jain temple is one of the oldest temples in India situated close to Chandini Chowk in Delhi. This is a red sandstone structure constructed in sixteenth century opposite to Red Fort. Inside the Lal Mandir as the Jain devotees know it, are small marble stone idols and primary is the 23rd Jina or Lord Parashvath kept.
A statue of Adinath deity, the first Thirthana and many shrines of famous Prince Mahavir, 24th Tirthankara who left wealth for salvation are there. The main devotional hall is in the firsts floor after the pillar at the entrance. There is also a memorial within the complex for a Jain Monk who visited this temple in 1931. It houses a Charity hospital for injured birds and tiny animals like squirrels, who are treated free, and a book store with Jainism literature.
Also Read : 20 Most Famous Jain Temples in India
15. Lotus Temple
The Baha'i House Of Worship is a lotus flower shaped white temple for people of all faiths. It is crowded because of the number of visitors to this white marble flower structure in Bahapur Hills, South Delhi. There are seven such Lotus Temples all over the world.
This temple is the latest and only one for entire Asia for the Baha'i Faith. It is filled with manicured gardens and water-bodies as the structure is half floating lotus. There are no idols but huge halls for prayers and meditation. This 20th century architectural masterpiece was constructed in 1980's with a massive budget and earned prestigious International Awards. The total 27 flower petals for 9 in sets of 3 surrounded by nine water pools.
Read more information about Lotus Temple in Delhi
16. Swaminarayan Akshardam Temple
This is one of the latest temples in India constructed on the Banks of the River Yamuna by BAPS. The massive complex is spread on 100 acres and is in the Guinness Book of World Records Committee. The temple is constructed in Medieval Architectural style combining five various forms of architecture with arches, floral motifs, and ornate pavilions.
Inside the complex there is IMAX, a musical fountain show, Exhibitions, Swaminarayan Temple, Eateries gardens, elephant statues, water-bodies and over 20000 statues. The pillars, domes and quadrangle peaks are carved intricately. The Akshardham temple complex is closed on Mondays and there are various timings for each.
17. Chattarpur Mandir
This famous temple in North India is situated near Mehrauli 4 km from Qutub Minar amidst large gardens. The complex is made from white marble in both North and South Indian style of architecture. The main deity is Goddess Durga and there are various shrines for Goddess Lakshmi, and Shiva, Vishnu and Ganesha.
There are nearly 10 million visitors during important festivals such as Navratri and Durga Puja. People stand in long lines waiting for a chance and it is sometimes impossible to view the deity. Rituals and pujas happen throughout the day and visitors remove footwear, wash hands and feet outside.
18. ISKCON Temple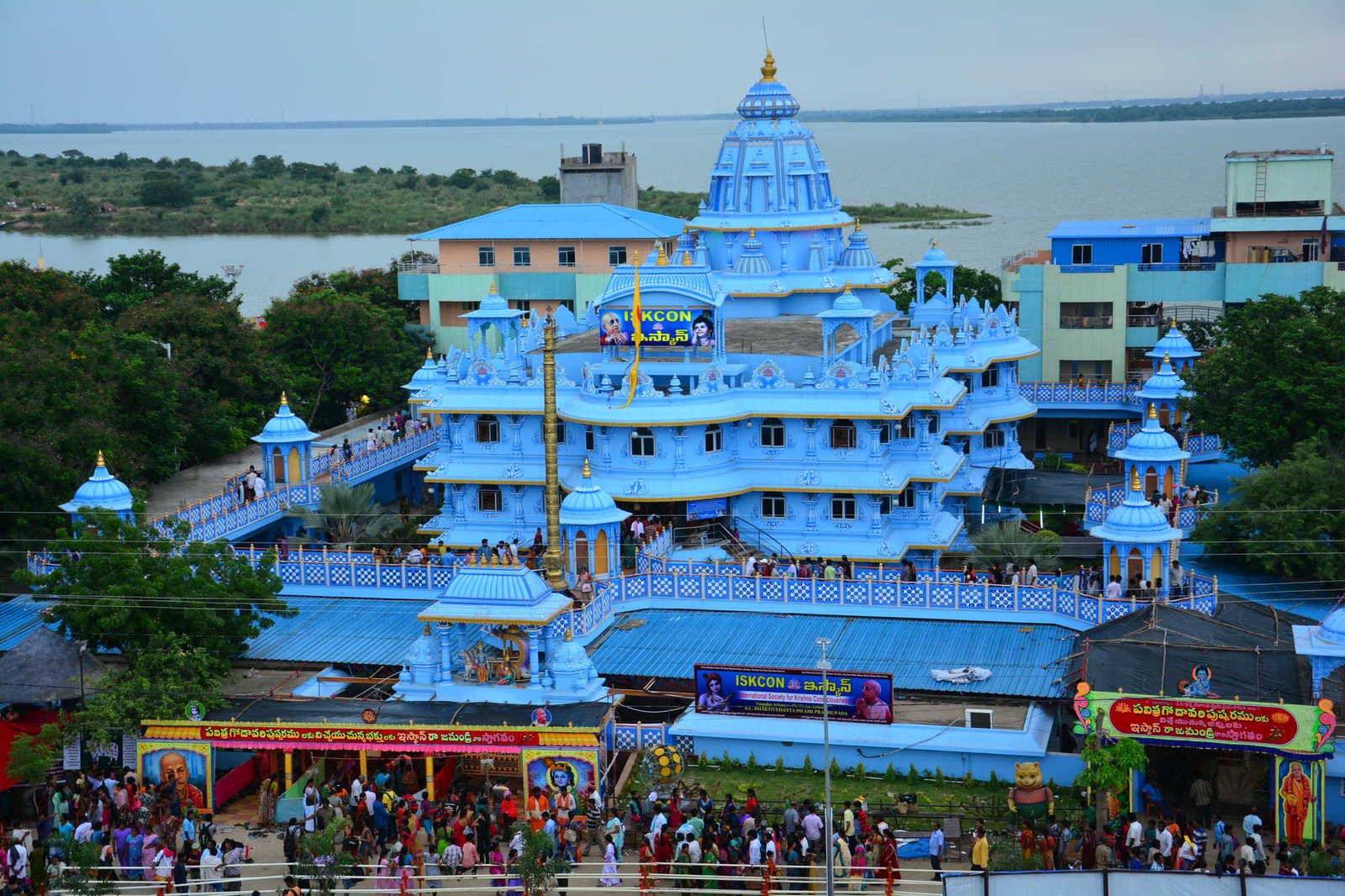 The ISKCON temples were set up in 70s, 80s and 90s all over the country. The temple in Delhi was built in 1998 for Krishna awareness. In Uttar Pradesh it is built in Vrindavan, Mathura said to be an abode of young Krishna. Also called Krishna Balaram Mandir the Hare Krishna chanting is heard throughout the day. There are prominent figures of ancient India such as Chaitanya Mahaprabhu, Balarama, founder of ISKCON Swami Prabhupada, etc.
Read more – Vrindavan Mathura – Ultimate Travel Guide
19. Dwarkadhish Mandir
This temple situated in the abode of young Krishna in the eastern side of Mathura is one of the most visited temples in India. There are intricate carvings, images of Radha and Krishna, other Hindu Gods, and exquisite art and paintings inside. The main festival celebrated here is Janmashtami, Holi and Diwali. It was constructed during the eighteenth century in local style of architecture.
20. Naina Devi Temple
This temple dedicated to Shri Naina Devi is situated close to the picturesque Govind Sagar Lake on Shivalik Hill in Bilaspur district of Nainital, Himachal Pradesh. Visitors have to walk for 2 km, by road or cable car. Inside there are idols of various Hindu Gods and the main shrine of Naina Devi. There is also a cave by the name of Shri Naina Devi Cave. The Peapal tree is believed to be existing from several centuries ago. There is a grand annual immersion procession of a statue in the Naini Lake.
Suggested Tour :
21. Mansa Devi Temple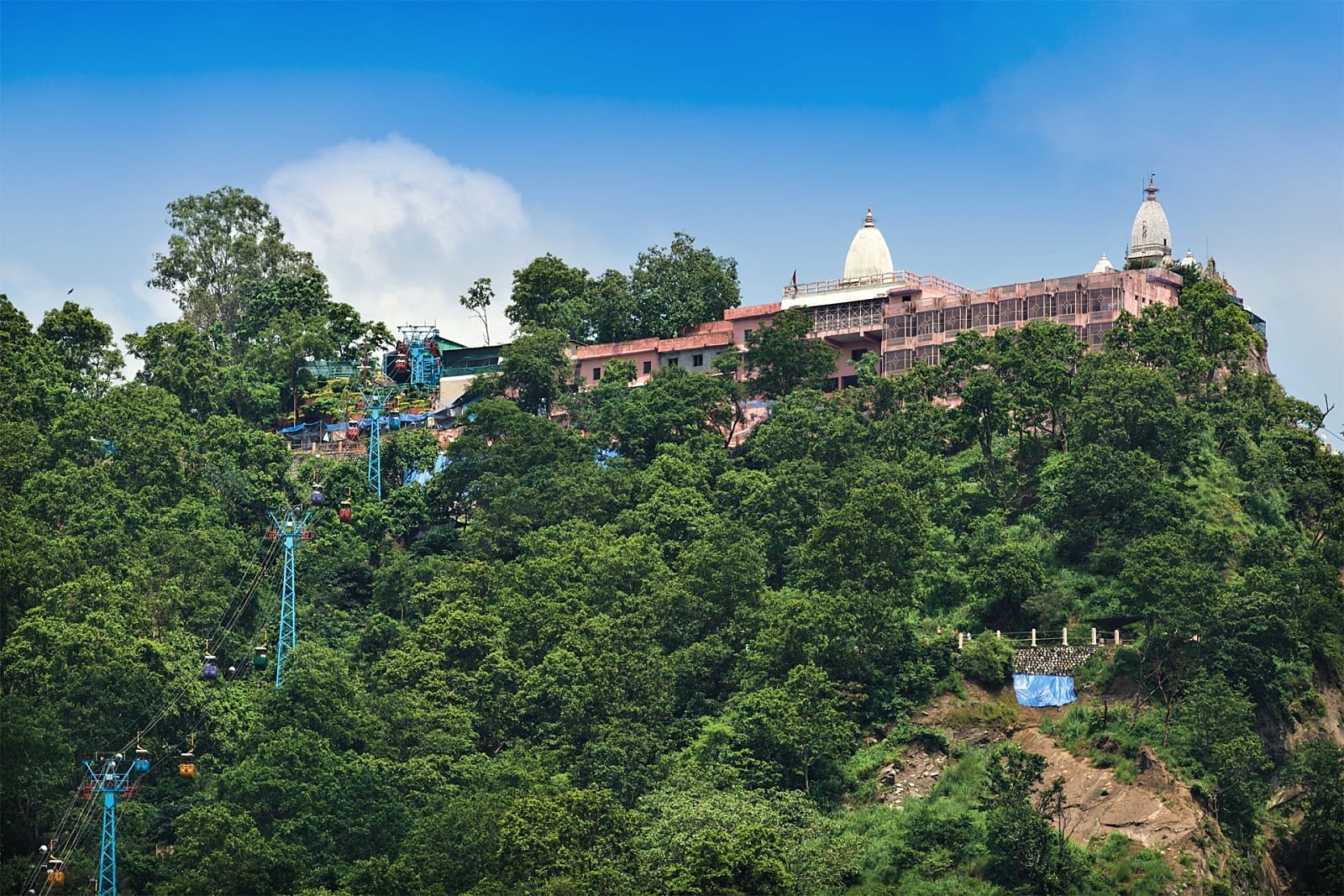 This temple is situated in Panchkula, Bilaspur village adjoining Chandigarh. There are two main temples amidst greenery full of sacred plants. Tourists including historians and archaeologists visit this place while touring Chandigarh as it is built in Panchayantana style. It is crowded during the main festival celebrated here – Navratri. The first temple was constructed in eighteenth century the second one that is situated at a distance of 200 meters from there is Patiala temple constructed by Maharajah of Patiala. The temple walls are filled with images of shrines.
22. Devi Talab Mandir
This is a famous temple situated in the center of Jalandar city, Punjab. There are several temples located close by. You can find a small model of Amarnath Yatra within the premises of Devi Talab temple. There is also an artificial water-body or water tank sacred to the Hindu devotees with great masonry work. For more than 125 years an annual spiritual musical takes place in December month called Hariballah Sangeet Sammelan. You can find singing classical and instrumental music performances.
23. Panch Mandir
As the name goes, there is a main huge central structure with five small temples dedicated to different Hindu Gods and Goddesses. It is situated at Kapurthala Punjab and pulls many crowds including historians who are interested to learn about the traditional culture. Fateh Singh Ahluwalia constructed this with a shrine and assembly hall. The magnificent white temple is maintained with cleanliness signifying purity and happiness.
24. Govind Devji Temple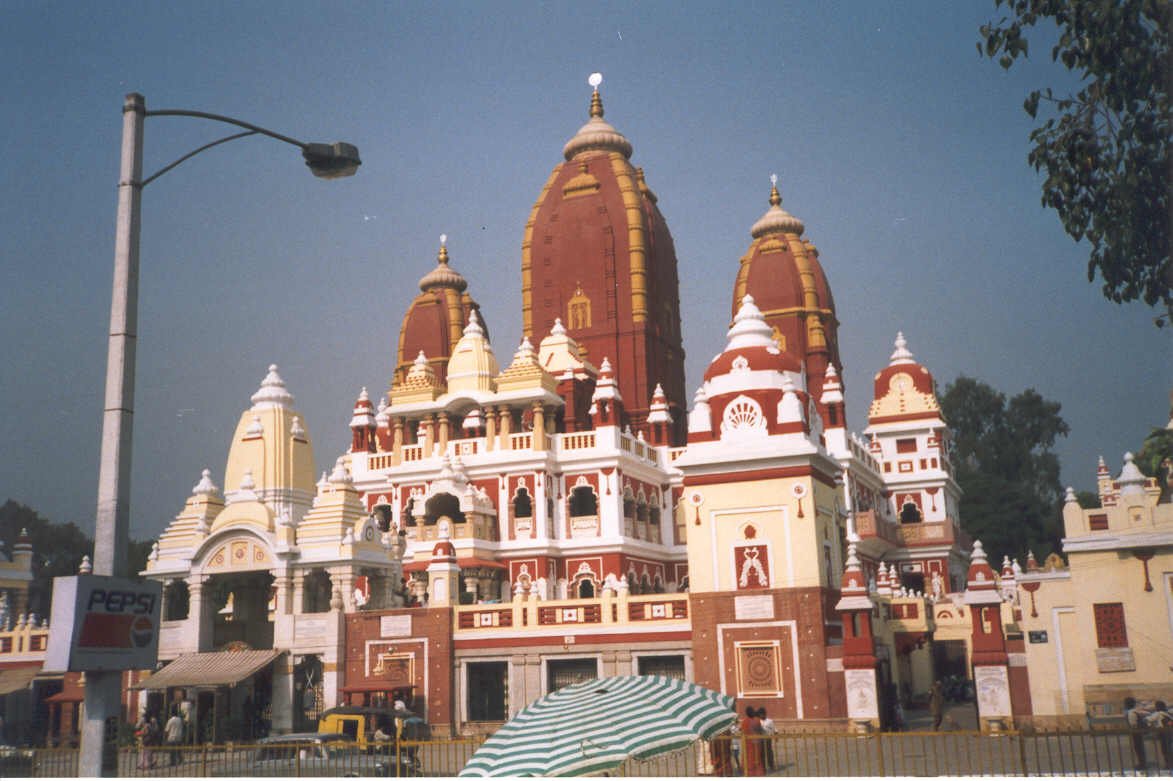 This temple in City Palace, Jaipur depicts the grandeur and rich history of the past. It is situated in one of the major tourist attractions of Jaipur near Chandra Mahal and Badal Mahal. The shrine is dedicated to Govind Dev Ji one of Krishna's names. It is said that Maharajah Sawai Jai Singh got the idol from Vrindavan, land of abode of Lord Krishna, to Jaipur after he appeared in his dream. Later a temple was built by Raja Man Singh.
25. Dilwara Jain Temples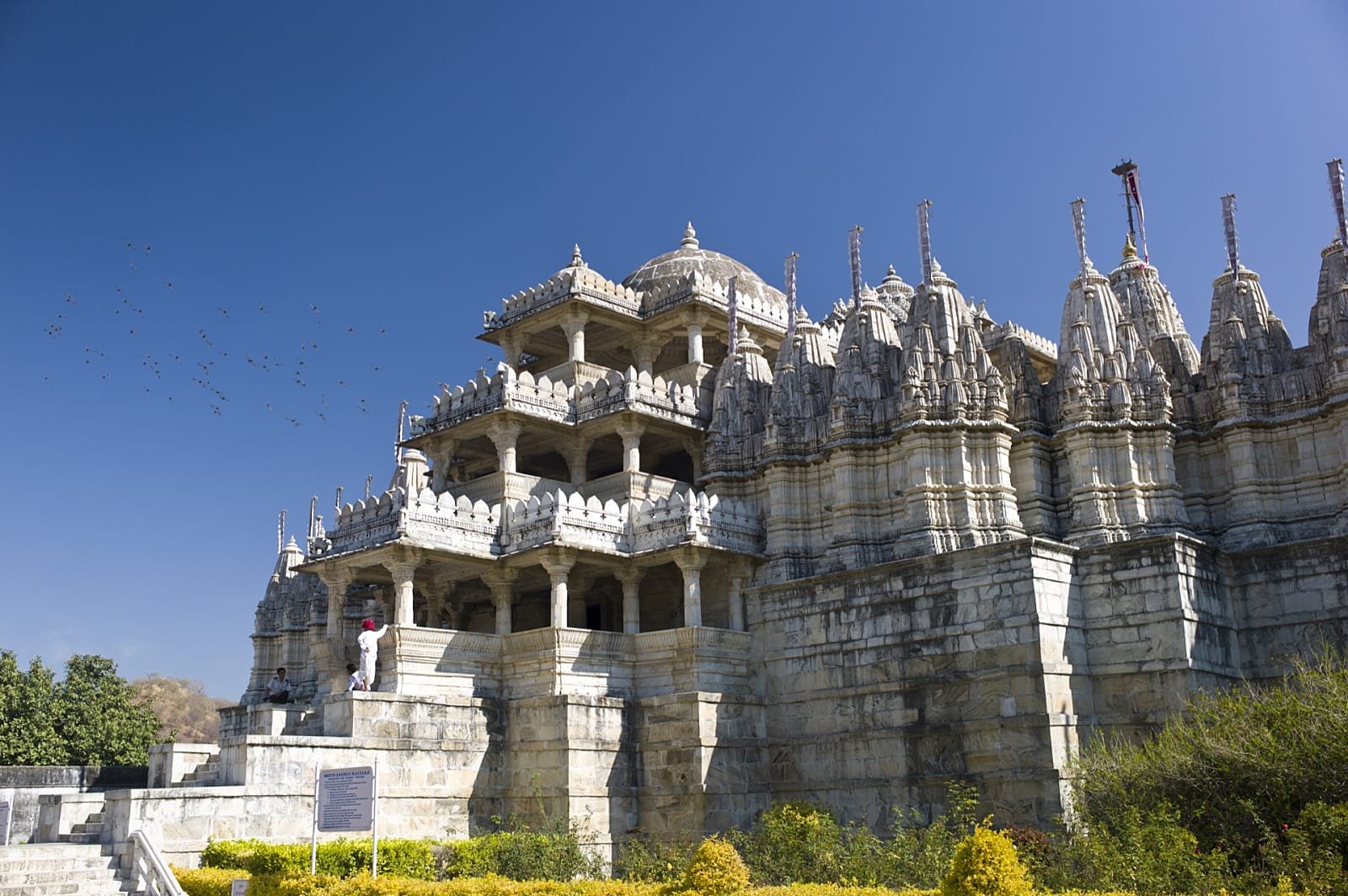 The Five Marble Jain Temples of Dilwara date back to 11th – 13th century and is a main pilgrimage site for Jains. They are surrounded by several mango trees and hilly surroundings nearby the scenic hill station – Mount. Abu. There is a huge wall that reflects the sunlight shines around the finest Jain temples with marble carved structures. It is a must visit temple when you going to Rajasthan tour.
26. Sanchi Stupa
This is one of the oldest Buddhist temples dating back to 3rd century situated in central India in Madhya Pradesh. The Great Stupa is accredited as a UNESCO World Heritage Site was commissioned by Emperor Ashoka. Constructed in amaizng architecture it has four entrances with ornate designs and each signifies Love, Trust, Courage And Peace. A statue of Buddha measuring 16 meters high and 37 meters wide is housed inside.
So after reading about few of the max popular temples in India, I am sure, one thing clears in your mind, that on the religious tour in India, you won't become the witness of different deities but glorious sculpture, architectural style, traditions, festivals, rituals and customs awaits for you, then without ado, for best Religious Tour Packages and good deal, log on to the website:  VisitTNT.com and yeah don't forget to include all these famous temples in India. You can also explore our Travel Guide for more experiences.
Read more about –