Top 10 Religious and Pilgrimage Destinations in India
India's spirituality is a very important element of the locals' everyday life. This secular country gives equal yet, powerful importance to divinity, karma, forgiveness, purity and humanity. The pious culture of this land attracts tourists of various religion to take up a full-fledged pilgrimage destinations tourism.
India holds numerous ancient and modern religious spots and there are many cities dotted with numerous religious buildings. Many travel enthusiasts, pilgrims and photographers visit these destinations to learn more about the culture and appreciate it.
Here are the top 10 religious &  pilgrimage destinations of India
1. Rameshwaram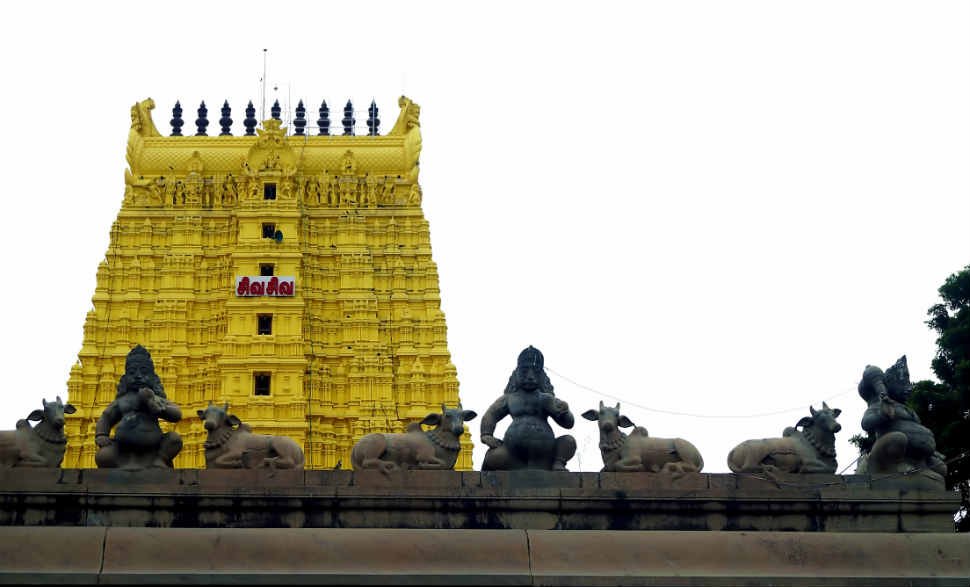 This temple town has very close link with mythologies of India. This town is famous for many other elements like the Adam's bridge, rail route over sea, Palk Strait and many others. This city is considered as the place where people wash off their sins.
Ramanathaswamy temple is the iconic Pilgrimage Destinations here. Apart from this, you can find Kothandaramaswamy temple, Gandhamathana Parvatham and many others. Four Shiva temples are located on four corners of India, which are important religious spots. The Ramanathaswamy temple is the southernmost one of those.
2. Varanasi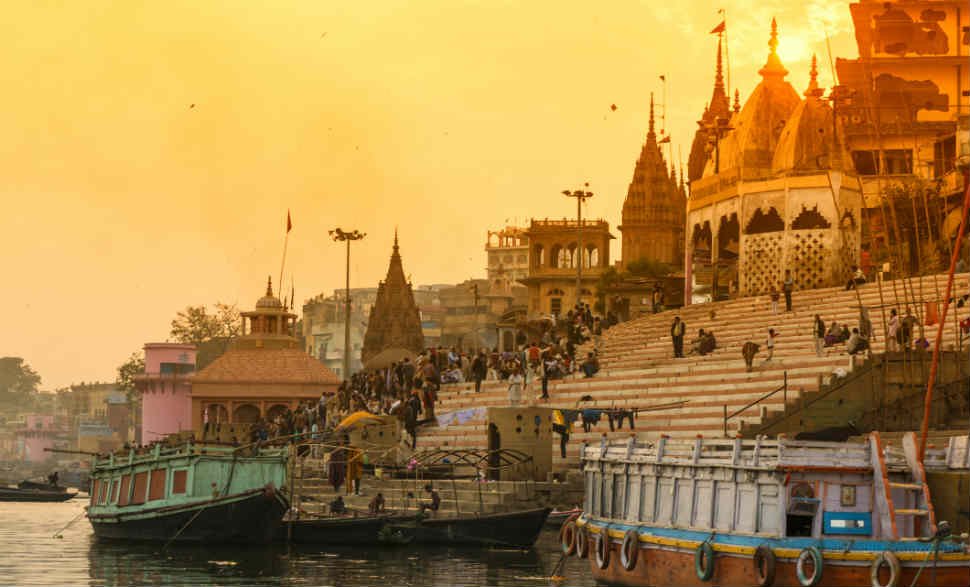 Benaras or Varanasi is the Hinduism capital of the country. This ancient city is dotted with numerous ancient and modern temples New Vishwanath temple, Dhanvantari temple, Durga temple, Sankat Mochan Hanuman temple, Kashi Vishwanath temple, Tulsi Manas temple and others. Apart from the temples, the city is contains 88 ghats which lead to the holy river, Ganges.
These ghats and the river are the iconic spots for many rituals including the famous Ganga Aarti. It is said that the city had 23,000 temples in the past. The city also holds 15 unique and ancient mosques.
Most unique mosques of the region are Abdul Razzaq, Bibi Razia, Hazrat Sayyed Salar Masud Dargah, Alamgir and others.
Varanasi Travel Guide
Read more – Complete Travel Guide of Spiritual City Varanasi
3. Sarnath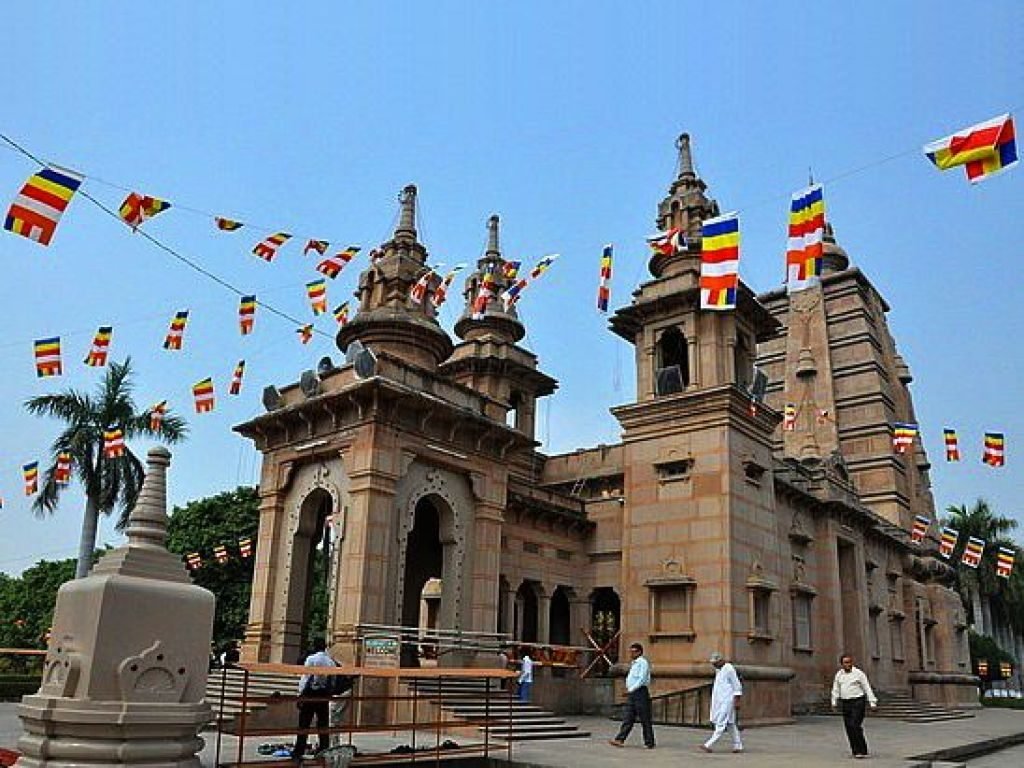 Sarnath holds many Buddhist monuments and temples. After enlightenment, Buddha reached Sarnath and gave his first sermon to fellow saints. The historic lion headed Ashoka Pillar is also found here. It is also the birthplace of religious leader of Jainism. You can find many monuments of Jainism in Sarnath. Usually Sarnath and Varanasi are covered under the same itinerary due to their proximity.
4. Kanchipuram
This historic town is famous for silk articles and temples. The town is lined with numerous ancient stone temples like Vaikunta Perumal temple, Kailasanathar temple, Varadharaja Perumal temple, Kumarakottam temple and others. This city holds numerous Shiva and Vishnu temples. The country's tallest temple tower is found in this city in Ekambareswara temple. You can find Buddhism and Jainism temples here. 3rd century Trilokyanatha temple and Chandraprabha temple are iconic Jainism religious spots in the city.
There are several mutts in the city where tourists are welcome to stay and enjoy the culture. Although not a famous Islamic pilgrimage destinations, the city has two mosques of 17th and 20th century.
Also read – Top 10 Most Famous Temples in India
5. Kashmir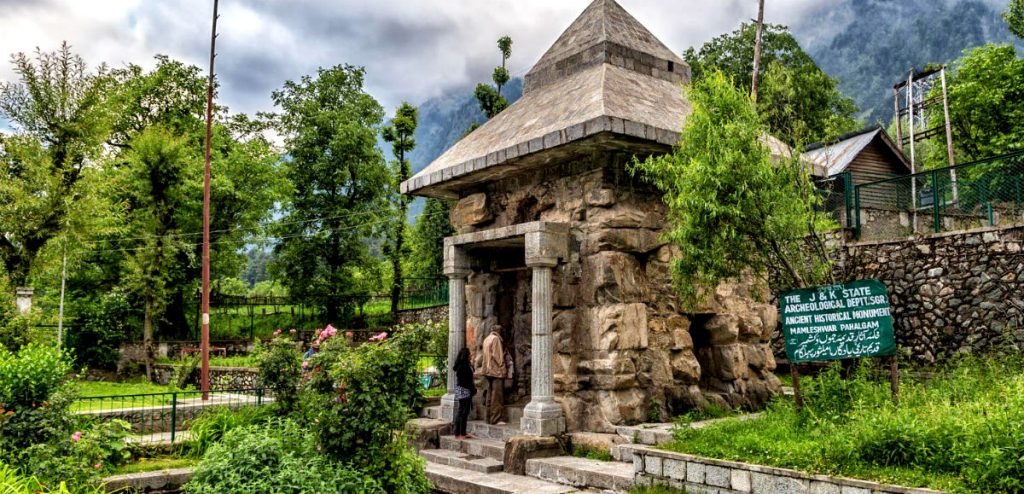 Most exotic honeymoon destination of India, Kashmir is also an important pilgrimage & religious spot. During the first half of the first millennium, the city was bubbling with Hinduism. Later, Buddhism and Islam spread in the city.
Today, Kashmir is an embodiment of all religions. Top temples of Kashmir are Shankaracharya temple, Sharika Devi temple, Awantipur and others. Shankaracharya temple was built in 250 BC and is an iconic religious spot here. Although in ruins, Sharika Devi temple is considered very sacred. The temple is surrounded by almond orchards and during April, the place will be filled with almond blossoms.
Kheer Bhawani is a small sacred spring where devotees visit in the month of May. When offered milk and delicacies, the water turns black as it wards off disasters, according to local belief. A temple dedicated to the Sun God, Anantnag is located here. This medieval temple is a beauty to watch. Apart from these, you can find many mosques and Sikh temples here.
Must Read: Top 10 Tourist Places in North India for Winters
6. Goa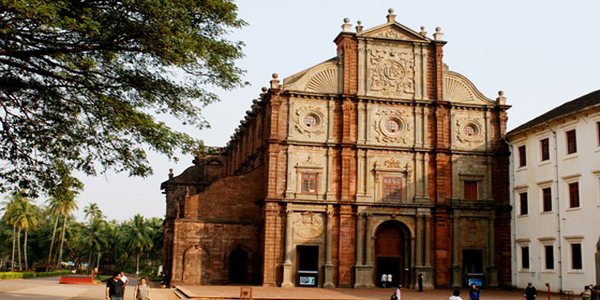 People never consider Goa as a religious spot. Ironically, this city contains many ancient and modern churches and a Basilica. During the pre-independence time, Goa was under European influence and leaders of Goa built numerous churches, which are famous for its architectural excellence and peaceful environment.
Bom Jesus Basilica is famous for holding the mortal remains of St. Francis Xavier. Se Cathedral of Goa is the largest church in the country. The St. Francis of Assisi Church is famous for its Corinthian architecture.
Other interesting churches in the region are Church of Our Lady of the Immaculate Conception, St. Cajetan Church, St. Catherine Chapel, Lady of Rosary church, Monte Hill, St. Francis Xavier church and others. You can also explore some of the famous yoga retreat in Goa.
Goa Travel Guide
Read more – Which is Best Goa? – North vs South Goa Attraction
7. Amritsar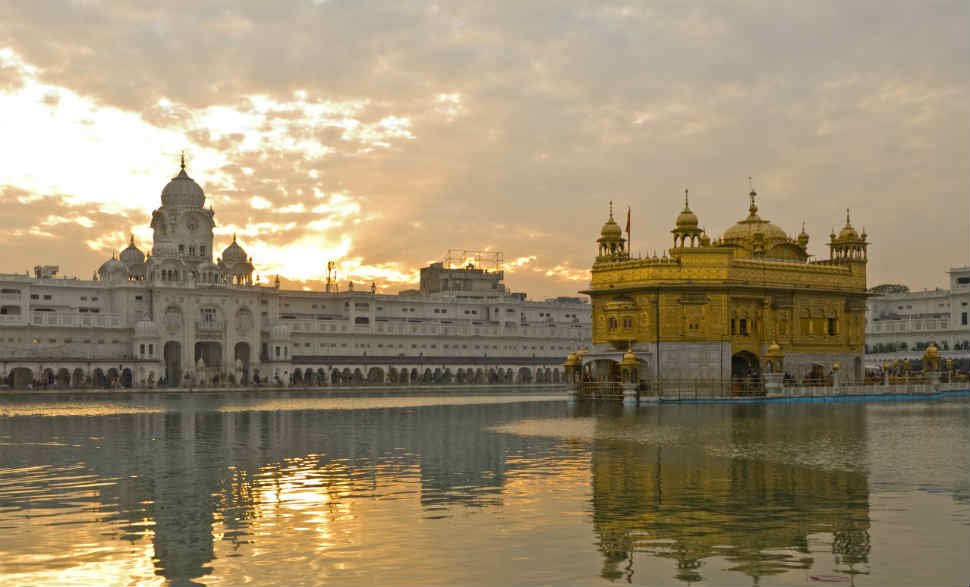 This is the holiest place for Sikhs. The Golden Temple of Amritsar receives more tourists than the Taj Mahal. The Golden Temple visit is considered as a very holy activity of the Sikhs. You can find a few temples in this region like Durgiana temple, Model town temple, Shivala Mandir and others. Pilgrimage Destinations prefer to dine at least once during their vacation in the community kitchen of the temple, which serves food for thousands of people every day.
8. Rishikesh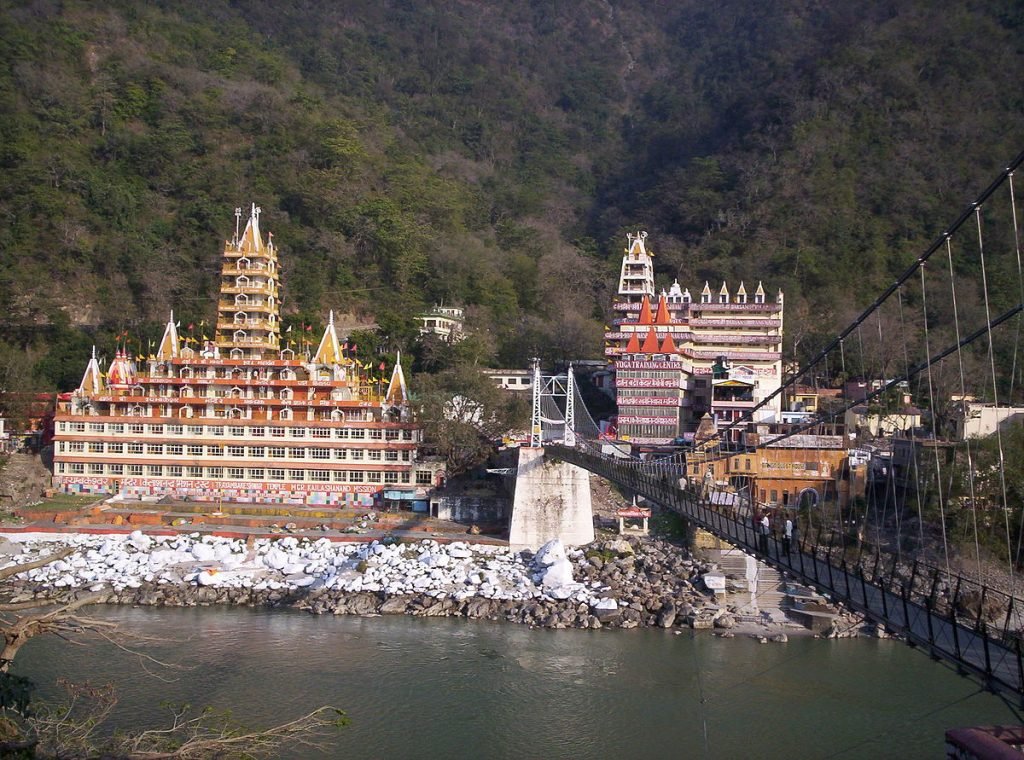 Rishikesh is famous as the Yoga Capital of the country. It is a pilgrimage town, which is visited by sages from ancient times for meditation and learning. Top temples in Rishikesh are Nilkanth Mahadev temple, Kunjapuri temple, Parmarth Niketan temple, Geeta Bhawan temple, Bharat temple, Tera Manzil temple and others. Triveni Ghat of Rishikesh is a spot where three mountain streams join. This is a holy spot where you can find many rituals and other activities. Haridwar, a city close to Rishikesh is also an important Hindu pilgrimage & religious spots.
Must Read: Best 10 Places to Visit in Uttarakhand in Summer with Family
9. Delhi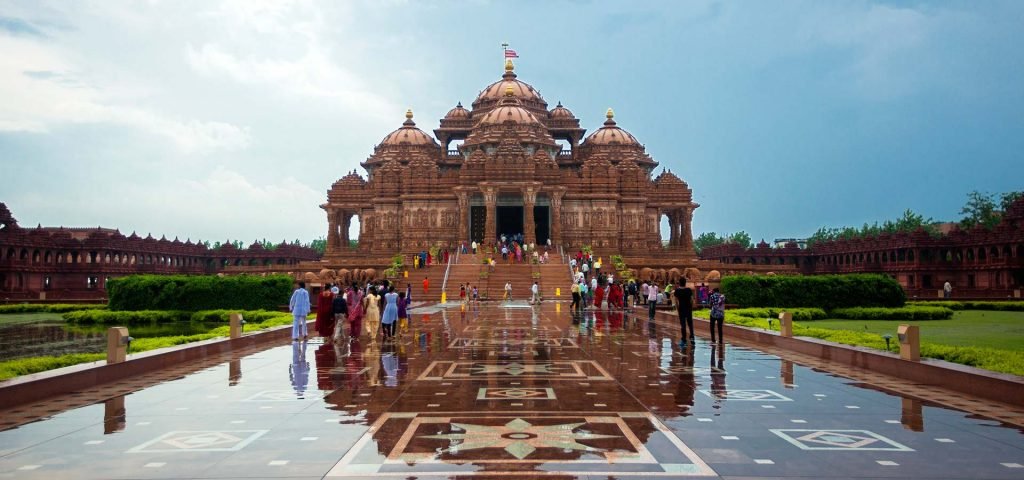 Before being the capital of the country, Delhi was an iconic region in Mughal reign. Today, it stands as an important pilgrimage & religious spots for Muslims. Delhi holds Jama Masjid, the largest mosque of the country. The Qutub Shahib Dargah is another esteem religious site where. You can find many graves of eminent rulers of the reign. It is customary for anyone who wishes to become a saint to tie a thread near the grave. Every Mughal monument holds a small mosque in it. The marble shrine of Hazrat Nizamuddin Dargah is another notable spot here.
Read more – Sound & Light Show at Red Fort (Lal Quila) in Delhi
10. Ladakh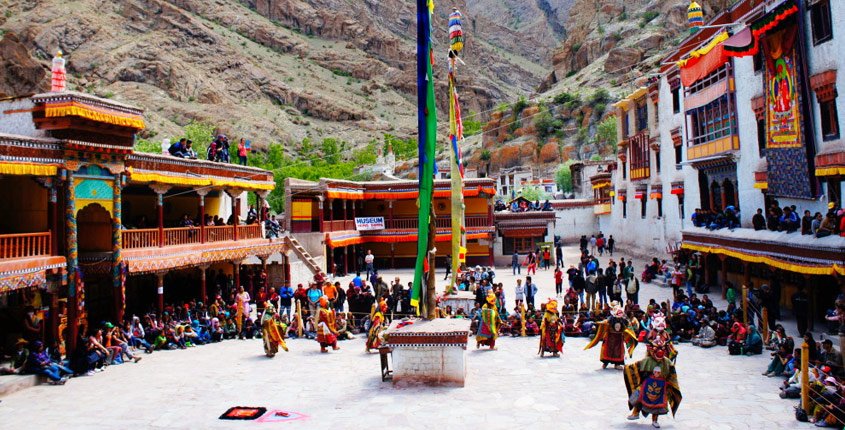 The adventure capital of the country has a little more to offer other than the ever-ending list of adventure activities, exotic locations, mountain passes and others. Ladakh is filled with numerous monasteries of varying styles. People trek or hike to these monasteries to enjoy the culture of the land. It is also the place where, you can find numerous monks practising Buddhism.
Top monasteries to enjoy in Ladakh are Thiksey monastery, Hemis monastery, Likir monastery, Diskit monastery, Stakna monastery, Spituk monastery and others.
Ladakh Travel Guide
Read more – Complete Travel Guide To Plan Your Ladakh Trip
Apart from these, there are numerous other pilgrimage destinations in India like Bodhgaya, Tirupathi, Puri, Dwaraka, Shirdi, Badrinath and others. It is best to visit these destinations during any religious festivals to enjoy many interesting rituals.
Best tour packages for India tours are –