10 Traditional Festivals and Events Celebrated in Kerala
Kerala is represented with beautiful landscape, unique culture, invaluable medicinal flora and vegetation. Unique to this land, Kerala is filled with cultural festivals that are treat to your eyes. Irrespective of religion and creed, these festivals are enjoyed by all people.
Here are the top 10 festivals and events that are interesting to watch and attracts several tourists to take part in the celebration.
1. Onam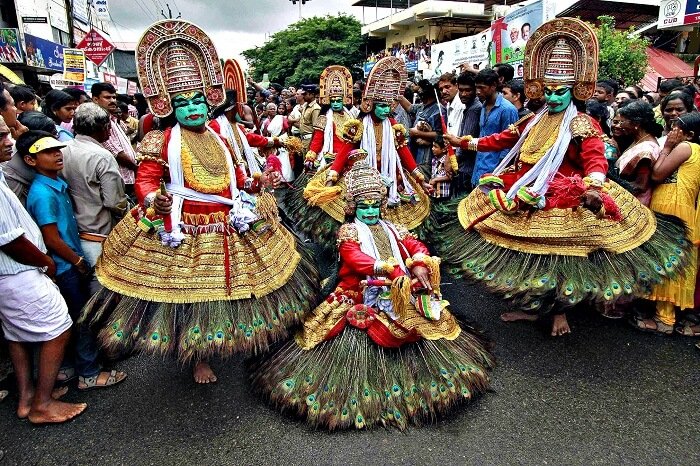 Onam is a Hindu festival that celebrates Lord Vishnu's victory over a demon. This festival is the iconic festival of South India. You can find a long list of activities during this festival. Top elements of the festival are boat race, royal parade of Thripunithura Athachamayan, traditional Onam feast on a fresh banana leaf, tiger dance (Pulikkali) and others. All restaurants serve traditional feast. However, it you get invited by any local for a home cooked Onam feast, you are in for a treat. You can enjoy traditional music, dance and other celebration during this festival. People decorate their houses with floral designs.
Onam is not the only time to enjoy snake boat race. Boat races are conducted during
Nehru Trophy Boat Race – August
AranmulaVallamkali – August or September
President Trophy boat race – 1st November every year on Kollam backwaters
Chempakulammoolam boat race – June or July
PayippadJalotsavam – August or September
Also read: The Five Most Famous Caves of India
Suggested Tour Packages
2. Thrissur Pooram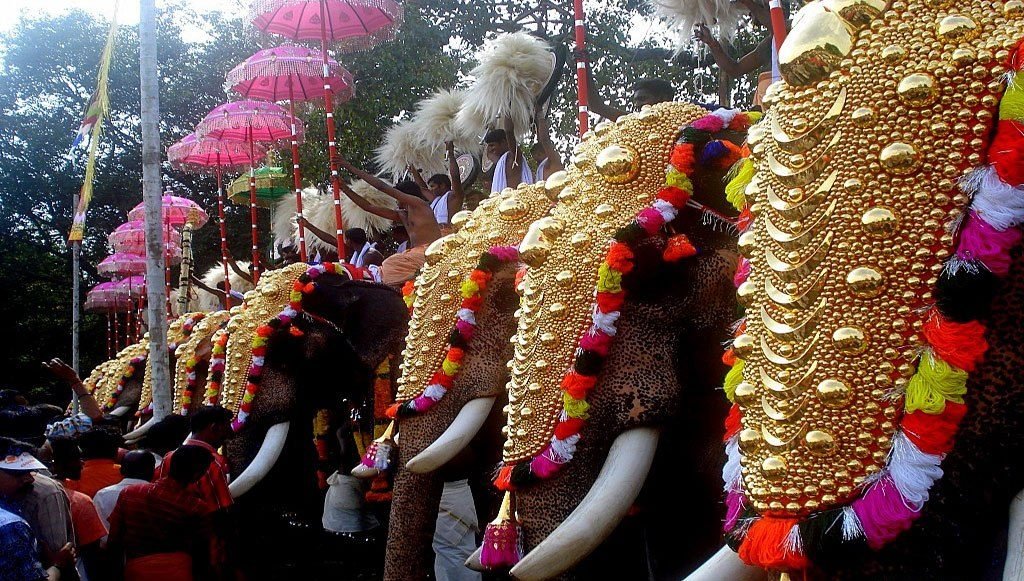 This is an ancient celebration, which is held for three days. This festival is celebrated in three temples; Vadakkunnathan temple, Paramekkavu Devi temple and Thirvambady temple. This festival takes place during the summer season, April. The temples will be decorated richly during this festival. UNESCO has recognized this festival as one of the most spectacular celebrations in the world.
This celebration is linked with elephants. More than fifty elephants are taken on a procession along with traditional instruments, dancing public, deity and others. Thousands of people take part in this procession and enjoy the gala. You can find traditional music, celebration and other attractions. The market places near the temples will be filled with souvenirs. In the evening, the sky will be filled with firecrackers, which indicate the end of the festival.
3. Attukaal Pongal
This festival is recognized by Guinness book of records as the largest women gathering in the world for celebrating a festival. This festival is a part of Attukaal temple festival. On the 9th day of the temple festival, women join together to cook Pongal, a sweet delicacy in a clay pot. This is the best time to enjoy the culture of the land. Women will be dressed in traditional attire and wear antique jewelry. The delicacy is cooked with primitive equipment in an open-air ground near the temple. This festival takes place in the month of February.
4. Kalpathi Chariot Festival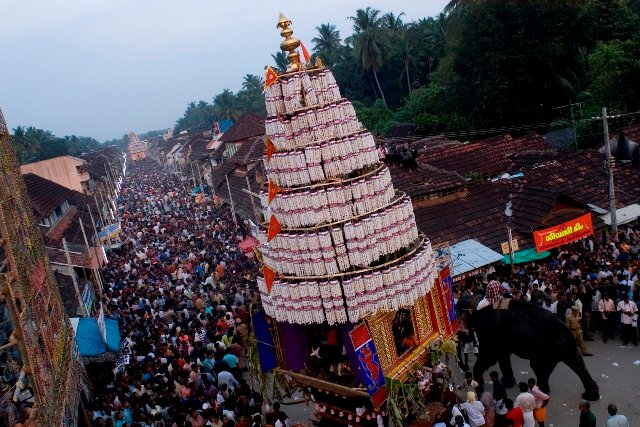 This is an annual festival, which is celebrated for ten days. This festival has been a part of Kerala culture for more than 700 years. The ancient temple of Seri VIsalakshi Sametha Sri Viswanatha Swamy temple is located on the banks of Kalpathy River. This 15th century temple has hosted this festival for very long time. For the first seven days of the festival, cultural programs are conduced within the temple premises. The cultural programs includes traditional dance and music performances, vedic recitals and many others.
The last three days of the celebration attracts thousands of tourists. The devotees and tourists gather to pull the temple chariot through the streets. This festival takes place in the second week of November.
Read more: Most beautiful tourist places in Telangana
5. Theyyam Festival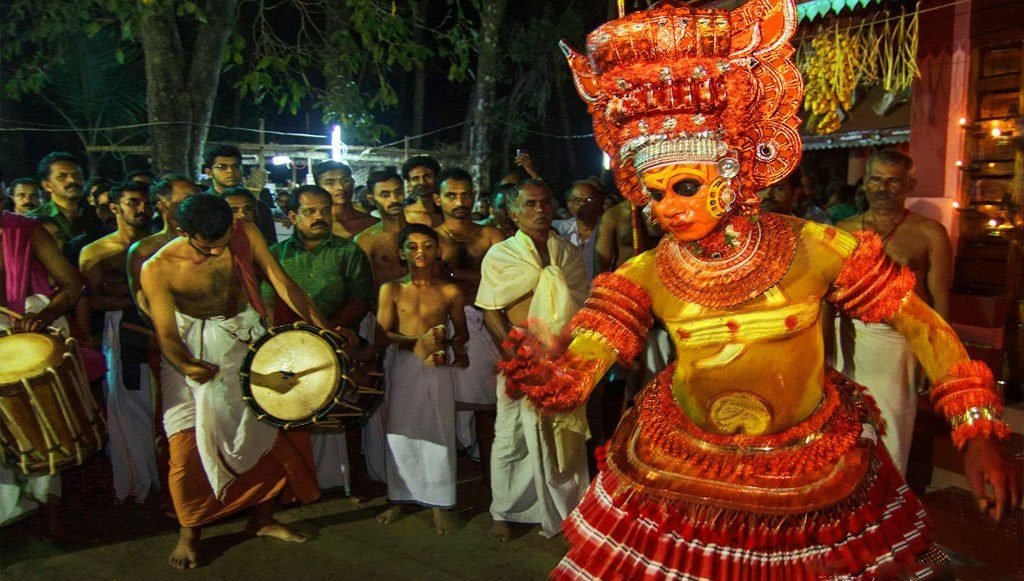 Theyyam is an ancient dance form that is considered a ritual form. Theyyam festival is a dance festival celebrated every year for six months from November to June. This festival is celebrated at Sri Muthappan Temple of Kannur. Theyyam dance has 400 forms and the dance is famous for unique decorations, dancers' face paint and appearances. The dance performance is the highlight of this festival. The marketplace around the temple will be filled with interesting souvenirs. People buy masks and costumes of the dance as a souvenir. The headgear of the dancers is an important souvenir among international tourists.
Read also: Interesting Facts about Mahabodhi Temple Bodhgaya
6. Puthari
This is a harvest festival, which takes place in August or September. This festival is celebrated in Puthari village. People make sweet porridge made with rice and milk. During this festival, farmers present fully-grown paddy crop as a present to all those who participate in the celebration. This is a ritual of prosperity. You can enjoy interesting folk culture, traditional music & dance performance and other performance arts during the fair.
7. Thiruvathira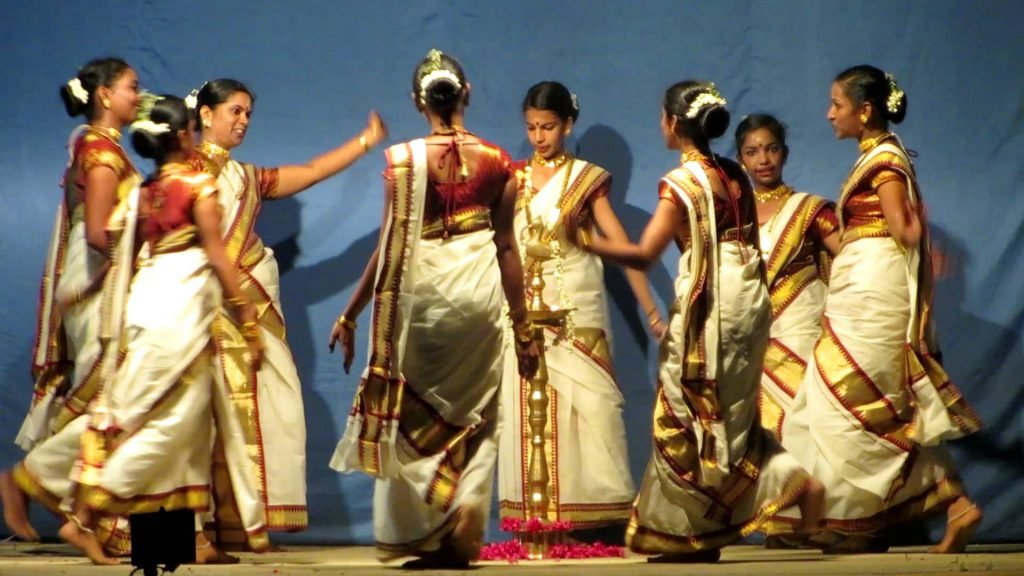 This is a female festival, which takes place in the month of December. This festival is special for the Thiruvathirakkali dance that takes place during the celebration. Locals take bath in the river at 4 in the morning. Women splash the river water with their fist and sing songs. It is a tradition to eat betel leaves during this celebration. Devotees try to eat 108 leaves. At the night, the Thiruvathirakkali dance is again conducted around a large brass lamp.
8. Christmas
Christianity entered India through the southern parts of Kerala and Kanyakumari. Thus, Christmas and other festivals are celebrated in a grand manner here. Cochin presents Cochin carnival, Kochi Muziris Biennale for shopaholics. You can also enjoy Indira Gandhi boat race. Top churches to visit in Kochi during Christmas are Sanat Cruz Vathedral Basilica, Koonankurishu Church, HolyKoonan cross church and others. Beach carnival takes place at the Christmas Eve in Kovalam beach. In Kollam, people take young children to the sea for the first time for fishing on Christmas. People take up small boat rides into the sea during the Christmas celebration.
Apart from these, there are numerous interesting festivals, which are unique to this state. These festivals express the cultural value of the land. Tourists of varying religion and creed are allowed to take part in the rituals. Photographs are allowed in most of the rituals. When refused, it is better to understand their culture and avoid photography. While celebrating, follow all the rules imposed on you and pay respect to the local culture.
Read more about the Famous Festivals of Mumbai – Ganesh Chaturthi