Where to Stay In Munnar? 6 Best Options
Munnar is a hill station in Kerala that attracts a lot of honeymooners and others tourists. Munnar is known for its scenic beauty and mesmerizing natural attractions. When it comes to accommodations, there are various options in Munnar based on your budget.
Luxury resorts and hotels
If you are planning to enjoy a romantic honeymoon or a luxurious vacation for South India Tour , there are a lot of luxury resorts here. Top ones to mention are Devonshire Greens, Chandys windy woods, Panoramic getaway, Blackberry hills, Munnar tea country resort and many others. Mostly these villas and hotels would be located in an aesthetically pleasing place. You will find all kinds of services inside the hotel. The price range starts from 80 USD and can go as high as 150 USD per day.
Check out our 13 Days Best of Kerala Tour Package that includes visit to Alleppey  and Munnar
Mid ranged hotels
If you are planning to save a few bucks in accommodation, you can still enjoying top class service and natural attractions. Top examples include Oak Fields, Hollyhock, Issacs residency, Royal Retreat, Red sparrow resorts, Tall trees Munnar and others. The price range fluctuates from  25 USD to 75 USD per day. Most of these hotels are located close to the city centre for easy travelling. Some are located close to the National park too. Choose your options wisely.
Suggested tour Packages: 6 Days Kerala Tour with Munnar
Budget hotels
The beauty of the place is not linked with the hotel. If you are looking for budget hotels, you can find numerous hotels in every street of Munnar. The price range can start from as low as 10 USD to 15 USD per day. The services provided in such hotels will be restricted but, you would be saving a lot of money with budget hotels. Since you are in a famous hill station in Kerala, the environment would be pleasing no matter where you stay.
Service apartments or Apart hotels
These are furnished houses with all kitchen based and related equipment for rent. Usually these accommodations have good view and suits people who are planning to stay in the place for a long duration. You can cook your own food and can enjoy a home-like environment. There are a few such apartments in Munnar and the price depends on the size of the apartment, location and others.
Ashrams
There are a few yoga retreat or ashrams in Munnar where you can stay for a few days and enjoy certain Ayurveda and Yoga tour. This type of accommodation can be linked with luxury accommodations. The price of the accommodation can be around 50 USD to 60 USD per day or more. It depends on the type of ashram you choose. There are budget ashrams too.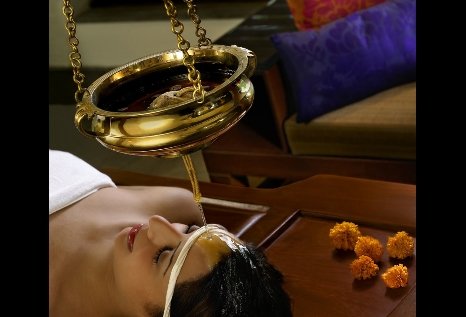 Check out the 15 Days – Kerala Tour (Ayurveda Treatment)
Dormitory
Spanning India in a shoestring budget is very common. If you are planning to cut expenses as much as possible in accommodation, you can choose dormitory. There are numerous dorms available in Munnar with bed spaces for 7 to 20 people. Some of these dorms are available near natural attractions like waterfalls, tea gardens and others.
Apart from these, there are a few housing locations where tourists are welcomed to stay as a paying guest. Learn about your options and choose the one that suits you. The rooms get booked as quickly as possible during tourism season by international and national tourists. local people tend to consider South India Tour where  Munnar is the perfect summer retreat area. Thus, there is a demand for hotels throughout the year. It is better to book your rooms, a month prior to your travel date to avoid any last minute confusions.
Explore 7 Days – Kerala Tour (Honeymoon Packages)
Suggested tour packages of South India:-
Explore some important travel information of Kerala:-