Top Places in India for Holi Celebration – Festival of Colors
India is famous for its colorful customs and one of the most colorful festivals of all is the 'Festival of Colors' itself. Holi, the vibrant festival celebrated to welcome spring season is enjoyed by throwing color water and spray paint on each other.
Mythically, it celebrates the death of demon Holika by Prahalathan, a devotee of Lord Vishnu. Cultural dance and music performances, puppet shows and much more are enjoyed as a part of the festival celebration. Although celebrated throughout the country, Holi is enjoyed as an exclusive festival in only a few states of the country.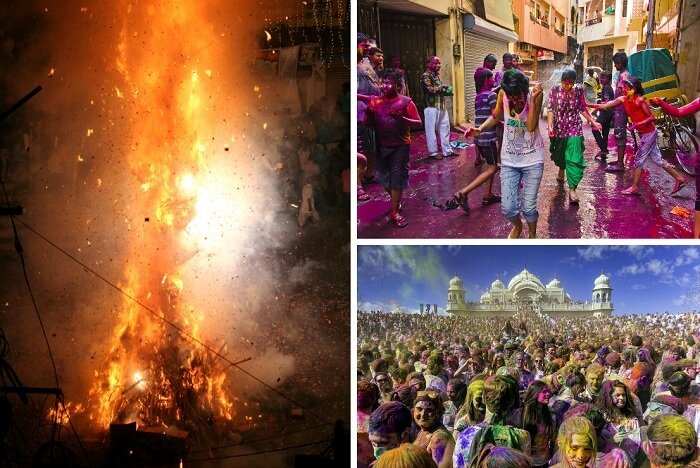 When Holi is Celebrated in India in 2018 ?
Holi is the one of the most famous festivals of India that are celebrated in various regions of India. Date of Holi Celebration is different every year.
In 2018 Holi is celebrated on 2nd March, and Holika Dahan is on 1st March.
In 2019 Holi is celebrated on 21st March, and Holika Dahan is on 20th March.
In 2010 Holi is celebrated on 10th March, and Holika Dahan is on 9th March.
Where is Holi Celebrated in India ?
Here are the top six places in India that are known for authentic and unique style of Holi celebration.
1. Holi in Barsana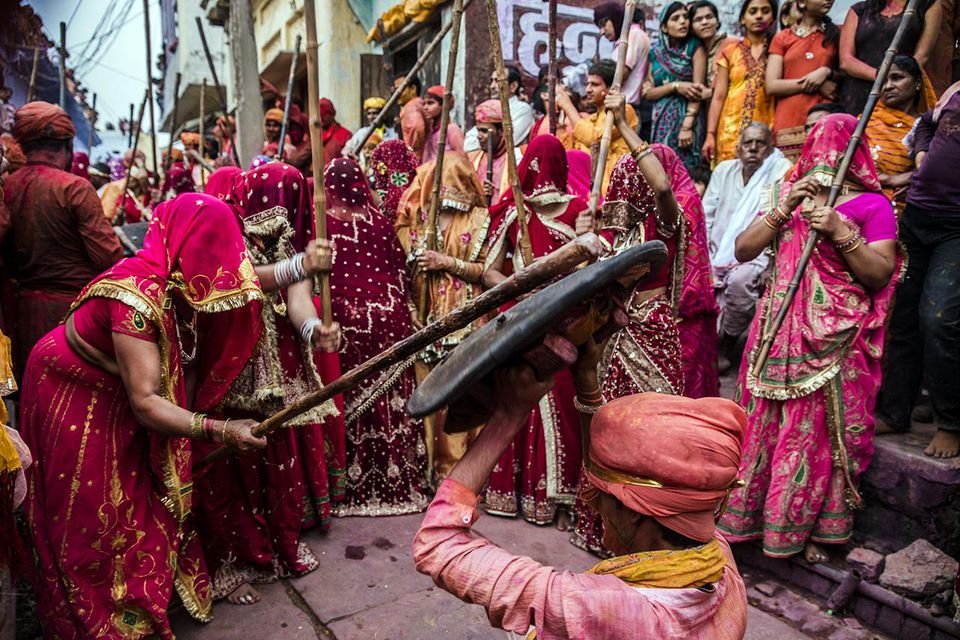 Barsana is a small village located near Mathura of Uttar Pradesh. This village still stick to the culture and tradition of the land, as a daily routine. When it comes to festival, the village turns into a beautiful paradise of bright colors. Holi festival is celebrated with an age-old tradition where women of the land beat up men with a small stick decorated with colorful cloth and paper.
This celebration is called Lathmar. Lathmar Holi is played exactly one week in prior to the actual celebration of Holi. Two days before Holi, the village celebrates Ladoo Holi during which all the households in the region make delicacies and share with others. On the Holi day, people conduct special rituals at home and temples before drenching each other with color water and powder. Tourists are more than welcome to be a part of this celebration.
2. Mathura & Vrindhavan Traditional Holi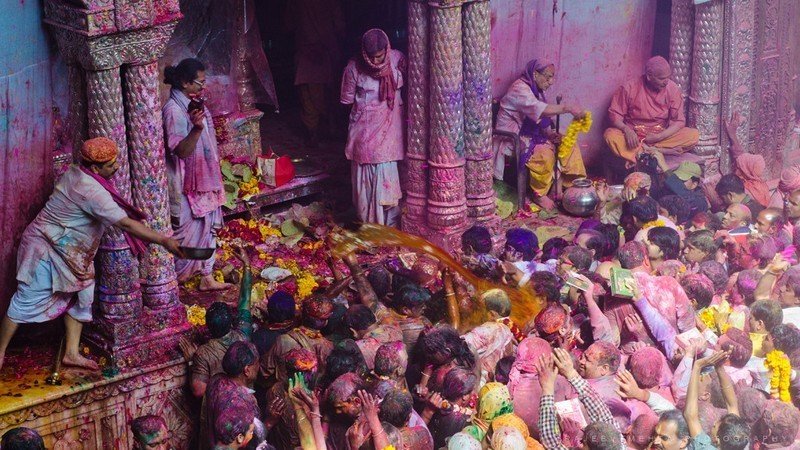 If you want to enjoy a Holi festival without commercialization, we recommend you to visit Mathura or Vrindavan. Mathura is an ancient city and is believed to be the place where Lord Krishna was born. On Holi day, people start a long procession with music, dance and celebration from the temple to the Holi Gate. This marks the beginning of Holi festival, which takes place for one week.
The location of celebration in Vrindhavan is Banke Bihari temple. On the day before Holi, thousands of people visit the temple to participate in the Holi of God. Priest spray color water on the deity and on the devotees. The devotees chant in unison. It is a wonderful site to watch cultural and ritual activities. On the Holi day, the celebrations start at 9 am in the morning. People throw color powder at each other inside the temple. Devotees specifically dress in light colors or white for enjoying the colors. Right outside the temple, you can find street foods, shops for souvenir shopping and much more.
3. Holi in Shantiniketan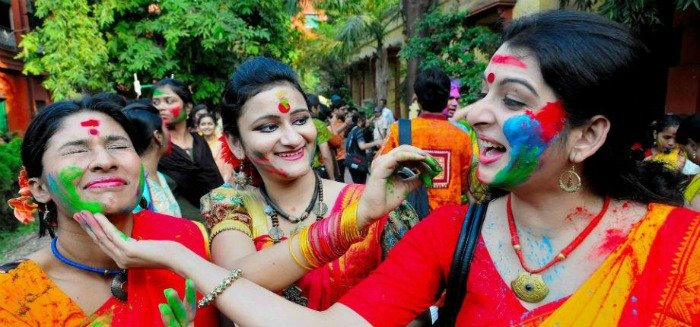 If you want to enjoy a Holi festival filled with cultural activities, West Bengal's Shantiniketan is the best spot to visit. Here, Holi is called as Basanta Utsav. You can find many cultural programs during this festival. Folk dance, music festival, puppet shows and much more are conducted throughout the city. The temples of the city conducts special rituals during this day.
4. Holi in Purulia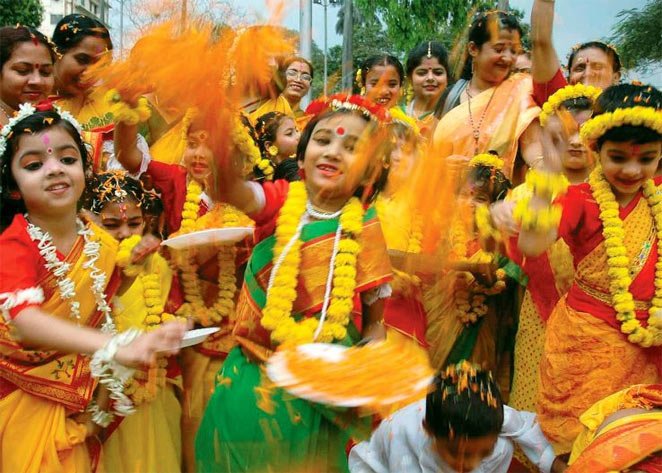 Purulia of West Bengal celebrates the spring with Basanta Utsav. However, it is quite dissimilar to that of the one celebrated in Shantiniketan. Folk dance, Nauta dance, Chau dance and Darbarijhumur are conducted throughout the place. Baul musicians conduct concerts at various spots in Purulia. The festival is celebrated in various places in the city.
However, the iconic celebration is conducted at Bandhar Deul, an ancient temple. Thousands of people visit the temple early in the morning to enjoy music performances and enjoy with colors. Mohua, a local beverage is served to people who enjoy Holi in the temple. The evenings are dedicated for dance forms. An open-air theatre is constructed and people enjoy folk performances. On the day after Holi, poetry recitals take place in the temple. Short folk performances also takes place at various places.
5. Holi in Anandpur Sahib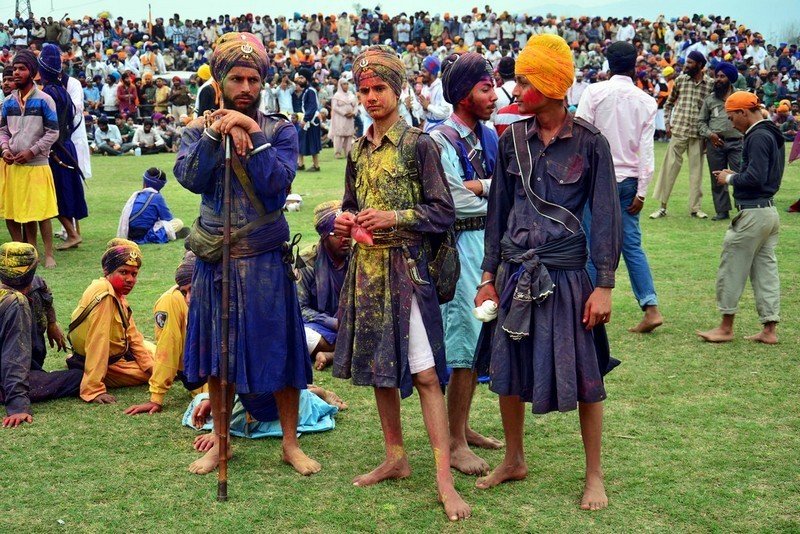 Holi is celebrated in cliché manner with rituals, cultural activities and many colors in Andandpur Sahib, Punjab. On the day after Holi, Hola, a Sik festival is celebrated in Anandpur Sahib. A day before Holi, a large three-day fair is conducted which ends on Hola, the Sikh New Year. You can enjoy fireworks, music, poetry, dance forms, martial art performance and many others. A military styled procession is conducted near the Takht Sri Keshgarh Sahib.
6. Holi in Udaipur
Udaipur celebrates Holi in a royal style. On the evening before Holi, Holika Dahan is conducted. The royal family of Udaipur take part in the iconic procession of the celebration, seated on elephants or horses. The whole city forms a procession of dance, music and celebration and follows the royal family from the palace to Manek Chowk.
A large bon fire is conducted in the chowk region, which is followed by several dance and music performances. By the end of the day, a large puppet of demon Holika is burnt in the fire, recreating a mythical scene, which leads to the celebration of Holi. On the day of Holi, buckets of color waters are thrown at anyone found on the street. People enjoy with folk dance and music. The hotels & restaurants in Udaipur conduct live night dance programs with DJ.
Holi is celebrated in a lively manner throughout India. Remember that the locals will throw color water at strangers without considering their attire, belongings or others. Thus, cover your cameras and other precious items.
If you want to take part in the color festival, apply a thick layer of coconut oil in your body and hair. This will help you remove the colors easily after the festival.
Plan you Holi in India with our India Tour Packages
Read more about the Famous Festivals of Mumbai – Ganesh Chaturthi