Top 15 Places to Enjoy Durga Pooja Pandal in India
First of all, this article is about places to find Durga Pooja Pandal throughout the country. When it comes to Durga Pooja, people assume that it is only celebrated in West Bengal. Although it is at its prime in West Bengal, the rest of the country also give equal importance to the festival.
To begin with, let us start with the pandal. A pandal is a theme-based staging conducted by a group of people. A pandal holds a statue of Durga. During the festival season, people perform rituals to the statue, offer delicacies to everyone who visits the pandal and perform certain cultural activities to help increase the number of devotees visiting the pandal. Sometimes, certain regions conduct competitions to find the most beautiful pandal in the region.
Durga Puja Dates 2019
| | | |
| --- | --- | --- |
| Important Days | Date | Day |
| Mahalaya, First Day | 28 September 2019 | Saturday |
| Panchmi, Fifth Day | 3 October 2019 | Thursday |
| Shashthi, Sixth day | 4 October 2019 | Friday |
| Saptami, Seventh Day | 5 October 2019 | Saturday |
| Ashtami, Eight and biggest day | 6 October 2019 | Sunday |
| Nabami, Ninth Day | 7 October 2019 | Monday |
| Dashmi, Tenth Day | 8 October 2019 | Tuesday |
Here are the top places to be during Durga festival, this year. This list includes destinations on all corners of the country, which put out unique and best pandals during the festival.
Top Places to Visit in India for Durga Puja Celebration
1. Mumbai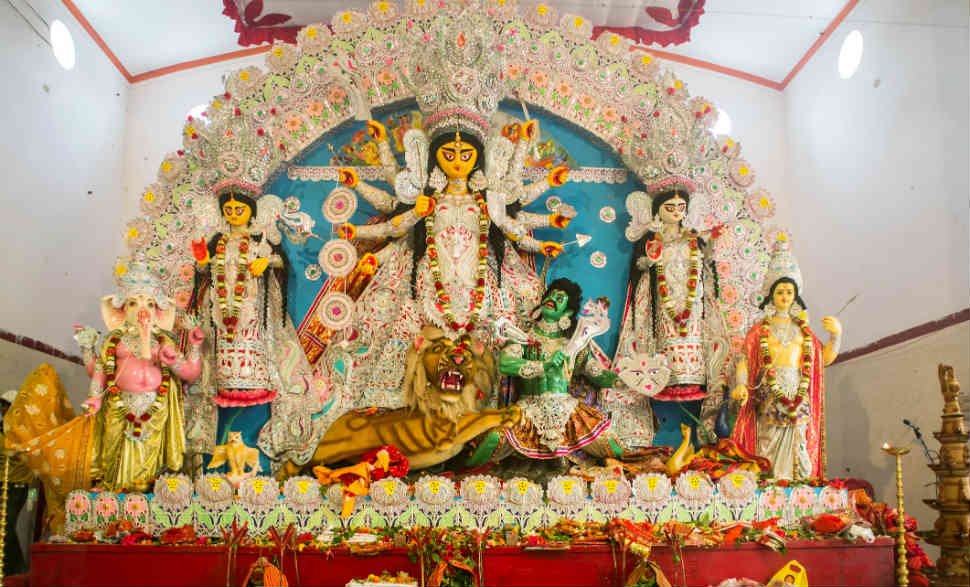 The best place in Mumbai to enjoy Durga Pooja pandals is Balkanji Bari of Santacruz. This pandal is hosted by Mukherji family of Bollywood. In these pandals, both vegetarian and non-vegetarian dishes are served to the devotees. If you are planning to spend more time, you enjoy a few hours at the Marine Drive or shop at Bandra.
Mumbai Travel Information
Suggested Mumbai Tours
Read more – Famous Festivals of Mumbai – Ganesh Chaturthi
2. Bengaluru
Yes, North India is the main place to enjoy Durga Pooja. However, this does not mean that the southern part of the country does not follow this tradition. The Goddess Durga is worshiped throughout the country and Bengaluru is an important destination for the same.
The main Durga Pooja pandal can be found inside the Socio cultural association located in Indranagar. The best part of this pandal is the ritual performances, beautifully carved Durga statue and delicious delicacies like Kobiraji cutlet, Luchi Mangsho and others. If you want to spend more time here, you can enjoy Cubbon Park, Film City, Banaglore Palace, Ulsoor Lake and others.
Read also: Famous Places to Visit in Bangalore
3. Pune
If you are at Pune during the Durga Festival, you ought to visit Nandonik in Koregaon Park. This pandal is famous for the menu of dishes, cultural performances, rituals and much more. This is the place for tourists who want interesting activities other than just rituals inside the pandals. Top places to enjoy in Pune around the pandal are Malshej Ghat, Dagadusheth Ganapathi temple, Mulshi dam and others.
Explore: Famous Festivals and Event in December in India 2018
4. Hyderabad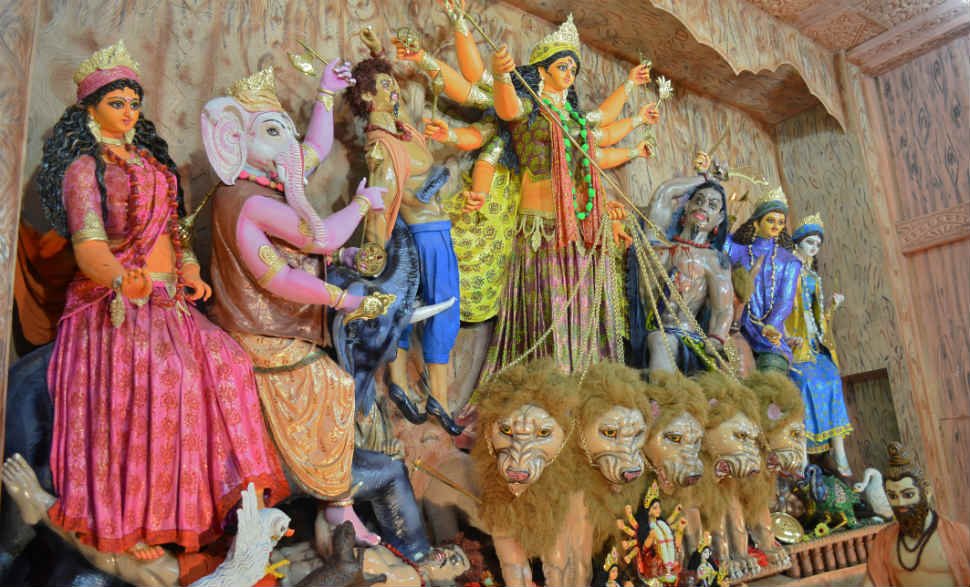 The land of Nawabs should not be taken lightly when it comes to celebrations. Durga Pooja is celebrated with grand and culture in the city for several decades. The best of all is the Hyderabad Bengali Samity, which is located in Domalguda. The rituals are taking place in this region since 1942. Heritage and culture are expressed in this celebration. Do not forget the tempting list of delicacies. If you are looking for activities around the pandal, choose to enjoy a boat ride on the Lake Hussain Sagar, explore Golconda Fort and enjoy the film city.
Read more – Top Famous Indian Festivals Celebrated in October 2019
5. Chennai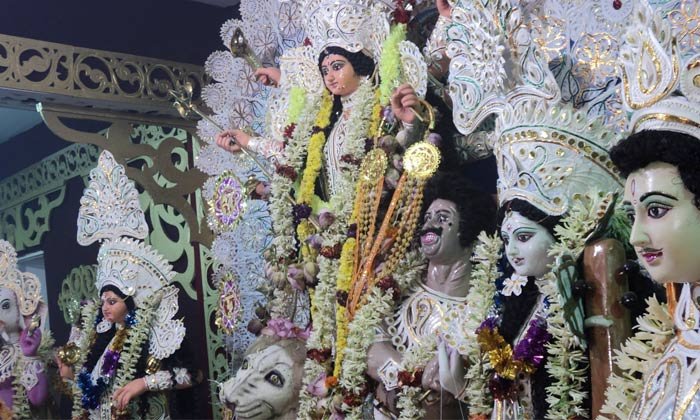 Are you planning to visit Chennai during Durga Pooja? Do not miss the grand pandal at Besant Nagar's Bengali Association. The place is laminated to add more beauty to the environment and the place will be at festive mode. The best of all is the Ashtami nabami bhog. If you are looking for more activities to enjoy, you ought to visit Marina Beach, Crocodile Park, Huddlestone Garden and others.
6. Nagpur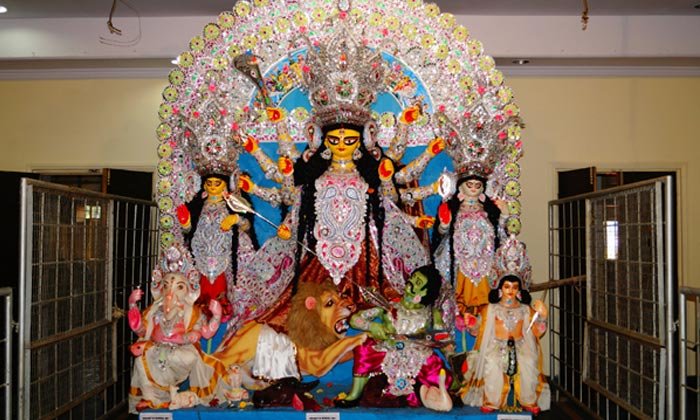 Visit Dhantoli to enjoy the best Durga Pooja Pandals. You can find locals in traditional costumes, heritage rituals and other festive activities. Do you know that sometimes, the pandal also serve Chinese dishes as delicacies? If you are looking to spend more time around the pandal, you ought to visit Nagzira wildlife sanctuary, Deekshabhumi, Ambazari and Tadoba Andhari Tiger Reserve.
7. New Delhi
The Land of Mughals – Delhi also holds a place in this list. For the past 25 years, the pandal of Arambagh is an important destination for pilgrimage. If you are looking for other activities around the pandal, you ought to visit Lodhi Garden, Humayun Tomb, Qutub Minar and others.
Delhi Travel Guide
Read also: Ten Top Photographic Spots in Delhi
8. Kolkata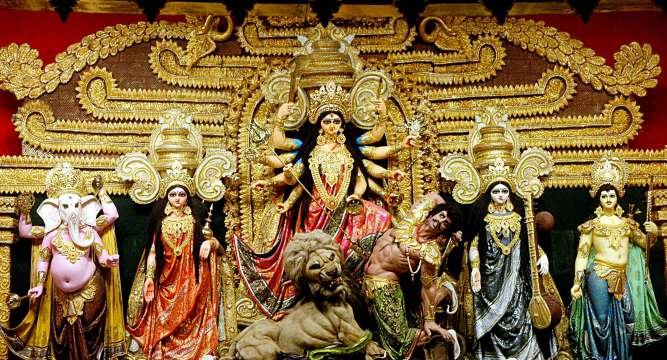 Of course, Kolkata is a part of this list. Kolkata is the best place to enjoy Durga Pooja pandals in the country. The best of all pandals is the Durgatsab of North Kolkata, close to Sovabaza Ferry. This pandal is a mixture of both heritage and modernity.
You can find several sculptures, many cultural activities and much more in this pandal. Other pandals to explore in Kolkata are Ahritola Sarbajan in Durgatsab, Telenga bagan Sarbojanin Durgatsab, Sikdar Bagan SadharanDurga Pooja pandal and others.
9. Lucknow
The Bengali club of Shivaji Marg is an important pandal destination of Lucknow. This association has been conducting this festival for around a century. In 1938, Netaji Subhash Chandra Bose visited the Durga Pooja Pandal in this destination.
If you are looking for activities around the pandal, the best attractions to enjoy are Ambedkar memorial park, Bara and Chota Imambaras, Kurali forest reserve and others.
10. Varanasi
The Jaitpura Pandal of Ma Bagheshwari Durga Puja Club is a noteworthy venue for Durga Pooja. However, the pandal does not focus on culture or entertainment. It is entirely around rituals, prayers and religious activities. Other pandals to visit in Varanasi are Baba Machhodrantah Durgotsav Samiti, Sanatan Dharam Inter College and others.
Varanasi Travel Guide
Best tour package – 20 Days Rajasthan Tour including Varanasi
Read more – Top 20 Best Places to visit in Varanasi
11. Gurgaon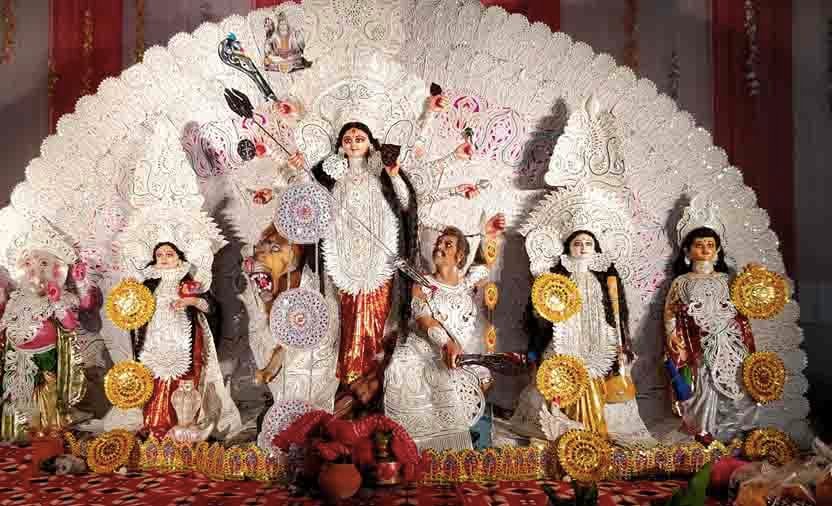 Purbapalli Durgtsav of Sector 15 holds the biggest and oldest pandal in the region. This pandal is famous for service traditional Bengali and Oriya delicacies during rituals. You can find numerous cultural performances. The region is hosting this celebration for the past 25 years.
12. Bhubaneswar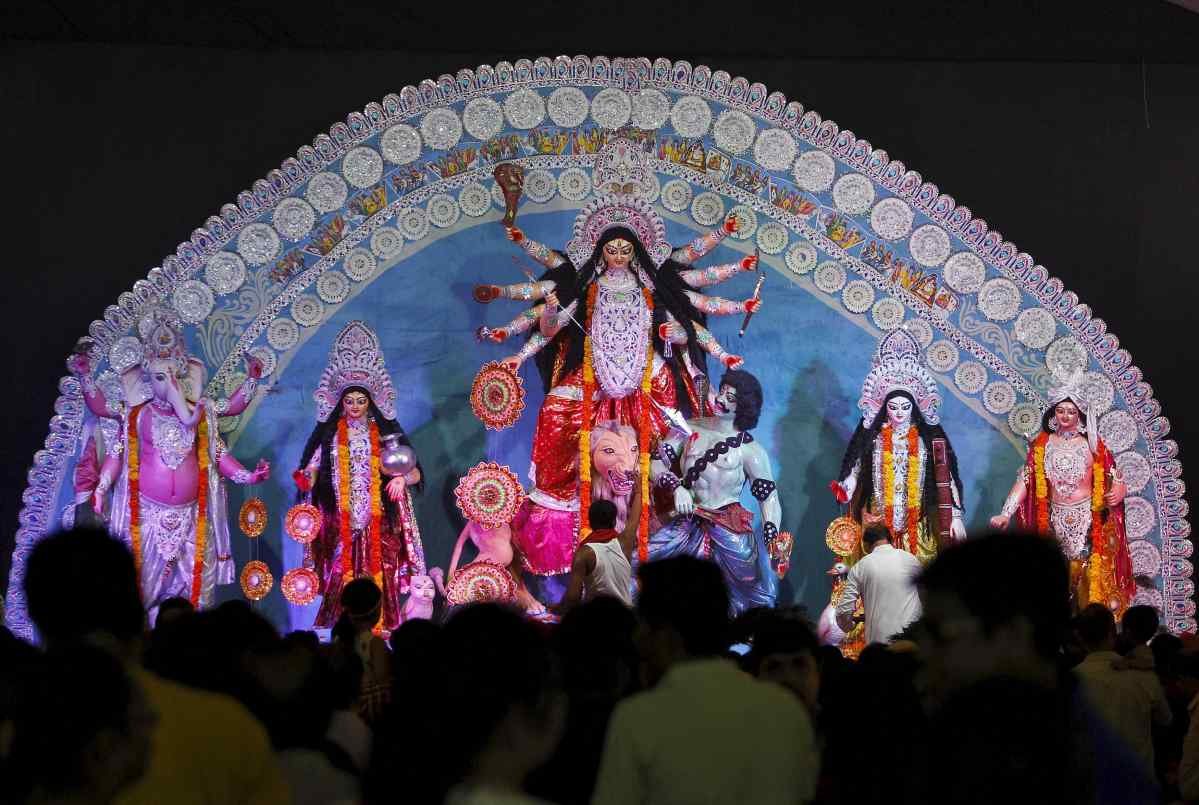 The Pandal of rasulgarh is famous for its Maha Saptami ritual, which is unique to the other rituals around the country. You can find a few cultural program inside the pandal. However, the whole celebration focuses more on the rituals and process rather than entertainment.
13. Assam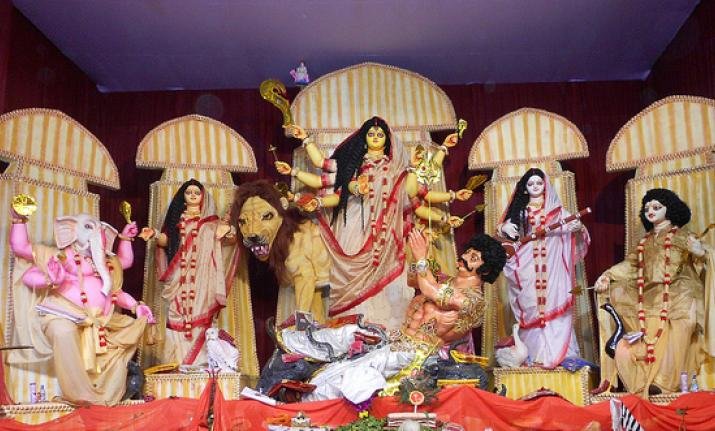 Assam takes it to the next level. The Bishnupur Puja committee organizes the largest Durga Pooja festival in this region. The festival includes 100 ft tall Durga stature made entirely out of bamboo. This Guinness record idol is used for celebration during the festival. You can find music performances, rituals and much more in this region.
Literally, every state in the country enjoys this festival. No matter where you are in the country, you would not be too far away from a pandal. Pandal welcomes people of all religion and creed to take part in the ritual or celebration.
Also read –