Vrindavan Mathura – Ultimate Travel Guide
Vrindavan is also known as the Land of Krishna, a culture rich place. It lies in the vicinity of three northern regions –Delhi, Agra and Jaipur. The land of Brij bhoomi popularly called Brij region is close to the Seven Wonders of the World – Taj Mahal. The region is located at Rivers Ganges and Yamuna and the Upper Indus Region.
History of Vrindavan
One of the main reasons that this place is significant to Hindus is mainly because Lord Krishna spent his childhood and adolescence here. He said Vrindavan is a Culture of Hills & Forests more than a City. There are around 137 sacred forests around the 1000 sacred Kunds spread over the banks of the River Yamuna & Holy Hills. Braj is famous for temples in Vrindavan which means "forest of tulsi".
Culture & Tradition of Vrindavan
People here speak an accent softer than Hindi. The local language to communicate with each other is called Brij Bhasha. The culture spreads through the entire country.
Famous Festivals Celebrated in Vrindavan
The color of the region is best during the festival times. This includes the festival of colors – Holi. This place turns colorful, joyfully noisy, and you can witness the magic of colors come alive in the Vrindavan grounds. People gather to color each other and celebrate.
During Ras –Leela celebrated during Feb- March in the calendar year, youngsters dance to songs and music in colorful attire and lots of energy. Lord Krishna used to perform this Ras – Leela Dance at Gokul and Vrindavan.
Cuisine of Vrindavan
The place is popular for spicy Chaat and delicious sweets too especially Milk cake from Bajna. Kasganj's Soan Papri, Raya's Soan Halwa, Iglas's Chamchams, Agra ka Petha, and Pede from Madhura, Boora & Batasa of Hathras and Nauhjheel's Maal Puye to name the famous one.
Top Things to see around Vrindavan :
The best way to get around especially Vrindavan is by walk. It would surely take more than a couple of days to get around the temples here. Several pilgrims and spiritual people from all over the country throng the place. There are several temples to visit here to see the land of Krishna here in Braj. One of the top sightseeing spots in Vrindavan is the oldest temples around Vrindavan.
There are a total of seven Prachin Temple but pilgrims generally visit all or most of the temples here. Madan Mohanji, Radha Damodaran Temple, Radha Shyamsunder, Baanke Bihari, Gokulananda, Gopinath, and Govindadeva are the most famous ones.
1. Madan Mohanji
The Prachin Mandir translates into Ancient Temples. The history of this temple Madan Mohanji dates back to the 1500s. As you go higher up the temple climbing up the stairs you will feel the quiet and peace and worth your entire trip.
2. Radha Damodar Temple
Here, there are numerous statues depicting the Lord Krishna. There are Samadhi of mostly of those who walked thirty five kilometers everyday which was known as Govardhan Parikrama. One special sightseeing spot to look for is a small rock that contains the footprints of Krishna along with the hoof print of a cow. It is believed that Krishna was so pleased with the strong devotion of Jiva Goswami that he gave a 'darshan' here. The Jiva Goswami Samadhi is also here.
3. Mirabai Temple
Close by to the famous Jiva Goswami Samadhi is the little Mirabai Temple. It is believed that Mirabai scolded Jiva Goswami as he refused Mirabai putting forth the reason of celibacy. Do not imagine a vast or enormous temple like the rest of them. A small temple standing by itself in humble architecture attracts a lot of tourists.
4. Govinda dev Temple
It is said that here Mirabai found 'her Krishna' when she arrived at Vrindavan.  It is believed this building could once be spotted from Jaipur when it was originally seven stories high. Built by Raja Man Singh by 1590 it is a brick colored three storied ancient temple with decent architecture.
5. Sri Gopinath Temple
Close to the Govindadeva Temple is this temple believed with marvelous architecture and deity carved 5000 years ago. Founded by Madhu Pundit Goswami, the three deities was carved by Sri Krishna's grandson, Vajranabha and rediscovered by Paramananda Goswami at Vamsi –Vata. The deities were carved by description of Uttara, Parikshit's mother. The Samadhi of Sri Madhu Pundit, who took over the seva, is there behind the temple structure.
6. Sri Radha Shyamsundar
One of the most significant temples for every devotee is the Sri Vrindavana Dhama is the Sri Radha Shyamsundar. There is a special place in the heart of Vaishnavas especially because they can find the distinct Deity of Sri Shyamsundar evinced from the heart of Srimati Radharani. It is believed she also graced Shyamananda Prabhu with nupur tilak which was in the shape of Her Lotus Feet.
7. Baanke Bihari Temple
Another famous Krishna temple in Vrindavan is the Bankey Bihari Temple where it is believed that Shri Bankey Bihari made an appearance in Nidhivan. The Goswamis or saints helped in the building of the temple started in 1863/ 64. The words Bankey translates to 'Bent in three places' while Bihari means 'supreme enjoyer'. Visitors find a unique way of worship as neither bell ring nor conch shells sound. People chant 'Radha Naam' while bhog and Prasad are offered during festival times here.
8. Gokulananda Temple
The Sri Radha Gokulananda Temple at Vrindavan is situated in the middle of Kesi Ghat and Radha Raman Temple on the banks of River Yamuna. Earlier deities were each worshipped in their own temples. However the builder of this ancient shrine envisioned all deities to be worshipped under one roof. Apart from Sri Radha Gokulananda, the deities here are Vijaya Govinda, Chaitanya Mahaprabhu, and Radha Vinoda. Hence he built the Sri Gokulananda Temple.
Other Famous Temples & Ghats :
There are various other temples such as ISKCON Temple and the Rangji.
Rangji Temple
This temple land was founded in 1851. There are tiny little temples which are connected in the massive compound. This is interesting place to visit as you can see the Sone ki Palki. You can view the eight vehicles, chariots, horses and elephants in gold and silver like covering material.
ISKCON Temple
This temple is completely white in color. You cannot miss it not only because of its color but also because it is the very first temple as a pilgrim/ visitor enters Vrindavan. You can spot several international devotees here.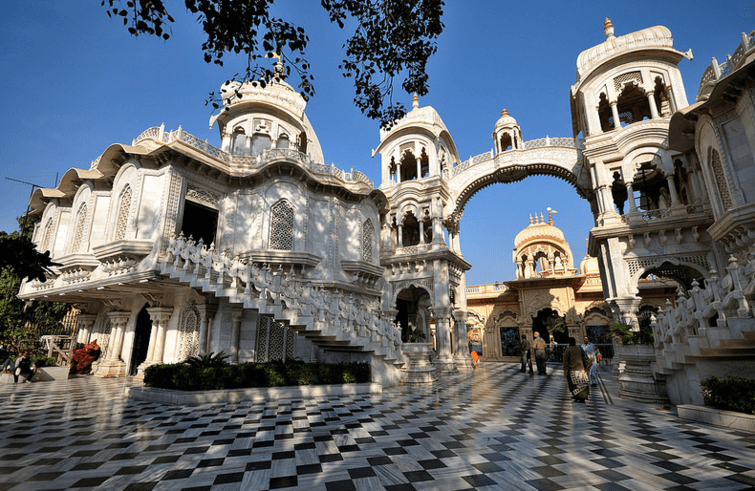 The Ghats
This picturesque site provides the best place for a peaceful time with only sounds of the flowing waters to break the silence. You may spot a pundit chanting in the Holy hills or a turtle coming out to breathe the cold winter breeze. Once you cross the pontoon bridge over the river that starts at Suraj Ghat, passing through Chir Ghat, to the Kesi Ghat you get to see another Vrindavan view.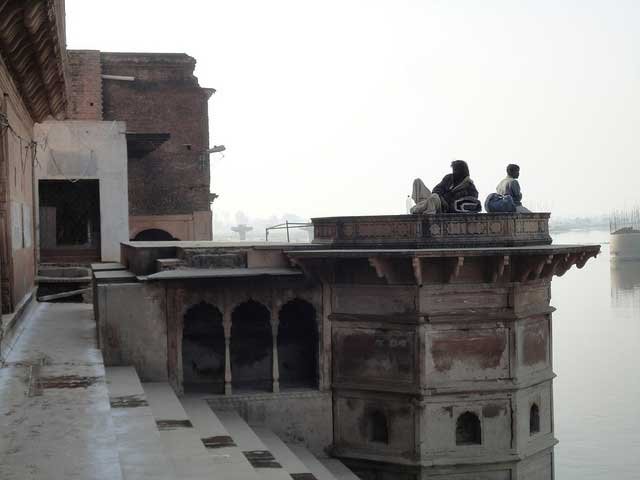 Best Places to Eat :
Being a pilgrimage site, there is mostly vegetarian food available here.  They serve Satvik Bhojan where as foods containing onion, garlic, non-veg are not served here and referred to as Tamsik Bhojan.  Famous snacks here include channa bhattura, pakoras, aloo –puri and kachori.
Restaurants & Other Food Joints/ Coffee:
MVTCanteen Guesthouse: Ice- Creams, Pasta, Salads, International Cuisine (Near ISKCON)
Govindas Restaurant serves Chinese, Italian and India.
Govardhan Palace: 24 Hours Coffee/ Daytime Indian & Continental
Apart from the ones mentioned above there are number of food joints and the dhabas around Vishram Ghat serve delicious snacks.
Accommodation :
As the place is famous for pilgrims there is no dearth for accommodation to stay. Several ashrams offer accommodation. There are strict timings to adhere to though. Some of the famous hotel stays are listed here:
MVT Guesthouse: Tel: 0565-3207578-79
Mansarovar Palace: Tel: 2408686
Madhuvan: Tel: 2420058/ 64
Hotel Abhinandan: Tel: 2422290, 2423213
Brijwasi Royal: Tel: 2401224-26
Best Western Radha Ashok: Tel: 0565-2530395-96
How to Reach Vrindavan:
By Air:
Nearest Airport:
Khaira Airport, Agra, UP /Distance to Vrindavan: 53 km
Indira Gandhi International Airport, New Delhi /Distance to Vrindavan: 128 km
By Rail:
Mathura Cantt, Mathura, UP: (10 Km from Vrindavan)
Mathura Junction, Mathura, UP: (10 Km from Vrindavan)
Getting Around Vrindavan in Local Transport
There are busses connecting cities running from NH 28 & NH 29. Several travel by own conveyance like bicycle, cars, and other auto rickshaws, etc.
Important Tips:
Be careful while travelling as roads are not maintained well. There is disorganized parking and traffic management. The autos sometime charge very high or uneven charges. No separate footpath for those travelling by foot.
Suggested article Five Places to Visit in India During Janmashtami
Explore more with India's tour packages by duration