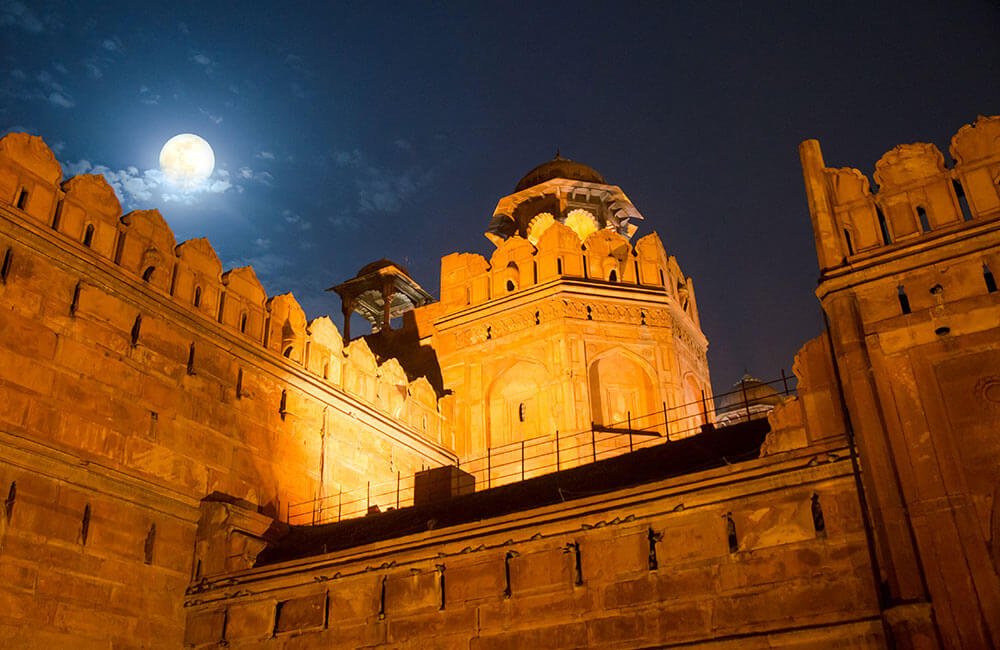 Agra is known world over as the city with historical monuments from Mughal Era. Before the rulers and dynasties the city Agra was a town full of dry forest land with deer and wildlife. It was mentioned as 'Agraban' meaning the forest of Agra in the mythological epic Mahabharata.
Even before the Mughal rulers Agra was ruled by Maharajah Badal Singh who is said to have founded Agra in 1475.
1. Lodhi Dynasty – 1506 - 1526
The very first rulers of this dynasty was Sikander Lodhi who made Agra the capital for administration after shifting it from Delhi. Human settlements started due to forest area becoming agriculture which was the main production and trade. This was manly possible due to the flowing waters of River Yamuna. This dynasty was ended by Mughal defeat by Barbur in India.
2. Mughal Dynasty 1526 – 1707
The Mughals ruled for 2 – 3 centuries. Although by the seventeenth century the downfall of Mughal empire still ruled for over one hundred years until British takeover. The descendant of Genghis Khan, Barbar was the first ruler of Mughal dynasty. He died within 4 years and the next ruler was Humayun. His enemy Sher Shah Suri defeated him but later died so Humayun was once again the ruler of Agra. Many of the monuments in Agra was commissioned and started by Akbar who ruled from 1558 – 1605.
3. Akbarabad
Due to the trade and commerce Agra the dried forest turned into a commercial hub for trade. It became rich and grand and earned the title – Akbarabad. After the death of Akbar his son Jehangir ruled the city with magnificent monuments such as tomb of Itmad-ud-Daulah was constructed with Mughal style of architecture. It was this Mughal ruler who let the British got a way to India.
The Great Agra Fort with several palaces inside which were the official residences for kings and queens of Mughal era was done during Akbar's rule. The famous Buland Darwaza is still the largest entrance in the world.
4. End of Mughal Dynasty
During the rule of Shah Jehan the beautiful Marble mausoleum Taj Mahal was constructed as a memorial for his beloved wife Mumtaz Mahal. So the monuemnts of Mughal architecture kept increasing. However, the budget of the Taj Mahal was so much and with the takeover by his son Aurangazeb a lot of change happened. The period to construct the Taj was 17 years by 20,000 workers but the city of Agra faced lot of economic downfall due to this. The capital moved to Delhi earlier known as shahjahanabad. After Aurangazeb took over the throne he moved to Aurangabad when it was end of Mughal Dynasty in India. However, Mughal era continued until mid 1800s with succeeding rulers.
That is history of city of Agra during the Mughal dynasty. The Marathas ruled Agra for a while before getting defeated by Britishers during eighteenth century.

Culture & Tradition of Agra
The city of Agra has warm and reserved people who are friendly from different faiths and beliefs. Traditionally, girls are dressed in salwar kameez and women also but on special occasions they dress with jewelery, flowers in the hair, mehndi and heavy silk sarees.
Agra is a city with many different religions and languages spoken there. However, common languages you can hear from people are Hindi, Punjabi, and Urdu.
Agra is also known as one of the best cultural destinations in India. There are famous cultural centers like Shilpagram and Kalakriti Cultural center. The Taj Mahotsav is a famous stage play and dance performance showcasing various art forms. Shilpagram holds a 10 days long exhibition or fair and also has shows such as classical singing, dances, theatrical play, etc.
Major Attractions in Agra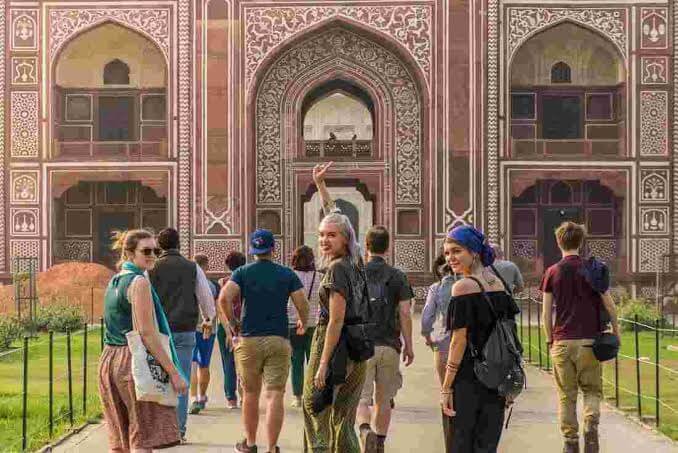 Agra is synonymous with the marble monument of love – Taj Mahal and Red Fort. There are 3 UNESCO World Heritage Sites in Agra. People travel from different countries to see the marble monument of love Shah Jehan built for his beloved wife – Mumtaz Mahal.
There are many attractions in Agra such as gardens, tombs, sanctuaries, palace residences, etc. However, these are the 3 main UNESCO World Heritage Sites Agra is famous for. |
1. Taj Mahal
The marble monument signifies love as the Mughal emperor built this for his beloved wife Mumtaz Mahal. There are different hues as the light of the day changes and reflects on the white monument. You can see the Sunrise at Taj, Sunset view of Taj, Heritage walk at Taj, etc.
2. Lal Qila / Agra Red Fort
Built in Rajput cum Mughal style of Architecture the defense fort walls are 2.5. kilometers long. Made of red sandstone and re-done with marble additions the Red Fort Of Agra is situated close to Taj Mahal on the banks of the River Yamuna.
Attractions in Red Fort Agra are Diwan-i-Aam, Jehangiri Mahal, Shah Jehan Mahal.
3. Fatehpuri Sikri
This is a walled in defense city with palaces, gardens, the biggest mosque in India, and halls inside. It was built in a village of Sikri and Fateh means Victory so it is called Fatehpuri Sikri. Akbar spoke with Sufi Saint Salim Chisti who said a ruler would be born there, so he set this place to build city of victory here.
Attractions in Fatehpuri Sikri are Buland Darwaza, Panch Mahal, Tomb of Salim Chisti, Jama Masjid, Diwan-i-Khaas, Jodha Bai Palace.
Checkout the Other Famous Attractions of Agra >
Things to do in Agra
In addition to visiting the historical structures of the Mughal era and the 3 UNESCO World Heritage Sites in the city of Agra there are lot more things to do. Here are the 5 popular activities you can do in Agra after sightseeing.


1. Bird Watching at Sur Sarovar Bird Sanctuary
It may not be situated close to the sightseeing places. But this sprawling bird sanctuary is spread across nearly 8 km on the Delhi – Agra highway. Relax with friends, solo, family and it is great for photographers with over 100 rare species. Open from 6 am to 6 pm.
2. Keetham Lake
If traveling with family the landscape around this lake makes a great picnic spot and play area for kids. It is situated within the Sur Sarovar Bird Sanctuary and measures 6 – 8 meters dept of the water. This is an artificial lake constructed within beautiful surroundings. Open from 6 am to 6 pm.
3. Taj Museum
After admiring the Taj Mahal and taking best shots on your camera then visit the museum. It is situated within the Jal Mahal Complex and displays things related to Taj. The drawings of Taj, ancient Mugal emperors' paintings and portraits, artifacts, antiques, wooden frames, inscriptions examples and manuscripts. It also has replica of currency used in ancient era. Open from 10 am to 5 pm.

4. Visit to Shilpagram
This is a festival showcasing art, craft, from all over the country within this 10-day festival in Agra. The Taj Mahotsav is one of the best activities to do at Agra if you are a culture buff. Find authentic Chikankari work, Khurja pottery, classic music, singing and dance performances, stone carvings, wooden carvings, bamboo usage, etc. There are also mouth watering snacks to taste delectable Agra Cuisine. It is a favorite for family as there is a Fun fair for younger audiences like teens and kids such as joy rides and other games. February 19th – February 28th annual event at Agra.
5. Mohabat the Taj: The Saga of Love
This play is more than the love life of emperor shah Jehan and his wife Mumtaz. The musical play shows the grand life of the Mugal era. There are ancient costumes, a replica of the Taj Mahal in the background and musical drama. There are headphones with translations in English and other languages. However, it is for the tickets booked for Platinum and Gold seats which costs extra.
Traditional Cuisine of Agra
Due to the influence of Mugal rule in Agra the cuisine still has the recipes that came straight from the kitchen of the Mugal kings. It is also a famous cuisine all over India and is well known as Mughali Cuisine. There are so many dishes and snacks to taste the local cuisine of Agra when you visit. However, the basic ingredients in Agra cuisine is the curries have non-vegetarian and filled with cream, yogurt, nuts, and type of spices.
Korma is an example for that. The other famous food is Kebab a deep friend vegetarian or non-vegetarian fry which is spiced, ground and deep friend. The famous sweet of Agra is prepared now all over India and is called Agra ka Petha. It is prepared mainly by ash gourd and sugar powder. The favorite street snack in Agra is Dal Moth with friend lentils, nuts and sev.
Many of the snacks you eat in Agra originated there which are now prepared all over the country.
Shopping in Agra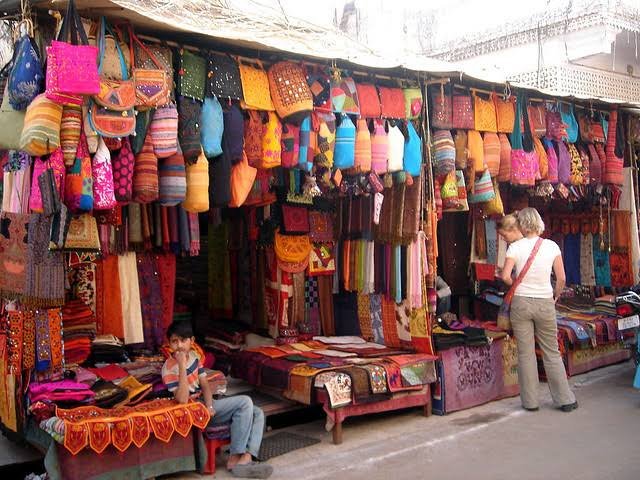 Agra is one of the best shopping destinations in India. There are several bazaars and even big malls to do local shopping at Agra. You can find footwear, clothing, rugs, blue pottery, mini Taj, handicrafts, leather items, jewelery and accessories, etc. A trip to Agra is incomplete without shopping at the local markets.
Here are the top 5 places for shopping in Agra.
1. Sadar Bazaar
This is one of the most famous shopping marketplaces in Agra. Tourists throng the place for various products – from sweets and snacks to jewelery, fabric, leather goods, etc. It opens 11.30 am and closes 6. pm. This is closes to the Main railway station of Agra which is Agra Cantonment Railway Station.
2. Subash Bazaar
Here yo will find the best silks and sarees fro women. They offer products of better quality at a reasonable price. You have to practice negotiating or bargaining skills and go shopping at this place. This is situated at the Halwai Gali and opens from 11. am to 9 pm on all days except Tuesday.
3. Kinari Bazaar
This is one of the places for the widest variety of things – from fabric and textiles to marbles and glass. Everything is here but you must practice bargaining skills here too. It is situated near the famous Jama Masjid one of the top tourist attractions in Agra. So, you can take a walk around the marketplace.
4. Raja Ki Mandi
This is one of the crowded places in Agra and people go other for the range of products sold here. there are colorful fabrics especially for women, readymade garments, home essentials, snacks, handbags. So fill your bags in this busy shopping street situated at Lohamandi and is open from 10 am to 8 pm.
5. TDI Mall
This huge mall situated to the main attractions at Agra - the Taj Mahal has several things to enjoy. It has local stalls, stores, showrooms with international brands, eateries or food court with different cuisines, and an entertainment center. So you can enjoy while shopping in your favorite tourist destinations in India.
Famous Gardens in Agra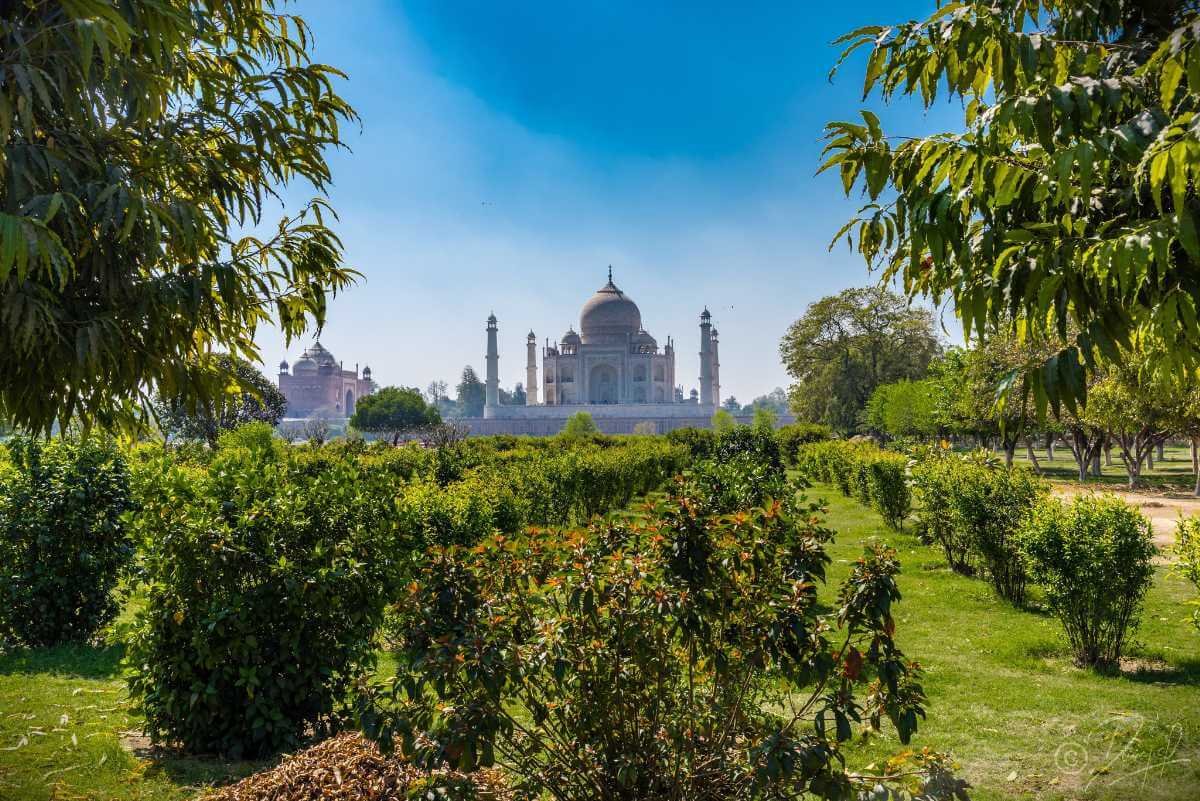 One of the world's most popular tourist destinations – Agra. The land of the Taj Mahal, 3 UNESCO World Heritage Sites and many historical monuments is also the top tourist destination in India. Many of these monuments are set amidst splendid gardens that are also famous sightseeing places in Agra. Visitors can visit this region of bygone ancient Mughal era for the beautiful gardens they miss out.


1. Mehtab Bagh
This means 'moonlit garden' by the banks of the river also known as Taj Mahal Garden. This is famous for the arrangement of the lush greenery. It is more famous for offering one of the best magnificent views of the beautiful Taj Mahal monument. Moreover, the reflection of the white marble in the moonlight rays in the waters of Mehtab Bagh is a spectacular sight that you must not miss.
View More >
2. Shah Jehan Park
This beautiful garden is filled with peaceful fresh air and lush green lawns to walk on. Tourists from around the world who visit the Taj Mahal and stay in nearby hotels take an evening walk or go for jogging early in the morning here. The garden also a popular golf course for playing or even to relax. There is also a walkway through the garden and it is situated on a road leading to the Taj Mahal.
View More >
3. Ram Bagh
This is one of the oldest Mughal Gardens in Agra constructed with Persian style by one of the first rulers of Mughal Dynasty, Barbur. This three leveled gardens was first called Aram Bagh. Emperor Akbar relaxed a lot in these gardens and it was also known as Aalsi Bagh which means lazy garden.
There are also row houses constructed with red sandstone on northern side of this garden. It is an enclosed garden with pavilions, pillars and towers in the corners. It was Jehangir's favorite garden and he also modified the garden during his reign. Later, the Marathas took over the place and changed the name to Ram Bagh.
View More >
4. Dayalbagh Gardens
The eighteenth century gardens were built in memory of "Radhasaomi Satsant Movements" founder Shiv Dayal Sahib. The gardens is also known as or means 'Garden of the Supreme God'. The Garden is also known as Saomi Bagh in Agra.
Various styles of construction has been utilized while building this garden that includes all the religions place of worship – Churches, Gurdwara, Temple, Mosque and Viharas. The memorial has amazing pillars and is built in white marble at an elevation of 110 ft.
View More >
5. Taj Mahal Gardens
This is one of the best sightseeing places in Agra which starts at the main gateway of Taj Mahal up to the main Mausoleum base. The garden is parted into four sections and at the center there are two canals with water bodies or fountains. This is one of the best places for photographers as they get the best pictures of the Taj and surroundings.
There are four walkways and from any side there is a view of the marble mausoleum. The center of the entrance or gateway and the Taj there is also a lotus pond which reflects the Taj Mahal in the water.
View More >
Hotels to stay in Agra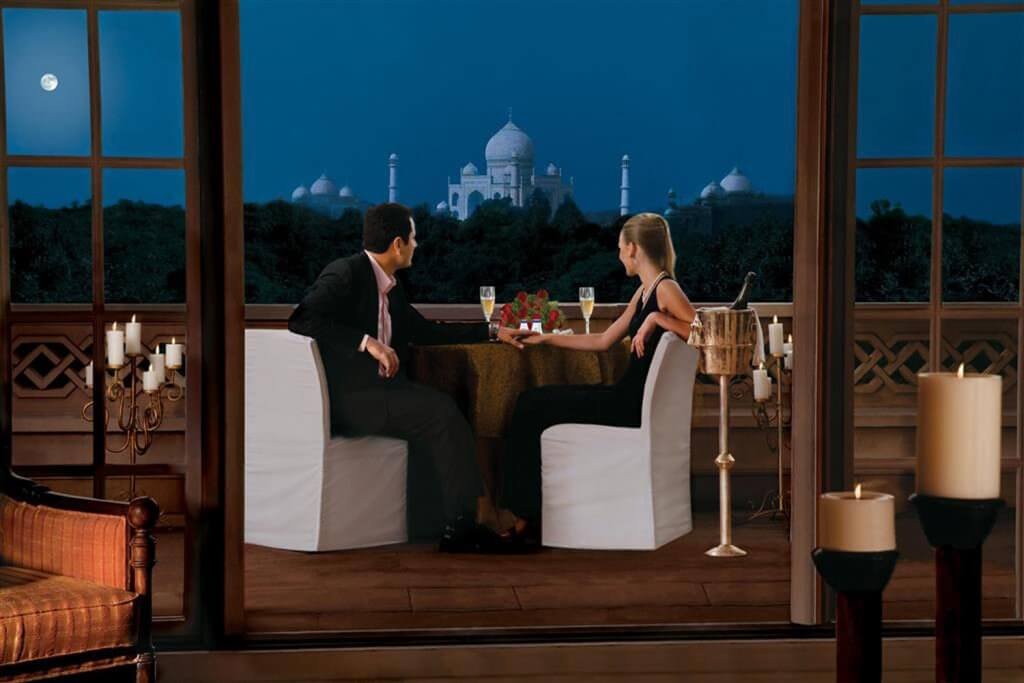 There are hundreds of various types of accommodations available in Agra – Standard accommodations, budget friendly stays, homestays, and the luxury hotel resorts you want to stay in. Here are the top stays based on the customer ratings:


1. The Oberoi Amarvillas
This luxury hotel providing 5 star accommodation rooms is situated only 600 meters from the marble monument Taj Mahal. The luxury in-house restaurants are famous and have 4 different dining options – to eat served by personal butler, Espahan – a fine dine restaurant, Bellevue which is currently undergoing re-styleing, and Roshanara, an indoor restaurant for breakfast, lunch and dinner. The rooms are well appointed stylish, spacious with modern interiors equipped with furniture like sofa, beds, personal safe and private bathroom with all facilities.
This is rated one of the best luxury stays in Agra. Common facilities include swimming pool, fitness gym, spa for massage, ticketing services, and car rental services. It is only 15 – 20 min. drive from Agra Cantt Railway Station and is situated just 13 kilometers distance from the Agra Kheria Airport. The best part is the large windows that offer a panoramic view of the outside from the private 8-star rooms.
2. The Coral House Homestay
This beautiful cottage type of homestay is situated so close to the main attractions of Agra – 700 meters. There is 24 hour desk, private rooms equipped with flat screen TV, A/C, a kettle, private bathroom with slippers, hairdryer, and necessary toiletries. You can also opt for a room with seating area if required.
Common facilities includes cycle rides as they offer free bicycles! Golfing is also available.
3. Holiday Inn MG Road, Agra
This hotel is only 20 minutes drive from major attractions in Agra – Taj Mahal. It is on international standards in terms of buffet, cleanliness and maintenance, customer service, courteous staff, etc. there are well appointed A/C rooms with flat TV and 24 hours satellite channels, tea kettle/ coffee making facility, a minibar in addition to basic facilities like private bathroom with toiletries, soft beds and window view in most rooms.
Common facilities include free parking, health club, pool deck, and also laundry services. They serve excellent Chinese, Indian and international at the Restaurant and Bar.
4. The Retreat, Agra City
This modern stay is situated only 1 km from main attractions like Taj Mahal and 5 km from Agra Fort. There are A/C rooms in wood flooring, tea/coffee making facility, a minibar, 24 hours room service, bottled water and a personal safe. It has a private bathroom with continuous hot/cold water and toiletries.
Common facilities include 24 hours front desk, travel desk facility, laundry services, on-call doctor, and restaurant offering Indian, Chinese and European cuisine.
5. Hotel Taj Resorts
This luxury hotel ls situated very close to the Taj Mahal having a money exchange, travel desk, car rentals, fax and photocopying services. Common facilities include massage service, sauna bath, and rooftop swimming pool. Rooms are equipped with flat screen TV, radio, personal safe, tea/coffee making facilities, private bathroom with toiletries. There is 24 hours room service or guests can choose to enjoy tasty multi-cuisine served at in-house restaurants.
Best Time to Visit Agra
In Agra, it rains during monsoons and you may get wet in the rain. In summer, it is soaring hot so if you cannot take sun it is better to travel in winter months to Agra.
October to March: There will be monsoon showers but the heavy rains generally gets lesser by this time (mid-October). It is a cooler climate compared to summer and most people and visitors enjoy this climate to visit the major attractions in Agra. December and January are the coldest months. Temperatures dip to even 2 degree Celsius. So carry warm clothing and enjoy hot coffee/ beverage at Agra.
April to July: The start of summer months such as February is okay and people can take the bright sun. After that, during March – April it gets very hot and scorching heat. So, carry cotton light clothes, a hat and high SPF sunscreen, stay hydrated. There are still lots of people visiting during summer months. That is because there are also cheaper deals at hotels for off-season period and lesser crowds. This is also the best time to go Shopping in Agra to shop for best things like handicrafts, fabric, etc.
August to October: It is highly impossible to move around and tour cities for sightseeing in India during monsoons. It may also get flooded. If you still wish to travel carry an umbrella and hire a cycle rickshaw instead of walking on muddy wet roads. Sip hot tea and tangy local snacks of Agra.
View More >
How To Reach Agra
1. By Air
Only Air India flights are available at the Kheria Airport in Agra which is 13 kilometers distance from the city Agra. You can fly to Delhi and then take a local flight to Agra which is not even an hour's journey. Pre-paid taxis are available from airport to destination Agra.
2. By Train
Agra is well connected to major cities in India including Delhi, Mumbai, Jaipur, Jhansi, Gwalior, Kolkatta, Chennai, etc. There are five major Agra Railway Stations:
1. Agra Cantt Station (Main Railway Station)
2. Agra Fort Railway Station
3. Idgah Railway Station
4. Raja Ki Mandi, Agra City
Cycle rickshaw, auto rickshaw, pre-paid taxis are available as the main attractions of Agra - Taj Mahal and Agra Fort are situated at a short ride away.
3. By Road
If you wish to drive then the drive time also depends on traffic and highway and varies from 1.5 hours to 5 hours respectively.
Agra – Lucknow : NH2 (2 hour drive approximately)
Agra – Kanpur: NH2 (5 hour drive approximately)
Agra – Delhi: NH2 & New Yamuna Expressway
Agra – Jaipur: NH11 (4 hour drive approximately)
Agra – Gwalior: NH3 (1.5 hour drive approximately)
4. By Bus
There are buses connecting Agra to major cities - Lucknow, Kanpur, Delhi, Jaipur, and Gwalior. The two main inter-state bus terminals in Agra are:
1. ISBT – 12 kilometers distance from Taj Mahal
2. Idgah Bus Stand - 8 kilometers distance from Taj Mahal (Central)
View More >