Best Places to Visit in South Goa
South Goa is the perfect destination to have some much-needed fun and unwind yourself. You can go as crazy as you want in South Goa and experience the best vacation of your life. The exotic beaches, the relaxing pace of life and the surreal heritage villages filled with the Portuguese legacy of South Goa beckon travellers from around the world.
If you are not planning a trip to South Goa, you should plan it today! Here are some of the best places to visit in South Goa to make your vacation unique, relaxing and filled with loads of fun.
Benaulim Beach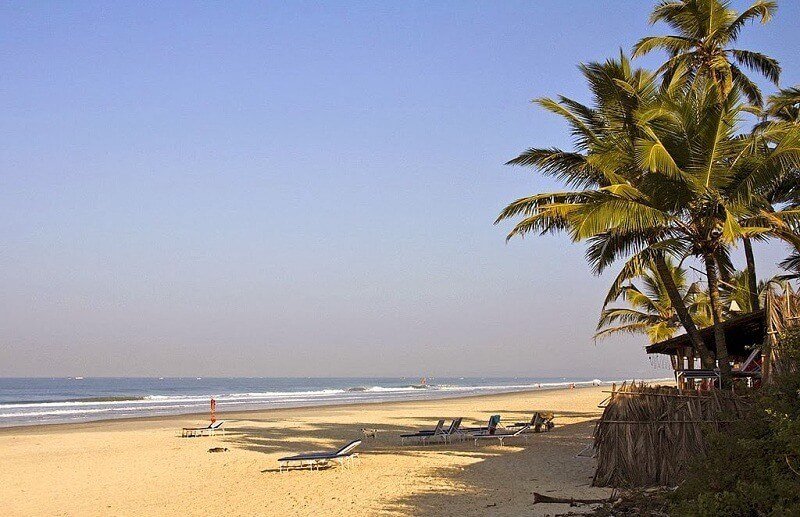 Benaulim is an exotic beach fringed with coconut trees and swaying palms. It is a popular destination in South Goa because of its delicious seafood. Visit Benaulim to try a plate-filled seafood while relaxing on the beach and sunbathing. Located just south of Margaon, Benaulim has a vibrant culture and you can have a tranquil vacation here.
At night, Benaulim transforms itself from the captivating shorelines to a crazy vibrant hub for parties. You can go as crazy as you want in the nightlife of Benaulim and recover your spirit during the day time on the gleaming sands and beautiful shoreline of this captivating beach.
Another highlight is Dolphin watching and crocodile sighting in Benaulim.
Highlights of Benaulim Beach
Parasailing or jet-skiing, skiing, rowing, Dolphin and crocodile spotting, Windsurfing, Soul-saving Seafood.
Nightlife at Benaulim Beach
Fiplees Pub and Disco, Adega Camoens Nightclub Art Escape Jacks Corner, Bebdeanchem Arxia Bar , Whole Family Beer Bar Restaurant, Swastik Beer Bar And Restaurant, Murali Bar Restaurant, Johnny's Bar And Restaurant.
How to Reach Benaulim Beach
You can reach Benaulim via bus or an auto or bike from Margoa. It is located at a distance of 35.8 km from Panaji. If you are staying in Panaji, you can hire a rental car and drive to Benaulim or it can be reached by bus.
Colva Beach
Colva is popularly known as the Pride of Salcete and is at a short distance of only 6 km from Margoa. Colva is the best destination if you are looking for fun-filled crazy parties because Full moon parties are held here on and before the full-moon night. It is also a popular destination, so it can be quite crowded during the day time. You can enjoy water sports, sunbathing and other leisure activities here.
But, if you are looking for some solitude, you don't have to go far. You can just travel a little towards the North of Central Colva, and you will get your peaceful and solitude filled beach.
Another highlight of Colva is the dolphin spotting which can be done early in the morning. So, if you wish to see dolphins somersaulting through the sea, then Colva is the right place for you.
Apart from this, you can buy the best gifts for your loved ones in the flamboyant lights of the Colva market which is filled with cool accessories, colourful clothes, fashion jewellery, and other gifting items.
Highlights of Colva Beach
Sun bathing, Dolphin Sighting, Full Moon Parties, Jet skiing, snorkelling banana boat rides, water scooter, and motorboat rides
Best Place for Nightlife at Colva Beach
Ziggy's and Johnny Cool's, The Alcove and the Temptation.
How to reach Colva Beach
You can easily reach Colva by auto or bus. It is at a short distance of 6km from Margao. Hiring bikes and traveling on bikes is a cheaper and convenient way of reaching Colva. It is located at a distance of 33.5 km from Panaji and you can reach Colva by local transportation. Exploring Colva on foot or on bikes is the best option.
Bogmalo Beach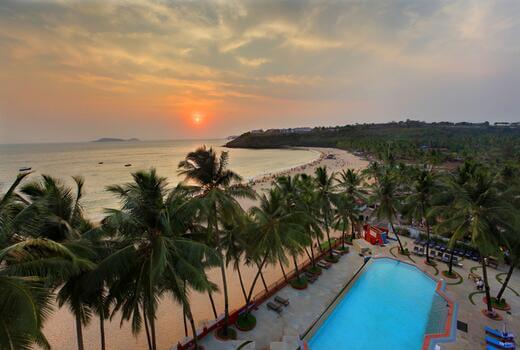 Bogmalo is a small beach nestled between the fishing villages and the coconut palms of South Goa. It is a perfect destination for enjoying a long stroll on the beach, taking a plunge in the Arabian Sea while enjoying fun-filled moments with your loved ones.
If you have only a few hours before your flight from Dabolim Airport, then Bogmalo is your ideal spot to spend your time. You can find the best diving operators and scuba diving in Bogmalo.
Highlights of Bogmalo Beach
Scuba Diving, Windsurfing, Swimming, Parasailing, Jet-Skiing, Sunbathing and Exquisite handicrafts shops.
Best Place for Nightlife at Bogmalo Beach
Full Moon Bar, Gazebo, Sunset Bar, Ruby Bar, Lobby Label
How to Reach Bogmalo Beach
There are many buses available from Panaji at regular intervals for Bogmalo. It is around 30 km from the state capital. You can also hire a rental car from Panaji and spend your time in Bogmalo.
Vasco Da Gama
Vasco Da Gama is a small treasure in South Goa, named after the Portuguese explorer Vasco Da Gama. Although it is famous for its crimes due to its red-light area and suburban shanty, it is also a destination to explore as a traveller to get the feel of the real Goa. This 400-year old city located at the mouth of river Zuari is home to many finely constructed churches and heritage monuments.
If you are in Vasco Da Gama, you need to visit the beautiful picturesque Se cathedral which is the largest cathedral in Asia having five bells. The next destination has to be Shantadurga Temple, the Naval Aviation Museum and the St. Xavier's Church due to its beautiful gothic architecture.
Highlights of Vasco Da Gama
Snorkelling, heritage monuments, Baina Beach
How to Reach Vasco Da Gama
You can take a bus or a rented car from Panaji or Margoa and easily reach Vasco Da Gama.
Cavelossim Beach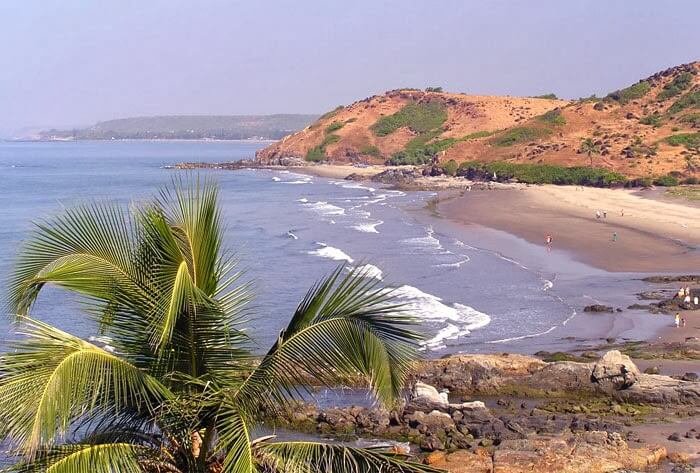 Cavelossim Beach is a beautiful beach with white gleaming sand, snarling waves and sluggish hillocks scattered on the beach. You can enjoy a long walk on the beach side and revive your spirit on the beautiful yet adventurous beach.
It also has an amazing and crazy nightlife filled with booze and adventure. Cavelossim Beach is the perfect destination for taking deep swims in the sea. Also, for vacationing couples, it is a great romantic hideout.
Highlights of Cavelossim Beach
Bump rides, Windsurfing, Dolphin trips, Speed boat racing, sunbathing
Best Place for Nightlife at Cavelossim Beach
Radisson Blu, Tito's Club, Yali Lounge, Amalia, Club Sinq, Tia Maria, Sam's Beach Shack, Papa Joe's Bar And Jamaica Inn
How to Reach Cavelossim Beach
Located at around 35.8 km from Panaji, Cavelossim Beach can be easily reached by taxi or a rental car. It is also just at a distance of 7 km from Margaon and can be reached from Margoa through auto or taxi.
Varca Beach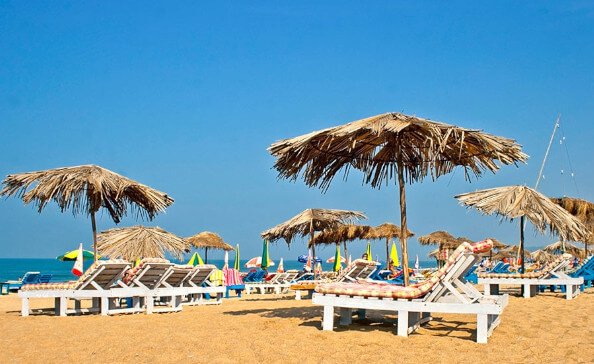 Varca is a beautiful beach located in South Goa which is famous for its gleaming sand, an array of palm trees, hawker-free coast and azure turquoise waters. It is known for its tranquillity and placidness. If you are looking for a tranquil beach to just relax in your solitude, Varca is the right place for you. It is also the cleanest beaches of Goa. You can enjoy the traditional seafood and wide assortment of cuisines at one of the many beach shacks on Varca.
The best part of Varca beach is to see the unique and rare Indo-pacific bottlenose Dolphin up close on the Sal River. If you are looking for a romantic date or planning to click some beautiful pictures of the sunset, then you should not miss this boat ride on the Sal River.
Highlights of Varca Beach
The Our Lady of Gloria Church, parasailing, windsurfing, dolphin sighting, jet-skiing boating, Casino
Best Place for Nightlife at Varca Beach
Atrium Bar, Blue Lagoon, Sunset Bar, Tangerine Island Bar, Sol Bar
How to Reach Varca Beach
Varca is located at a short distance of 388 km from Panaji and can be reached by public buses or by private taxi or rental care. You can also travel by train to Madgoan, which is the nearest railway station located at a distance of 10 km from Varca. From Madgoan, you can take an auto, bus or taxi and explore the beautiful Varca beach.
Majorda Beach
Scattered with a lot of shacks, the Majorda beach is a gorgeous one. You can enjoy the best cookies and fine breads here as it is known as the first place which learned and taught the art of making European breads. One of the major attractions is Mae De Deus, an ancient church built in 1588 A.D. You should not miss the beautiful sunset on the Majorda beach.
Highlights of Majorda Beach
Mae De Deus Church, Goan Bakers, water sports, snorkelling
Best Place for Nightlife in Majorda Beach
Martin's Corner, Lourdes Bar, Aquamarine, Miranda, Monsoon Bar, Seashell, Blue Waves
How to Reach Majorda Beach
At a convenient distance of 11 km from Margaon, it can be easily reached via bus or a cab. It is also just 30 km from Panaji and the best way to reach Majorda is via bus or cab.
Grande Island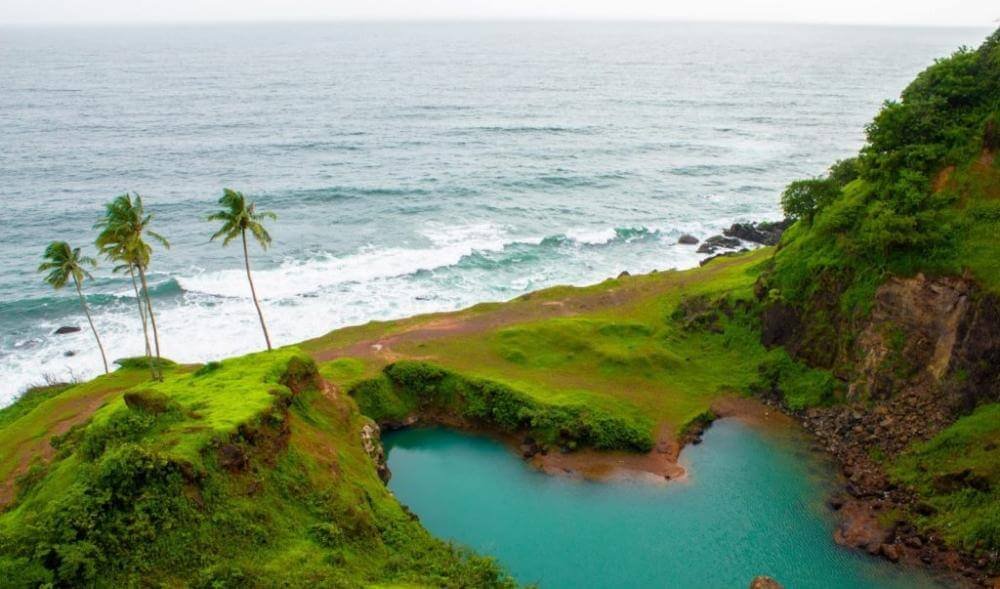 If you're looking for marine life experiences, beautiful scenery with swaying palm trees and some extraordinary sunsets, then "The Grande Island" is the perfect destination. It is also popularly known as the Ilha Grande and should be included in your South Goa itinerary.
If you are looking for a romantic hideout with your better half, then Grande Island is meant for you. It offers exciting adventure options with fun-filled activities like sea walk snorkelling, sightseeing, aqua activities, and Suba diving.
Highlights of Grande Island
Dolphin Sighting, Snorkelling and adventure sports
How to Reach Grande Island
The nearest railway station is Margaon station. You can hire a cab to get to the jetty and then go to Grande Island.
Cabo de Rama Fort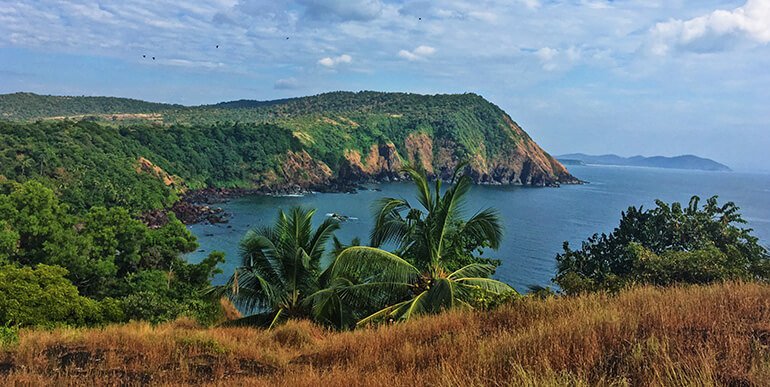 Built by the Portuguese, Cabo de Rama Fort is a rustic structure with cannons and towers. It was once a well-equipped fort with 21 guns, a chapel, and many military barracks. Later on, it was used as a government prison and now the ruins of the Cabo de Rama Fort are a popular tourist destination in South Goa.
The steep cliff, the majestic view and the mystical atmosphere of Cabo de Rama Fort makes it the perfect destination for your day out. If you are a nature lover, photo fanatic or an adventure buff, this is the place you should be going to.
Timings of the Fort
9.00 AM to 5.30 PM
Entry fees of the fort
Free
How to Reach Cabo de Rama Fort
The Cabo de Rama Fort is located in the Canacona region of south Goa which is 29.3 kilometres from Margao. You can hire a rental car or take a taxi from Margao and enjoy your day at The Cabo de Rama Fort.
Patnem Beach
Known for its calm, Patnem Beach is one of the best destinations to relax completely on your vacation and appreciate the finer things in life like lavish seafood and beautiful sunsets. You can simply spend your whole day just relaxing on the beach, eating mouth-watering cuisines and having a true vacation.
Patnem Beach is the synonym of quality time spent in a true vacation mode. It gives you many swimming and surfing options.
Highlights of Patnem Beach
Serene Ambiance, Kashmiri trinkets and jewellery, wellness treatments, surging and scuba diving
How to Reach Patnem Beach
You can reach Patnem Beach via bus or cab from Panaji. It is approximately 70 km from Panaji but the nearest railway station is Palolem. Margaon is also around 45 km from Patnem Beach. The best means is to take a rental car from Panaji and explore South Goa on your own.
Dudhsagar Waterfalls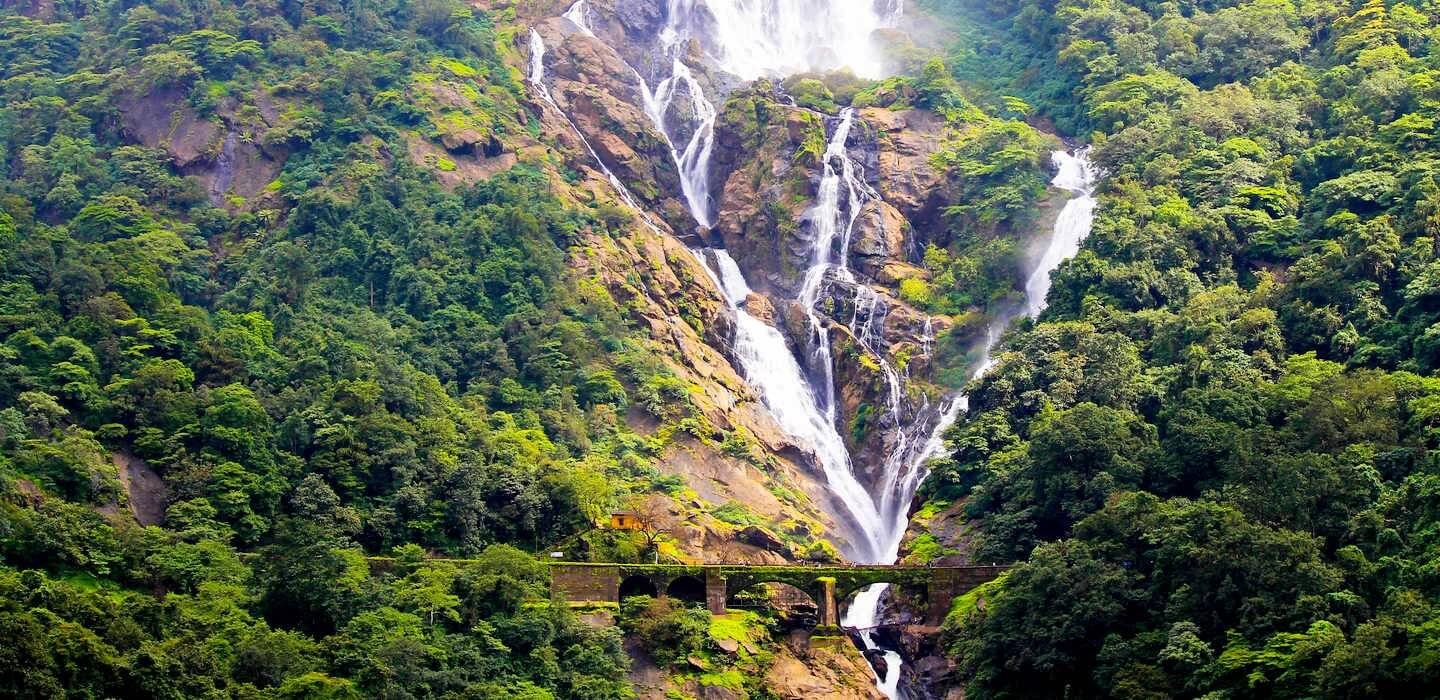 Dudhsagar Falls attracts tourists from all over the world. This glorious waterfall is a treat to the eyes. The literal meaning of the falls is "Sea of Milk" and it seems just like that. It is located at a distance of about 60 km from the Panaji city and the gushing water falls like milk from a whopping height of 1000 feet. It is a captivating view and cannot be missed at any cost.
If you are a nature lover and an adventure enthusiast, you can trek to the topmost point of the waterfall and enjoy the majestic view from the top.
Timing of DudhSagar Waterfalls
9:00 AM – 6:00 PM
Entry fees of Dudhsagar Waterfalls
Rs.400/- per person for Jeep drive from Castle Rock to Dudhsagar Falls

Rs.20/- per person

Rs.300/- for Still Camera

Rs.5000/- for Professional Camera
How to Reach DudhSagar Waterfalls
Dudhsagar Falls is located inside the Bhagwan Mahavir wildlife sanctuary in Sonaulim, Goa. It is approximately 60 km from Panaji and can be reached via bus or hired taxi.
Pequeno Island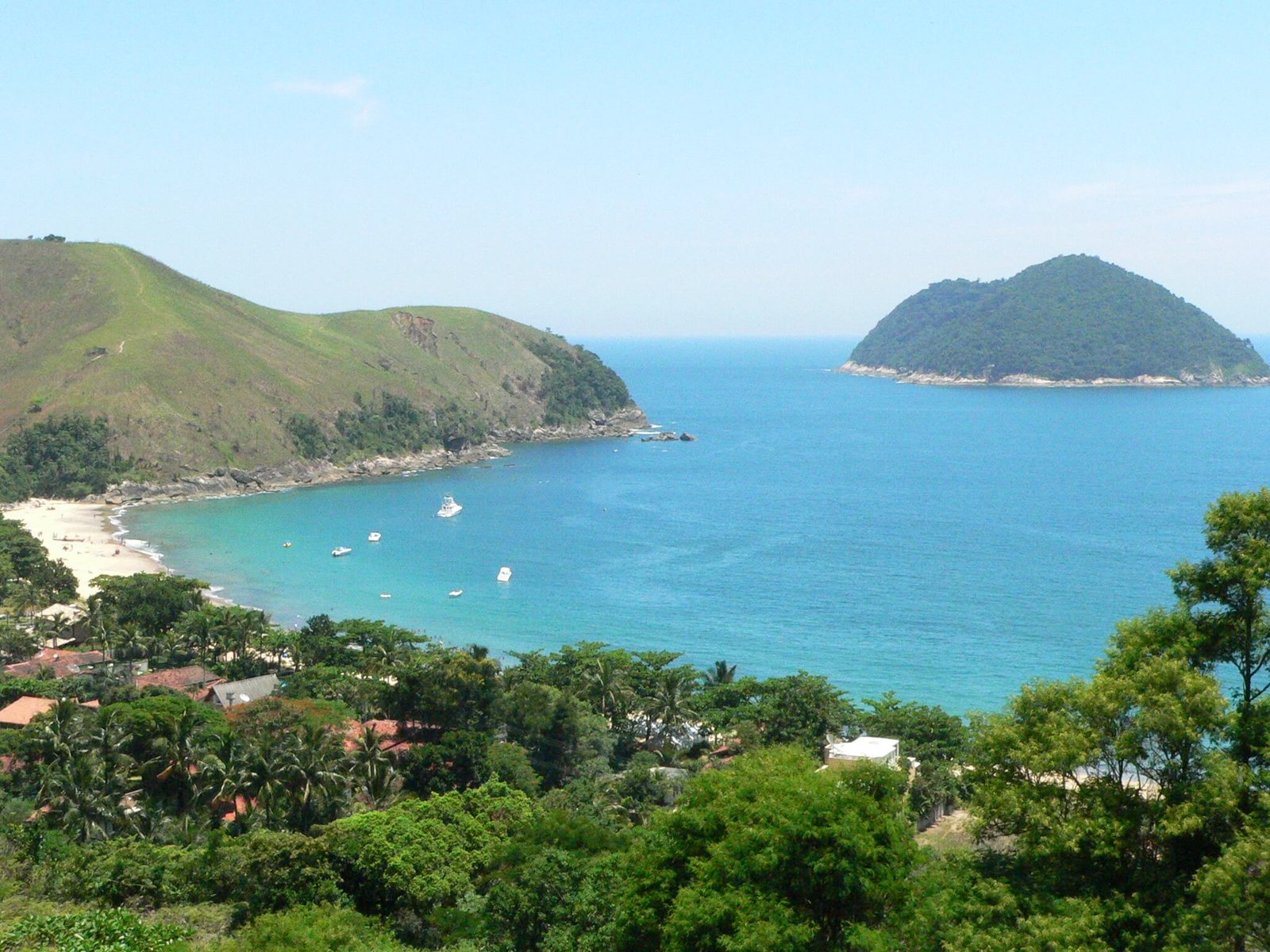 Pequeno Island is also popularly known as the Bat Island and is situated just 1 km from the Baina beach. The beautiful island is entailed with amazing views, rocks, and gleaming sand. The clear azure water surrounding the island makes it a traveller's paradise.
The exotic underwater marine life near the island, the clear water, and adventurous water sports make it a perfect holidaying destination. You can enjoy a campfire on the beach and witness the untouched and beautiful marine aqua underwater at Pequeno Island.
How to Reach Pequeno Island
You can hire a boat off the Vasco Da Gama coast to go on a 30-minute ride into the sea to reach the Pequeno Island.
Bamanbudo Waterfalls
Bamanbudo Waterfalls is unexploited and is one of the lesser-known places to visit in South Goa. This waterfall flows in the backdrop of serene Amba Ghat and is one of the most pristine waterfalls in old Goa.
Highlights of Bamanbudo Waterfalls
Enjoy the serenity of the waterfall and bird watching.
How to reach Bamanbudo Waterfalls
Bamanbudo waterfall is easily accessible from the main Canacona-Naturlim Road. It is located 16 km away from Canacona.
Agonda Beach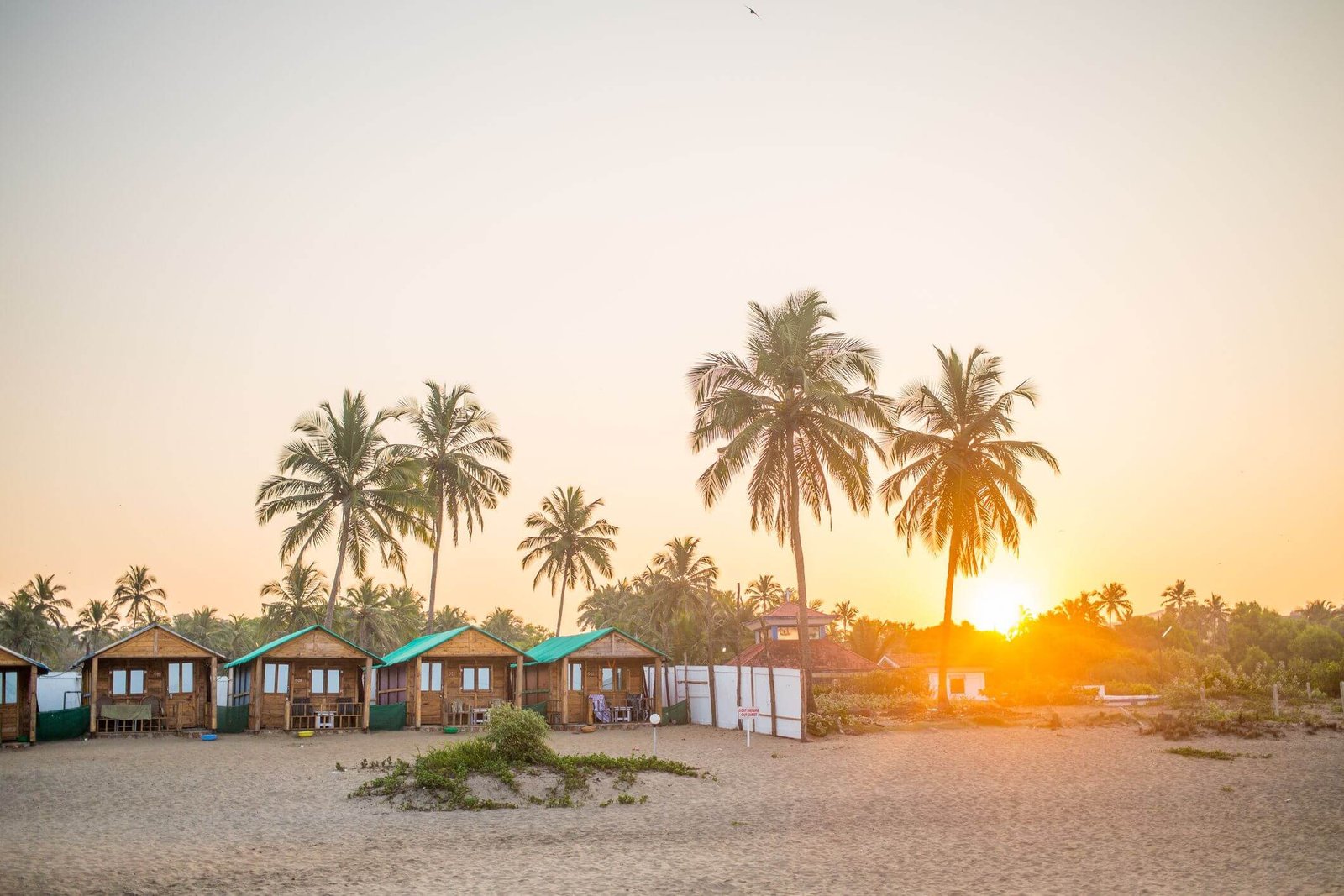 If you are looking for some peaceful time near the sea, then you should definitely visit Agonda Beach. This is the best place to alleviate all your anxieties and tension and enjoy your vacation. The desolate and long shoreline with an expansive slope towards the south and bordered with palm trees gives you the much needed tranquil moments.
You can bring a tent of your own and do camping on the beach to get the feel of living near the sea. You can also enjoy the delicious soul-saving local cuisines at the nearby restaurants.
Swimmers should abstain from swimming near the Agonda Beach as there are strong undercurrents and one can be easily pulled into the sea.
Highlights of Agonda Beach
Camping, Dolphin sighting, Cola Beach, Hill hiking, and Yogamea Yoga School.
How to Reach Agonda Beach
Located at 70 km from Panaji, Agonda Beach can be reached by bus or by hiring a private taxi. If you can drive, then you should definitely hire a rental car and explore Agonda Beach. It is also just 10 km from Palolem and can be reached via motorbike.
Arossim Beach
Arossim is an excellent destination for solitude seekers. It is known for its tranquillity and old vintage furniture. You can also enjoy the Abhyanga Spa here on the beach. There are some high-end resorts on this beach where you can have an out-of-this-world experience.
Although very expensive, the experience is worth it.
Highlights of Arossim Beach
Clean and peaceful beaches, Abhyanga massage
How to Reach
The easiest way to reach Arossim is via Vasco Da Gama town. You can take a bus or a taxi from Vasco da Gama to reach Arossim.
South Goa also has a lot of different experiences and places to offer. Many people prefer travelling to the North Goa region. However, this is the best part of South Goa as it does not have crazy crowds of people. If you want a beach holiday in solitude, then you should opt for South Goa. It has a mix of parties, peace, adventure and food.
If you are planning a trip to Goa, make sure to add South Goa and the above destinations in your itinerary because, without this experience, your Goan experience is incomplete.
South Goa is a paradise for nature lovers, photo fanatics, adventure seekers and solitude loving people. It is also the perfect destination for honeymoon couples looking for some privacy and alone time away from the crowds.
We hope that our list of South goa destinations will help you in having a memorable Goan vacation.