Spice Plantations Tour in Goa
Goa, the most sought after travel and tourist destination in India, is considered nothing short of heaven. You will find the perfect mix of exotic beaches, lip smacking dishes, rocking parties and ancient religious places here.
Goa is equivalent to its exotic beaches and pulsating nightlife, but there is more things to do in Goa than just visiting Goa beaches, casinos, and clubs. A beautiful and attractive experience in the rural area is the Spice plantation of Goa. It is located in the Ponda region which is in the Central region of Goa.
During your visit to a spice plantation tour in Goa, you will feel like you are in a real Indian jungle. You will be able to learn about spices that you may have never heard of. You will also be able to experience a delicious traditional lunch or dinner at the plantation site. You will be treated with the most refreshing spices in your meal. Some plantations will also offer you a bath or ride with an elephant for some extra charges. It is actually worth doing.
The spice gardens of Goa are quite popular as a tourist attraction. On a typical excursion to spice planting, you will be starting your day by exploring the fields and existing plantations. It is very surprising that you will see men climbing on very tall trees while maintaining a balance to get betel nuts and coconuts. Spice gardens are managed by people who have extensive knowledge and excel in technical knowledge of cultivating spices.
Some of the major spices produced at these spice plantations are Black Pepper, Cardamom, Nutmeg, Vanilla, Cinnamon, Cloves, Chilies, Coriander and Cashew Nuts. Apart from these spices, many tropical fruits are also grown here which include custard apple, papaya, banana, pineapple and citrus fruits.
Every spice has its own season. The pepper harvesting season runs from November to March. Cassia, cumin, and cardamom occur in the months of September to January. Coriander and fenugreek can be seen from March to May. Sweet tamarind season is from April to June. These spices are usually added to sauces and sweets. The fennel season is in February and March while the season of Dill is from December to March. If you plan your trip between September and June, you will definitely get to see some spices in this season.
Whenever you go to Goa, you should get some time off from parties and try this experience of Spice Plantation. Many tourists visit these fields to relax and find themselves in peaceful and serene surroundings. We always eat spices but, we do not know much about spice plantations and its process. When you visit this place, you will get an idea about different types of spices and how they are made.
When you book an experience of Spice Plantation Tour in Goa, they welcome you with a glass of freashly made lemon juice. Even lunch is provided to you by the organizers of the experience. Everything is included with your ticket. They give you a simple meal and you can always choose between Indian and continental menu. It is a good idea to try the food here. Apart from that, it is possible for you to buy some spices from here as well.
Tropical Spice Plantation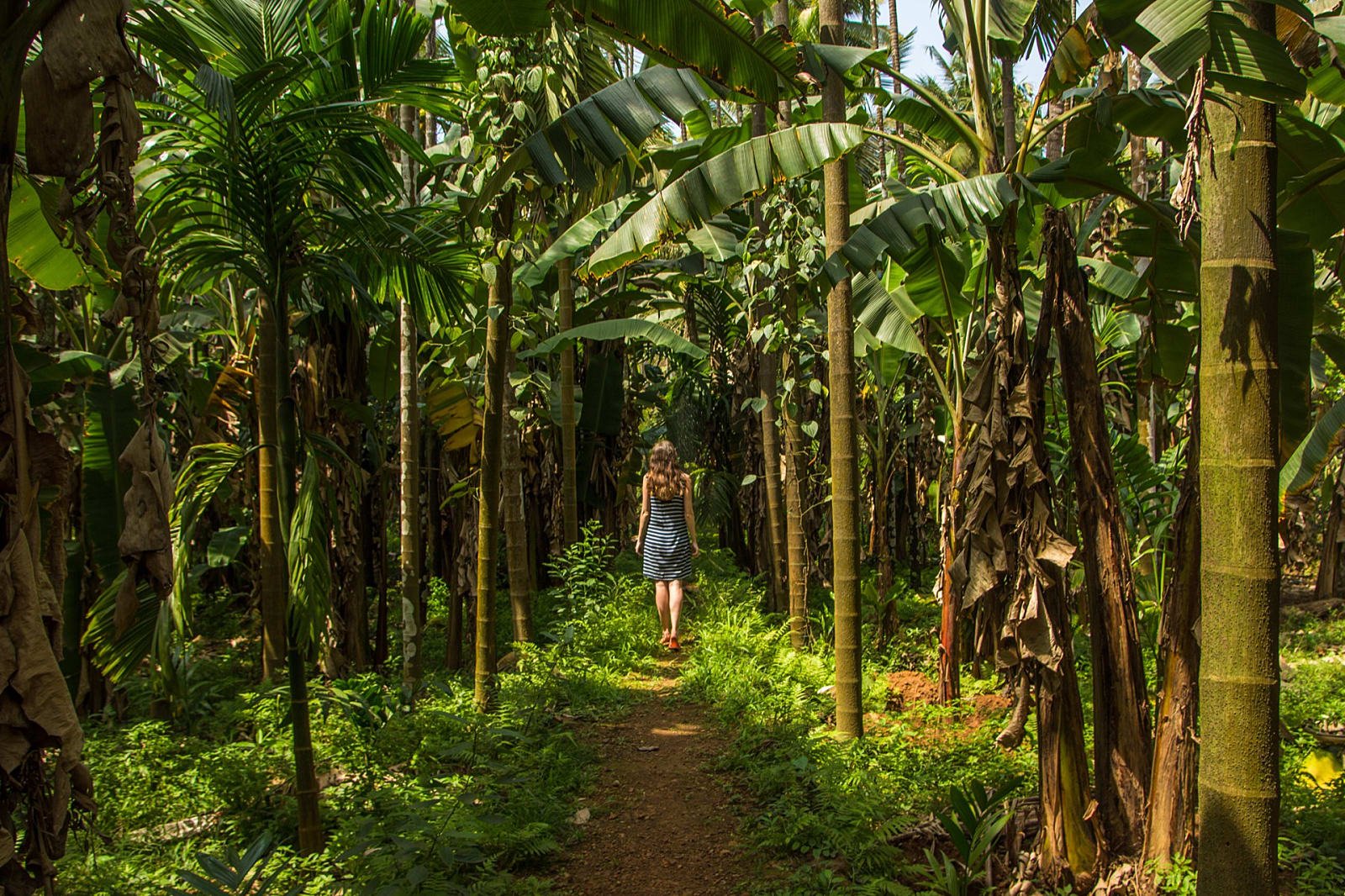 Tropical Spice Plantation is severed over a large tract of grassy green and fertile soil which is blessed with utterly delightful ambiance. The vegetation, the greenery, the chirping of birds, and the peaceful stream feels offers a breath taking destination. One can either listen to the beautiful chirping of birds or simply experience a stroll through the serene small nut plantation. The splendor of this place will leave a long-lasting and great impression.
Tropical Spice plantation also serves as a bird sanctuary which contributes to the conservation of wildlife. After the trip around the field, lunch is served in an open-air restaurant. Food is cooked in traditional earthen pots here.
Pascoal Spice Village
Pascoal Spice Village is a 50-acre big farm. It is located at the foot of the Western Ghats on the banks of a river. The surrounding dense forest naturally landscapes a great view. The place also sees a backwater stream which makes it an ideal place to enjoy the peace and tranquility of nature. Pascoal Spice Village has vast cultivation of coconut groves, cashew orchards, and Arica plantations which are planted with various spices and fruit trees. The place contains a nature retreat and a treasure trove of flora and fauna as well.
The plantation also has more than 2,500 species of garden plants and flowers. It is also home to about 65 bird species which originate from Europe. Pascoal Spice Village offers a guided tour of the spice plantation as well as the in house nursery. After the guided walk, guests are served a local Indian lunch in the open-air shacks on the banks of the backwaters. This place gives you a chance to become an explorer and an adventurer both. You can choose to spend a day exploring the plantation or stay overnight to experience the adventure of living in the wilderness.
Sahakari Spice farm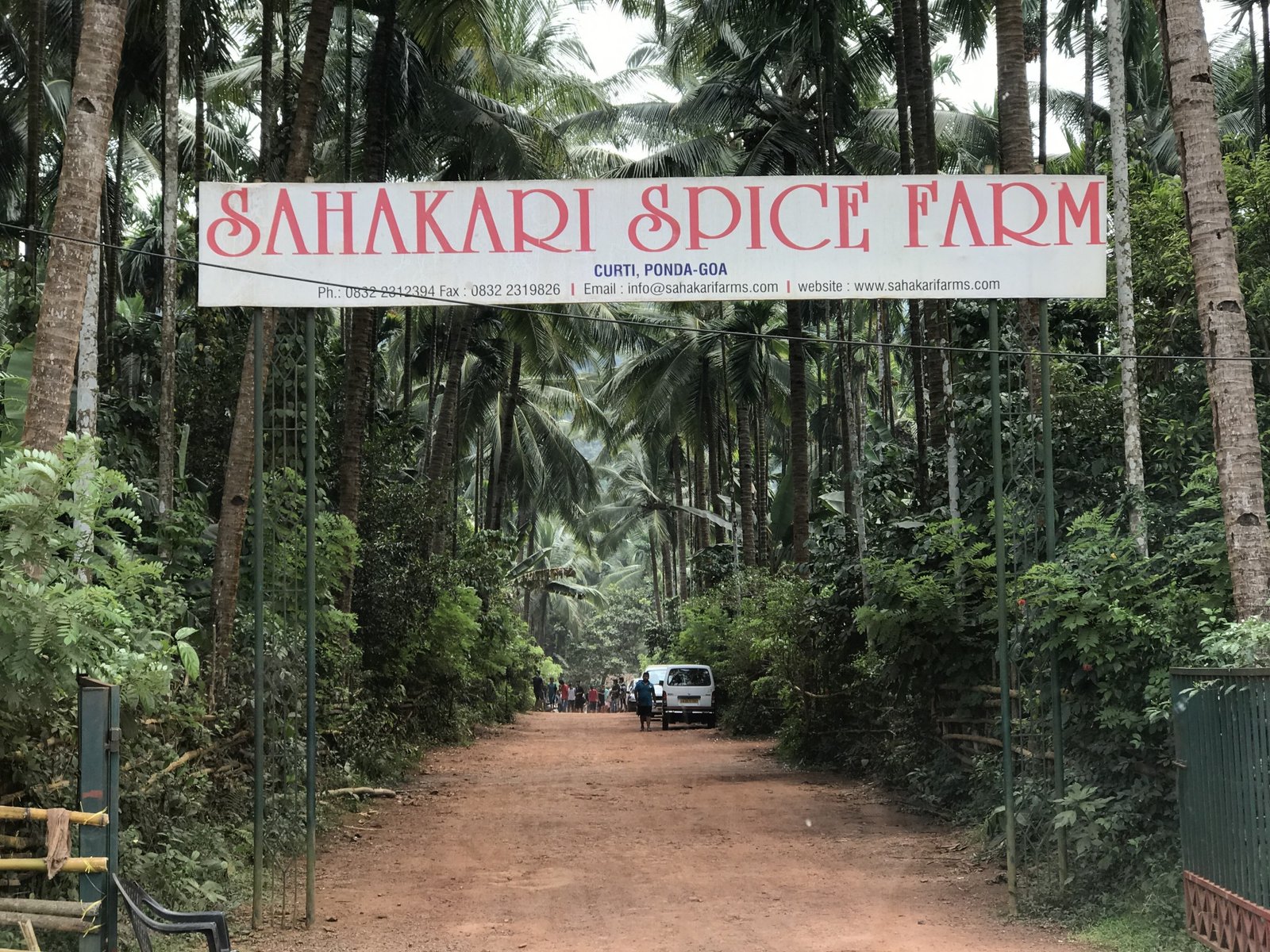 This plantation is more of a commercial tourist destination. It will not give you the opportunity to laze around in the fields. However, if you have always dreamed of riding an elephant or swimming with one, then Co-operative Spice Farm can offer you this experience. Sahakari Spice Plantation is very popular for its farms and fruit growing. One of the unique spices grown here is vanilla. The farm is expanded over 130-acres and also has two small streams.
Sahakari Spice Farm is a popular option to visit in Goa which is located far away from the beaches. Entering in, you will be able to taste fruits like pineapple, banana, papaya, guava, and much more. You will also be able to taste spices like cardamom, turmeric and ginger rows. Visitors get most out of their visit by doing extra activities like elephant rides, folk dances and much more.
Savoy Spice Plantation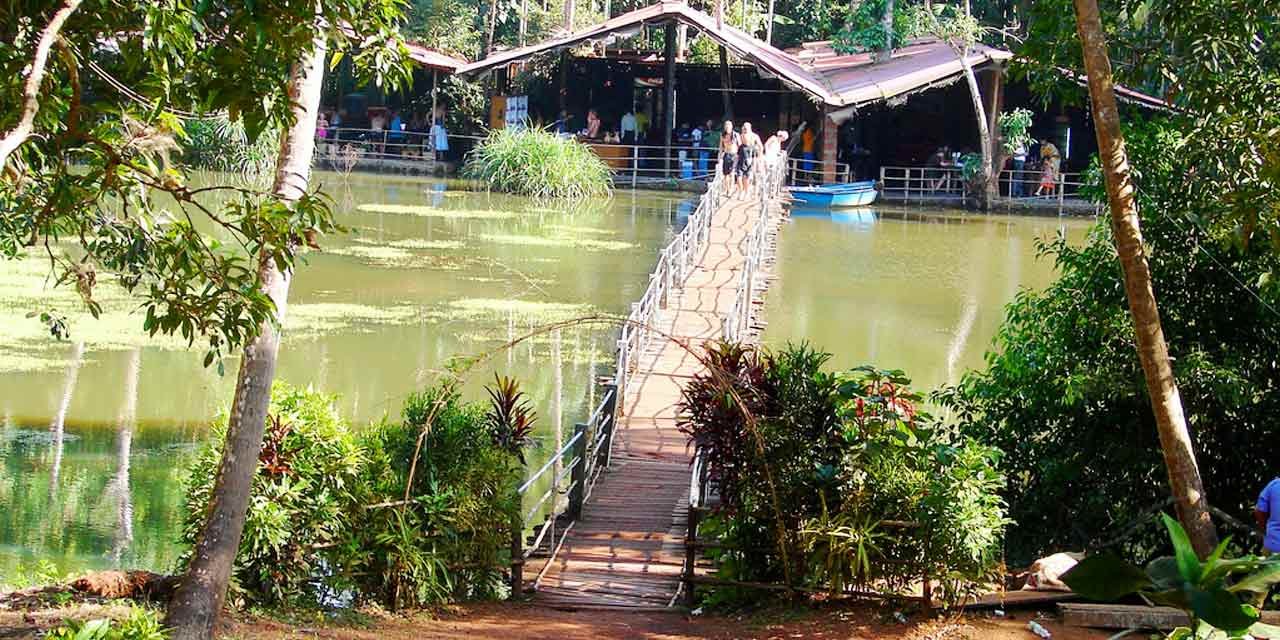 The Savoy plantation is located about 40 km from the beaches of North Goa and 30 km from the southern city of Margo. The plantation is 200 years old and run by a family. If you are looking for an authentic Goan plantation experience, this is the right place to go. It can be a bit tricky to discover as it is a little inside.
However, this remote location which has a less touristy approach will give you a sense of authenticity and an essential forest experience which is connected to a tropical farm. They do not have any elephants here but, they offer a 10-course lunch. The food serves represents the local cuisine of Goa. You will be served food at the end of the tour which is an absolute attraction. This will surely be one of the best meals served in Goa.
Abyss Spice Plantation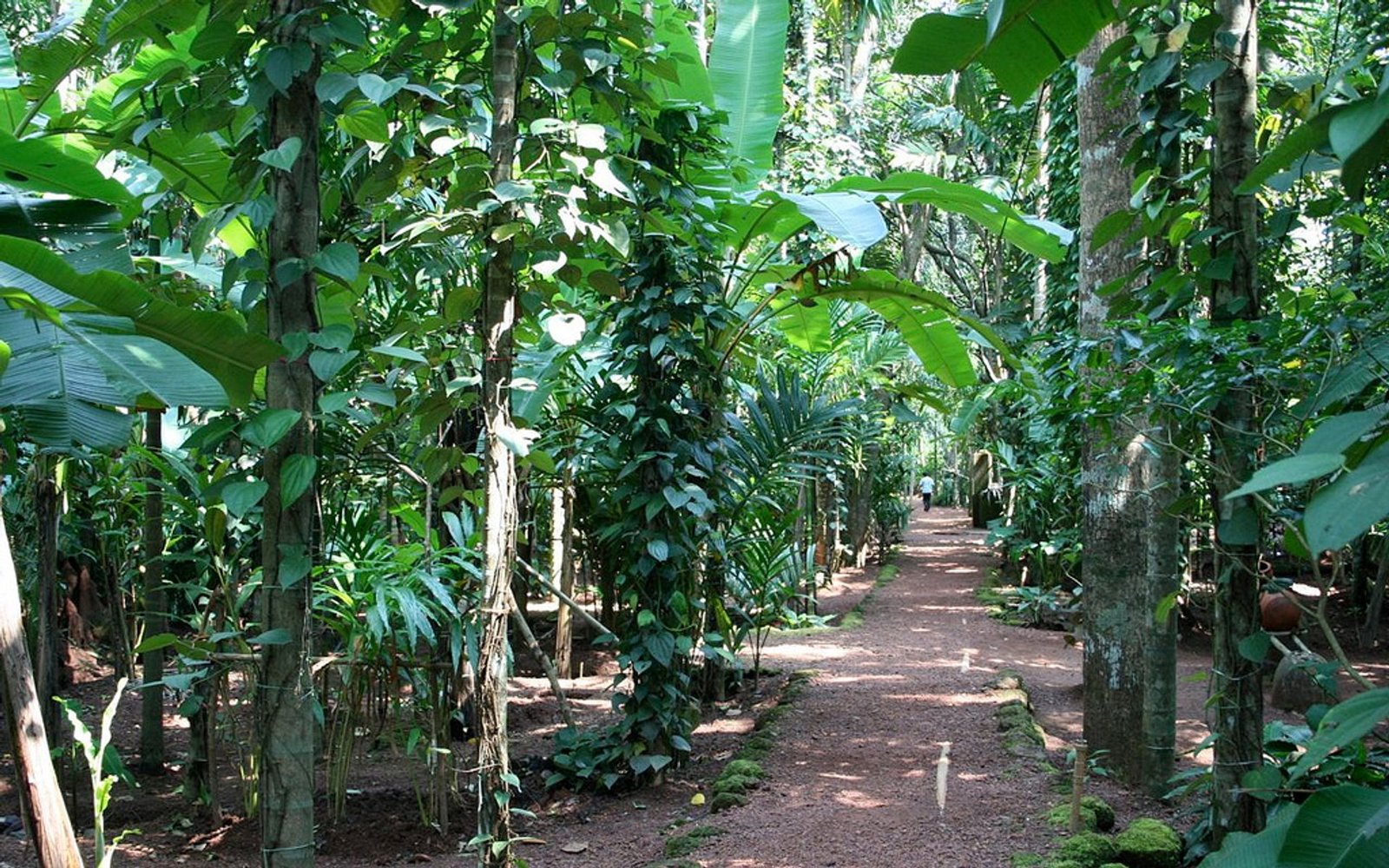 The Abyss Spice Plantation is also located in Savoie-Verem which is a mountain top, and is accessible for its medical and ayurvedic plants. The plants are grown organically. You will be able to take a tour with an Ayurvedic physician. This facility is surely not offered by any other spice plantation tour.
At the end of the tour, you will also get a chance to experience an intensive Ayurvedic massage which will relax and rejuvenate you completely. The Savoi Spice Plantation is rich in cinnamon, cloves, cardamom, turmeric, ginger, basil, nutmeg, and black pepper. You can also find cashews here. It contains a huge variety of different spice plantations and thus, you will be able to experience all.
How Spice Plantation is exactly done?
While spices in the garden may seem overly ambitious, ginger-related spices such as cardamom and turmeric can be grown in many hot districts. Other spices can be quickly produced in areas with a tropical climate. Plants can add a lot of beauty to the garden with the intensely fresh aroma and taste will be a revelation for the cook.
1. Turmeric
Turmeric is a member of the ginger family. It is a tufted perennial about 1 m tall with green, lightly fragrant, sheathing leaves. Pale yellow to orange flowers are produced in dense spikes. Rhizome is used as a spice. It is thin and branched with a bright orange flesh, which has a spicy and earthy flavor. Turmeric is also used as a food coloring, which gives rice and other dishes a golden color.
Turmeric is propagated in the spring with rhizomes about 5 cm below the soil surface. Pot-grown plants can be purchased from specialist herbs and tropical plant nurseries. This requires an arc, moist soil, hot summer and a sunny position.
2. Ginger
Ginger requires warm temperate for subtropical conditions, a sunny state, and a fertile, moist, well-drained soil. The rhizome is harvested in late summer to late autumn for fresh use. It can be grown from segments of the plump rhizome. In spring, place the plants with two to three buds, about 5 cm below the soil surface.
3. Cardamon
Cardamom is a member of the ginger family. It is a rhizomatous perennial that creates a delightfully warm and spicy aroma and dense clumps of stalks with fragrant flowers. Dried pods are added to sweets, Persian coffee, curry powder, chutney, pickles, and many Asian dishes. The flowers usually appear warm only for tropical climates. Leaves can also be used in the form of a wrap that contains sweet potato, fish, pork and chicken for steam, bake or barbecue, providing a wonderful flavor.
Cardamom is colder resistant than most members of the ginger family and will survive many touches of frost. After the last frost, the shredded foliage of the winters is cut off, and soon a new crop of juicy leaves comes out. This can be propagated in spring by rhizomes planted about 5 cm below the soil surface. It should be grown in a sunny condition liberally in fertile, moist, well-drained soil.
Spice Plantation Tour in Goa will give you a glimpse of a new Goa. You will surely get potential knowledge of Spice Plantation after taking the tour at Goa. If you are interested in to gardening or cooking, then this tour will surely benefit you at a lot of levels. Apart from that, it is a good idea to take this tour to merely increase your knowledge in the field of farming or spices. Also, it is a good idea to experience the local cuisine with the locals. The best part is that you can buy the spices from here directly. Hence, it is possible for you to gift them to your friends and relatives back home. Spare half a day from your partying scenes and visit this wonderful part of Goa.