Gangaur Festival, Rajasthan-Learn about the Festival of Marriage and Love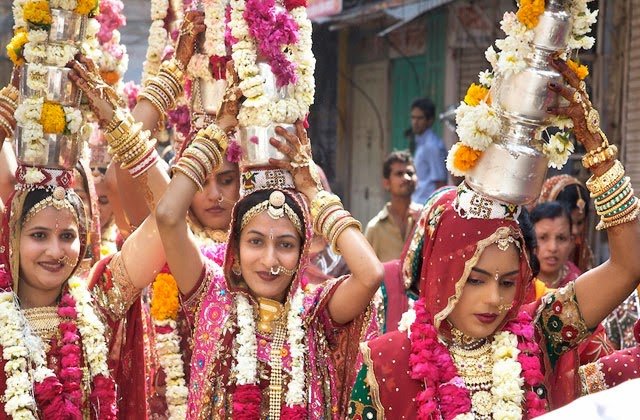 Gangaur festival is richly celebrated by the female folks of the state. This is a festival, which celebrates love and marriage and is dedicated to Goddess Gauri. The married women worship the goddess for the prosperity and well-being of their husbands. The unmarried women worship for finding a good husband in the future. Are you willing to enjoy the culture of the land? The best time to visit the state is during festivals. For more attractive festivals of the land, read our Famous Colourful Fairs Festivals of Rajasthan. Are you planning to cover the state during the festival, in a royal manner? Visit to book your luxury train tickets to Rajasthan.
Gana is Shiva and Gauri is Parvati. The word 'Gangaur' signifies Lord Shiva and Parvathi together. It is said that Lord Parvati attracted Lord Shiva by dedicated meditation and devotion. Lord Shiva, who was impressed by Lord Parvati, married her. Later, Lord Preservationist to her parental place to meet her parents. While there, she blessed her friends with blissful marriage. She stayed for 18 days and on the last day, a grand farewell was conducted for Lord Parvati and Lord Shiva came down to earth to escort her to home.
Suggest article: Why Udaipur is famous as most Romantic Place in India
Time of Celebration
The festival is celebrated for 18 days. The festival starts immediately after Holi festival (festival of lights). The upcoming celebration starts on 21st March of 2019 and ends on 8th April 2019. If you are staying for the complete festival, spend a few days trying a few other activities too. Read our exclusive blog, best Experiences You Can Only Have in Rajasthan, India
Explore: Top 10 Tourist Places in North India for Winters
Place of Celebration
The festival is celebrated throughout the state. However, the celebrations are very grand in a few destinations like Jaisalmer, Udaipur, Jaipur, Jodhpur, Bikaner, Nathdwara and others. If you are willing to enjoy all the destinations of the festival, take our exclusive Rajasthan tours,
Must read: Top Tourist Places in Bikaner
Explore: Famous Festivals and Event in December in India 2018
Rituals and Celebrations of the Day
The women of the region dress up in the traditional attire and wear jewels. They pray to almighty for welfare of their consort, every morning and evening for 18 days. Idols of Lord Shiva and Lord Preservative purchased from locals artisans. They are decorated as pleased and placed in a wicker basket filled with flowers and grass. Wheat is sown in small earthen pots. The wheat grass is an important element of this festival. Decorated water pots are also used to decorate the houses during this festival. Newly married women fast for whole day, for 18 days. Unmarried women fast too, but they can eat one meal a day.
On the 7th day, unmarried women bring burning lamps inside a clay pot (the decorated water pot), on their head. They sing traditional songs as they hold the pot on their head. Elder family members bless them and offer gifts to them. On the 17th day, parents of married women send gifts, clothes, jewelry and other items to their daughter's house. The daughter wear that dress, apply henna and celebrate the last day of the festival. On the 18th day, a grand procession is conducted, where a large statue of Goddess Gauri is decorated and taken through the city. The entire population of pilgrims follow the procession along with local bands. Women bring the water pots on their head to the river bank. The earthen pots are broken near the river and idols are immersed into the water. In tribal community, this day is considered as the match-fixing day. Men and women interact with each other and pick their life partner on this day.
Read also: 
Suggest Tours:
In Udaipur
In Udaipur, you can enjoy procession on boats on Pichola Lake. You can find many women walking as they balance several pitchers on their head. The procession ends on the bank of the river. By evening, you will find many fireworks decorating the sky. The grand festival takes place for three days and it is celebrated along with Mewar Festival.
Must read:
Are you willing to explore Udaipur, here are the top suggested tour packages are:
In Jaipur
The procession of the last day starts from City Palace's Zanani Deodhi and ends at Talkatora after passing through Tripolia bazaar, Gangauri bazaar, Chotti Chaupar and Chaugan stadium. During the processions, you can find goddess statues taken in palanquins. In addition, you can find many elephants, bullock carts and chariots as a part of the procession. Folk dance and music celebrations are conducted from 4 in the evening.
Do you want to cover Jaipur during the festival? Book our top tour packages for your next vacation.
Read more: Top 15 Rajasthani Foods to try when you are Travel in Jaipur
Explore: Top 10 Places to Visit in Bundi, Rajasthan
Suggested Read: Top 8 Places you have to Visit near Jaipur
In Jodhpur
This festival is called as Dhinga Gavar in Jodhpur. Instead of Lord Gauri, the locals worship a form of Lord Shakti, Lord Dhinga Gavar. In this festival, the locals worship either clay or wooden statues and the celebration extends for just 16 days. On the final day, a procession takes place through the main markets and public areas, as the locals assemble to worship the deity. Grand celebrations take place at specific locations. Statues of the goddess is decorated with kilograms of gold and dry fruit powder is served to the deity. Fancy dress competitions, folk dance and music performances and others will be conducted. Pushkarna Brahmin families' married women beat unmarried men with a stick, as a form of blessing for a happy married life in the future.
Also read: Mandore Garden Beautiful Royal Garden in Jodhpur
In Jaisalmer
This festival is celebrated with more importance to cultural activities in Jaisalmer. You can enjoy fancy dress competitions, folk performances, processions, traditional music fiesta and much more. Rituals and processions are quite similar to the other regions of the state. If you are visiting Jaisalmer, do not leave the region without taking a camel safari.
Read about: Things You Should Know about Camel Safari in Rajasthan
Suggest article: Exploring Jaisalmer – Top 20 Places to Visit
In Bikaner
The festival is celebrated for 18 days. Women participate in processions, which takes place numerous times during the 18 days, very early in the morning. Dance performances and other activities happen every day. The best place to visit to enjoy this festival in Bikaner is Junagarh Fort.
Top activities to enjoy during the festival
Visit the temples, especially Shakti temples of the state to enjoy numerous rituals and special programs.
Take part in the procession and enjoy the local culture
Feasts are conducted in specific places. You can find many new dessert items in the menu, especially for this festival.
Women can experience having temporary tattoo made with myrtle paste, on the palms and feet.
Are you all set to visit the state for the festival? You are really in for a treat and a feast. Well, it truly is a unique land and you need to prepare yourself to get started. To do so, we are disclosing some very important information, Read blog Amazing Traveller's Guide to Prepare your Rajasthan Tour to know more.
Suggested article you may like to read –