Desert Safari in Jaisalmer – Complete Travel Guide
Every tourist destination in the country has a unique and iconic attraction. When it comes to Rajasthan, the luxury desert safari is the unequalled royal activity. Located in Thar Desert, Jaisalmer is a royal city filled with forts, gardens and the Sand Dunes. If you are planning to enjoy an iconic vacation in Rajasthan, the desert safari in Jaisalmer is an important tourist activity to consider.
Ideal location for Desert Safari in Jaisalmer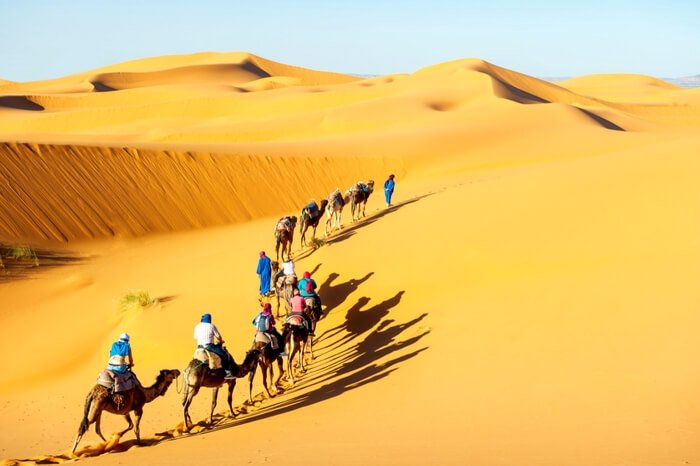 There are numerous spots for enjoying a desert safari in Jaisalmer. Many service providers even provide signature spots for safari. When it comes to desert safari, the ideal location is the Sam Sand Dunes in the Rajasthan State. Located 45 km away from Jaisalmer, this region is pure desert with no vegetation. The starting and ending point of most of the safaris will be any part of the Sam sand dunes. The route covered by each safari and the location of camping changes with service providers. Especially, during tourism season, the Sam sand dunes become very crowded and thus, some service providers choose a secluded spot for a private experience.
Must Read: Top Things to Relish in Ajmer of Rajasthan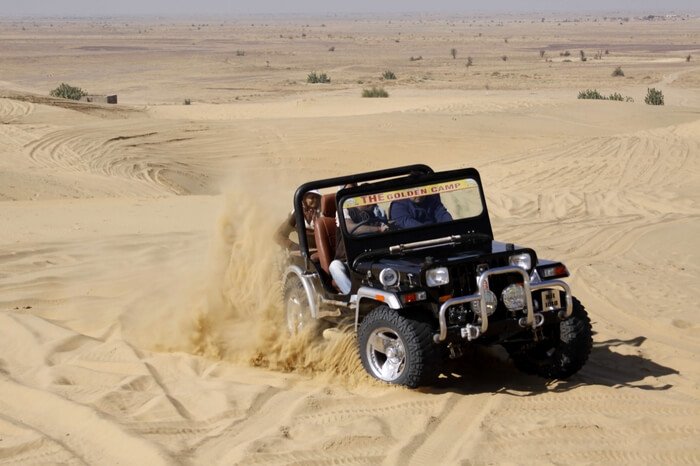 Cost of Desert Safari in Jaisalmer
You can choose either a camel or a jeep to reach the heart of the sand dunes. A camel can hold one adult with or without a child. Some service providers offer two people to share one camel safari. It costs INR 500 per camel and INR 1,000 per jeep. Four to five people can travel in a jeep. A camel safari usually lasts for two hours while the jeep safari stretches for one hour. Jeep safari can penetrate to deeper locations in the desert while camels provide a traditional effect to the safari.
Read also: Where to Travel in Rajasthan in November?
Best time for Desert Safari in Jaisalmer
When it comes to climatic condition, it is preferred to choose winter. Winter is one of the best times to visit due to the pleasing climate. Jaisalmer is basically a desert and visiting during summer can easily cause dehydration. If you have the liberty of choosing a day of the month, it is preferred to choose full moon night, the night before and after full moon. Within a day, the sunset and sunrise time are the best time for safari.
If you are visiting during sunset, you can enjoy folk dances, barbeque, moonlight dinner, camping overnight and much more.
If you are visiting in July and August, the sand dunes receive minimal rainfall. Although it is one of the least chosen time for safari, tourists prefer this season for better deals. Wear waterproof shoes and jackets during your journey. Avoid open sky accommodation during winter season. The main problem of rainy season is the insects that appear at night.
Suggest article: Exploring Jaisalmer – Top 20 Places to Visit
Other Activities 
Apart from the actual safari, top things to do in Jaisalmer to enjoy are
Adventure activities like paragliding, quad biking, dune dashing, hot air balloon safari and others.
Luxury camping, relaxing and overnight camping.
Belly dance, fire dance, local tribal dance, music performances, puppet shows and others.
Moonlight dinner for romantic time.
The list of activities available for the tourists depends on the service providers. If you are choosing a small service provider, you will be given primitive amenities and activities. If choosing luxury service providers, you will be provided with exotic activities and long list of options. The advantage of choose a small service provider is that you will stay as close as possible to the nature and enjoy the culture of the land.  There are so many best photography spots in Jaisalmer.
Suggested article – Top Destinations to Enjoy Hot Air Balloon Safari in India
Ideal time span
A typical safari lasts for three to four hours. This includes the time taken for reaching the sand dunes. If choosing safari with night camping, it would stretch typically for two days, which includes one night in the desert. You can find packages that can scale up to 30 days.
Moreover, the exact time span changes with season and service providers. Each service provide has his own set of tour packages with varying time span, activities, routes and others.
Read also: Gangaur Festival, Rajasthan-Learn about the Festival of Marriage and Love
Camels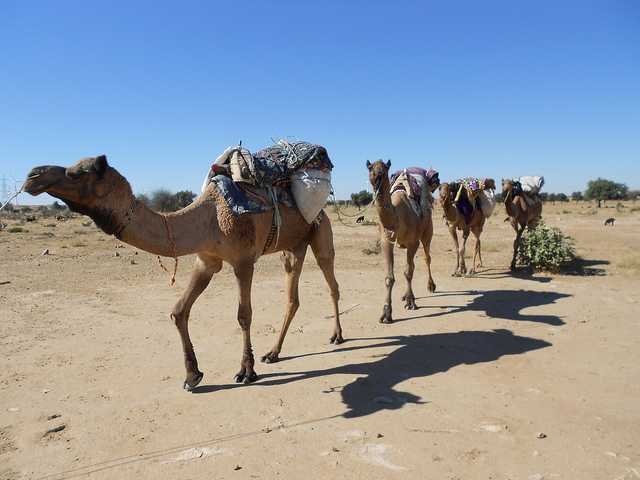 Almost all safaris use Arabian camels with one hump. For any safari, you would be spending not more than 2 hours straight on a camel. Although it look like a short period, the exaggerated movement of the camel on the silky sand can cause more stress to your backbone than it sounds like. Thus, do not pick long trips on camels without adequate timeouts for meal or resting.
If you are looking for deep desert safari in Jaisalmer, you will be crossing most of the distance by jeep or 4WD before mounting on a camel. The camels are well trained and the trainer stays with you, controlling the camel throughout the trip. Thus, safety is assured if you follow all the instructions provided by the trainer.
Read more – Ten Things That You Should Not Miss in Jaisalmer
Camp and journey
Your supplies will reach the camp on a jeep and thus, you can experience many amenities than just the sand. A cooking fire will be lit throughout the night to keep insects away. The nights will be extremely cold and the morning will be hot. Pack for both the climates. Always keep your head covered and use UV protection sun lotions. Top things to carry with you are
Hat or head cover
Sun glasses and sun screen lotion
Torch
Hand sanitizer and toilet paper
Cash in Indian rupees
Water proof bags for cameras and important documents
Insect repellent
Lip balm
Choosing the right Desert Safari
Do not fall for the pictures the booking office shows as photo testimonials.
Choose safari packages with small groups rather than larger crowd. If possible, you can choose private desert safari
Learn about the meals, extra activities and the accommodation options. If you are given the option of tent and open skies, choose open skies for better experience.
If you are looking for a very private safari, you need to go deep into the desert. Jeeps are better at this than camels.
The meal at the camps are cooked with ingredients brought by the camp organizers. Unless you are choosing a luxury desert camp, you need to keep your food expectations low.
Do not choose a desert safari blindly. Choose reputed service providers with long experiences in serving customers on the sand dunes.
Best tour packages –
24 Days Cultural Rajasthan with Camel Safari