Things You Should Know about Camel Safari in Rajasthan
It is not easier to enjoy camel ride, everywhere. This is the main reason to why camel safari is an important tourist attraction in many desert regions, including Rajasthan.
Gifted with the mighty Thar desert region, Rajasthan is the main spot of camel based attractions in India. Among numerous camel attractions like camel fair, camel beauty contest, camel race and others, camel safari is the top choice activity for tourists visiting Rajasthan.
A trip to Rajasthan is never complete without a camel ride. This article is all about camel safari.
Location of Camel Safari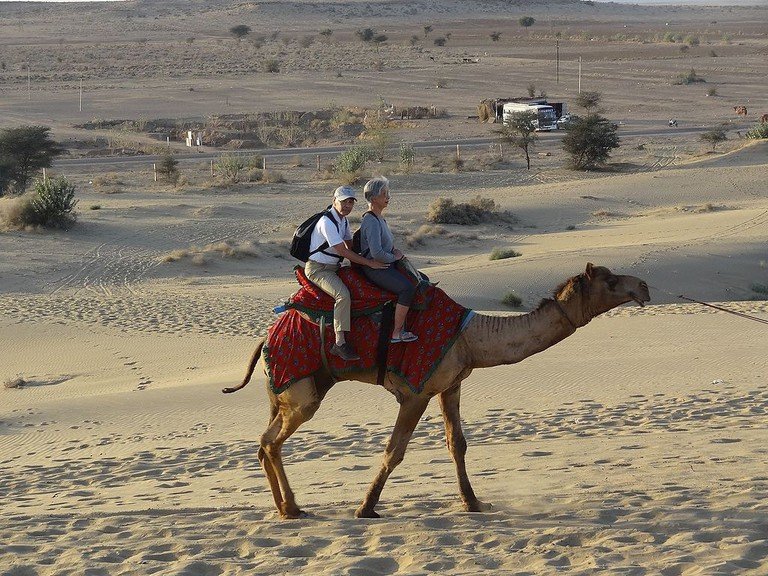 Almost all places from desert filled Jaisalmer to urban region of Jaipur provide camel safari. You ought to learn that no two regions provide the same style of safaris. For instance, Jaisalmer camel safari is linked with desert, sand dunes and long safaris.
Bikaner is famous for architectural camel safari, which takes up a route to covers marvelous architectures, havelis, palaces and others. In some places like Jaipur, camel safari is used for exploring traditional villages. The iconic place to enjoy camel safari is the sand dunes of Jaisalmer.
Read article: Best things to do in Shekhawati
Duration of Camel Safari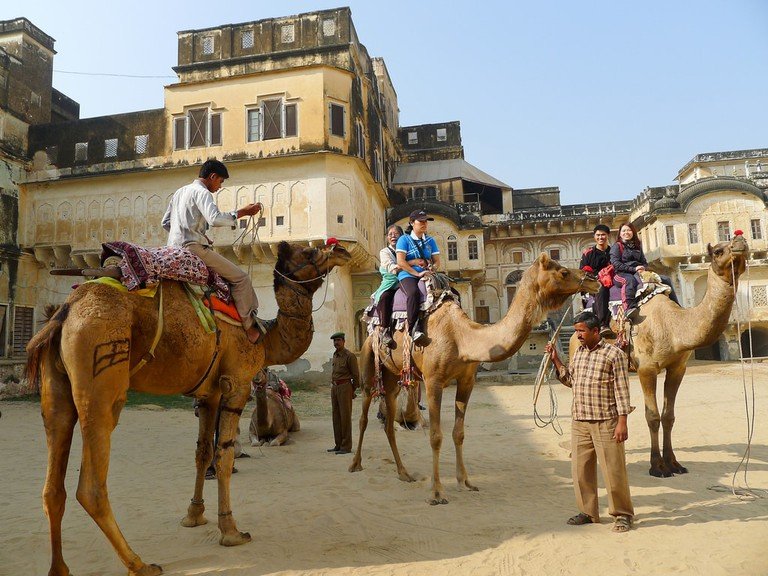 The duration of a camel safari depends on the service provider and you. When you enjoy a camel safari to a desert camp, it is usually 30 minutes of camel safari and then 4 WD or vice versa.
This is due to the fact that camel ride is very bumpy and can cause back pain for those who have no experience and especially in old adults. Thus, if you are trying for the very first time, enjoy short safari.
If you are able to adapt to the rustic ride, enjoy long safaris. Do not sign up for 4-day camel safari on the very first visit to Rajasthan. If desired, you can enjoy desert camping, where you can enjoy camel safari as and when you feel, during your stay.
Read also:
Cost of Camel Safari
Cost of Camel safari may be varies depending upon the facilities you choose. Standard rate of camel safari is starts from 500 to 2500 per person, per day including meals. Prices can be negotiated.
Suggest article: Exploring Jaisalmer – Top 20 Places to Visit
Clothing
Yes, camel safari can be exhausting, given the heat of sun in desert. There is a misconception that shorter clothes will reduce the effect of humidity. The length of your dress has nothing to do with humidity and you end up exposing more skin to the angry sun leading to sunburn. Top things to pack during your safari are
Hat
Sunglasses
Sunscreen (apply sunscreen even on your nails)
Blanket and sweaters if you are planning to stay in desert for the night.
Bring a towel to spread and sit, while resting. Do not sit on bare sand, during both day and night.
While packing, also add as much water as possible. Wear cotton clothing, covering most of your body. White and mild colors are better than black as, black sucks in more radiation than lighter colors.
Must read: Information about Baneshwar Fair of Rajasthan
Best time to visit for Camel Safari
Camel safaris are available throughout the year. But, summer would turn you into dried tomatoes. Thus, avoid summer and the short-lived rainy season.
The winter starts in November and ends in February. This is the best time to visit for camel safari. March is also pleasing, although a summer month.
Read also: Gangaur Festival, Rajasthan-Learn about the Festival of Marriage and Love
Explore: Top 10 Places to Visit in Bundi, Rajasthan
Typical Camel Safari
A typical camel safari has a start point and end, which would be scaled on a camel, while the camel trainer walks along with the camel. If you were planning to enjoy desert camel safari, you would take 4 WD from the edge of the desert to a camel point.
You would start the camel ride from the point and would travel to a campsite where you would watch sunset, enjoy activities and much more.
Read also: Places to visit in Rajasthan in November
In case of village safari, you would be driven in a vehicle up to the border of the villages and you would take up camel ride from there, through important roads of the village.
Must Read: 10 Places to Visit in Mount Abu for Honeymoon
Travel Tips to keep in mind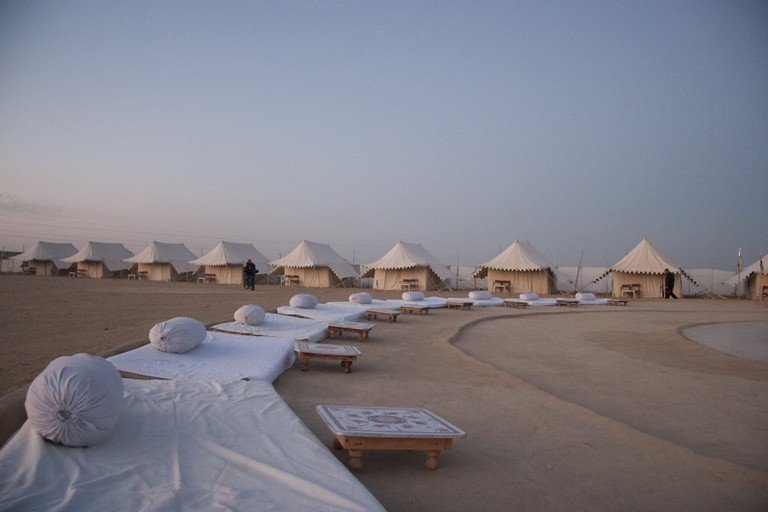 Just because you just took a camel safari, do not think of you as an expert and climb on any stray camels you spot.
Do not tease or hurt the camels. If your camel trainer asks you not to kick the camel, do not do so. Camels are very tall than you can imagine and can run faster than you can imagine. Be alert, always.
Do not blindly choose a safari provider. Shop around and choose the one who helps you enjoy the surrounding and provide a best experience in Rajasthan.
Make sure that water, camping facilities, cot, blankets, meals and other facilities are available in the package that you are picking. If not, make arrangement for all your requirements.
Yes, Sam sand dunes of Jaisalmer is the best to enjoy camel safari. Guess what, everyone knows this and the place will be quite crowded during tourism season. There are numerous sand dunes around the area and you can enjoy a private experience and exotic photo experience.
Do not think that camel safari is only for affluent travelers. There are variants of safaris for all budgets. You can scale the desert for half-an-hour or enjoy a luxury camp vacation in the middle of the desert for a couple of days.
Do not get housed inside the tent all the time. Walk out and enjoy the colorful sky, have a romantic dinner on the sand and enjoy.
Do not drink liquor during camel safari. No matter how much you argue, liquor will not hydrate you and you actually would end up dehydrated faster than usual.
Wear shoes while safari. Sandals might sound like a good option, but, the sand will be oven hot and your feet would burn when it comes in contact with the sand.
Last but not least, do not forget to have fun.
Read more about Rajasthan