Top 20 Cities of India that is famous for its Food
Indian food is generally known for its spiciness and every single spice used in Indian dishes carries some or other nutritional as well as medical properties which not only makes it unique in taste but also a very healthy. So if you are a food lover but still haven't tasted these delicious dishes then it's time to pack your bags and go on a food journey.
The Indian subcontinent, especially the country of India is home to a diversity of groups of people with different ethnicity, languages, cultures, food habits, and traditions. The popular Indian ways of life claim the richness of peaceful and progressive living in unity with diversity.
However, if you happen to visit various Indian cities, you will be amazed to taste and experience numerous types of cuisines that are not only delicious but famous worldwide.
Here are famous and delicious Indian cuisines from 20 different cities in India.
1. Agra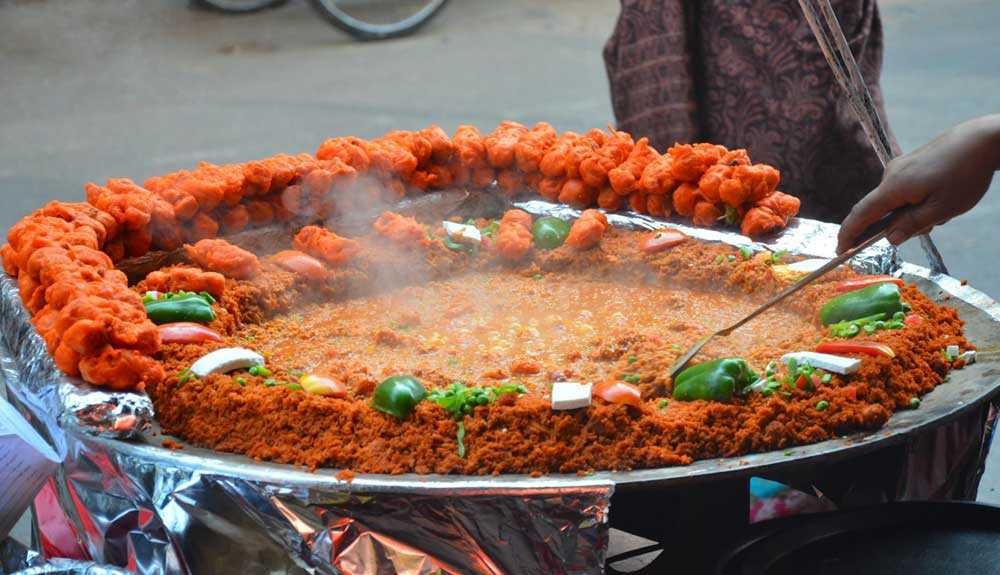 The city of Agra in India stands number one in terms of tourist attraction because of the Taj Mahal, however, its delicious Indian and international cuisine has also gained a lot of hype among visitors and locals also. People from numerous places visit here to enjoy the mouth-watering dishes of Agra specially during the festival days.
Some of top most delicious dishes and food of Agra are;
Petha – A sweet which is prepared from pumpkin and mixed with various flavours and available in different shapes and sizes.
Dalmoth – As cleared from name, it is prepared from lentils, nuts, and oil. Dalmoth is a famous traditional spicy dish which can be easily found near Panchi Petha and Baluganj.
Bedhai & Jalebi –A well know sweet Bedhai and Jalebi of Agra is quite famous in every part of Uttar Pradesh. It falls under the breakfast category and served in street stalls in Agra. It is the combination of sweet and spicy flavour.
Additionally, Parantha, Mughali food, and Chat are the famous cuisines of every visitor. The incredibly delicious Mughal chicken in Agra is still served with the same ingredients and taste that were left by the Mughals as one of the best and indelible imprints on the cuisine of Agra.
You can get the organic and original Mughal meat and chicken cuisine best to take with famous Mughal paratha at Nai Ki Mandi area of MG Road in several restaurants at the Fatehabad Road in Agra.
Best time to visit and enjoy delicious cuisines- March to June
2. Goa
Go high with special goan beer – feni (made from cashew) & finger licking tasty seafood (prawns, fishes, crab etc) & non-veg (chiken, pork, beef, mutton) like Sorpotel, Ambotik, Vindaloo, Fried Fsih (Pomfret Fish), Xacuti, Bebinca, Cafrial and Goan Curry. Local spices and coconut milk are some ingredients of Goan food.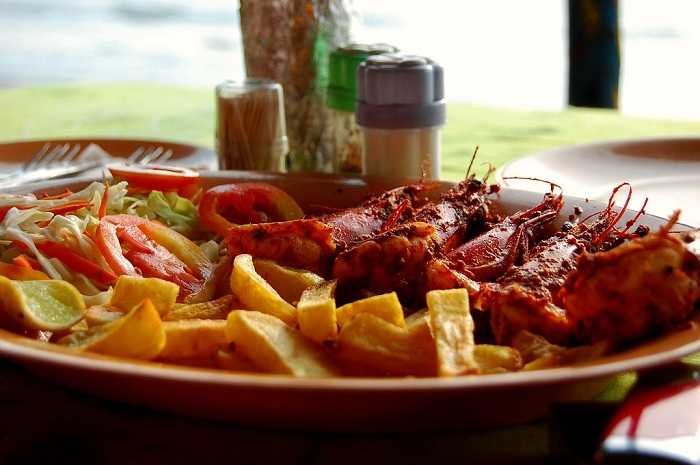 Best time to visit Goa :- Between Mid November to Mid February (Christmas and New Year are celebrated in a big way)
Suggested article about Goa:- 
Check out the Best of Goa Tour Package
3. Varanasi
Street foods are the true essence of Varanasi. Different street food are popular all over the India. Since it is a holly city so you will not likely to find meat or beef here. However, Varanasi has much more delicious to offer you.
Foods like Kachori Sabzi, Choora Matar,Dahi chutney Gol Gappe, Baati Chokha, Tamatar Chaat, Cheena Dahi Vada, are the exquisites dishes which no one want to miss from their plates. Additionally, Malaiyyo and Thandai, Metha Paan, Rabri Jalebi, are the famous sweet dishes that will complete your food at the end.
Baati Chokha is famous in Varanasi which is located at the Puran das Road with a typical traditional environment. You can find a chulla or a stove at the entrance of Baati Chokha along with a silbatta or grinding stone and other rural traditional cooking equipment.
You can experience the most primitive type of food serving procedures such as sitting cross-legs on charpoys and eat from the most traditional huge brass plates and katories. However, you can also opt for a modern table setting inside Baati-Chokha. The popular food served here is Litti-chokha and parathas.
Best time to visit- November to Feburary
4. Kolkata
Rasgullas, Sondesh and Mishti Doi is the first thing that strikes our mind and filled our mouth with water in the name of Kolkata. Though famous for its sweets but you cannot forget about the special Hilsa (fresh water fish) Fish cooked in mustard gravy and those super spicy Phuchkas and Jhalmuri which have ability to set your tongue on fire.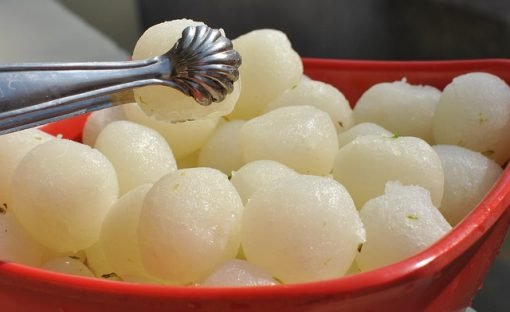 Best time to visit Kolkata:- Between October to March (Durga Puja is celebrated in a very religious way and thus gives you more option to explore some great food)
Suggested article: A tour to discover the soulful delicacies of India
5. Lucknow
Popularly known as "Nawabo Ka Seher". So if you wish to eat like king with the royal recipes covering your platter then it's a must see places to visit and get your taste buds a Nawabi impact with different types of Kebabs, Mutton Rogan Josh, Lucknowi Biryani, Rabri, Lassi, Nihari Kulche, Khasta Kachori, Sheermal, Lucknowi Paan.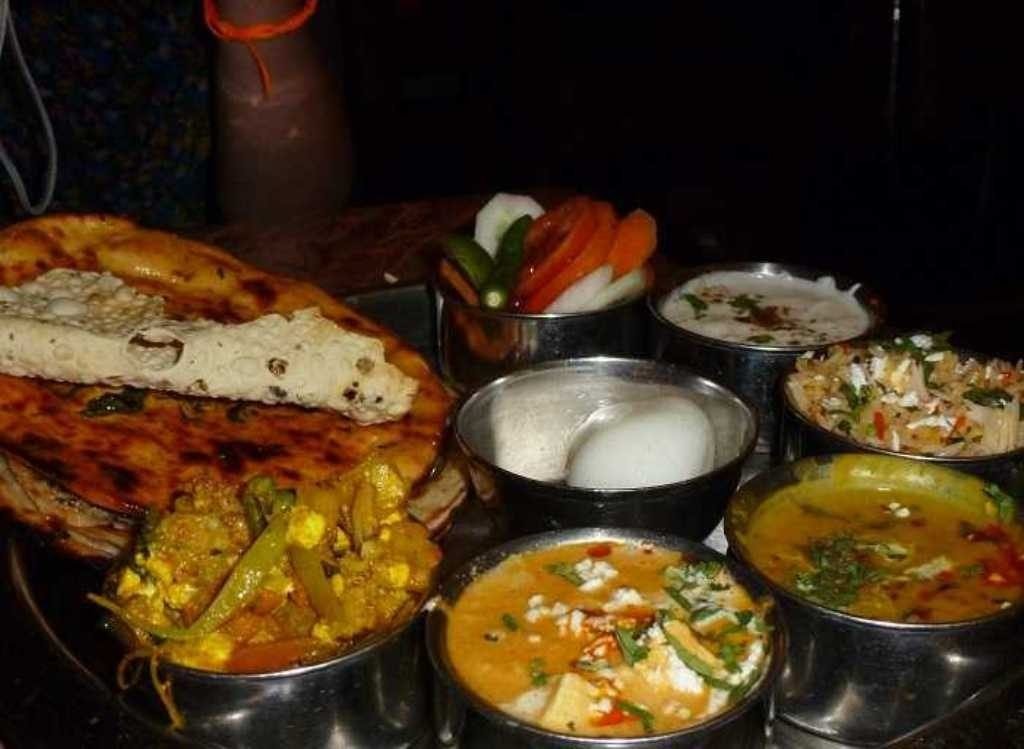 Best time to visit Lucknow:- March and April
Read also: Holidays Ideas for Kids Under 10 Years in India
6. Rajasthan
Daal Bati Churma is the famous dish of Rajasthan; super rich in Ghee content and no Rajasthani Thali is complete without it. Apart this; Gatte ki Sabzi, Pyazz Kachori, Papad ki Sabzi, Ghevar, Gond ke Laddu, Kesar Murg and Laapsi are quiet popular and mouth watering dishes of Rajasthan.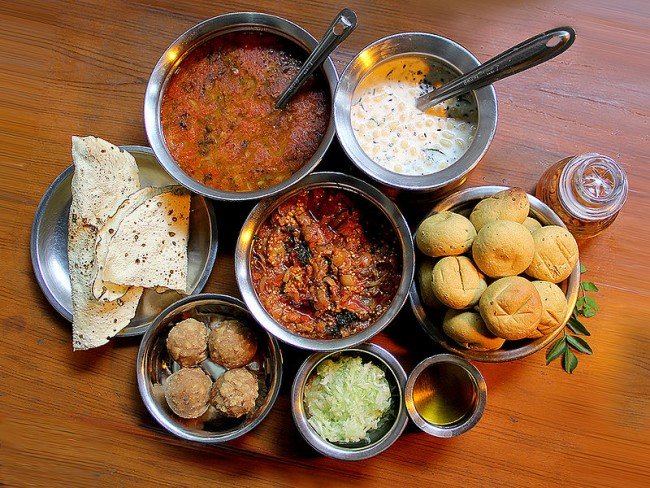 Best time to visit Rajasthan :- Between October and March
Suggested article about Rajasthan: 
Suggested tours
7. Mumbai
We Indians are just crazy about street foods and for this craving of ours; Mumbai hold the status of being the best street food in India. Mumbai is the birthplace of Vada Pavs which are not only cheap and tasty but also stomach filling. Apart this, Pav Bhaji, Pani Puris, Dahi Puri, Batata Vada, Ragda Pattice, Kanda Poha, Sev puri and Bombay Sandwich are other popular street foods that one should never miss in Mumbai.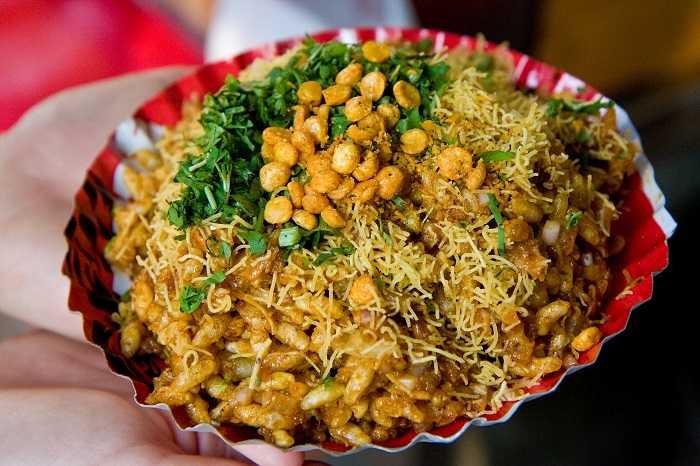 Best time to visit Mumbai :- Between November to February (during Ganesh Chaturthi you can see the real mumbaikar style of feast). Know more about Best time to visit Mumbai according to peak season for travellers.
Suggested article about Mumbai: 
Check out the various tour packages of Mumbai:- 
8. Delhi
As they say, "Dilli hain Dilwalo ka Seher", you can get everything here. Chole Bhature holds a special place in the hearts of Delhiites but there are must visit places if you are big time foodie and they are – Karim's , Jama Masjid is best for non-veg food, Paranthe Wali Gali, Chandini Chowk where you get more than 100 variety of Paranthas, Sarvana Bhawan, Connaught Place if you are South Indian food lover, Keventer's which offers the best shakes of Delhi and famous Momos of Lajpat Nagar. I bet you will never forget the taste and treatment of Delhi. You can also check out the Delicious Street Food of Delhi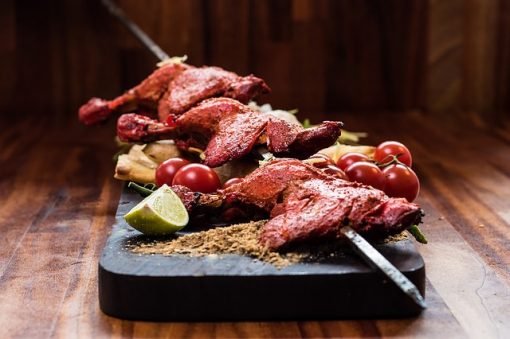 Best time to visit Delhi :- Between October to March
Suggested article about Delhi: 
Explore Golden Triangle tour with Kerala
9. Gujarat
Gujarat is a heaven in India for vegetarians. Famous foods consist of Undhiyu, Handvo, Khandvi, Khaman Dhokla, Thepla, Muthiya, Fafda, Khicho. Just as the people of Gujarat; their dishes are also very traditional. The flavors are basically a beautiful amalgamation of sweet, sour, and spicy tastes.
Best time to visit Gujarat:- Between November to March (if you visit during Navratras, you not only get their variety of super tasty traditional sweets but also you can enjoy the Garba Dance function which is celebrated in a big level)
Suggested tours 10 Days – Gujarat Tour Package
More about Gujarat:- 
10. Chennai
They follow the most unique and traditional way of eating i.e. on Banana Leaves. Rice is their staple food and their dishes are the most healthy and full of nutrition and proteins which includes Kothu Parotta, Idli, Sambhar, Puttu, Appam, Idyappam, Murukku, Dosa. Chennai is a sure show stopper for every food lover.
Best time to visit Chennai:-  Between November to February
Suggested articles about Chennai: Chennai The Best Places To Visit In Summer
Suggested tours 10 Nights – South India Trip From Chennai
11. Uttarakhand
There is a magic in the recipes of Uttarakhand. Their traditional cuisines are not simple to prepare but at the same time appealing to the palate and can give you the major health and fitness goals. The yummy and mouthwatering highlights includes Jhangora ki Kheer, Til ki Chutney, Aalo Tamatar ka Jhol, Bhatt ki Churdkani, Bhaang ki Chutney and Chainsoo.
Best time to visit Uttarakhand:-  Between March and June, July to September, October to February
Jim Corbett National Park is the famous attraction of Uttarakhand. Jeep Safari  in Jim Corbett is one of the best options to see wild animal's tendency in natural habitat and admire adorable scenes of the National Park.
Best tour of Agra Jaipur Jim Corbett Tiger Tour
Must Read: Best 10 Places to Visit in Uttarakhand in Summer with Family
12. Assam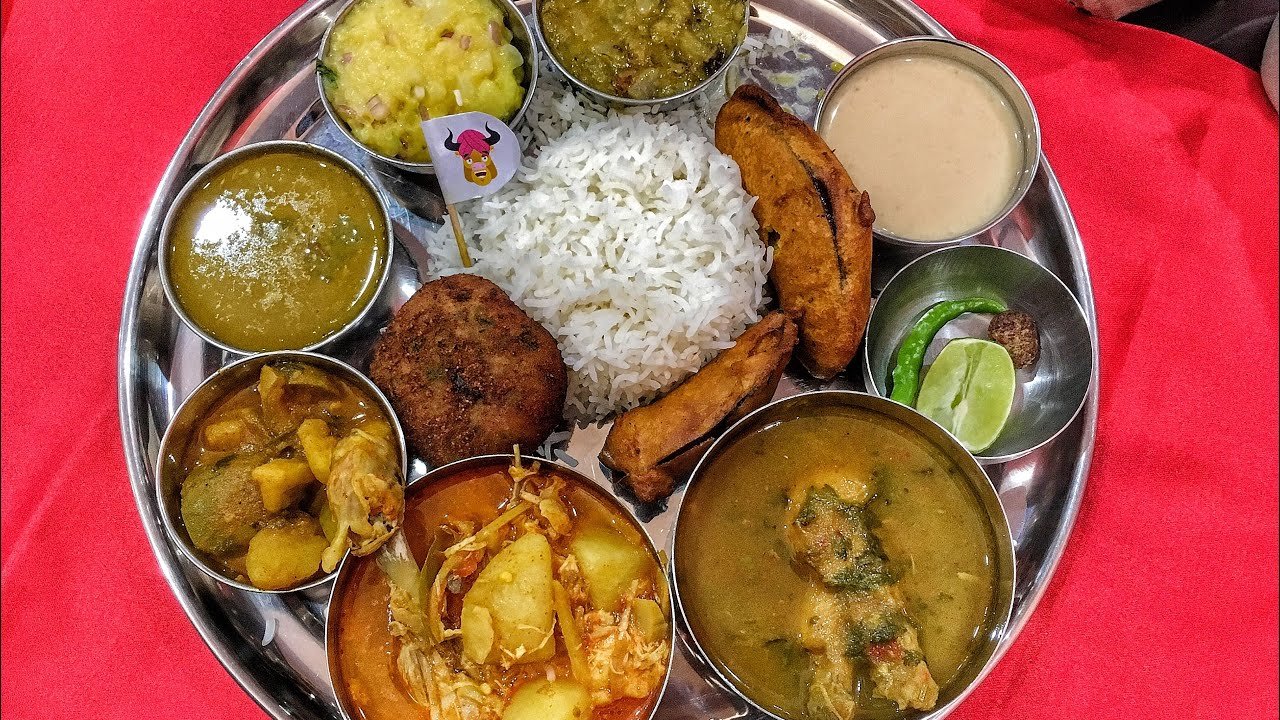 Cuisine of Assam is famous for rice delicacies and is one the popular food items in India. Their food is less with spice but with great taste. The best includes Khaar, Duck Meat Curry, Masoor Tenga, Aaloo Pitika, Xaak aru Bhaji, Ou Khatta. Apart food; Assam is world famous for its tea production.
Assam tea is best known for its strong malty flavor and bright color and forms an indispensable part of the cuisines. Apart from cuisine Assam is also famous for Kaziranga National Park – Home of one horned rhinos.
Best time to visit Assam:- Between November and March
13. Patna
The historical city of Patna is the capital city of Bihar as well as one of the most rapidly growing cities in India. The State of Bihar especially the city of Patna has gained a lot of popularity in tourism sector and also for its traditional Indian cuisines for the food lovers across the globe.
Food lovers from across the Indian sub-continent and the world, know Patna because of the delicious cuisine named Litti-Chokha that has already earned a brand name for Patna as well as for Bihar and India. The name Litti-Chokha is the combination of two basic ingredients that are used to make Litti-Chokha namely Litti or the backed wheat dough and Chokha is the smoked Brinjal or tomato or potato, deliciously mixed with chili and other spices to make it one of the most mouth-watering cuisines in the world.
Litti-Chokha is available in every corner of Patna but if you wish to taste the specialized version of Litti-Chokha, you should visit the Raj Sweets Shop adjacent to Sanjay Gandhi Biological Garden which became famous with the visit of Amir Khan the celebrity Bollywood hero who went to Raj Sweets with the desire of tasting the delicious Litti-Chokha.
Besides Raj Sweets, you can also get the potential and organic taste of Litti-Chokha in several other places of Patna such as S.P. Verma Road, Dak Bungalow Road, and MauryaLok Road.
Best time to visit:– During winter season From October to March
14. Mysore
Apart from the historical significance, Mysore is its own place in traditional udipicuisines. Mysore park, a brimming with authentic Mysore's platter are the most famous traditional sweets of this place.
Some other delicious cuisines you would definitely like to have in your plate are Idli-Dosa, Chutneys and Pickles, Shavige Bath, Pongal, Vangi Baath, Bisibele bath. In Sweets you would love the mouth-watering taste of Payasam, Jalebi, rave Unde, Ladoo and some others that are enough to satisfy you cravings.
Over the period, the Mysore Dosa has already crossed the international boundaries of Europe and the US and has established the incredible and amazing taste along with the brand known as the Mysore Masala Dosa.
You can get famous continental pizzas, burgers, pasta, sandwiches along with kebabs and butter chickens across numerous restaurants in Mysore, but you should never ignore to taste the Mysore Masala Dosa at the famous Vinayak Mylari hotel, as well as the mutton pulao breakfast at the iconic Hanuman Mess also referred to as Hanumantu hotel in Mysore.
Apart from that some of the modern and appetizing dishes that you can enjoy in Mysore are;
Kesari Bath – You can also call it as Soojihalwa or Sheera, Kesari bath is one of the delicious food that usually eat in breakfast. Almost every restaurant of Mysore prepared a special pineapple Kesari Bath on Sundays. Temples are served it as Prasad especially in festivals.
Uttapam – A delicious thick pancaka made of rice and cooked along with vegetables. Uttapam is fast served dish topped with tomatoes or onions and sprinkled with podi.
Khara Bath – A typical south Indian breakfast, Khara bath is also known as Upma. Made from semolina and roasted with spices and vegetables and topped with cashew nuts makes a perfect fusion of delicious dish. It usually eat with coconut chutney which enhanced its flavour.
Best time to visit- Monsoon and Winter are the season to visit
15. Kochi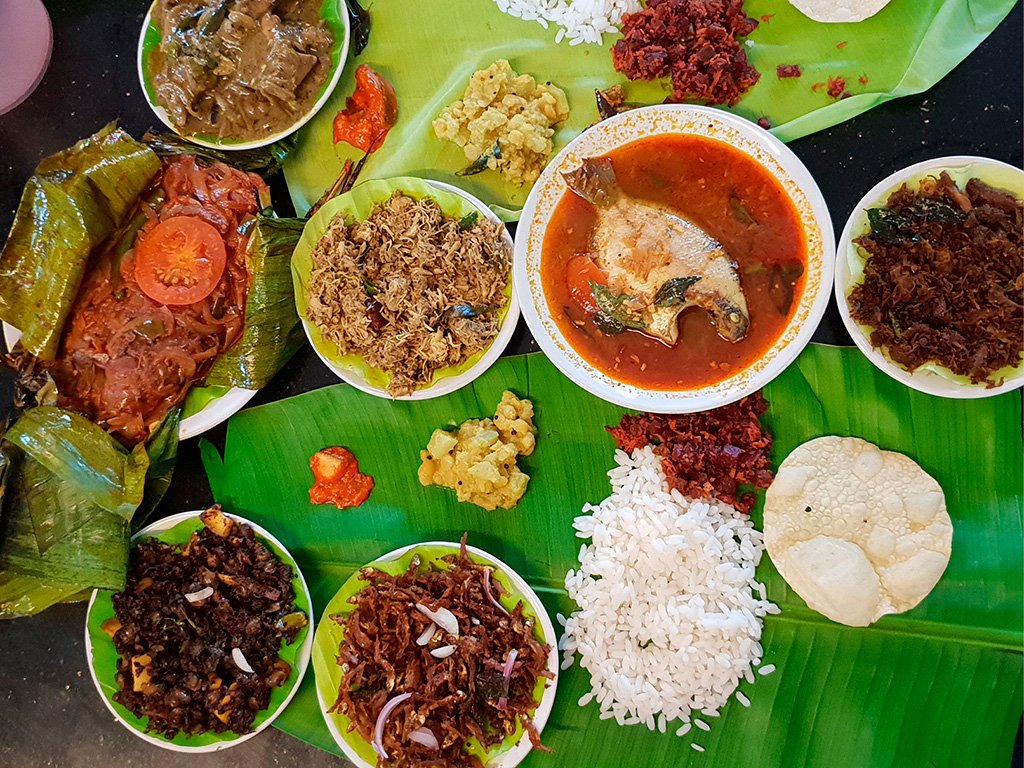 Kochi stands out in a different way and manage to gain a lot of popularity in traditional Keralan cuisines. Some of the essential food that you must try are Appam and Stew, delicacies like Fish Peera, Fish Molly are well famous food.
Moreover, Thoran, Kaalan, Banana Chips. Pootu and Paachadi are the dishes which is mainly prepared from banana and rice flour. If you are sea food lover, then Kochi has some of the exquisite food such as Fish molly, Menorah, fried prawns.
Some of the best of Kochi's restaurant is Chuttuli Meen, Biryani, Malabar prawn curry, Death by chocolate, Choclated filled samosas, PuttuKadala, Pazham Pori and Beef Curry, KulukkiSarabath, Kappa Boti, Ellumkappayum, and Parotta and Beef curry are the famous cuisines served by restaurants.
The Kochi cuisine includes typical Keralite cuisines but special in terms of its unique and special taste which you may not experience anywhere in the world. The most popular cuisines known as Kochi special are Stew and appam and the most delicious Fish molly.
If you happen to visit Kochi, you should never miss the Thoran banana chips, and Kalan, that are made out of banana and rice flour. In addition to this, various types of Kochi special sea-food cuisines are very popular and famous in famous restaurants such as Oceanos restaurant, the Ginger House, the Dal Roti, the Kashi Art Café, the Subhiksha, and Frys Village Restaurant.
Best time to visit- October to March
16. Hyderabad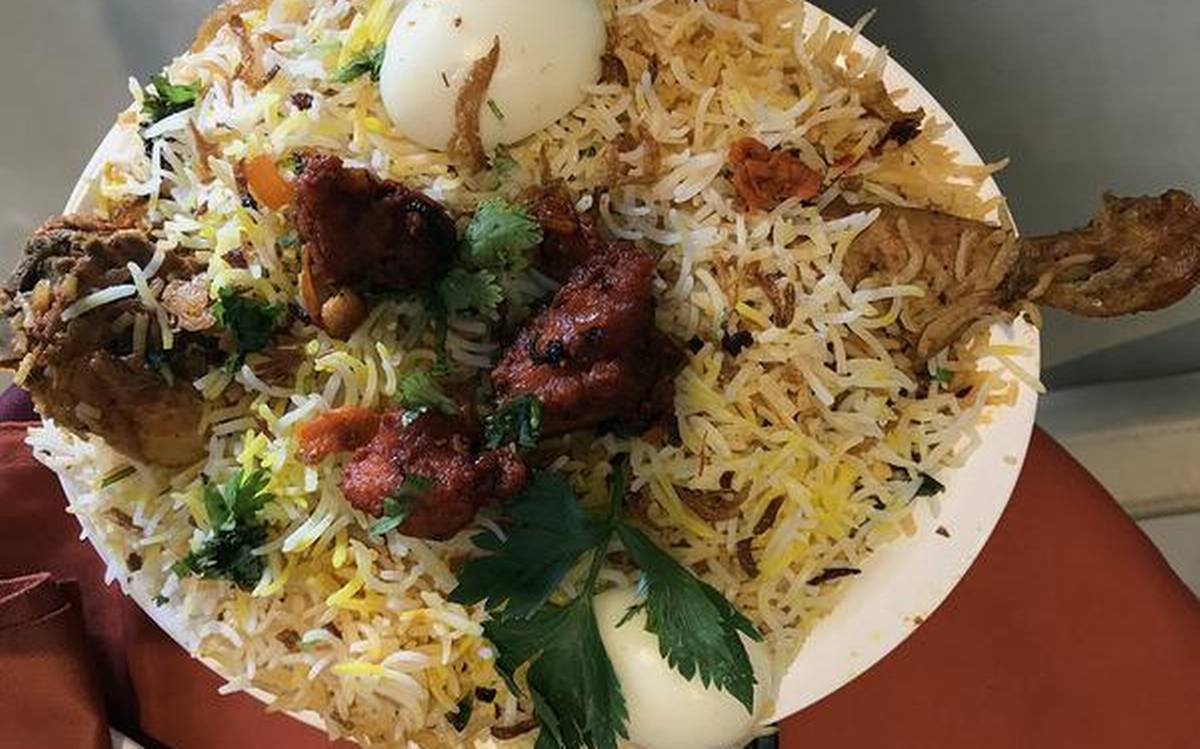 There are specific food items which don't want to skip ever. Especially when you have visited to Hyderabad. Hyderabad has a lot of dishes, foods and sweets to offers to visitors. Some of the famous delicious food are;
Hyderabadi Kebab – A special popular barbecued meat is extremely taste and popular in Hyderabad. These smoky flavoured kebabs served with chutney of mint which took its taste to another level.
Hyderabadi Marag – If you are non veg lover and mutton soup is your foremost choice then Hyderabadi Marag is perfect dish for you. Basically, it is a soup made from tender mutton and which will be served it at every restaurant of Hyderabad.
Kubani Ka Meetha – After relishing every famous dish of Hyderabad you will definitely look for a sweet dish. Kubani Ka meetha is most famous sweet dish ever preferred by people. It is made from apricots and silvers of pistachios, cashew nuts and almonds are garnish along.
But one more thing you will regret if you do not taste the royal taste of Nizam i.e. the Hyderabadi Biriyani and Haleem. The Hyderabadi Biriyani has over the period earned a global reputation for its wonderful and unique taste. The Hyderabadi Biriyani is popularly believed to be one of the favorite dishes of Nizams, the rulers of Hyderabad empire for centuries.
The Hyderabadi Biriyani is prepared with long-grained and fragrant basmati rice with quality meat either mutton or chicken and soaked with spices overnight and then cooked with special closed or sealed vessels and then steamed with coals. The Hyderabadi Dum biriyani is world-famous for its taste particularly the flavor and fragrance.
You can get the best and originally prepared Hyderabadi Dum Biriyani at the Tabla Restaurant in Banjara Hills, Bawarchi restaurant which was inaugurated by one of the biriyani loving Bollywood hero Sunil Shetty, Meridian Café and Restaurant, Ulavacharu restaurant, Jewel of Nizam-the Golkonda Hotel, as well as other restaurants across the city of Hyderabad.
Best time to visit – October to March
17. Amritsar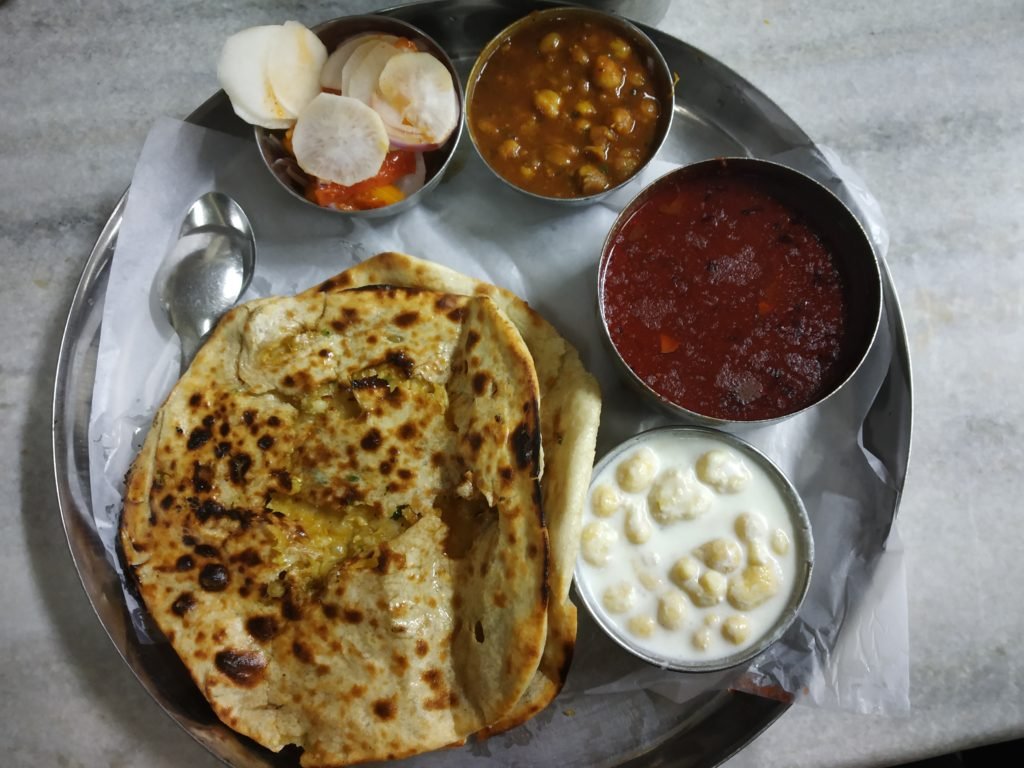 Amritsar, the land of peace and patriotism known worldwide for the largest community kitchen in the world. The city is also known colloquially as Ambarsar and historically as Ramdaspur after the name of Guru Ram Das.
All India famous Amritsari Kulcha is the most delicious food which you can find at every corner of the street. Basically it is a tandoori baked bread stuff with Cheese and vegetables and is served with butter.You can get the best Kulcha at Kesar da Dhaba, Darshan Lal KulcheWaala, and Harbans Lal KulcheWala.
If you have a plan to visit Amritsar, you must never ignore to visit and experience the world's largest community kitchen which serves food called Guru ka Langar to around one lakh people daily. Even if you miss the Guru ka Langar, you should at least experience the delicious taste of Kara Prasad in the Golden Temple.
Another interesting thing in Amritsar is the taste and freshness of its food. You may say because of its unique soil or the water or the way of food preparation, you will eventually experience a kind of unique freshness and organic taste of its foods such as Kulcha, lassi or juicy tandoori fish.
Best time to visit-  October to March
18. Bangalore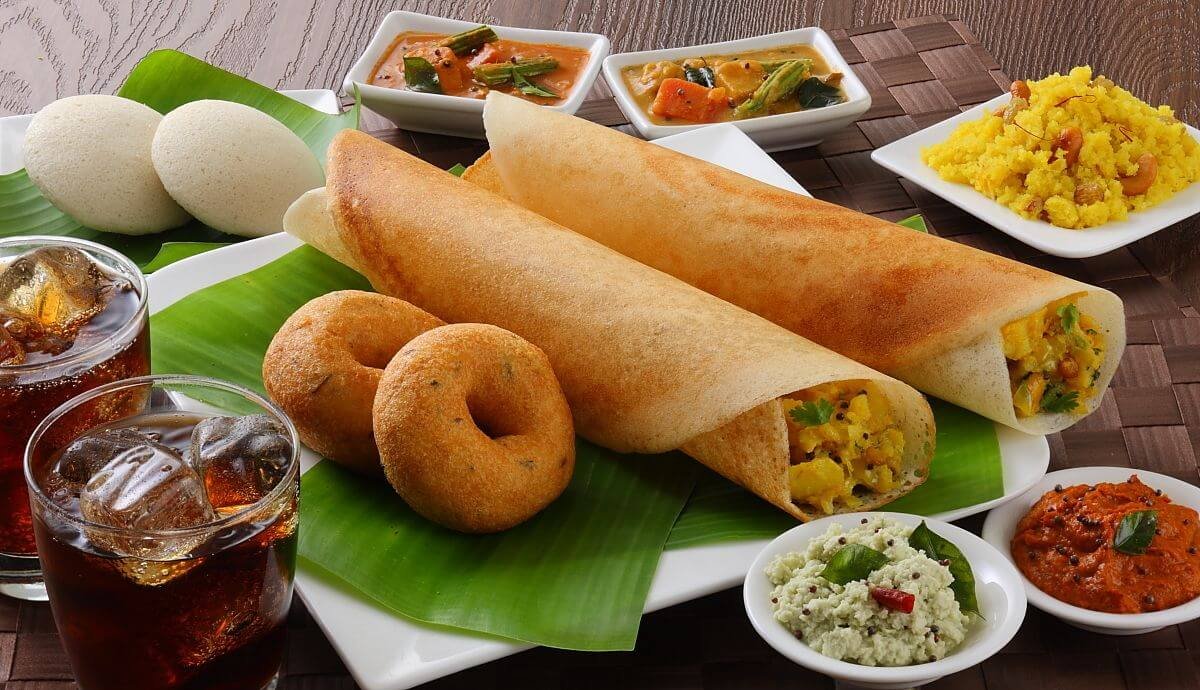 Bangalore is perhaps the most advanced city in terms of technology and growing high-tech businesses in India. You can find people from all over the world flocking around Bangalore for different purposes and that is the reason Bangalore is called "home for the people from all over the world".
Similarly, you will also find all sorts of foods consumed across the world in the boasting continental restaurants and pubs of Bangalore.
However, Bangalore is famous for its street foods such as chaat and panipuri, rolls, and kebabs, obbattu, but the most popular is the Momos and the Mangalore Buns. The Momos have entered Bangalore from the east but the Bangalore special Momos have their fragrance and delicacy.
Similarly, the most popular breakfast in Bangalore is the Mangalore Buns the best of which you can get at the Shetty's Corner at Serpentine Road or at Hollimane at Malleshwaram or many darshinis at the Frazer Town. Similarly, you can get the best Momos at Momo Hut at Koramangala or with the street vendors at the Kammanahalli or Sony World Signal.
Read more – Top 10 Iconic Food That You Must Try In Bangalore
19. Jammu and Kashmir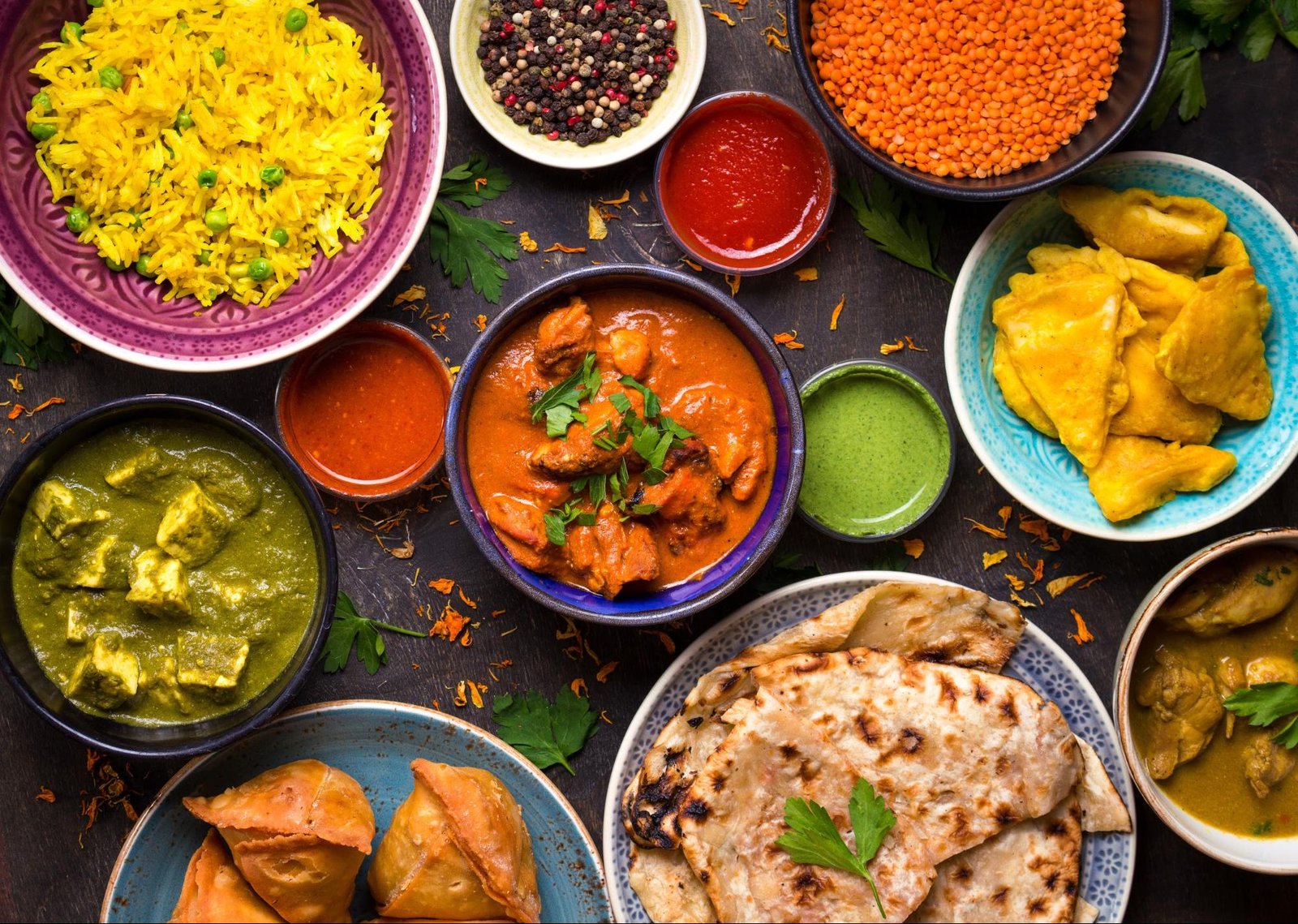 Jammu and Kashmir, the land of Paradise as known by world communities and loved by the tourists across the world. The favorite traditional food in Jammu and Kashmir are the Gushi or Morel Palov, lintel or Madra cooked with curd, Maani, Katha meat or sour meat, khameera, etc. Jammu is famous for its delicious cuisine called GolGappas, Gulgule, kachaalo, and Rajma Kulche.
However, you will find different types of foods popular in different regions of Jammu and Kashmir such as Kashmir and Leh have different preference for foods. Some of the famous cuisine popular and famous in the region are the Rogan Josh, delicious cuisine for the lamb or meat lovers, ModurPulav or sweetened rice, Matschgand which is prepared out of minced meatballs, Yakhni or Yoghurt lamb curry, and Dum Olav a purely vegetarian potato dish.
The Zaika restaurant and the Mughal Darbar in Jammu are the best places to get the famous Jammu and Kashmir cuisines in Jammu, and Wazan restaurant near Residency Road Srinagar is perhaps the best place for Jammu and Kashmir's best cuisines.
Best time to visit-  From October to Feburary
20. Ahmedabad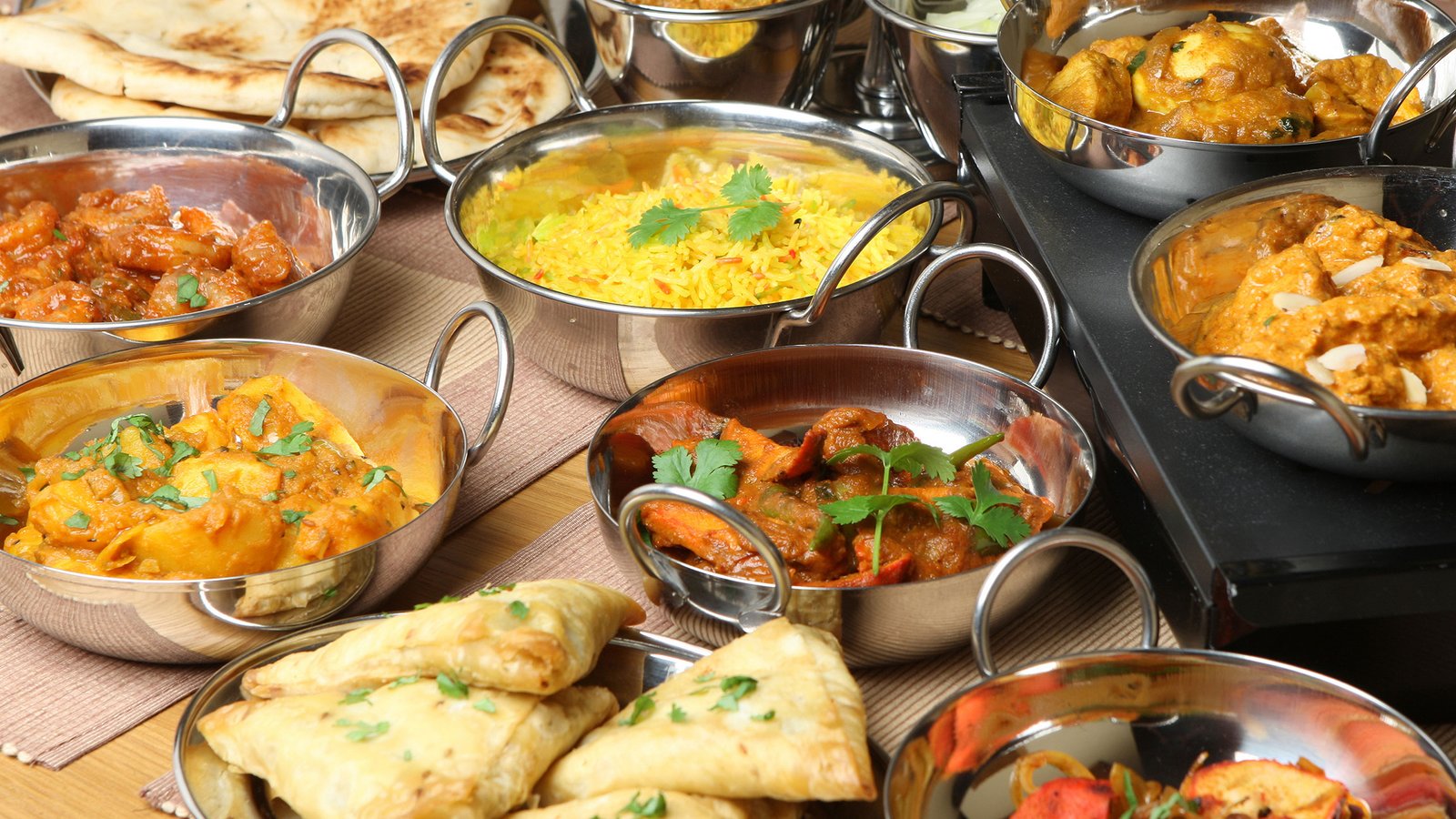 Ahmedabad is the first UNESCO world heritage city in India and the city is famous for friendly people as well as known for its warm hospitality. Ahmedabad is famous for not one cuisine but a variety of Gujarati food items such as Fafda, Khakhra, Dhokla, Dalvada, Thepla, Sev, Dabeli, Farsan, etc.
You can these cuisines at various places of the city of Ahmedabad such as Law Garden, Manek Chowk, Baghdad Fry Centre, Municipal Market, Food Truck Park, Das Khaman House, Amdo's Kitchen, Bera Samosa center, etc.
The best among all the others are the Manek Chowk which is presently at the Old Ahmedabad and is a city square with numerous food joints. The best and appropriate time to visit Manek Chowk is the evening hours when you can get the fresh and delicious Gujarati cuisines. The popular and famous cuisines in the Manek Chowk are Fafda jalebi, SevPuri and Methi Na Gota.
Best time to visit- October to December and January to March
Check out the different tour packages of India by which you can easily explore the majestic beauty of India. You can also explore our Travel Guide for more experience.
Read more about Top Things to do in India