Top 20 Best Places to visit in Varanasi
Varanasi is one of the most famous cities of Uttar Pradesh. Its origin is dated to the 11th Century B.C. It is one of the spiritual cities of India where people from all over the world come to have a dip in Ganga-a river known for his sacred water. Varanasi is famous with many other names such as Banaras or Kashi. There are so many places in Varanasi which is most visited by tourist.
It is a major religious hub for Hindu devotees. Varanasi is situated at National Highway 2 which connects it to Kanpur, Kolkata, Delhi, and Agra.
Tourists can visit Varanasi through train reaching to Varanasi Junction Railway station or can reach through the air following the route to Lal Bahadur Shashtri International Airport.
Varanasi is famous worldwide for its Ghats, Temples, Banaras Hindu University, and Forts. There are following must-visit places in Varanasi which every tourist should explore at least once:
1. Dashashwamedh Ghat
Dashashwamedh Ghat is one of the most famous, one of the most spectacular, and one of the oldest ghats of Varanasi. The Ghat was built in the year 1748 by Peshwa Balaji Baji Rao and was rebuilt by the Queen of Indore. It is a popular belief that Lord Brahma sacrificed Dasa Ashwamedha in Yajna at this place. Also, it is believed that Lod Brahma created this Ghat to welcome Lord Shiva.
Dashashwamedh Ghat is a perfect places in Varanasi to witness Ganga Arti. Ganga Artis are held here every day at sunset. In this Ganga Arti, prayers are offered to Ganges river in which priests gather with deepam in their hands and move it up and down in a circular motion and chant Bhajans in a rhythmic tone.
Special Artis is also held here on religious festivals such as Holi and Diwali. Watching Ganga Arti is an unforgettable experience. It is something that cannot be expressed in words.
Some people are seen here doing daily meditation in the early morning time because of the calm and beautiful environment. Also, the sunrise and sunset scenes are something worth spending time as they add special colors to the water of the Ganga river.
Suggested read – Varanasi Ganga Aarti Ceremony
2. Kashi Vishwanath Temple
Kashi Vishwanath Temple is situated on the west side of Ganga. It is considered as one of the holiest temples devoted to Lord Shiva who is considered the ruler of the universe.  This temple is the center of worship for decades. Because of this temple, Varanasi is also known as the city of Lord Shiva. The king of Kashi, Kashi Naresh, used to visit this temple to offer prayers on special occasions. Devotees were not allowed to enter the temple while he used to perform his prayers.
The the temple has been destroyed and constructed many times. The last time it was destroyed by the Mughal Emperor Aurangzeb. The temple was later rebuilt again. The temple finds its mention in Puranas such as Skanda Purana.
Over 2500 devotees visit Kashi Vishwanath temple every day and the figure touches to 1,00,000 on special occasions. And the reason being of its famousness is the temple finds its name mentioned in many holy scriptures of Hindu religion.
Suggested read – Complete Travel Guide of Spiritual City Varanasi
3. Sankat Mochan Hanuman Temple
Devoted to Lord Hanuman, Sankat Mochan Hanuman Temple was built in the early 16th century by the famous poet and Hindu preacher Goswami Tulsidas. It is believed that Goswami Tulsidas had a vision of Lord Hanuman and then the temple was built at the very same place.
Sankat Mochan Hanuman Temple is a center of attraction to devotees who come here to offer their respect to Lord Hanuman. There is a big connection between monkeys and Lord Hanuman and therefore you will find monkeys all over around this temple. Though these monkeys do not harm anybody and are only after their prasad. People offer laddoo to them as respect to Lord Hanuman.
The name Sankat Mochan means someone who relieves you from your troubles. And as the meaning suggests, people from all over the world come here seeking relief from their troubles. The temple is famous for its unique distinction as it has a big statue of Lord Hanuman facing Lord Ram to whom he worshiped with selfless devoutness.
Suggested tours – 5 Days – Tour To Varanasi And Bodhgaya
4. Tulsi Manas Temple
Tulsi Manas Temple is dedicated to Lord Ram. It was built in the year 1964. The temple has a historical and cultural significance for Hindu devotees as Hindu scripture Ram Charit Manas was written at the very same place by Hindu preacher Goswami Tulsidas and therefore is named after him. The temple displays various engraving from Ram Charit Manas on its walls. Many episodes of Ramayan are also engraved on the upper story of the temple.
The construction of the temple was dated up to the year 1964. It was sponsored by Thakur Das Family, West Bengal. The temple is constructed with white marbles and has a beautiful garden with a landscapes view all around the temple. Every bank of the Temple has unique statues that denote unique subjects of Hindu scriptures.
Tulsi Manas Temple is also known as Tulsi Birla Manasa Mandir. The temple is home to many beautiful images of Lord Ram, Lakshman, Sita, and Hanuman. The Temple has located around 2 km from Banaras Hindu University and 7 km from Varanasi.
The best time to visit Tulsi Manas Temple is in the month of Saawan that falls in July to August. In Saawan the temple opens up for a display show of puppets related to Ramayana which is a beautiful experience to watch.
Suggested Tours – 3 Days – Varanasi Temple Trip
5. Assi Ghat
Assi Ghat situated at the convergence point of River Ganga and Assi and is recognized by a large Shiva Lingam fixed under a banyan tree. The Shiva Lingam has a great religious significance and finds its mentions in the Puranas. Assi Ghat is said to be the heart of Varanasi as tourists like to stay around for the amazing view of sunrise and sunset at the bank of Ganges. Tourists usually come here to seek a stay and spend a prolonged time.
Assi Ghat is mostly visited by devotees during festivals and for the very purpose of recreation. In the morning, ghat conducts Arti which is a must-watch for the locals and foreigners. And to enjoy the special Artis, the boats are available from Assi Ghat to Dashwamedha ghat where special Artis are held by local priests after sunset.
Suggested read – Guiding Travellers: Ganga Aarti of Varanasi
6. Tibetan Temple
Tibetan Temple is another beautiful and most visited places in Varanasi. The temple is one of the finest examples of Tibetan architecture. It is believed that Lord Buddha taught the four truth of life to his believers at this site.
The main attraction of the temple is prayer wheel which is when rotated by devotee clockwise releases strips of paper with prayers written on them. Tibetan temple also has a magnificent statue of Gautam Buddha and some traditional Buddhist paintings.
Also read – Top 10 Most Famous Temples in India
7. Manikarnika Ghat
Manikarnika Ghat is another sacred site. The ghat got its name from Rani Lakshmibai of Jhansi as she was born over here.
In Hinduism, death is not considered as the end but regarded as a gateway to another life which is decided by the karma done by the one. With good karma comes a good human life and with bad karma comes with animal life. Manikarnika ghat is said to be the gateway of the next life. Therefore, it is believed by the people that spending the last few days of one's life at this ghat along with proper rituals result in moksha- an end to the endless cycle of birth and recreation.
Suggested read – Top 7 Things To Do In Varanasi
8. Batuk Bhairav Mandir
Batuk Bhairav Mandir has immense religious significance and is quite famous among Tantrik and aghoris. The temple is devoted to Batuk Bhairav who was an avatar (incarnation) of Lord Shiva. The main attraction of the temple is sacred Akhand Deep which is said to be lighted for ages now. The oil is believed to have healing property.
9. Banaras Hindu University
Banaras Hindu University was established in the year 1916 by the freedom fighter and educationist Madan Mohan Malviya and a British socialist Annie Basant. Banaras Hindu University's campus is spread to 5.3 square kilometers and the land for the same was donated by Kashi Naresh, the king of Kashi. It is the largest residential university in the Asia continent with around 30,000 students from across the world. The campus is semi-circle with Indo-Gothic Architecture.
The centers of attraction in Banaras Hindu University are Sayaji Rao Gaekwad Library, Shri Vishwanath Mandir, and Bharat Kala Bhavan.
Sayaji Rao Gaikwad library is the largest library in the campus with over 13 million books. Shri Vishwanath Mandir is in the center of the university comprises of seven shrines built in early 20th century. Bharat Kala Bhavan is a famous museum for woodworks and ancient artifacts. There are over one lakh items on display for the visitors over here.
10. Bharat Mata Mandir
Bharat Mata Mandir is a memorial dedicated to motherhood (India). Although known as a temple, Bharat Mata Mandir has no deity, but a relief map of India that is carved over a large marble stone. The temple was built in the year 1936 and was constructed by Babu Shiv Prasad Gupta, a freedom fighter. It was inaugurated by the father of the nation, Mahatma Gandhi. It is one of its kind of temple, dedicated to a country, in the whole world.
It has a statue of Bharat Mata, mother of India, that is also built of marble stone. The statue symbolizes undivided India.
Read more – Top 15 Pilgrimage Destinations to visit in India
11. Alamgir Mosque
Alamgir Mosque is also known as Mosque of Aurangzeb or Beni Madhav ka Darera. It was built by Mughal Emperor Aurangzeb in the 17th Century. The mosque has one of the finest architectures and is built in an Indo-Islamic style.
The mosque is located above Panchganga Ghat. It is called Beni Madhav Ka Darera because it had a temple built by Beni Madhur which was demolished by Aurangzeb after he had captured Banaras. The mosque has high domes and beautiful minarets that look magnificent.
Suggested read – Why should India be your next Travel Destination?
12. Ramnagar Fort
Ramnagar Fort is a stunning historical monument situated on the Eastern Bank of Ganga River and is the exact opposite of Tulsi Ghat. It was built in the year 1750 by King Balwant Singh in the Mughal style of architecture. Ramnagar Fort has a museum called Saraswati Bhawan.
The museum, which used to be Darbar or audience Hall, is famous for its rare and unusual collection of vintage cars, ivory work, and brocaded gold silver royal Palakis. The museum also has an astronomical clock. The clock was built by the astronomer in the year 1852. The clock shows not just time but also week, month, year and the details of the sun moon, and other planets. Religious manuscripts are also honored in the museum.
13. Vishwanath Gali
Vishwanath Gali is known for street shopping at affordable prices. The Gali can be visited to shop for traditional as well as modern apparel, home décor items, brass idols, and also for household items. The Gali is also famous for local sweets and snacks.
Banaras sarees, jewelry, dresses, Bhajan CDs are some of the most bought things over here by the visitors. Visitors also come here to shop for beautiful and well-engraved idols of Gods made from brass and wood. This is one of the famous places in Varanasi for shopping.
Suggested tour – 4 Days – Varanasi Sarnath Ramnagar Tour
14. Manmandir Ghat
It was built in the late 16th and early 17th century by Maharaja Mann Singh. The Ghat is famous for two things; for its Palace and Jantar Mantar Observatory. The Palace was built by Maharaj Mann Singh while The observatory was built by Sawai Jai Singh II in the year 1710. The Palace has is its significance as the top of the palace provides a panoramic view of all the important ghats of Varanasi.
Manmandir ghat was earlier known as Someswara Ghat. Many Hindu devotees come here to offer prayers to Someshwar.
15. Gyan Wapi Well
Gyan Wapi well is known as sacred well for Hindu devotees. It is situated in the premises of Kashi Vishwanath Temple. The well water used to be considered holier than the water of Ganga River. It was polluted later by the devotees as they dumped their offerings in the water. It is a popular belief that when Aurangzeb attacked the temple, the priest of the temple jumped into the well along with Shivalinga to protect it from Aurangzeb.
16. New Vishwanath Temple
New Vishwanath Temple is also famous with other names such as Birla Temple and Shri Vishwanath Mandir. It is one of the biggest tourist attractions in Varanasi. The temple is dedicated to Lord Shiva and is situated in Banaras Hindu University. It has the highest temple tower in the whole world. The temple was destroyed and reconstructed many times.
The temple is considered divine by the devotees of Lord Shiva and its divinity is enhanced by the holy river Ganga that streams by its side. The devotees come here to put themselves before God and to listen to their heart and find peace within. The quite famous Jyotirlinga of Shiva is believed to possess immense and unending power and can cleanse our souls.  The devotees visiting this temple seek the path of knowledge and devotion presenting themselves before Jyotirlinga of Shiva.
Suggested tours – 7 Days – Trip of Varanasi Bodhgaya Allahabad and Ayodhya
17. Durga Temple
Durga Temple is devoted to Maa Durga or Goddess Durga and is also known as Durga Kund Mandir. It was built by Bengali Maharani, Rani Bhabani in the 18th Century. The temple is painted red with natural clay to match the color of the central icon of Goddess Durga. It is built on Sankat Mochan Road near Durga Kund.
Suggested tours – 2 Days – Varanasi and Sarnath Tour
18. Nepali Temple
Nepali Temple is one of the most famous and oldest temples of Varanasi. It has its origin in the 19th century and was built by King of Nepal. The temple is devoted to Lord Shiva. The temple has a traditional architecture made up of the carvings of wood, stones, and terracotta. The temple is an almost an replica of Pashupatinath Temple situated in Kathmandu, Nepal.
Nepali Temple is situated on Lalita Ghat, 100 meters south to Manikarnika Ghat. It was constructed by the King of Nepal, Rana Bahadur Shah, during his stay/exile in Varanasi. After the death of Rana Bahadur Shah, he was stabbed to death by his stepbrother, his son continued the construction of the temple and got it completed 20 years after the deadline.
Suggested tours – 6 Days – Varanasi Bodhgaya and Allahabad
19. Kedar Ghat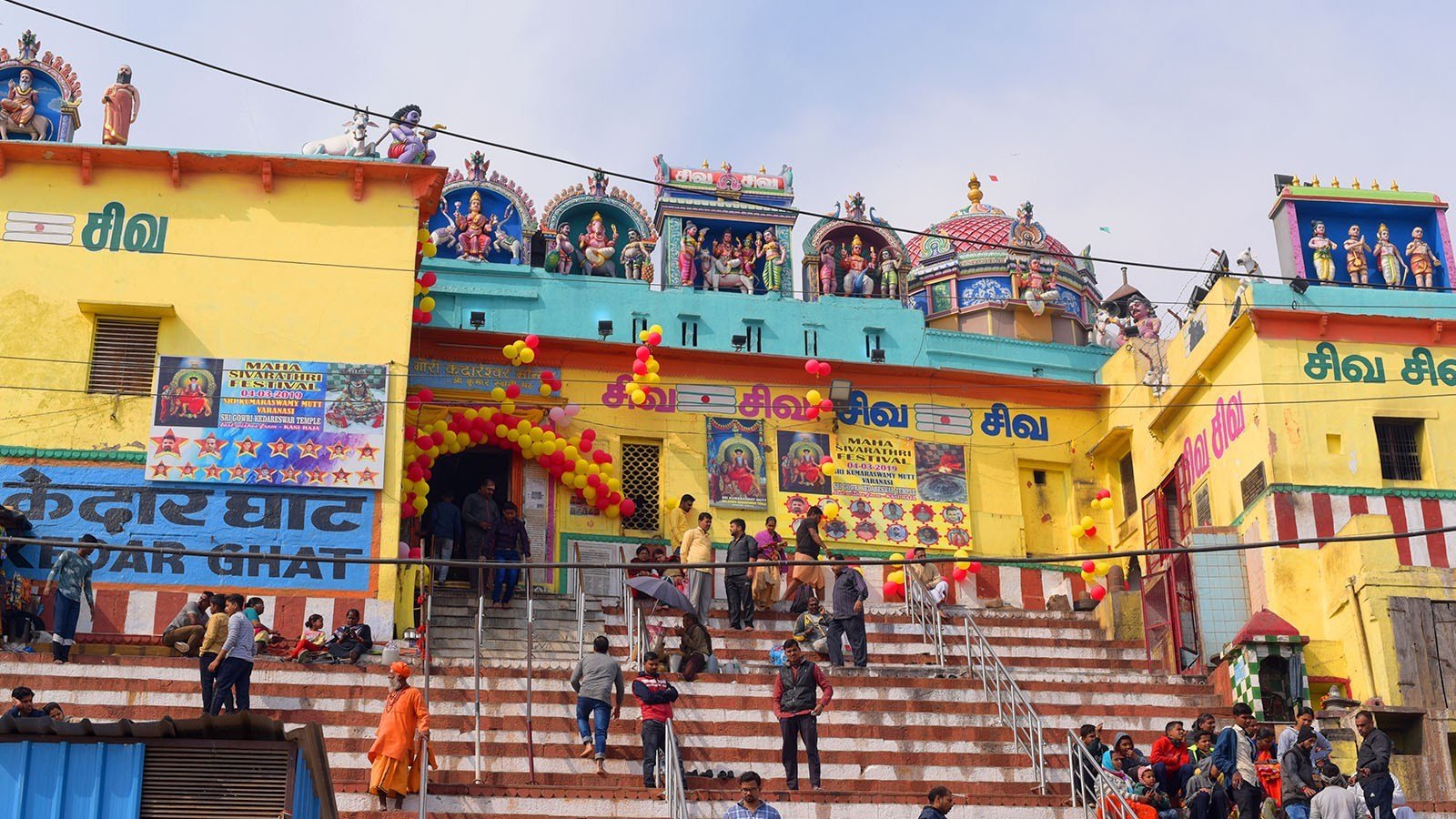 Kedar Ghat is one of the oldest and sacred Ghats of Varanasi. It is generally visited for its spiritual vibes and beautiful surroundings. It was built by the Maharaja of Vijaynagar.
The the ghat is devoted to Lord Shiva who is also called Kedarnath. The Ghat is quite popular among South Indians and Bengalis. It is built in Hindu style ancient architecture. There is a Parvati Kund near Kedar Ghat. The Kund and its water are considered sacred and it is believed that the water of the Kund heals the people with an ailment as it has medicinal property.
Kedar Ghat is one of the most visited places in Varanasi for Hindu pilgrimage as it connects the Branch Math of Kedar Math. Kedar Math is characterized by an ancient temple that has shrines of Sri Adishankaraycharya, Sri Sharadamba, and Sri Maha Ganpati.
Suggested read – Places to Visit in North India in Summer
20. Shivala Ghat
Shivala Ghat has its own historical and religious importance. There are many historical monuments nearby Shivala Ghat such as the Fortress of Chet Singh and mansion of the king of Nepal, King Sanjay Vikram. Shivala Ghat is also known as Kali Ghat. It is famous since medieval times. One of the best things or attraction of this Ghat is a boat ride early in the morning. The early morning view of the river from the boat makes the visit worthwhile.
The fortress of Chet Singh is situated just behind the Ghat. It was the same places in Varanasi where Raja Chet Singh was imprisoned by the British Government in the year 1781. However, Raj Chet Singh climbed down through a small window and escaped with his followers through the river.
Thus, Varanasi is an amazing tourist destination. It can actually give you a spiritual yet mesmerising experience at once. It is a good idea to plan a trip with your friends, family or cousins here. You will surely have once in a lifetime experience here.
Read Varanasi Travel Guide