Guiding Travellers: Ganga Aarti of Varanasi
Ganga River or Ganges is a holy river that flows through Varanasi. Every evening after sunset, people perform a spiritual ritual to the River.
What is Ganga aarti?
Varanasi Ganga Aarti is a ritual in which fire is used as an offering. Small lamps are made and are let go on the river on a leaf. As the leaf floats on the river, the lamp also floats on it. Thousands of lamps are let on the river every day and it is a beautiful sight to watch those floating balls of fire on the river. Before letting the lamps float, the priests perform a lot of rituals and chant mantras.
Read More: Top 7 Things To Do in Varanasi
Where does Ganga aarti takes place?
This ceremony is performed for praising the river goddesses of Ganges. Thus, this activity is performed in all places where Ganges runs through like Haridwar, Varanasi and Rishikesh. But, the best of all is the one that is performed at Dashashwamedh ghat by a group of priests in the holiest city of India, Varanasi.
Read more – Complete Travel Guide of Spiritual City Varanasi
When does Ganga aarti happen?
The ritual starts as early as 5 in the evening . This is the right time to visit so that you can get a good view of the whole process before the crowd thickens. You can also watch it as you sail on a boat on the river. There are many buildings near the river and you can watch it from the balconies or terrace.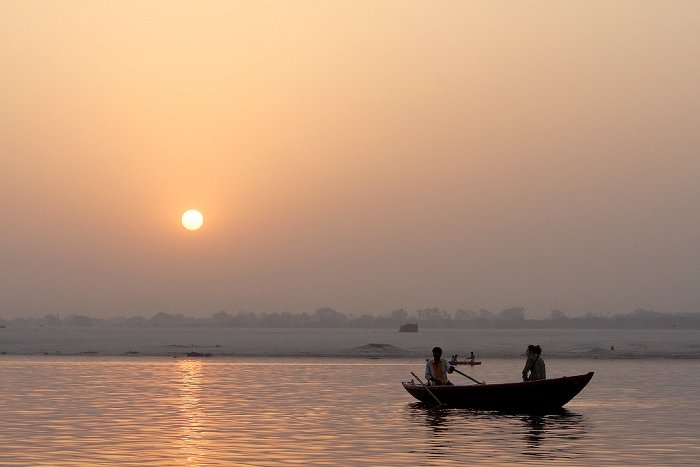 Appropriate clothing
There is no special clothing required for watching the ceremony. The priests who perform the ritual would be in their holy robes. The place can get little clumsy with the crowd so, beware of your cameras and other valuables. If you are planning to travel with your kids, the best way to watch this ceremony is from a boat or from the terrace of any building. Read more about the Clothing tips of Varanasi
The best activity to perform during this ceremony is photography. A lot of aspiring photographers would be seen clicking unique moments during the ceremony.
Check out the some of the important travel information of Varanasi:-
Suggested tours –