Top 10 Paragliding Destinations in India
Do you love to enjoy the freedom of a bird, soaring up into the blue sky and feel the adrenaline kicking in? The best activity for you is paragliding. This adventure sport is getting more attention among tourists and locals since its beginning in 1990s. Unlike most of the people assume, Kullu Valley is not the only place where you can find paragliding activities. There are numerous paragliding destinations in India and we are listing the top ten destinations for the same.
1. Bir Billing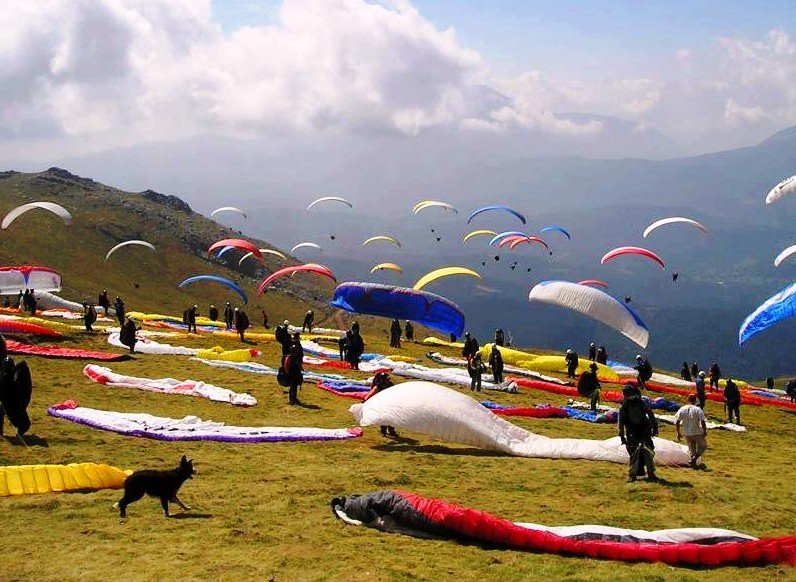 Location – Himachal Pradesh
Best time to visit – March to June
Located in Valley of Kangra, Bir Billing is the best paragliding destination in the country. A paragliding session spans for 30 minutes and is available only between March and June.
The main reason for this destination to top the list is the natural beauty. The valley has impeccable natural wealth and at the altitude of 2600 m and backdrop of glaciers, you would feel the aesthetic factor adding more luxury to the experience.
This destination is closer to Manali and Dharamsala. Usually people visit Bir Billing for a day tour from Manali or Dharamsala.
Must read: Top Places to enjoy Snowfall in India
2. Sikkim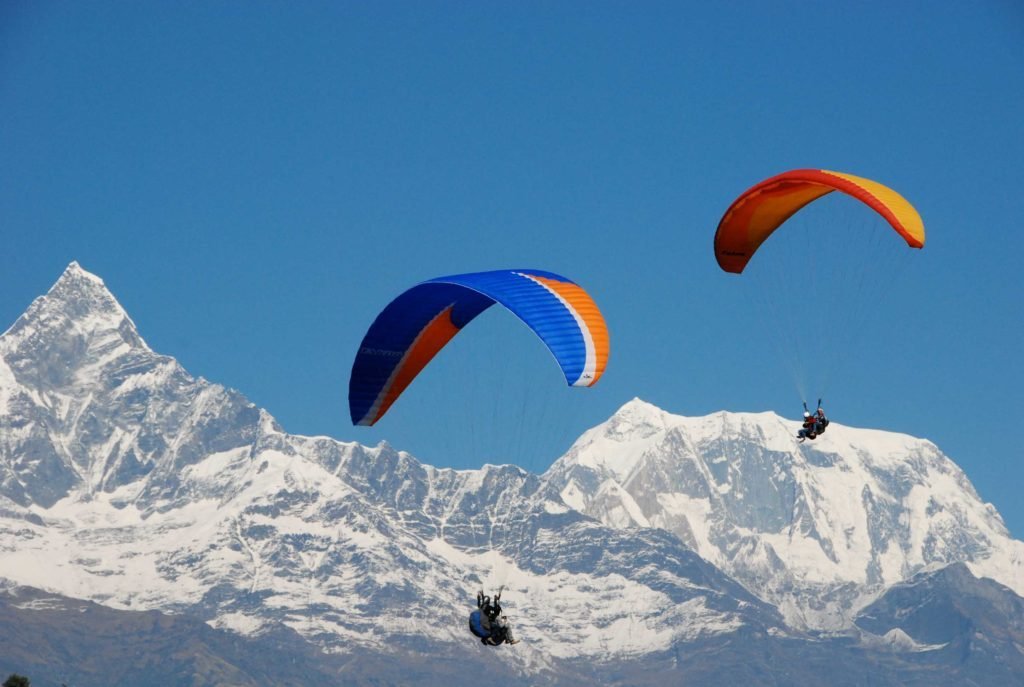 Location – North East India
Best time to visit – March to June
Entire state of Sikkim is famous for paragliding activities. You can find numerous launching sites and ridges where paragliding services are provided. You can also find centers that provide crash courses on paragliding to tourists and locals.
If you are looking for a luxury paragliding experience, Sikkim is the best destination to choose. Apart from paragliding, Sikkim is also famous for numerous other adventure activities.
3. Kunjapuri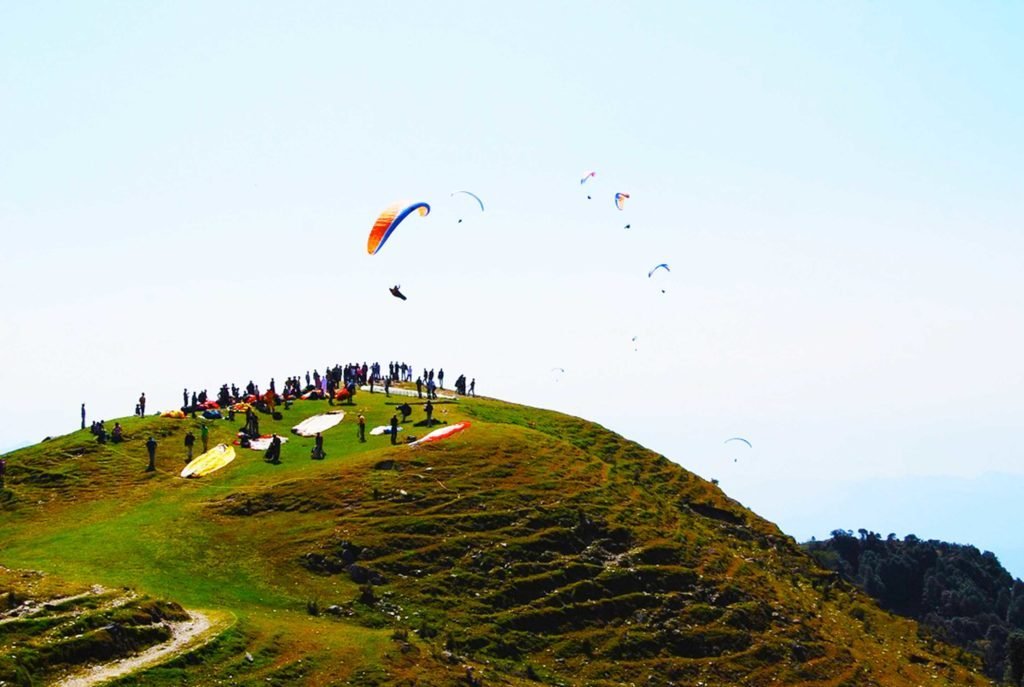 Location – Uttarakhand
Best time to visit – Sunrise and sunset (throughout the year)
Kunjapuri is located close to Shiwaliks. As you glide, you can spot Banderpunch, Gangotri and other peaks. This is an amazing destination for sunset and sunrise views and for romantic picnics. You can find a few launching sites in this region for paragliding.
The service is said to be available throughout the year. However, winter is the best time to enjoy the activity. Winter starts in November and ends in March.
4. Pavana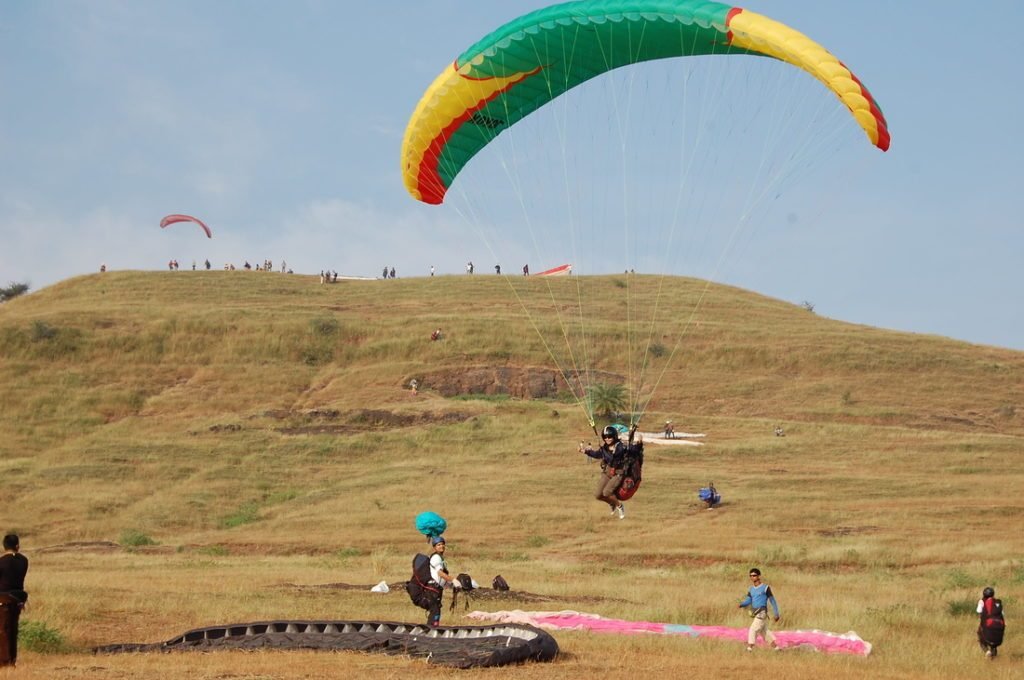 Location – Maharashtra
Best time to visit – November to March
Are you visiting Maharashtra? You ought to visit the only paragliding site of Western part of India, Pavana. This is a wonderful high altitude spot comprising of monuments, lakes, peaks, view points and much more.
Apart from these attractions, you can enjoy paragliding over the Pavana Lake. The region is crowded with tourists during winter season. This place is best if you are looking for wonderful sights as you glide along the wind.
5. Nandi Hills
Location – Bangalore
Best time to visit – October to June
Nandi Hill is an important weekend getaway in Karnataka. This is a prime tourist spot located 70 km away from Bangalore. This hill region has many cliché hill station activities including adventure activities like paragliding.
The paragliding route covers the Hebbal Lake with the backdrop of scenic value. The launching site is located on the Nandi Hills and you will be plunging into the sky amidst misty clouds. You will land close to the lake. Choose days with clear sky to enjoy the environment. If you visit during summer, the view will be clear.
6. Bedni Bugyal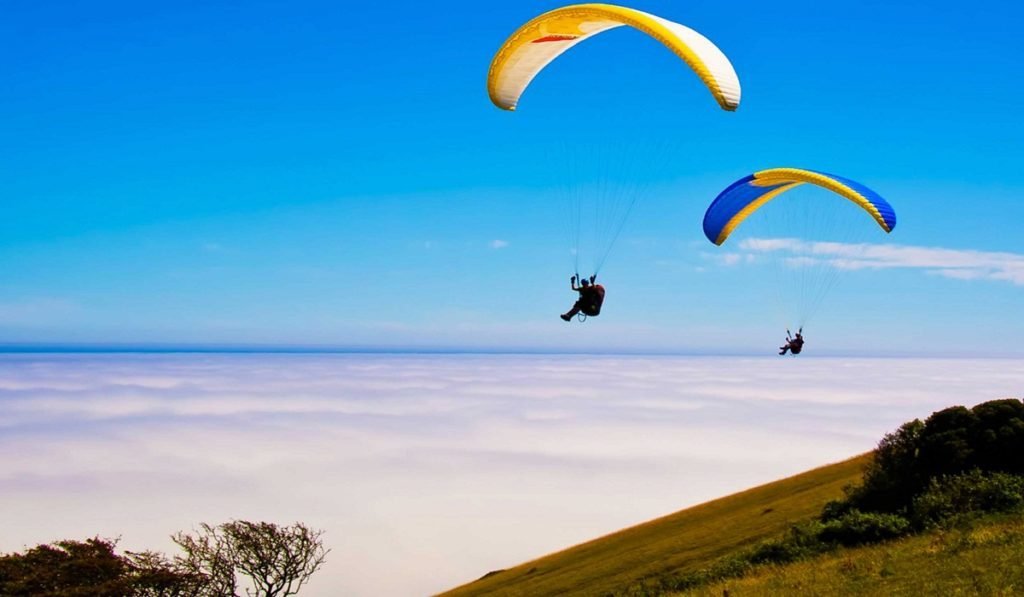 Location –Uttarakhand
Best time to visit – March to June
Bedni Bugyal is a high altitude meadow of Himalayan Alpine located at a height of 3354 m above mean sea level. This meadow is located in Chamoli district and this is a very common tourist destination for anyone wishing to enjoy raw nature with view of Himalayan Mountains.
Paragliding is available throughout the tourism season (other than monsoon season). However, summer is the best time to enjoy paragliding as the view will be very clear and during summer, the meadow will be filled with colorful wild flowers of Brahma Kamal, Uttarakhand's official state flower. The altitude is very high and it is best suited for avid gliders. After paragliding, visit Bedni Kund Lake.
Must Read: Best 10 Places to Visit in Uttarakhand in Summer with Family
7. Yelagiri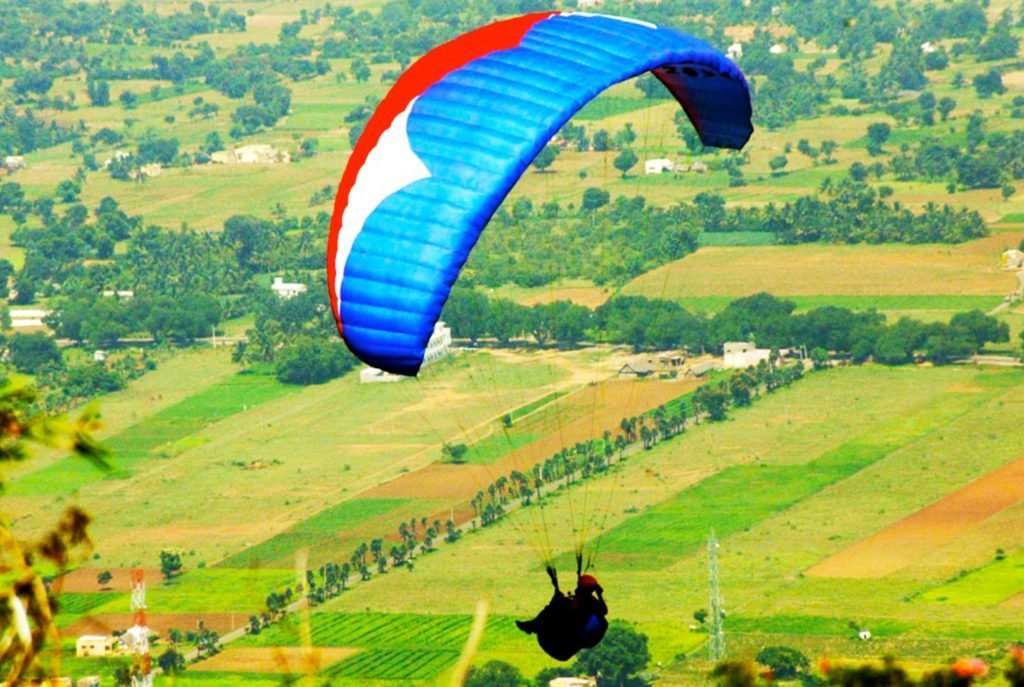 Location – Tamil Nadu (near Vellore)
Best time to visit – September to April
Vellore is one of the hottest regions in Tamil Nadu. Located close to this region, Yelagiri is a small hill station famous for short vacations and weekend getaways for those who wants to escape the heat.
Yelagiri hosts numerous tourist attractions and activities including paragliding. The best time to enjoy paragliding is early summer as the climate will be cool and the view will be clear. You can find launching sites at varying heights like 600 m, 450 m, 560 m and others.
You can find professional experts guiding you through the process. There is a paragliding club in the region that provides this activity throughout the year. The international paragliding festival takes place in September. You can find numerous paragliding enthusiasts during this season. If you looking for a peace time with paragliding, choose early summer or winter.
8. Shillong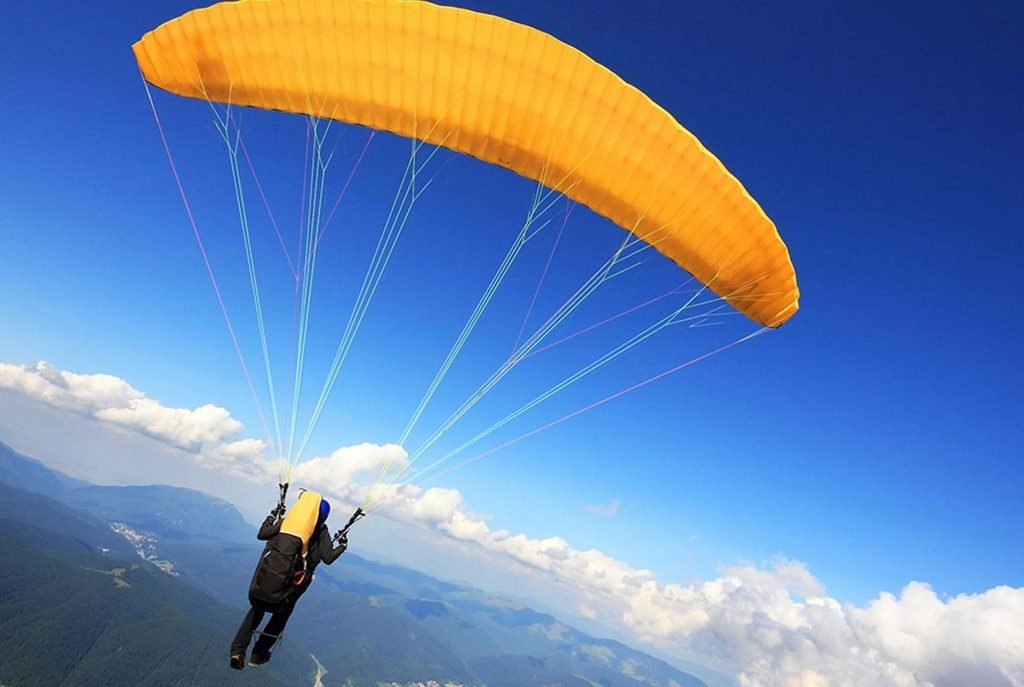 Location – Meghalaya
Best time to visit – September to March
This is the region for taking paragliding to the boats. Shillong, the Scotland of East is famous for its unique style of paragliding. The gliders will be accelerated with a hydraulic system on a boat.
This tows the paragliders to 700 m above the ground. You will be guided by professional pilots with radio supervision. This is the best place for high-end safety in paragliding.
9. Arambol Beach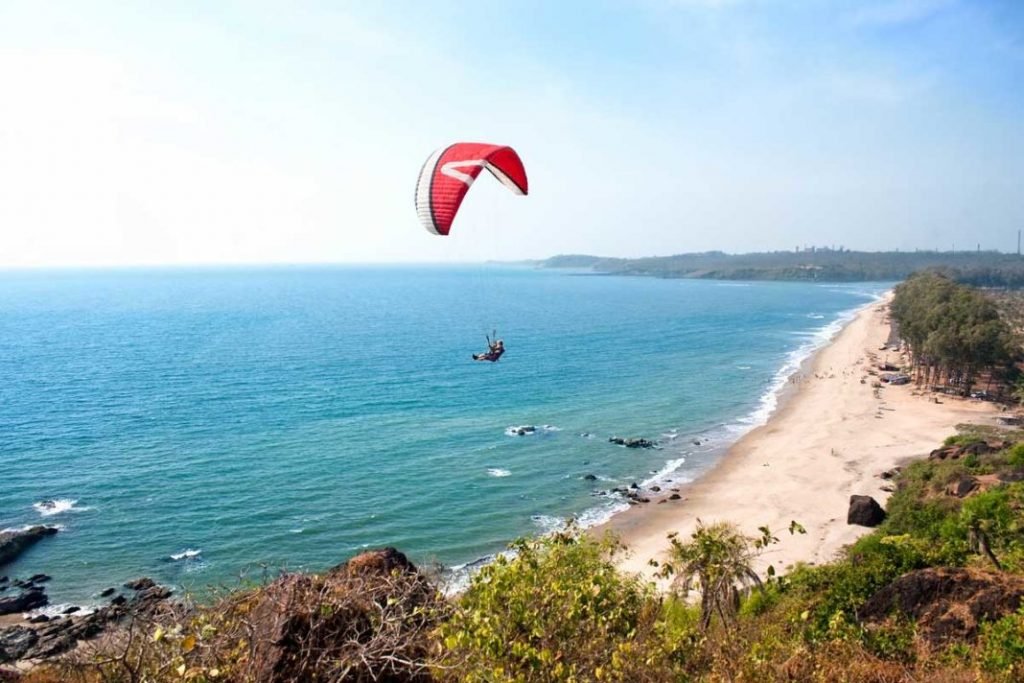 Location – Goa
Best time to visit – October to March
Goa is a little peak of European culture in India. With 30 and more beaches in Goa, this is the place for numerous water-based activities. Topping those, there are a few land activities to enjoy like paragliding, hot air ballooning, partying and much more.
Arambol Beach is the best place for paragliding. This route is suitable only for professional gliders. If you are not one, you can accompany any professional gliders to enjoy the adrenaline rush.
10. Aravalli Hills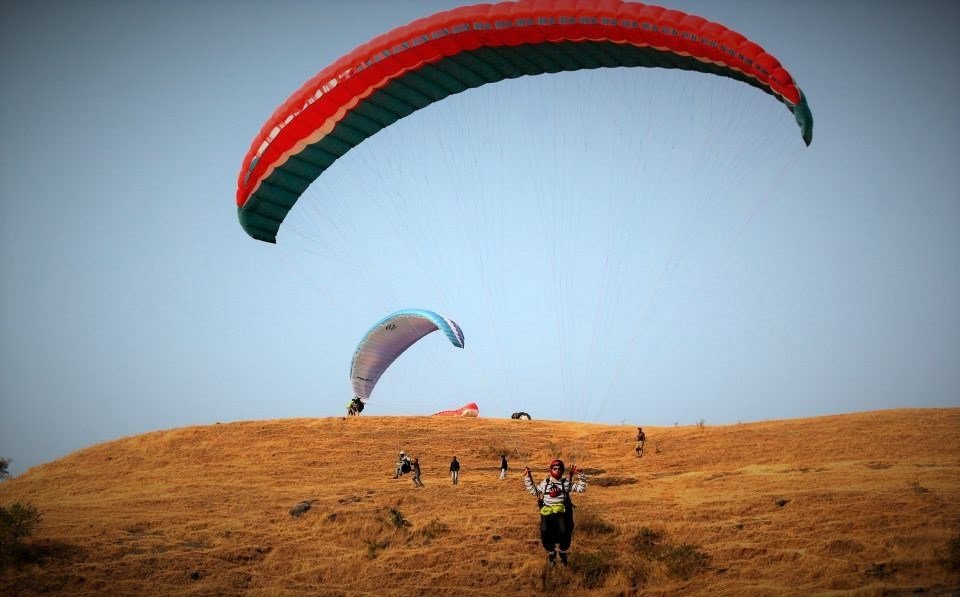 Location – Rajasthan
Best time to visit – October to February
Aravalli hills is famous for its beauty and the best way to enjoy this beauty is with a bird's eye view. You can find the most picturesque routes in Aravalli ranges for paragliding.
With prior approval, you can glide at numerous destinations like Udaipur, Jaipur and others in Rajasthan. Although the activity is available throughout the years, it is best to choose winter as the climate will be pleasing.
Apart from these, there are numerous regions, which provide paragliding services. Throughout the activity, stick to your guide and obey his rules. Do not try to increase the adventure by trying stunts and causing personal damages. Although a tourist activity, paragliding has its own set of risks.
Happy gliding!