Complete Travel Guide of Spiritual City Varanasi
Varanasi is the spiritual capital of the country. It is one of the oldest inhabited cities in the world. This city is the iconic pilgrimage spot in the country for Hindus and Buddhists. The place is filled with ancient and modern temples, ghats, ritual spots and much more. Are you planning a visit to Varanasi?
Here is everything that you need to know  about Varanasi.
Where is Varanasi Located?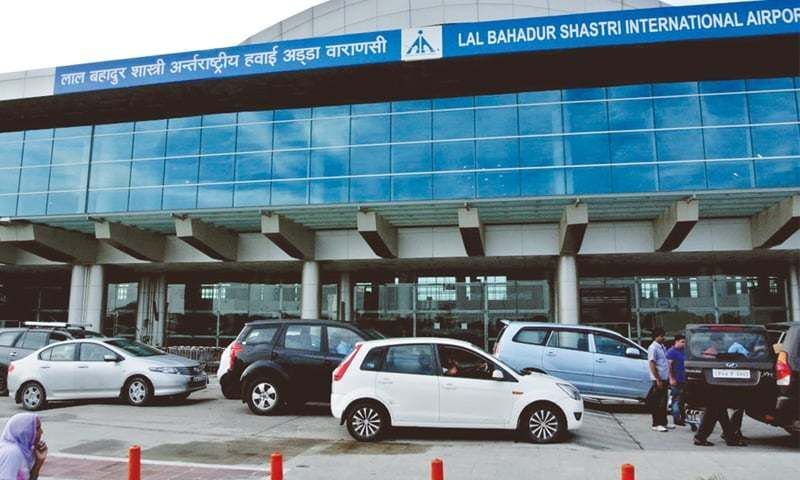 Varanasi is located in the northern part of India. The city has an international airport, Lal Bahadur Shastri Airport that is 25 km away from the center of the city. It is connected to limited international locations like Bangkok, Colombo and others. The airport receives flights from almost all major Indian destinations. Regular flights are available from Delhi, Kolkata, Mumbai, Visakhapatnam, Hyderabad, Bengaluru and others.
From the airport, you can hire taxis to take you to the city, which costs around INR 750. The taxi ride will take around an hour to reach the main city of Varanasi (Ganges region). Auto rickshaws are also available at the cost of INR 500 or above to reach the city. It would take twice the time of taxi ride. The cost and time taken varies with season and service provider.
There is a bus stand little near to the airport. It would take 10 minutes to walk to the bus stand from the airport. The ticket cost to reach the city in bus is around INR 50.
Trains connect Varanasi with many major cities. It takes 13 hours to reach from Delhi, 7 hours from Lucknow and so on. There are three main railway stations in the city. You can find tuk-tuk or rickshaw from the railway station to the required destinations. It would cost INR 100 to reach the Ganga region of Varanasi from Varanasi Junction and Manduadih Railway Station in rickshaw. From Mughal Sarai Junction, it would cost INR 500 to reach the Ganges region in tuk-tuk. Top cities to hire train to reach Varanasi are New Delhi, Lucknow, Mumbai, Kolkata, Chennai, Bangalore, Hyderabad, Jaipur and Agra. The Varanasi bus stand is located near the Varanasi junction. You can also find buses from Kathumandu to Varanasi. It would cost NPR 2100.
Read more about How to Reach Varanasi 
Scaling the place of Varanasi
Once inside the city, the streets are little narrow and it is easier to scale the place with cycle rickshaw or auto rickshaw than car. Some streets are very narrow that walking or cycling is the only option. It would be easier to visit ghats on foot. Many tour operators provide walking tour to visit many crowded places like herb market, flower market and others.
Ganga Aarti in Varanasi
Ganga Arthi (Aarthi) is the iconic attraction of the city. Ganga aarti attracts thousands of tourists, photographers and pilgrims every day to the Dashashwamedh ghat of Ganges. This ceremony takes place every evening during sunset. A group of young pandits (saints who are trained to perform rituals) dressed in saffron perform a series of synced rituals which include circling brass lamps, offering flowers, circling incense sticks and others.
By the end of the ritual, the pandits pour milk and flower into the river. Instantly, all the devotees let go off small oil lamp on a leaf on the water. Thousands of lamps float on the water making it a mesmerizing sight. People even hire boats to watch the ceremony from the water.
Suggested articles – 
Top Ghats to Visit in Varanasi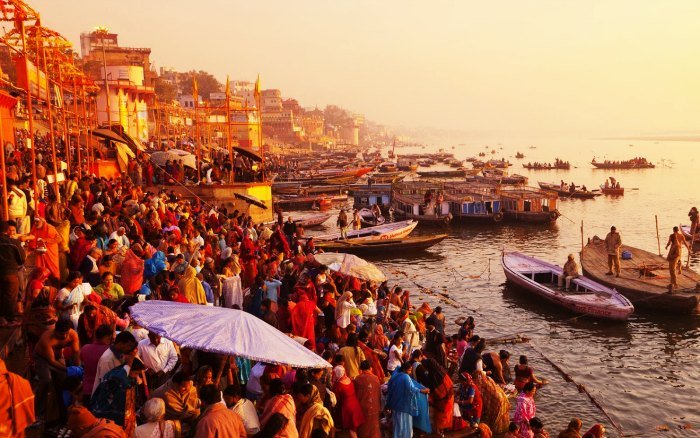 There are 88 ghats around the Ganga River. These ghats were built by kings who wanted to worship and meditate near the water. Each ghat has a speciality associated with it. The ghats also contain temples. These ghats are the right place to enjoy rituals, aarti and others. Top ghats to visit in Varanasi are – 
 Dashashwamedh Ghat – Boating, Ganga Aarti ceremony and others
Manikarnika Ghat – Cremation Ghat.
Panchganga Ghat – Meeting point of Five Rivers.
Kedar Ghat – Photogenic Spot.
Hanuman Ghat – Temples.
Scindia Ghat – Submerged Temple, Boating.
Assi Ghat – Famous for Shivalingam under a tree.
Manmandir Ghat – Temples like Someshwara temple, Rameshwara temple and others.
Shivala Ghat – Temples.
Darbhanga Ghat – Rituals.
Ahilyabai Ghat – Boating and Rituals.
Top Temples to Visit in Varanasi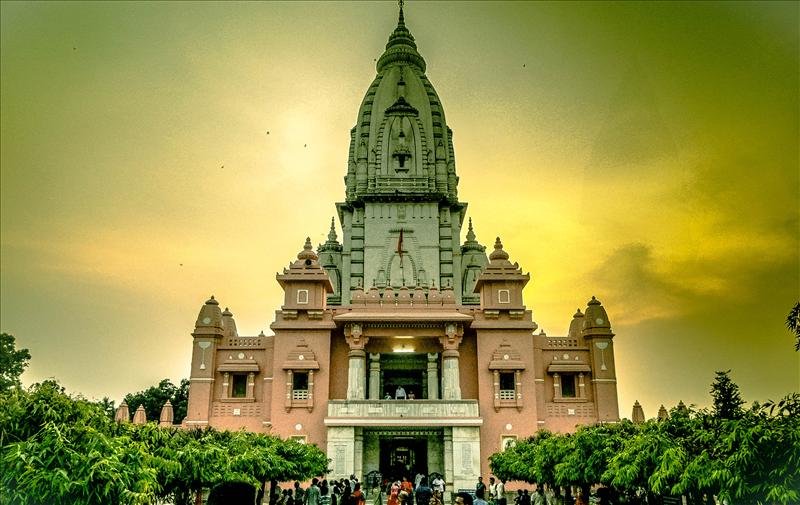 Shri Kashi Vishwanth Temple – This is the oldest temple in the city. It receives more than thousand devotees every day. The top features of the temple are its architectural marvels, interesting rituals and shopping around the temple.
Annapurna Temple – Close to the Vishwanath temple, it is an 18th century temple for the concert of Lord Shiva. This is the temple of the Goddess of food and nourishment.
Sankat Mochan Temple – Famous Hanuman temple of 20th You can find many monkeys here.
Kaal Bhairav Temple – Guardian temple of the city. Tourists and locals have to visit this temple before leaving or entering the town.
Tulsi Manas Temple – Temple of Lord Ram built in 20th Famous for inscription on the walls.
Bharat Mata Temple – Temple for the Mother India. The temple was inaugurated by Mahatma Gandhi.
Visalakshi Temple – A south Indian styled temple in Varanasi.
Tridev Temple – A temple devoted to the three main powers of divinity; Lord Shiva, Vishnu and Brahma.
New Vishwanath Temple – The temple with the tallest temple tower in the country. It is found inside the campus of Banaras Hindu University(BHU).
Nepali Temple – This is a wooden temple built in Pagoda style by the King of Nepal in 19th It is a temple dedicated to Lord Shiva.
There are numerous other temples in the city like Sri Durga Devi Temple, Kardameshwara Mahadeva Temple, Durga Kund Mandir, Mrityunjay Mahadev Temple and others. Every street is filled with small and large temples. Choose the right temple to witness interesting rituals.
Top Tourist Attractions in Varanasi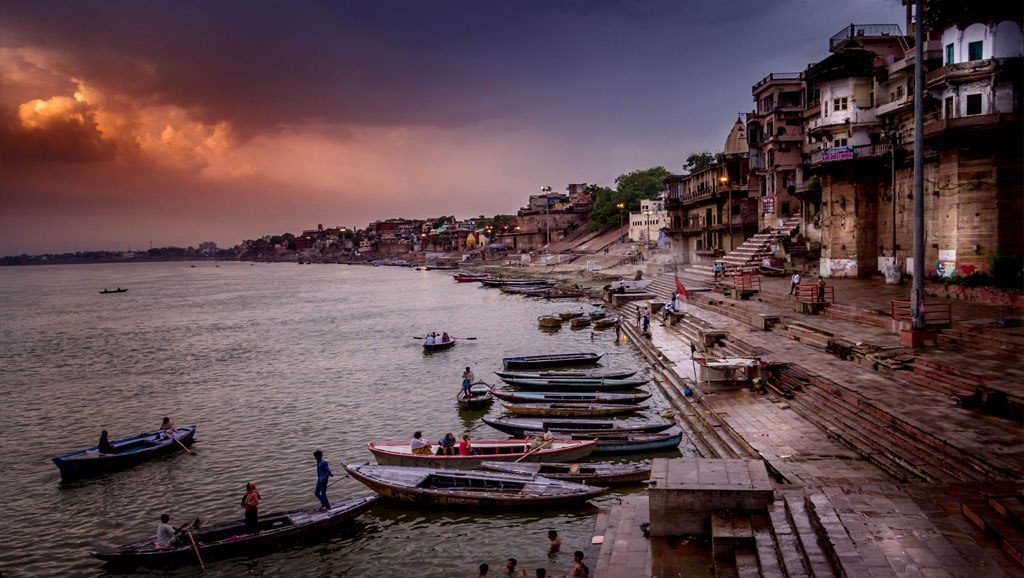 Alamgir Mosque – It is an old mosque famous for its architecture. It is famous for Gyanvapi well inside it.
Bharat Kala Bhavan Museum – Famous for 11th century paintings, sculptures, miniature sculptures of Mughals, deity statues and others.
Ramnagar Fort – 400-year-old fort of royals of Varanasi. Photographs of royals, tigers and others can be seen. The Durbar hall is now a museum that holds antiques like palanquins, elephant howdah and others.
Chunargarh Fort – 2000 year old fort.
Man Mandir – Observatory.
Tourist Spots near Varanasi
1. Sarnath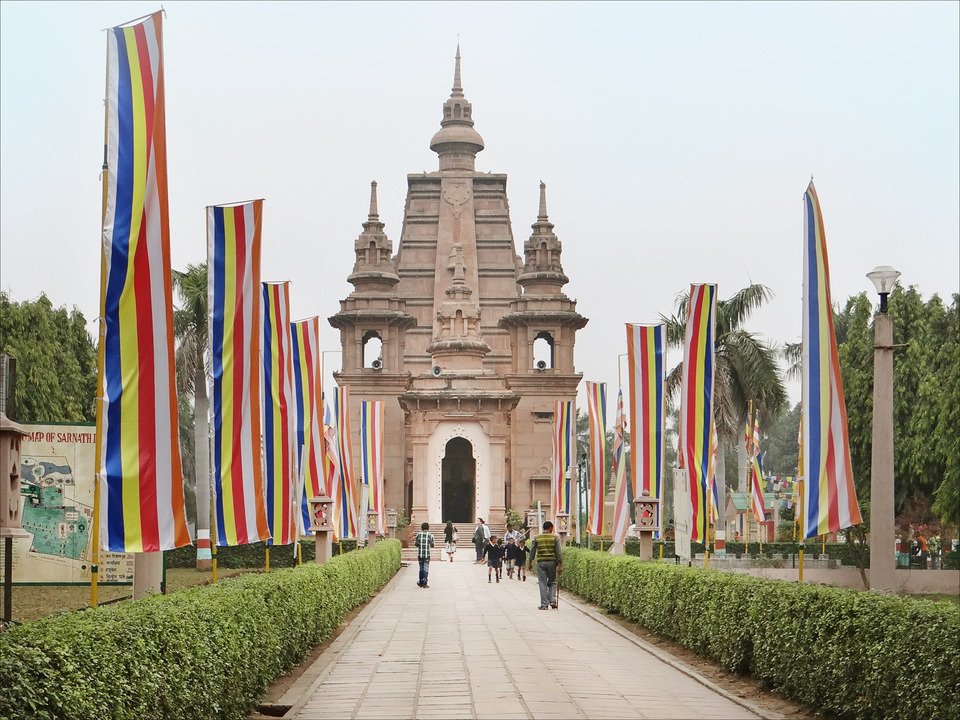 Close to Varanasi, Sarnath is a Buddhist pilgrim spot. It is visited by people from all over the world. This is the place where Lord Buddha preached for the first time after enlightenment. The main attractions in the place are Dharmarjika stupa, deer park, Dhamekh stupa, Bodhi tree, Archeological museum and others. You can find many Buddhist artifacts including the Ashokan lion capital here.
2. Allahabad
This is a sacred place famous for its temples, museums and churches. The Allahabad fort is another attraction here.
3. Kausambi
This historic place is famous for its link with Mahabharata. Pandavas built this place according to legends. It is a good spot for nature sightseeing, picnic and others.
Shopping in Varanasi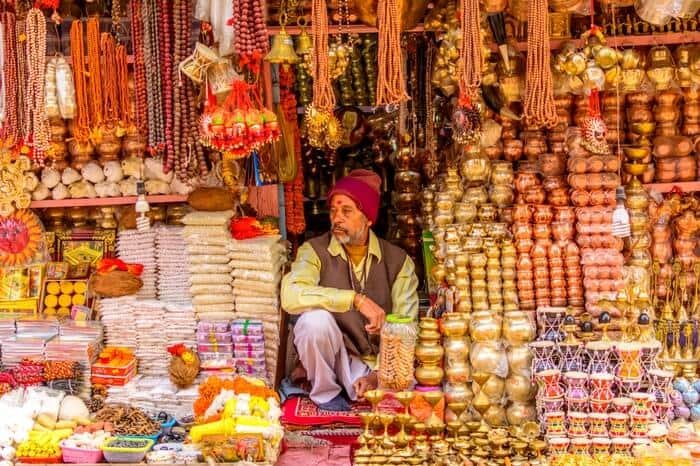 All temples have many small stalls around it. During festivals, the number of stalls increase many-folds. You can also find many shops near the ghats. Even during boating, you can find small boats with people selling small items. Top things to buy in Varanasi are –
Benaras silk
Embroidery sarees
Persian carpets
Cashmere wool clothing
Natural oils, perfumes and others
Water of Ganges
Deity statues, brass oil lamps, candles and other religious items
Books on religion, city and history
Herbal tea
Ganges water is sold in small copper pots that are sealed to avoid leakage. You can also find boatmen selling water in larger cans. When inquired, they state that they row to the middle of the river to collect the pure water. It is up to you to decide whether or not to by the can of water.
Top Dishes to Eat in Varanasi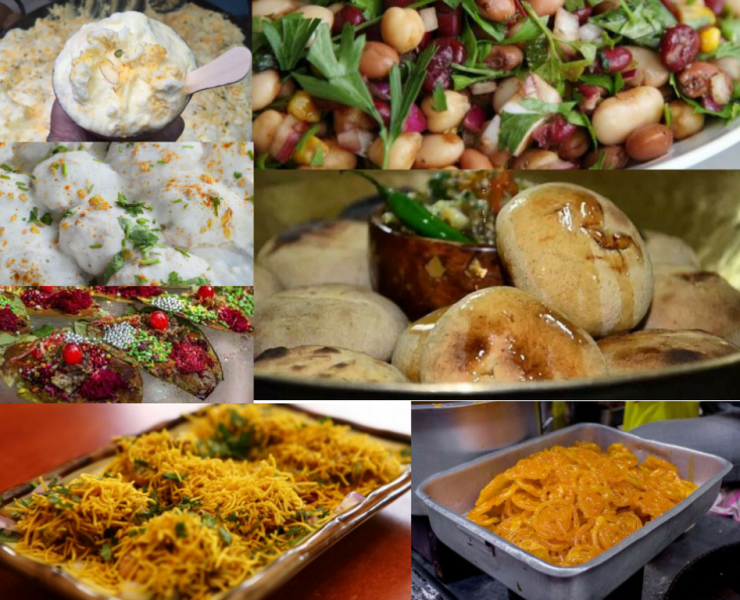 You cannot find many non-vegetarian hotels here. Alcohol is also banned near most of the temples. Top dishes to try in this city are – 
Banarasi duma loo – Spicy potato stuffed with spices and cooked in gravy.
Aloo chat – Street food made with potato.
Paan – With tobacco and without tobacco.
Malaibalai – Milk sweet.
Lassi – Sweeted curd with layers of malai.
Paan that you find in Varanasi is banned in other parts of the country. Thus, do not pack a few for your friends at home. Some paans are made with just natural ingredients and have no tobacco content. Children can consume this paan too. The tobacco paan is strictly for those above the age of 18. Bhang is a drink made with powdered marijuana, which is legal only in Varanasi. It is available in certain Shiva temples as religious offering to devotees. The marijuana is mixed in lassi (sweetened curd) and served.
Apart from these, you can find many international and local cuisines, mainly vegetarian. You can find many continental bakeries to try baked goods here.
Explore the multi cuisine Restaurants in Varanasi 
Best time to Visit Varanasi
Varanasi is at prime beauty throughout the year. The city has temples of almost all deities of Hinduism and thus, every month, you can find a few festivals. During festivals, the city becomes more beautiful with rituals and others. Best time to visit the city is from October to March.
The first reason is the pleasing climate. The city has to be scaled on foot and thus, you would be under the sky for most of the day. Summer starts in April and ends in June. The hot and humid climate can cause dehydration. The monsoon starts in August and ends by September. Although the city receives moderate rainfall, sightseeing becomes a little hard with frequent showers. The winter starts in October. The climate will be pleasant and rainfall becomes scarce. The humidity will be mild too. Thus, the winter is the best time to visit the city. Winter ends by March.
The second reason is the frequency of festivals of Varanasi. The winter is the time of many prime Hindu festivals like Diwali, Dusshera, Maha Shivaratri, Chhat Pooja and others. Maha Shivaratri that takes place in February or March is the best time to visit Varanasi. You can take part in the Indian classical music festival that goes on for 72 hours. You can also find many dance performances in Shiva temples that are arranged to keep pilgrims awake throughout the night.
Top activities to enjoy in Varanasi
What to expect in your trip to Varanasi? The first and foremost activity is boat ride on the River Ganges, sightseeing, visiting temples, enjoying unique rituals, tasting foods that are served to Gods and so on. Other top activities to enjoy in the city are – 
Sunrise and sunset boating.
Visiting alley for shopping around the temple.
Take holy dip in ghat. Do you know that each ghat has a special power? Taking a holy bath in certain ghats provide health while others grant eternal salvation.
Yoga and meditation classes.
Ayurvedic massages.
Suggested article – Top 7 Things To Do In Varanasi
Suggested tours –