Top Luxury Trains in India
Luxury train travel is one of the most exciting ways to spend time on a holiday. There are several types of luxury trains in the world as well luxury trains in India. Out of the best luxury train journeys globally, there are so many luxury trains that belong to India.
They travel heritage and tourist routes in and around India. However once you step on one of these remarkable luxury trains to embark on this fascinating journey, it is an unforgettable experience of a lifetime.
Here we have pulled up the top luxury trains in India. Your search for the best luxury trains will surely end here.
1. The Maharajas Express
The finest luxury train in Asia redefines luxury train travel and has several accolades to credit. The train has a posh Presidential Suite, 4 Suites, 18 Junior Suites, and 20 Deluxe cabins in the fourteen guest carriages. It has 2 on-board fine dining cars, a bar and lounge, a health fitness corner, library and even an on-board souvenir shop.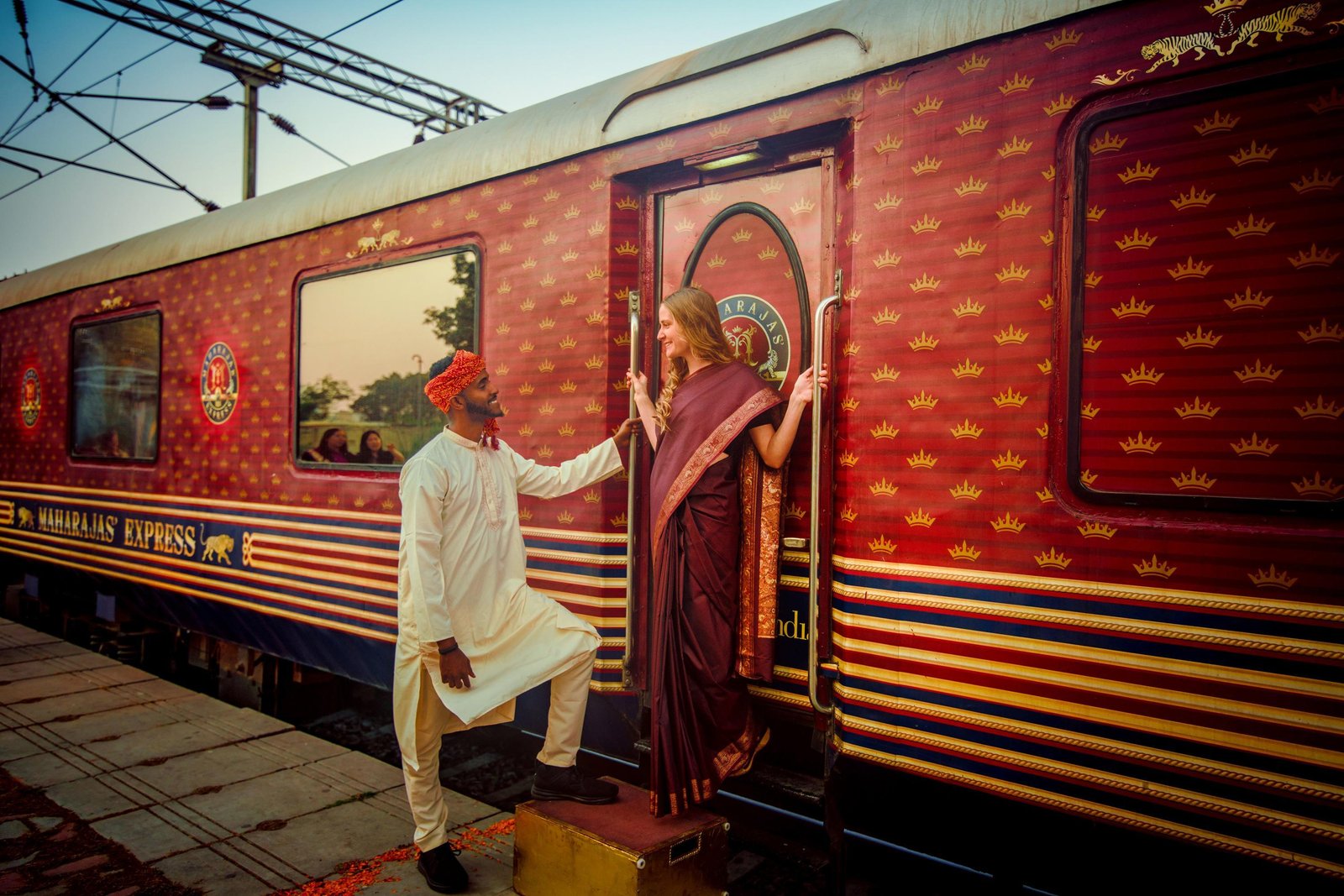 The Maharajas Express tours the Golden Triangle circuit with 3 north-western journeys and 2 southern sojourn itineraries. Some are 3 Night and 4 Days tour and others are 7 Night and 8 Days tours covering most famous tourist destinations in the world.
A portion of this luxury train is rebuilt so that you get the feel of being in a palace. It is sculpted with traditional design. There are luxury facilities on this journey lasting a week including exorbitant grand dining.
There are various dining cars and the train stops at tourist attraction spots including the Indian Panorama, Treasures of India, Indian Splendour, Heritage of India. Like Orient Express in Europe, Maharajas Express is for India.
Must Things to Do While Traveling with Maharaja Express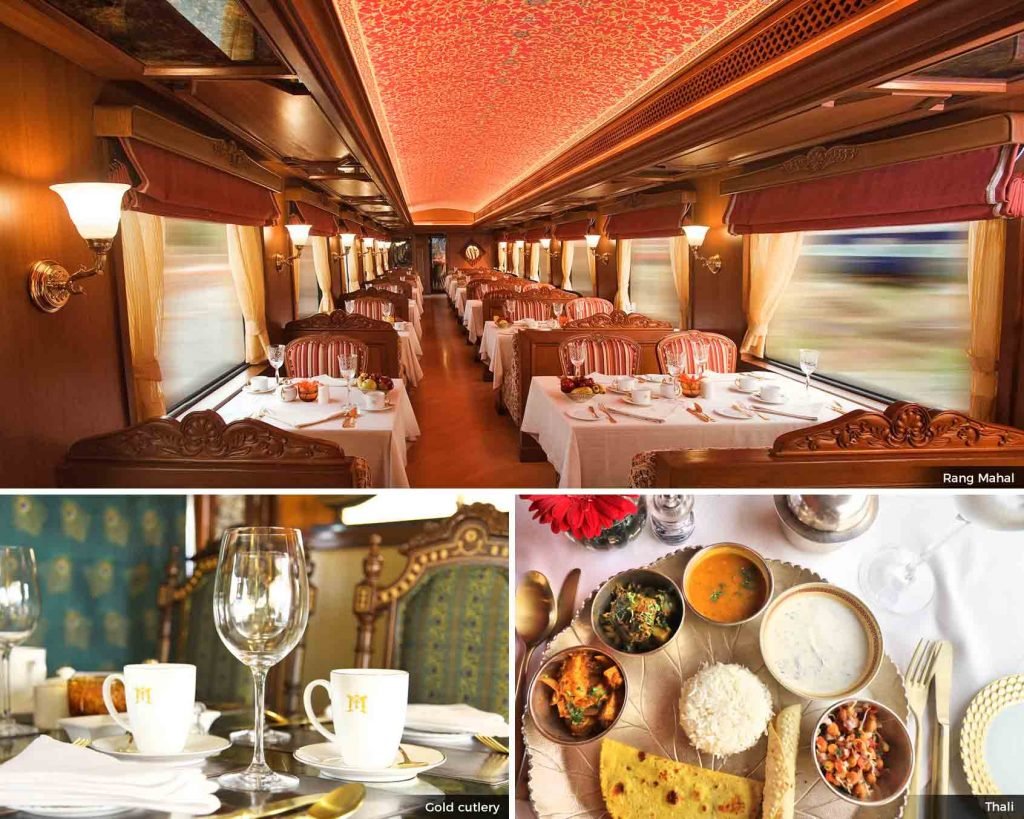 1. Feel the Aroma of true Incredible India through Exceptional Aesthetics
You can choose to travel any of the six amazing journeys to give you the sight of an Incredible India. The luxury express train is known for top of the class facilities, royal interiors, cultural visits, and most of all traveling like a king or queen on-board the opulent train.
2. Travel in the Coaches of the Most Expensive Luxury Express Train
The fourteen coaches named after the most precious gems of India can luxuriously keep 88 guests on-board to visit the marvelous sightseeing places from 6 pan-India tours and a wide range of off-board excursion choices. The cabins have large windows that gives a panoramic view of the outside scenes.
3. Live in 5-Start Hotel Ambiance and Facilities for Over a Week
From the personal facilities to the common facilities everything on-board this 5-star hotel on wheels makes you feel the lavish past of royal kings. There is also a library with an ancient theme and a souvenir shop and DVD player, LCD flat screens in rooms.
4. No- Struggles or Hassles of Exploring a New Country
For first time travelers to another country it can be a tough job to plan the trip to best routs, checking best travel deals, tour packages, arranging accommodation and food etc. Here everything is provided including assurance of safe travel such as security and doctor-on-call at next nearest station.
5. A Maharaja's Feast at 2 Fine Dining Restaurants
The Maharajah and Maharani restaurants are colorful and trendy restaurants with colored fresco ceilings, wall lamps, and window side seating to see the outside while you dine /lunch. These thematic restaurants with a gold colored 'peacock' welcoming you offers extravagant international/traditional cuisine.
6. Round – the – clock butler in traditional attire at your service
Yes, he would give you a wake – up call at the door, set up the teas each day and you can clear your doubts about the tour! This definitely makes you feel like a royal when you have a 24/7 attendant.
7. An Extravagant and Warm Traditional Welcome at Stations
This is another reason that you feel like a king / queen while traveling on the World's most luxurious train and the winner of many awards each year. You get a red carpet welcome on-board at embarking site, a vermilion and garland of flowers and a traditional greeting.
Journey of Maharajas' Express
The Heritage of India – 6 Nights and 7 Days
Treasures of India – 3 Nights and 4 Days
The Indian Panorama – 6 Nights and 7 Days
The Indian Splendor – 6 Nights and 7 Days
More information About Maharajas' Express
Suggested article: Some Interesting Facts about the Maharajas' Express
2. Palace on Wheels
The Palace on Wheels is the pioneer of Indian Luxury trains. Experience luxury and a variety of different activities from peaceful nature walks to breathtaking adventure during sightseeing. Within the train that is done in a royal theme inside, you can also experience luxury like the Kings of bygone royal dynasty.
Eat at on-board fine dining restaurants, enjoy a spa at spa and fitness center, or relax over a chat and sip your choice at the Bar & Lounge, on-board the luxury train.
Experience the Royal Life of ancient Indian Rulers on the Palace on Wheels. It is made to resemble palaces exclusively for you to relive those times. The luxury journey starts at the capital state of New Delhi. Cruise across historic sites listed with UNESCO.
Go to palaces and old monuments in Jaipur, Jaisalmar, Chittourgarh, Chhattisgarh, Udaipur, Bharatpur and Agra including the Amer Fort & Jaipur Palace. Visit the Umaid Bhawan Palace, Mehrangrah Fort, Agra Fort and romantic Taj Mahal.
Flow with the waters at the Udaipur Lake and see the calm blue Pichola Waters. Go through the Ranthambore Wildlife Sanctuary. Ride a camel through the Sam Sand Dunes.
Must Things to Do While Traveling with Palace on Wheels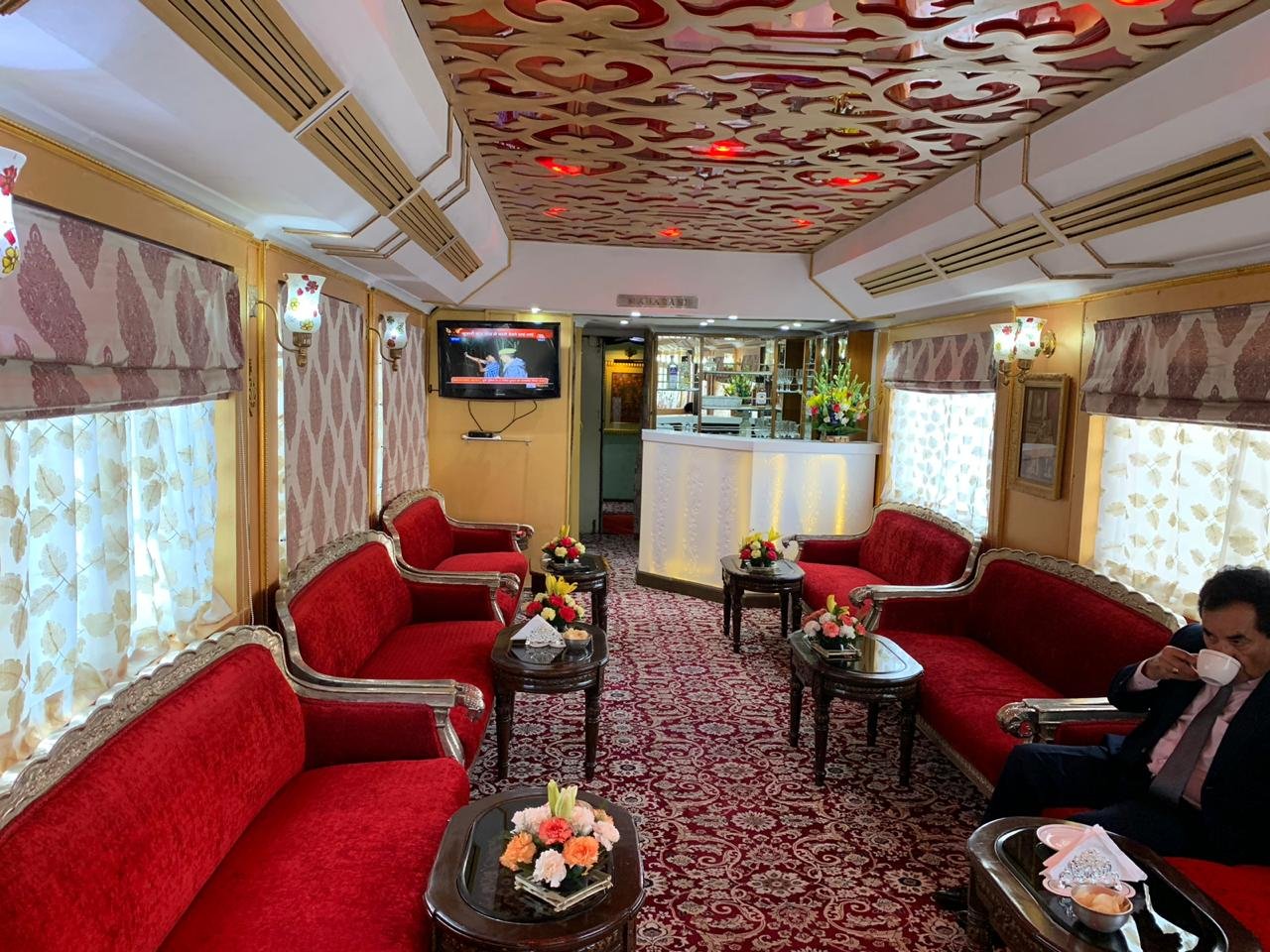 1. Re-live the royal ambiance of the palace – themed carriages on-board
The Palace on Wheels gives you the chance of feeling like a king or queen on-board. The flooring, ceiling, furnishings, and wall art gives the feel of a palace inside the cabins or suites on-board.
2. Travel in Royal Coaches / Cars that Kings and Dignitaries also traveled in
Before the Palace on Wheels was offered for taking guests the royal train's coaches were used only by Kings, Nizams and foreign dignitaries to move to places. Now it is available for the guests who would like to travel like them.
3. Select a cabin of your choice to as per your requirement.
There is a deluxe cabin and super deluxe cabin to select from. Each cabin has interiors in specific color to the stone color and traditional Rajasthani designs and decor. Everything from screens, furnishing to furniture is ethnic themed inside.
4. Enjoy world class facilities
Including fully equipped en-suite washrooms, safe lock, charging points, free wi-fi, laundry facilities, and the comfort of a Khidmatgar in a traditional uniform 24/7.
5. Taste Rajasthani cuisine in Maharaja and Maharani thematic fine dine on-board restaurants
European, Continental, and Ala Carte is served in addition to traditional Rajasthani cuisine in the luxury of a 'palace' theme restaurants on-board the Palace on Wheels.
6. Sip domestic and international drinks and chill at Royal Bar at the Royal Dining and Bar
The shining bar offers beverages, drinks, fresh snacks to much on to chill out after a hectic sightseeing day in a grand bar experience on-board the Palace on Wheels.
7. Get a Royal Spa at the Spa and Fitness Center while traveling on the Palace on Wheels
The luxury train offers guests massage treatments and Ayurveda therapy, Thai aromatic, orient signature, and stone therapy by specialists to revitalize your mind, body and soul.
Read More: Palace on Wheels Luxury Train: Quick Travel Information
More Information about Palace on Wheels
3. The Golden Chariot
Experience the kingly ambience in south Indian tradition on the Golden Chariot Luxury Train. People and staff are warm and friendly. There are the most ancient sites to visit in Hampi.
Hampi is located in the state of Karnataka and is recognized as a UNESCO World Heritage Site. Also, visit the coasts of the Arabian Sea on the coastal shores of Goa Beaches in the 8 Days and 7 Nights Luxury Journey. The journey of Golden Chariot Luxury Train is divided in two major journey like Pride of South and Splendor of South .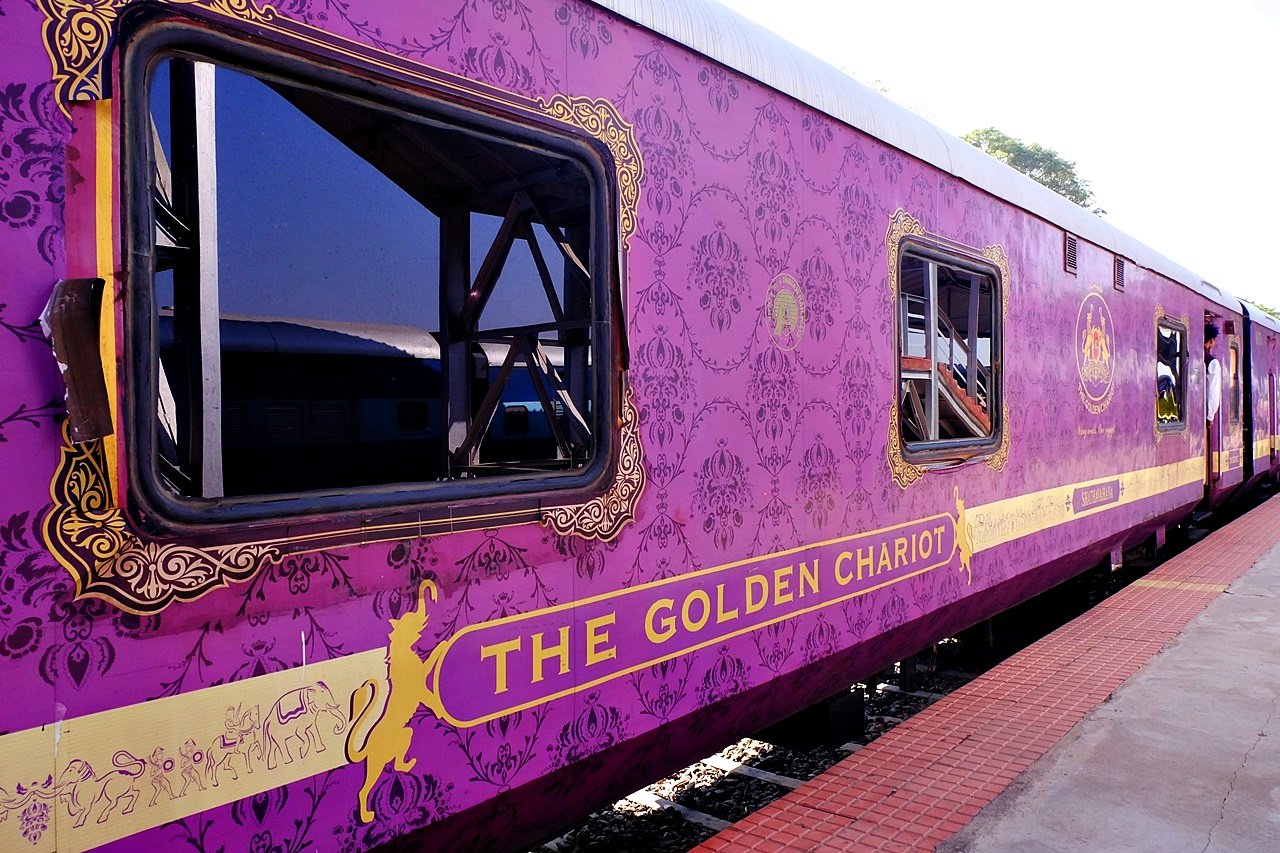 The luxury train gliding through the Southern route of India, an award winning Golden Chariot is one lavish train to travel when in India. The train is supervised by Indian Railways in collaboration with the Karnataka State Tourism and Development Corporation. There are 2 itineraries allowing you to view the Dravidian culture of India an taking you to explore scenic destinations and most ancient temples.
Golden Chariot Itineraries
Information About Golden Chariot Train
Must Things to Do While Traveling with The Golden Chariot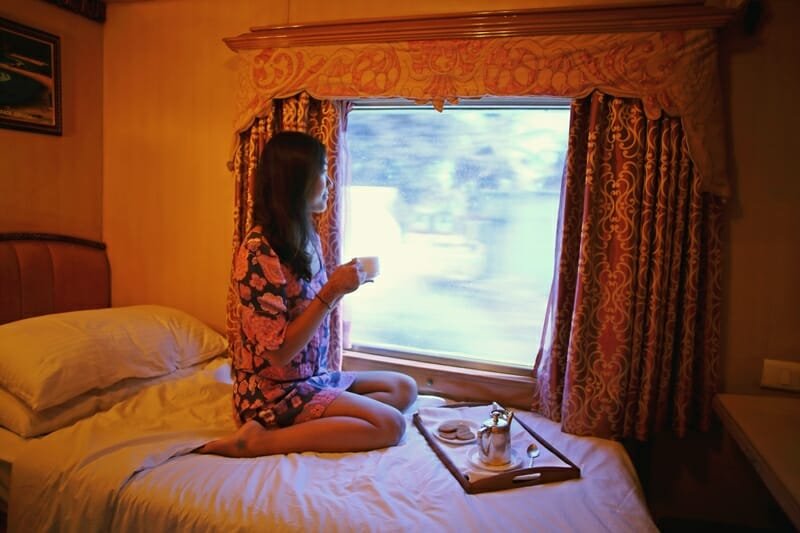 1. Travel like a King in Coaches named under various Dynasties
The interiors of the eleven passenger coaches of the train are made specially to resemble the ancient dynasties that ruled over the main route on the itinerary – Karnataka. The beds look like the personal bed chambers of the King and the walls, furniture, and panels ornately done inspired by Mysore architecture.
2. Enjoy State-of-the-Art facilities on-board Golden Chariot
There are world class luxuries provided onboard including space for physically differently abled travelers. Enjoy plasma TV, wifi (depends on train speed) fully air conditioned cabins and private attached bathrooms. Cabins house a writing desk, a big window, wardrobe and soft comfortable beds.
Get Complete Info : About Golden Chariot Facilities
3. Eat like in a 5-star hotel on Wheels served like a King
The on-board 2 fine dining cars named Ruchi meaning strong taste and Nala – the name of a mythological chef, offer delectable non-veg and vegetarian meals in exotic ambiance with themed decor. The seating arrangement of twos and fours are in complete luxury, style, comfort and privacy in interiors done like ruins of Hampi and Halebid.
Get info : About Golden Chariot Restaurant
4. Fine Spirits served at Mysore Palace – themed Madira Lounge Bar
You feel like you are sitting amidst surroundings of Mysore Palace while artisans perform while you drink your favorite label. It is the best place to chill out after a hectic sightseeing day on-board.
5. Relieve your Stress at the Royal Spa Wellness Center
There is a comfortable spa that offers Ayurveda massage to guests who would like to soothe down while they travel to the next destination.
6. Stay Fit by Exercising at Fitness Gym center
During the eight days of traveling in luxury, you don't want to get heavier, then utilize your time at the fitness center to remain fit and healthy. So you do not have to miss out on your fitness regimen in luxury.
7. Work while you travel in luxury on-board Golden Chariot
This is one of the best facilities as there is a Conference Car with modern equipment such as 42" LCD TV and top speed internet facility and seats up to 30 business leaders who would like to do their work.
Also Read : Why Visit South India
About Golden Chariot Train
4. Deccan Odyssey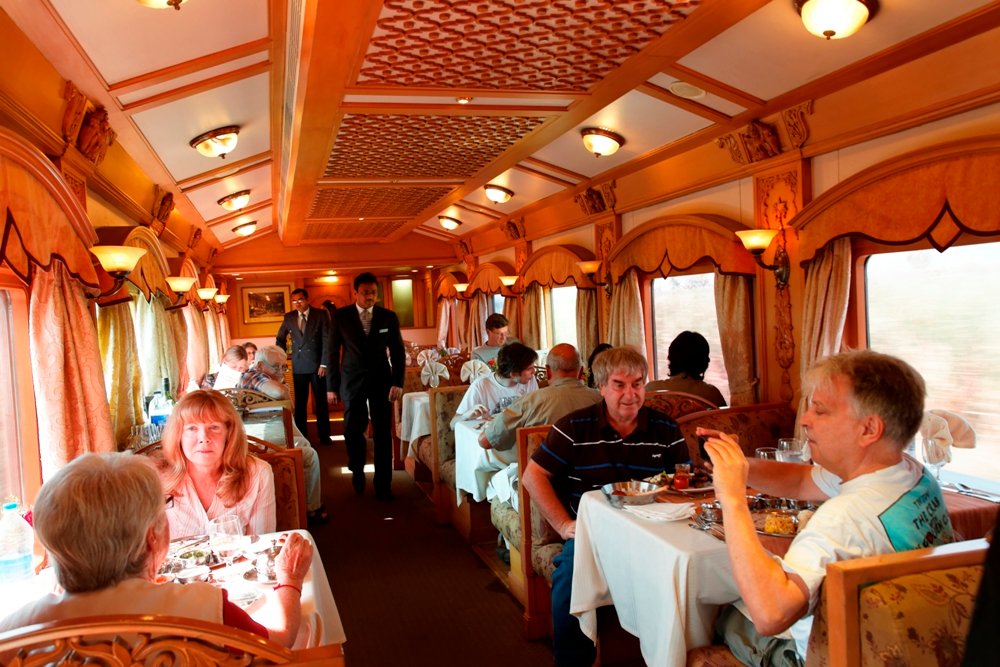 Also known as India's Blue train the Deccan Odyssey with blue exterior and posh interiors takes visitors to special destinations in Maharashtra and other top tourist spots in India. Select an itinerary that suits you and have an unforgettable journey on the Deccan Odyssey.
This is a joint venture of the Indian Railways and the Maharashtra Government. This luxury journey consists of 8 Days / 7 Nights tour. It tours the coastal regions of Goa. Get pampered as the staff is impeccable and friendly.
Get pampered by the world class luxuries on top of the train journey. The ambiance on the Deccan Odyssey Luxury Train will make this journey memorable for your life.
Journey of The Deccan Odyssey
Must Things to Do While Traveling with Deccan Odyssey
1. A variety of spacious cabins and carriages to select your accommodation type
Each guest carriage is done in a luxury comfortable way and ethnic paintings or wall hangings. It is one of the most spacious luxury trains with only 8 guests per carriage. It consists of 2 well appointed Presidential Suites each having a sleeping area, mini bar, writing desk, and 2 private washrooms
2. Extravagance in the world class amenities offered on-board
Cabins are equipped with 4 channels music facilities, direct dial phone, 6×3 ft. twin beds, DVD player, temperature control and private bathroom with shower area. The Presidential suites carriages have a valet and Suites get a personal butler for each carriage around the clock with DVD, living area, master bedroom and attached bathroom with all facilities.
3. Travel with tradition culture and ethnic customs on-board
The staff that welcomes you, the personal butler and the server at the traditional restaurants Peshwa-I and Peshwa-II, the traditional performances you see off-board are all in traditional attire that makes you feel that you are journeying within the ethnicity and culture of the region.
4. Take care of your beauty needs on-board the Deccan Odyssey
While you travel for a week on wheels in luxury for sightseeing, there is not much time to care for how you look. So, Deccan Odyssey has a Beauty Parlour with various treatments to take care of your beauty.
5. Get a health message, exercise or Sauna in Spa Car
Along with your beauty needs there is also a sauna bath available for guests at the spa car. You can do light exercise too in order to keep fit in the gymnasium corner.
6. Hold Business Meetings in the Conference Car
Bookings must be made in advance to book the conference car on-board the Deccan Odyssey. Private rooms are available for this purpose and equipped with internet connection and even secretarial service.
7. Enjoy sumptuous gourmet treat of regional cuisines
The dining cars offer guests extravagant dining experience with an array of traditional dishes. Relish theses regional cuisines while watching outside the window. Breakfast is generally done on-board the train. Lunch is given at various destinations to taste food of the region such as Goan or Maharashtrian. Other cuisine includes Chinese and continental too.
More information About Deccan Odyssey
Have a Royal Luxurious Journey!
 Explore India with 5 days India tour
Related articles about India:-
You can also explore our Travel Guide for more experiences.