Best Places to Visit in North Goa
North Goa is a heaven for Sundowners. It is home to some awesome destinations including pretty beaches and unruffled places of worship. North Goa is a significant part of the Goa holiday experience. There is so much that one can adapt into while at this part of the mesmerizing state that, one may never wish to go home. Nature lovers will absolutely love to be here, whereas the adventure checkers can freely sway from here to there as vivid water sports await them.
Let's consider some aesthetic places to visit in North Goa:
Baga Beach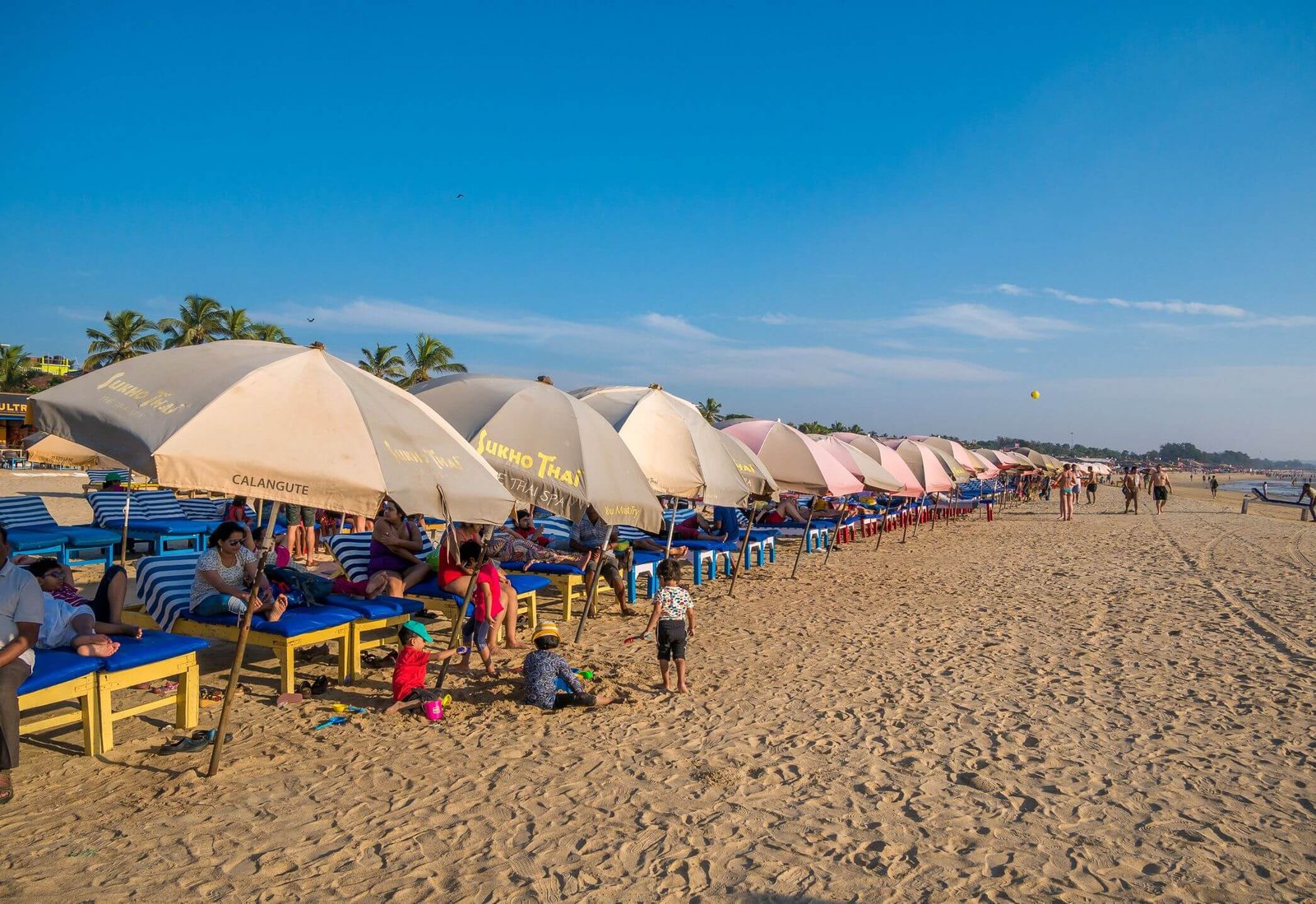 Baga Beach is a well-known place to visit in North Goa. It is situated at the end of the extended Calangute beach. Baga is an outburst beach as it offers visitors a lot to experience and enjoyment. The seductive night of the beach has some real crowd that comprises of fun-loving individuals that enjoy their life. The beach has some cool music with drinking and dancing which makes it come alive. The rows of sunbeds with a suitable view of the beach in the daytime relish every one. There are several bars and restaurants at Baga and each one is filled with a crowd every night.
Activities that Baga Beach offers
Banana ride, parasailing, swimming in the beach, Skiing
Bars to visit at Baga Beach
Brittos Bar, St.Anthony's Café and Bar
Chapora Fort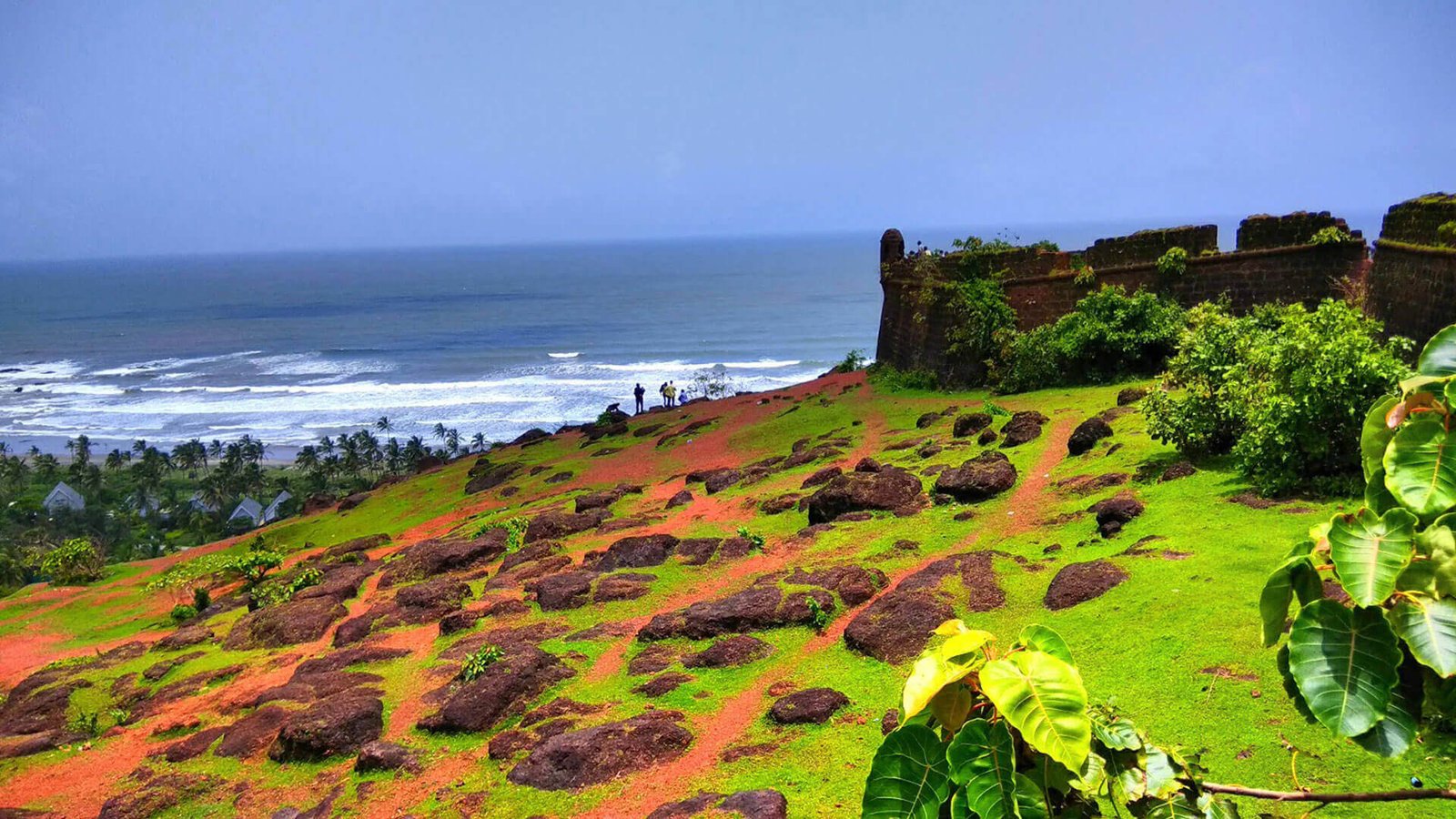 This historical fort was built in 1617; it was the watch post of the border. Today, the fort lies in the worst circumstances, but it is a valuable vintage point and gives a gorgeous scene of Vagator and Anjuna beaches. The visitors will not get the view of the fort as it is ruining today but, one can get a view which served as an emergency escape for the Portuguese. It is believed that Portuguese has ruled over Chapora Fort for more than 150 years in Goa. This fort that lies in the worst position is a great backdrop for photographs and the view from here is undoubtedly scenic.
How to reach Chapora Fort
You can find the Baga beach. This beach is just half an hour drive away from Panaji and to reach there from Mapusa, your 15 minutes will be consumed. It will be open for 24 hours.
Casino Palms
It is one of the most popular casinos in Goa where you can try your luck. You can find this one near Calangute beach in North Goa. You will feel like you are in Vegas when in the Casino. You can indulge in games like roulette and other electronic games. One can find a chic bar and plush lounges inside the casino where one can enjoy the nightlife. An exquisite sunset can surely be enjoyed here. It is one of the best destinations to see in Goa and you must explore it completely.
Highlights of Casino Palms
It is the largest on-shore casino in Goa. Enjoy some amazing drinks and starters while trying your luck at the games.
How to Reach Casino Palms
No.7/129-B, Santa Vadoo, Calangute-Baga Road, Bardez, Baga, It is open for 24 hours.
Deltin Caravela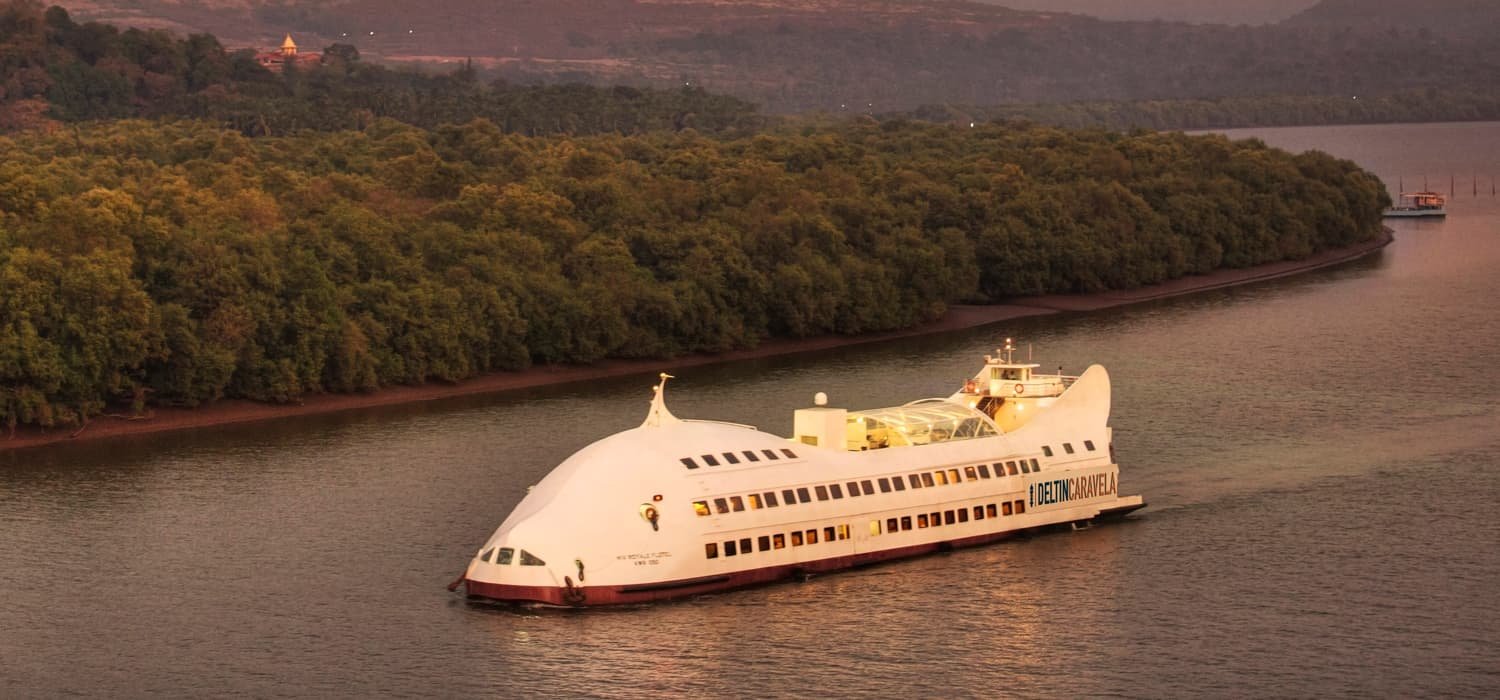 It will be an adventurous destination for anyone as it is a floating casino in Goa. This place is one of its own as it brings two great things altogether like gambling and cruise. The first offshore casino from Mandovi Beach in Goa is a perfect spot to visit while in Goa. Sail along the waves as one participates in some delectable dinner and enjoy an evening cruise. If you are a James Bond fan, you can get into the feel of it while playing in the casino. You can go there anytime as it is open for 24 hours.
Highlights of Deltin Caravela
Go during sunset and watch it from the cruise amidst the sea.
How to Reach Deltin Caravela
Noah's Ark, RND Jetty, Dayanand Bandodkar Road, Panaji, Goa 403001.
Mangueshi Temples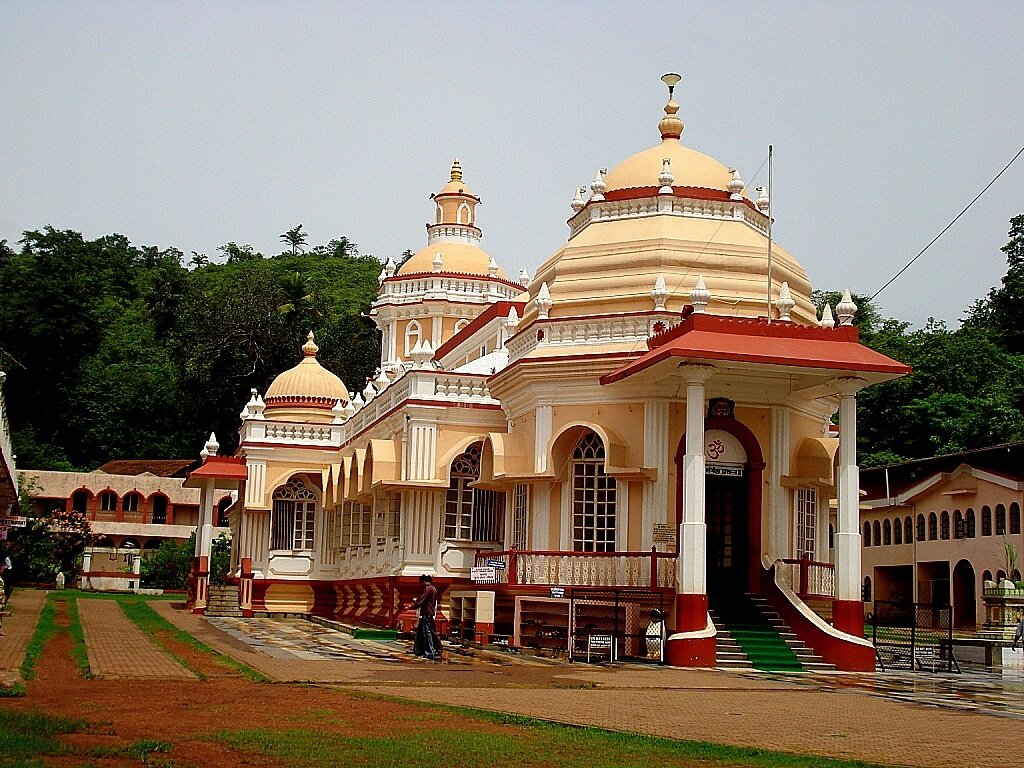 Reckoned to be one of the largest temples in Goa, Mangueshi shrine is located in Mangueshi village in Priol. The main deity in the temple is that of God Mangesh, who is believed to be the incarnation of Lord Shiva. Mangueshi temple is 450-year-old that emerges out for its simple yet elegant structure.
The temples comprises of several balustrades and domes. One can even see the seats of a prominent Nandi Bull and an astounding seven-story lamp-tower here, which stands inside the temple complex. You can visit there in annual festivals consisting Akshaya Tritiya, Rama Navmi, Navaratri, Anant Vritotsava, Magha Poornima Festival, Diwali, and much more.
How to Reach Mangueshi Temples
Located at around 35.8 km from Panaji, Cavelossim Beach can be easily reached by taxi or a rental car. It is also just at a distance of 7 km from Margaon and can be reached from Margoa through auto or taxi.
Best time to Visit Mangueshi Temple
The best time to visit is the beginning on Maga Shukla Saptami and ends Magha Poornima are celebrated in the temple with much pomp and show.
Bicholim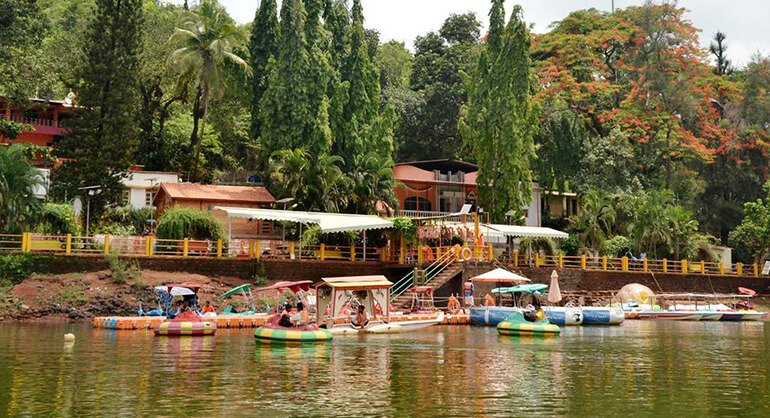 Bicholim is one of the amazing tourist destinations for sure. Undoubtedly scenic, it consists of a smashing lake called Mayem with the vast countryside of cashew trees. It also comprises of some historic Hindu temples like Saptakoteshwar temple. In addition, it has one of the oldest mosques in Goa as well.
Mayem Lake is located in the east of the market town of Mapusa which is amidst the unspoiled countryside full of sleepy villages. The lake sits on the wooded shores in low hills and has variety in birdlife. The distinct places here are the open cast iron ore mines that add to the beautiful different features of Goa.
How to Reach Bicholim
The excellent way to visit Bicholim is by taking a ferry route from Ribander to Chorao with Madel being the place for landing.
Mapusa Market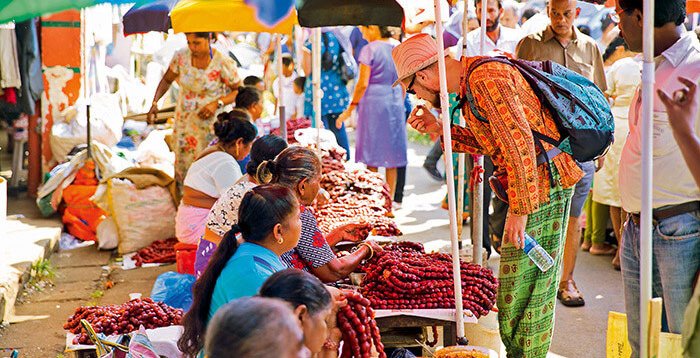 North Goa is a place full of lively places including beaches and markets both. Are you seeking for a local market to shop in Goa? Then, Mapusa is the largest town in North Goa. It is a hub for travelers and locals alike. You should give a head start to your shopping in Mapusa Market.
The taste of real Goa has the magnificence of local vegetables, fish, and meat. Purchase Goan sausages from this market hub if you have a craze about cooking relishing meals. Colorful clothes, slippers, spices, and antiques are some of the other products that you can keep in your bucket. Check all the vendors properly as each has a different variety of things. The best timings to visit the market are from 6 A.M-8 PM. It is a market which is open from Monday to Friday.
Highlights of Mapusa Market
The Friday Market is famous in Mapusa. A lot of local artisans, farmers and traders showcase their products. This is the best day to visit the market.
How to Reach Mapusa Market
Mapusa Market Area, Panaji, Goa.
SinQ Nightclub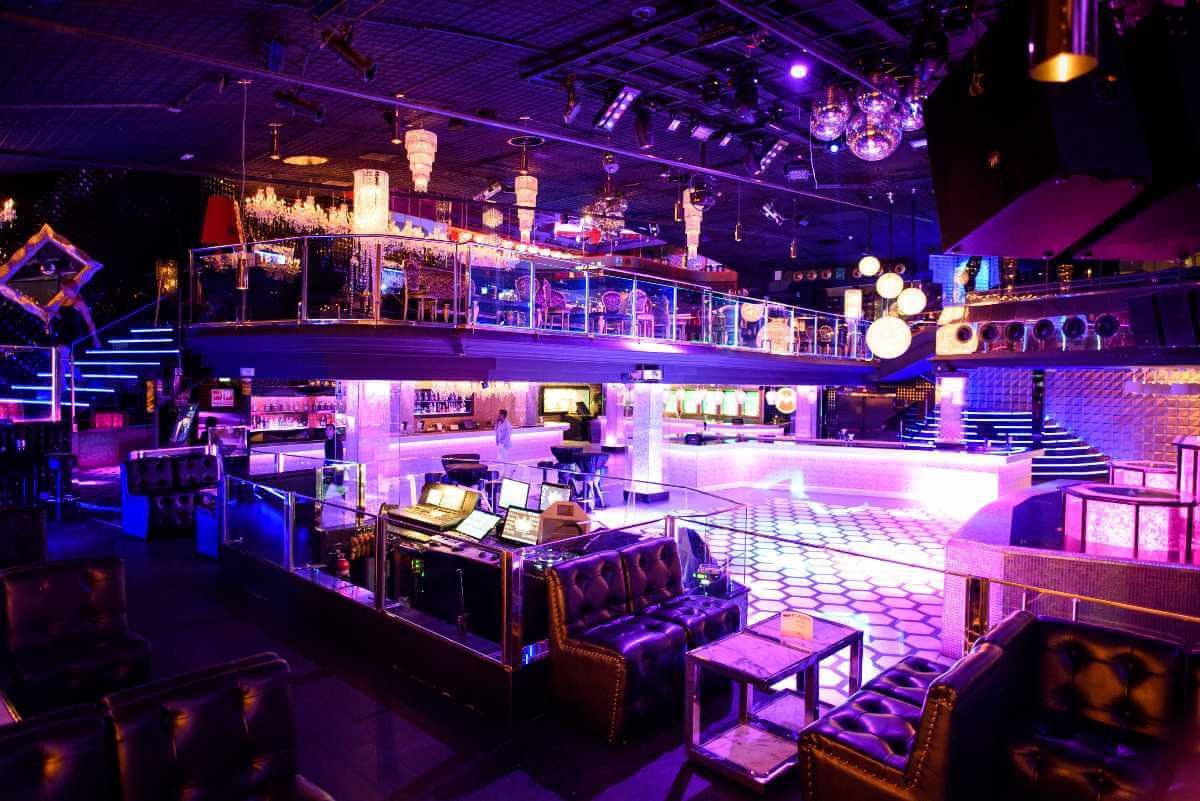 If you are searching for a trendy place to party in Goa which freezes vibes all over, then Sinq is the address. One of the excellent nightclubs in Goa, Sinq gives a great atmosphere for party people. Whether you want to laze around the pool lounges or dance till your foot is sore, it is possible. One can enjoy the night here as one, pleases. Delicious food is available here as well.
How to Reach SinQ Nightclub
The location is opposite Taj Holiday Village, Candolim, Bardez 403515.
Timings of SinQ Nightclub
7 PM- 3 AM..
Bom Jesus Basilica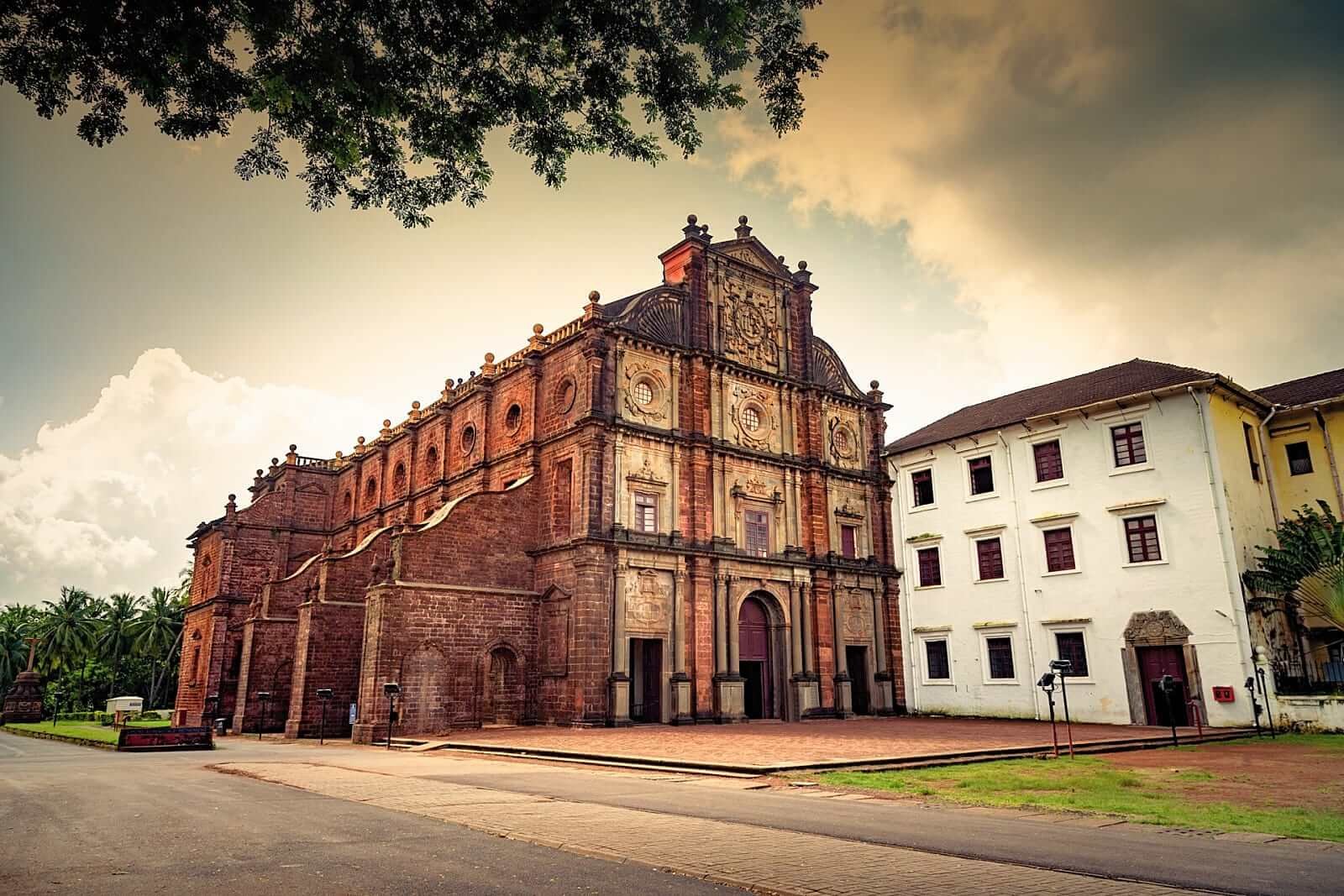 One of the world-famous tourist destinations in Goa is the Bom Jesus Basilica. It was characterized by Baroque architecture and carved from basalt embellishments. It is one of the richest facades in Goa. You will know most about the Basilica of Bom Jesus for possessing the mortal remains of St. Francis Xavier. The church is widely known for the Roman Catholic world.
How to Reach Bom Jesus Basilica
The location is Old Goa Road, Bainguinim, Goa 403402.
Timings of Bom Jesus Basilica
The appropriate time to visit is Monday to Saturday from 09:00 am to 6:30 pm and Sunday from 10:00 am to 6:30 pm.
The Kala Academy
The Kala Academy is situated in Panjim. It is a fine acting institute in Goa. It is in a way a cultural heritage of the North Goa that has given a large number of artists. The academy is an apex body to develop Drama, Music, Dance, Folk Art, and literature. It helps in promoting cultural unity of Goa. They have a distinguished character in imparting training.
On a regular basis exhibitions, seminars, workshops, competitions, seminars, debates, performances, debates and other activities for preservation of conventional art forms are scheduled here. The visitors can go there to see the State Art Exhibition and also can enjoy the performances that happen now and then there.
Timings of The Kala Academy
It is open from 9:30 am to 1:15 pm and then again from 2:00 pm to 5:45 pm. It is closed on Saturday and Sunday.
How to Reach The Kala Academy
On a regular basis exhibitions, seminars, workshops, competitions, seminars, debates, performances, debates and other activities for preservation of conventional art forms are scheduled here. The visitors can go there to see the State Art Exhibition and also can enjoy the performances that happen now and then there.
Curlies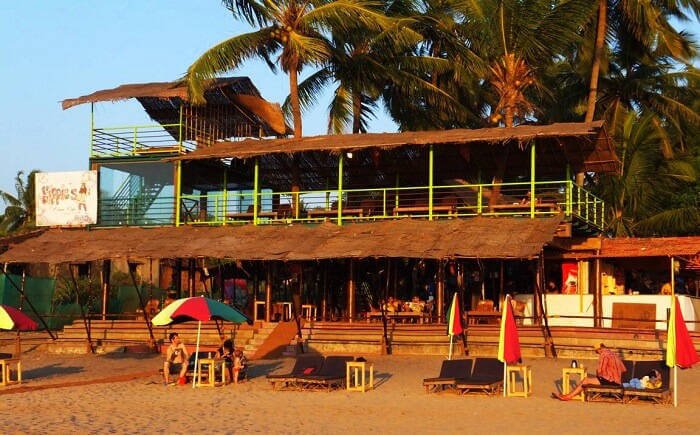 One of the most happening shacks in Goa, Curlies is an amazing place to visit in North Goa. Seen on the Anjuna beach strip, Curlies has become one of the prominent landmarks in Goa. It started as a beach shack. However, Curlies is now a two-floor complex internet café with a bar, tea house, indoor club, sea view veranda, and dancing floor that will host up to 500 people.
Even the people can select various water-sports, and other activities like kayaking banana boat ride, parasailing, fishing trip, dolphin trip on the Anjuna Beach. Grand Island trips are also done from the Curlies Shack. The mouth-watering seafood, excellent music, and cheap beer are the reason why you must visit Curlies in Goa.
Highlights of Curlies
Anjuna Beach is a peaceful and tranquil beach. You will love to see the waves here while sipping your beer. Adventure sports is also possible here.
How to Reach Curlies
Anjuna Beach is 6.8 km from the Baga beach. It is a good idea to drive a bicycle or a motor cycle to reach Anjuna. You can also hire a cab.
Club Cabana
Club Cabana is located on top of the Arpora Hills. It is a place to get wasted and party all night. With an all-night swimming pool and open vast terraces, it is a famous destination among the visitors. Lose yourself to dance with astounding DJs lining up the appealing music for you.
An excellent part is that every Wednesday, this place hosts a Ladies night. They have the facility to give ladies night in which they also offer unlimited drinks to the ladies. The place is full of lively activities for the people who are interested in enjoying their holiday's utmost.
Highlights of Club Cabana
The club is on a hill and thus, from the parking area, an open jeep comes and takes you to the club. The jeep is for free and provided by the club. The club is huge with a dance floor, swimming pool and sitting area.
How to Reach Club Cabana
The location will be Arpora Hills, Arpora, and the timings will be 9:30 P.M. -4:00 A.M.
Temple of Bogdeshwara
One of the magnificent temples of North Goa, the temple of Bogdeshwara is a masterpiece on its own. Situated in the verdant greenery, millions of people visit this temple to offer their prayers heard. Every year, a fair called "Zatra" is held at the temple during December and January. One can calmly spend hours in the temple attending rituals of the Lord and providing serenity and peace.
How to reach Bogdeshwara Temple
The temple is located on Mapusa- Calanguate road and thus, you can drive a motorcycle to the temple from Calaguate.
Arambol Beach
The beach has cliffs which are secluded and scenic. It is a great place for romantic couples to enjoy their excellent evening. This beach is among the amazing and beautiful ones in North Goa because of its beauty and serenity. It is a sandy as well as a rocky beach.
Arambol beach offers you hippie Bohemian vibes. If you have a keen desire to explore Goa, then the beach should be on your list. It is one of the best spots to visit in North Goa in 2 days. The beach if often crowded with various performers in the evening.
Highlights of Arambol Beach
Good accommodations, alternative therapy, and dining will be found on the scintillating sands.
How to Reach Arambol Beach
It is 24.2 km far from Calaguate beach. You can reach Arambol via Aguada- Siolim road. It takes 50 minutes and thus, it is wise to either drive a rented car or hire a cab.
Aguda Beach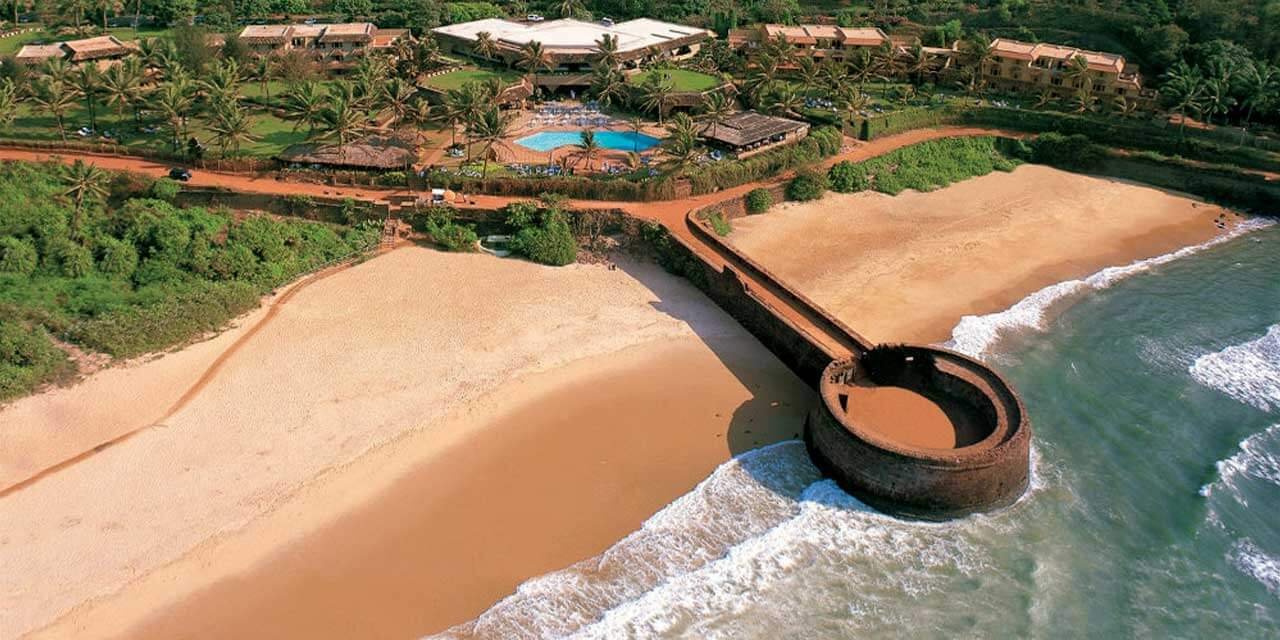 Aguda beach is a popular tourist attraction. It will catch the eyes of the beach lovers; the beach will give the highlight of the fort that looks like a cliff and faces the Aguada beach. Unperturbed and pristine, this beach is perfect to cherish evening strolls and witnesses the sun setting down. You can enjoy versatile water sports here along with hanging out in cafes, indulging in a massage and shopping for a range of items.
. Aguda resort that is perched over the cliff is a popular restaurant complex and has kept a partial portion of the beach for its guests. An ideal way to enjoy and explore the beach and the rich history of the fort is to check-in in the Aguada resort.
Highlights of Aguada Beach
The best part is staying at the resort which has a beautiful view of the beach.
How to Reach Aguada
Aguda Beach is just 4 minutes away from the Calanguate beach.
Goa State Museum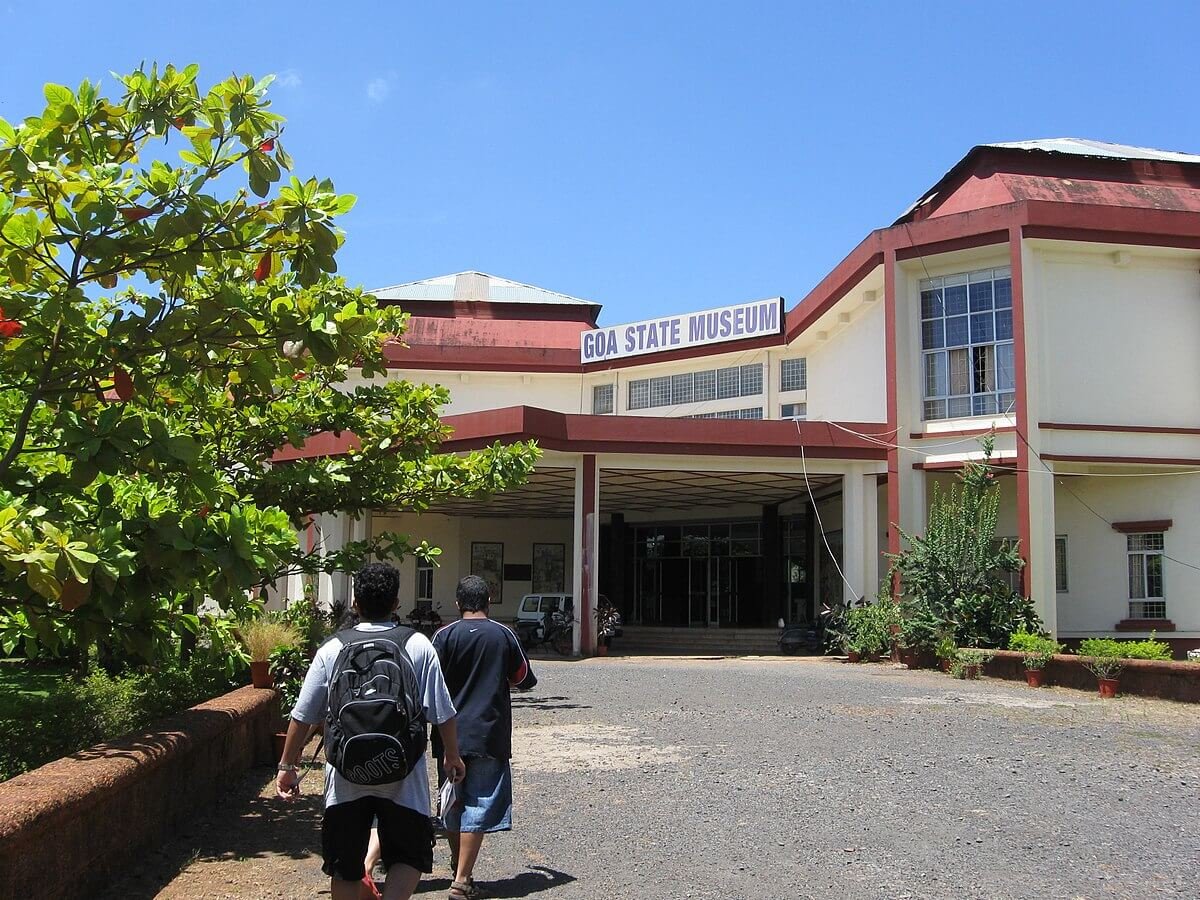 Goa State Museum is the state's archaeology. Throwing light on the culture and rich history of Goa, the museum is one of the well-maintained in the state. The museum has a fairly large collection that consists of eight thousand relics like wood made items, bronzes, artwork, rock statues, numismatic selection, unusual silver coins, manuscripts, and anthropological collection. There are various Hindu as well as Jain scriptures and relics as well.
. It is one of the best destinations to see in Goa and once one will explore it completely one will find out why. There is so much that one can adapt into while at this part of the mesmerizing state that one may never wish to go home.
Timings of Goa State Museum
It is open from 10 am to 6 pm. The museum remains closed on Sunday.
How to Reach Goa State Museum
EDC Complex, patto, Patto Centre, Panaji, Goa 403001
Arvalem Waterfalls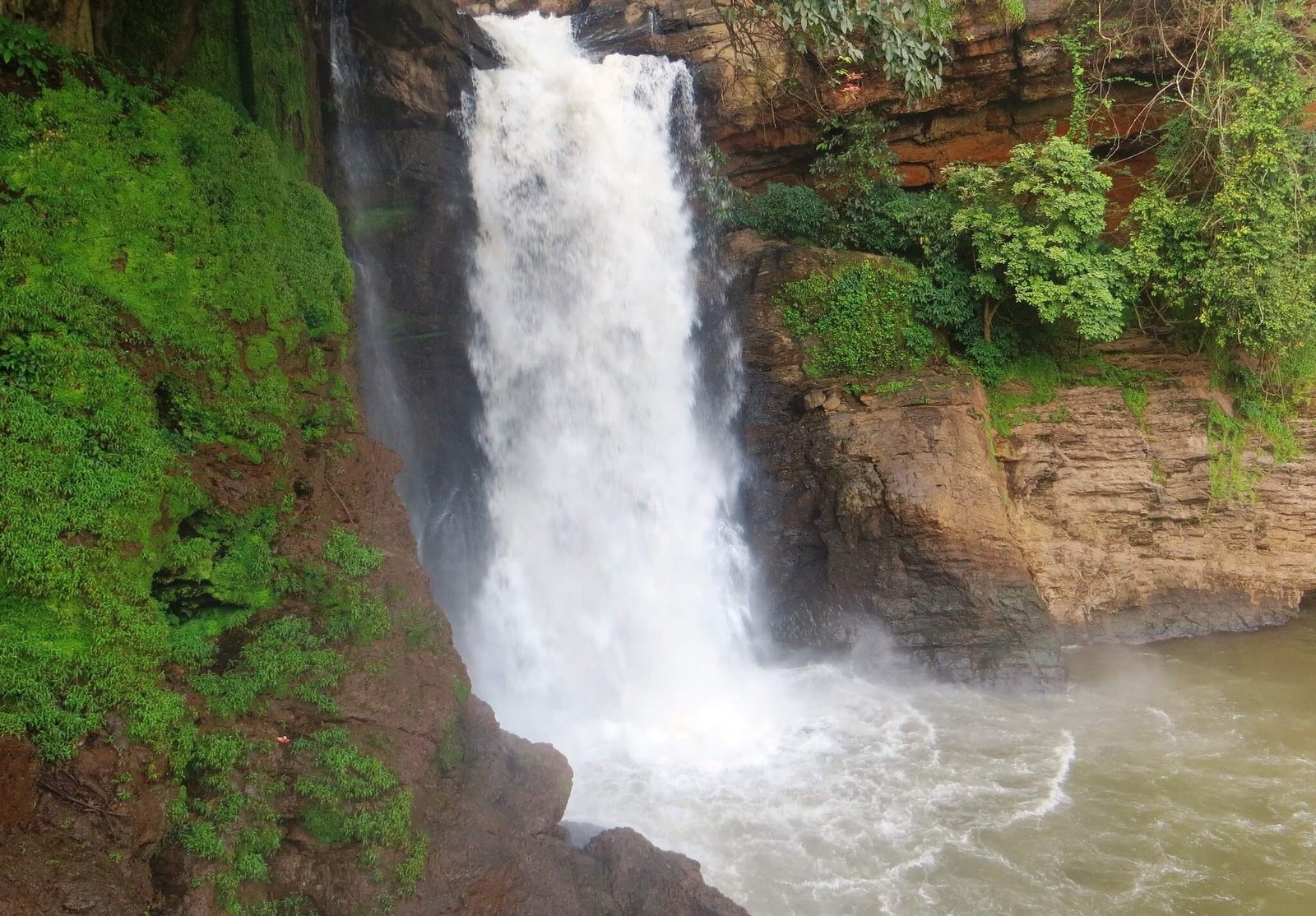 Arvalem waterfalls is one of the most mesmerizing pieces of the beauty of nature that one will enjoy in Goa. The fall is situated at a short distance from Bicholim. People also say Arvalem as Harvalem which comes to existence in the monsoon season. It drops down from the height of 50m and gives quite a view to cherish.
Visitors can also visit the nearby Arvalem caves as well as Rudreshwar temple. The excellent way to get here is taking a taxi or on foot.
Highlights of Arvalem Waterfalls
It has some of the best locations to click pictures.
How to Reach Arvalem Waterfalls
It is 30 km from Panjim Kadamba bust stand, 2 km from Sanquelim and 8 km from Bicholim. You could take a bus from Panjim or rent a taxi. You can also walk from Sanquelim.
Backwaters of Chapora River
It has become one of the most ideal ways to collect memories of a backwater in Goa. You can also sail in the houseboat on the backwater of Chapora River. After taking the houseboat, it is very easy to feel the rustic charms of Goa. Watch the traditional fisherman catch fish in the dugout wooden canoes. You will also be able to witness the mesmerizing palm trees.
Even the coconut trees also fringe in the water body while giving a great site to watch. The backwaters are truly tranquil and calm the soul like none other. There are alternatives to stay in the houseboats and cherish some quality time with loved ones. It is one of the best destinations to see in Goa and should be visited at least once.
Trip inclusions of the houseboat tour:
Pick and Drop from any hotel in North Goa

Lunch with Veg / Non Veg Option

Evening Tea / Coffee

Mineral Water

Swimming

Book the tour in advance so that you get the boat. In peak season, it so happens that the tour is completely sold out.

Panaji

Panaji is the capital of Goa and an appealing destination. Overlooking the Mandovi River, Panaji is a perfect place to check the vivid reflections from the culture and conventions of Goa. It is one of those spots where the highest and maximum Portuguese influence can be witnessed.

It offers a glance of the Portuguese lifestyle, with purple houses and yellow doors that compliment them. The ochre-colored mansions with terracotta-tiled roofs, iron balconies, and arched oyster-shell windows add more charm. Panaji is one of the mesmerizing places in Goa to enjoy peace of mind, culture, and solitude as unlike any other places in India. It is free from the hustle-bustle, polluted air and the maddening rush.

How to Reach Panaji

Panaji is just 27.6 km from the Goa International airport. You can reach the city via an airport cab. It take approximately 50 minutes to reach.

The Church of Our Lady of Immaculate Conception

It was built in 1541 and is reckoned to be the initial church in Goa. Seeking a complete renovation in 1619, the church of our Lady of Immaculate is a riot of heavy ornamentation. It is believed to be a fine example of relatively simple architecture. The church still boasts of two flanking altars where the left one is devoted to Jesus Crucified and the right one is devoted to the Lady of Rosary.

You can find plenty of carvings which can be seen on each side of the marble statues of St. Peter and St. Paul. The main altar is that St.Francis Xavier; his glass-encased statue is positioned on the reredos. A large number of visitors come here to worship in Goa to different Gods. Indeed, it is good to visit the religious place to see the architecture as well. This one has Baroque architecture.

How to Reach The Church of Our Lady of Immaculate Conception

It is located in Panaji Conservation area and the exact address is Rua Emídio Garcia, Altinho, Panaji, Goa 403001.




North Goa is a mix of beaches, clubs, parties, adventure and religious places. There is a lot that you can do here. It is a good idea to visit this place on motorcycles. There are plenty shops that rent motorcycles and bicycles. They also rent cars. Thus, book one on the first day itself and start exploring the place like never before.