Travel Guide – What You Can See in Tadoba National Park
Situated in the core of a reserved forest and spread in the area of 1727 sq. km, Tadoba National Park lies in the Chandrapur district of Maharashtra (India). One of the largest and oldest national park,  which has endless treasure trove of large number of species of trees & plants and wildlife like panthers, tigers, hyenas, sloth bears, wild dogs, jackals, barking deer, bison, sambar, herd of deer to name a few.
Overshadowed by teak & bamboo, and with a magical landscape of rugged cliffs, marshlands, lakes, etc., it's full of unlike flora and fauna, which was once privileged by shikaras (hunters).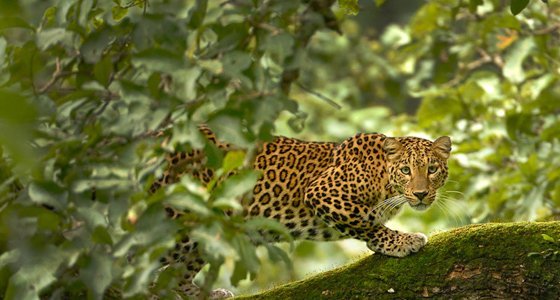 History of Tadoba National Park:
There is a great history behind the name of Tadoba National Park. Tadoba or Taru was the name of god of tribal people who reside in the dense Tadoba region of the forest. It is believed that Taru was a chief of village, who was killed in a legendary encounter with a tiger.  After this, a shrine was made dedicated to the God Taru that exists under a huge tree and on the bank of Tadoba Lake.
Suggested tour packages: 15 Nights 16 Days Wildlife Tour of India
Wildlife
The most popular species of trees is Teak and bamboo in this forest. Other trees that are found here are Ain, Bija, Dhaudab, Hald, Semal, Beheda, Sisoo, Kusum, Hirda, Karaya Gum, Mahua Madhuca, Lannea Coramandelica etc. Tadoba National Park is a well known tiger reserve and is also well known for its rich fauna.
Other wild animals also include Sloth Bear, Rusty Spotted Cat, Leopard, Wild Pig, Spotted Deer, Flying Squirrel, Four Horned Antelope, Indian Bison, Porcupines, Blue Bulls, Indian Pangolins etc. There are also a large number of species of birds reaching upto 190-195 different varieties including paradise flycatcher, grey headed fishing eagle, honey buzzard, crested serpent eagle etc.
Spiders are also found in large numbers which include the Giant Wood Spider, the Signature Spider and the Red Wood Spider which are actually found during the monsoon season.
Tourist Attractions near Tadoba National Park:
The Tadoba National Park is surrounded by some beautiful temples and lakes such as the Sankatmochan Hanuman Mandir, Tadoba Lake, Siv Mandir, Urjanagar Lake, St. Micheal Church, Durga Maa Temple and Ayyappa Temple. As such,
Nagpur is located close to the National Park is well known as the 'Tiger Capital of India'.
You can also spots some of the famous Wildlife National Park in North India
Best Time to Visit Tadoba National Park:
The real thrill over experiencing wildlife and jungle safari can be incurred during the months of February to May.
Jungle Safari Timings and Accommodation Facilities:
Cars Available- Jeep 4*4, Gypsy 4*4 (Tadoba National park)
Timings-  
6 am to 10 am (morning)
3 pm to 6 pm (afternoon)
Accommodation in Tadoba National Park is served in Eco Camps and Lodges. Few of those  are the Svasara Jungle Lodge, the Iral Safari Retreat, Tiger Trails Jungle Eco Lodge and the Serial Tiger Camp. Also Eco Huts provided by the Forest Development Corporation of Maharashtra in Tadoba National Park is a good option for the tourists.
Best offers on 15 Days Wildlife Tour including Bharatpur Ranthambore and Bandhavgarh
How to Reach Tadoba National Park:
By Air – Nagpur is the nearest Aiport and takes around 3 hours to reach the National Park (Approx 150 kms)
By Train – Chandrapur is the nearest Railway Station (Approx 50 kms)
By Road – Nearest bus stop is Chimur and Chandrapur (approx 35 kms)
Cabs are available in this area for tourist convenience.
Explore the best of  wildlife tour packages of India 
Read suggested articles:-