Badrinath Opening and Closing Dates 2021
Badrinath temple is an important Vishnu shrine located in Uttarakhand. Badrinath temple is one of the sites and the final destination of Char Dham yatra. The temple is situated at 3,133m above mean sea level in Chamoli District. Thus, the temple is not open during the winter months. The Badrinath temple was built in the 16th century in the place where the Saligram idol was installed. The Lord Vishnu is worshipped as a black stone posed in meditation and surrounded by Ganesh, Kuber, Narayana, Nar, Narad, and others. Closer to the temple, you will find Tapt Kund, Brahma Kapal, Neelkanth Peak, Mata Murti Mandir, Sheshnetra, Charanpaduka, and Vasudhara Falls.
Opening and Closing Time and Date of Badrinath Temple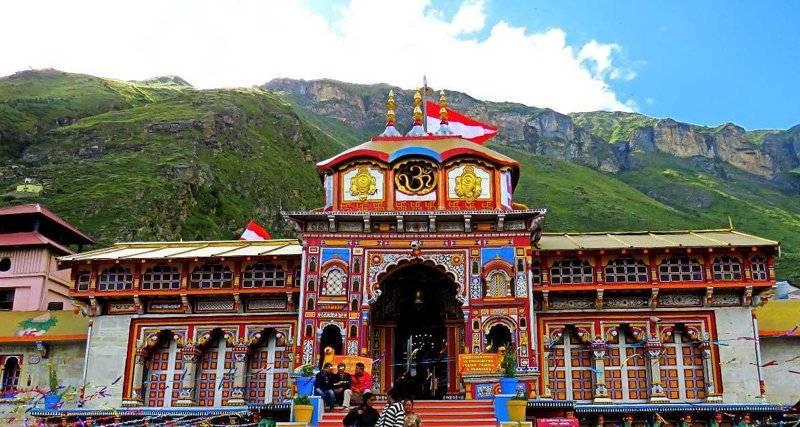 The Badrinath Temple opens every year on Basant Panchami, which falls in April or May. In 2021, the Basant Panchami falls on 16 May. On this auspicious day, the idol reaches Badrinath temple from its winter abode. After initial rituals, the temple will be open for tourists by 6 am, and the temple closes every day by 8 pm.
On Vijayadashami day, which falls in October or November, the Badrinath Temple closes for the winter. This date is the Char Dham pilgrimage route's official end date, as Badrinath Temple is the final destination of the pilgrimage route. In 2021, the Vijayadasmi falls on 10 November. On Vijayadasami, special rituals take place as the idol gets taken to the winter abode, Yogdhyan Badri, and for the next six months, the temple remains closed.
The Closing Ceremony of Badrinath Temple
The day of Badrinath temple closure is considered to be the official beginning of the winter season. During the special ritual, the priest presents woolen choli made by tribal girls to the idol. The garment is left under the feet of the idol throughout the winter. On the reopening day, the fibers of the garments will be distributed as holy prasad.
What Happens After the Closing?
On the closing date, the main idol of the temple remains inside the temple. The Utsav Moorti idol of the temple is taken to Yogdhyan Badri, located in Pandukeshwar of Chamoli District. The idol is brought down the hill in a colorful palanquin and a lively procession.