Experience Badrinath Temple- A Dham Where Nature and Deity Meets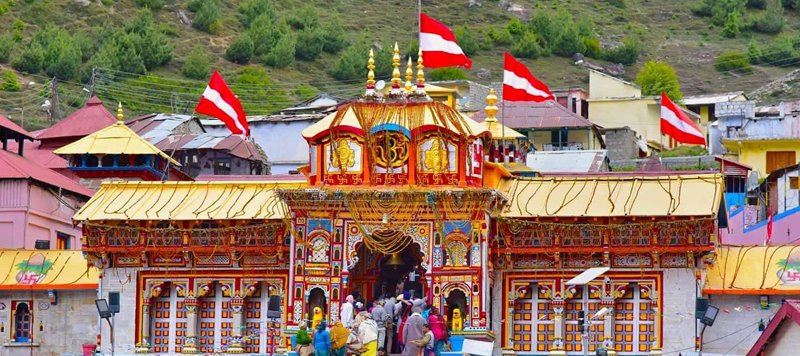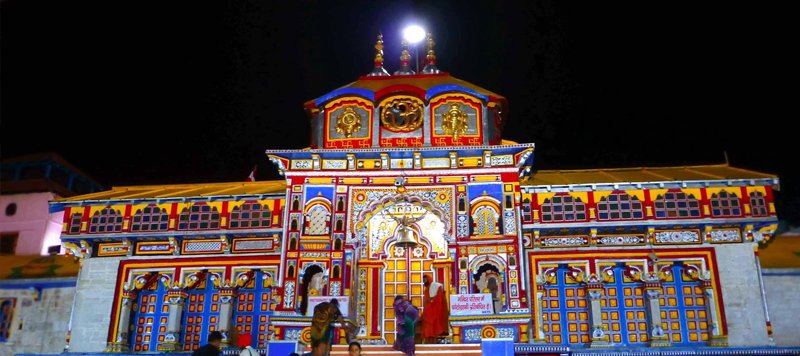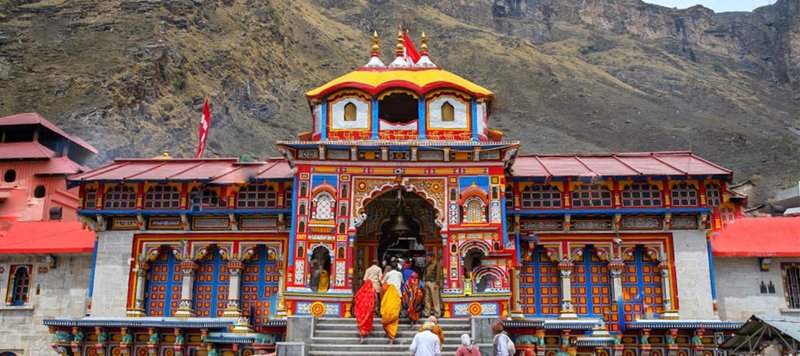 There are many pilgrimage sites to visit and feel blessed in India but it is believed that it all goes in vain if you do not visit Badrinath for once in your lifetime. One of the 4 main shrines from all the corners of India, Badrinath covers the northern side situated in the lap of the Himalayas. Join us on this wonderful journey of Badrinath Dham.
About Badrinath Temple
Named after the town itself, Badrinath temple is located in the Gharwal hill tracks along the banks of Alaknanda river in Chamoli district of Land of Gods, Uttarakhand at an altitude of 3133m above sea level. It is exactly located at the confluence of 2 holy rivers Alaknanda and Lakshamganga strong>lying between the 2 mountain ranges- Nar and Narayan
where Narayana is adjacent to the temple located behind the Neelkanth peak. The current temple made by the Garhwal kings is 15m tall with 3 golden Kalash (sacred water vessel) shining above it. The façade is built with stones and arched windows with a similar structure as a Bodh temple. It has 2 main sanctums- one Shaligram where Lord Badrinarayan (black granite Lord Vishnu idol) is kept under a gold canopy as the main deity and the other sanctum includes other deities.
The Badrinath temple opens from APRIL to OCTOBER/NOVEMBER and the temperature in summers remains between 8 and 17-degree Celsius and in winters, it drops from 0 to 5-degree Celsius.
History and Mythology of Badrinath Temple - Formation into a Pilgrimage Site
Formed by the philosophical saint Adi Shankaracharya, this temple was transformed into a holy pilgrimage site for Hindus in the 8th century that is nearly 2000 years ago. As per Shankaracharya, he dreamt of Lord Vishnu asked him to take out his idol from the holy river- Alaknanda and place it in a temple so that people could worship it. And the next day, he found a black granite idol of Lord Vishnu in a sitting posture with a shiny stone on the forehead. He did the same and this way Badrinath became a pilgrimage site.
It was a bodh temple before but was destroyed by the Chinese and this idol of Lord Vishnu was thrown by them in the Alaknanda river but then Adi Shankaracharya installed it again, it became a Hindu pilgrimage site.
Then in the 17th century, Garhwal Kings held a Badrinath temple and rebuilt some of the parts of the temple which were destroyed due to natural disasters, and then, it became a very popular pilgrimage site for Hindus.
Mythological Beliefs
According to many Puranas and scriptures, it is believed that when the Ganges river was transmitted on earth, it was split into 12 different streams by Lord Shiva. One part was split at the Badrinath place and hence named Alaknanda.
This place is believed to be the oldest one existing since Satyugh. So, this Badrinath Dham is known to be a place where nature meets god.
The main belief about this temple is whoever visits this temple is freed from the trouble of rebirth and attains salvation afterlife.
It was a wild area in ancient times owned by Badri and hence was named Badri Van. So, this temple was also named behind this as Badrinath mandir.
It is also believed that once Lord Vishnu came to this place in austerity for many years as he was scolded by a saint when he saw that Lord was lying sitting idol and Goddess Lakshmi was giving her a leg massage. He came here and hence; the black granite idol is also in the sitting posture as same while he was in austerity.
A wonderful conspiracy of Lord Narsingh- a temple of Lord Narsingh is situated in Joshimath where his idol has a wonderful conspiracy behind Shaligram rock. The left hand of his Vigilance is diluted over time, it is becoming thinner than before. It is said that once the wrist breaks, there will be a confluence of Nar-Narayan. Nar-Narayan is also believed to be referred to as Arjun and Lord Krishna as per a Purana. The Nar-Narayana temple is also worshipped and an Akhand deep is illuminated, described as a symbol of immutable Gyanjyoti.
Bhavishya Badri: A temple located 6 miles away from Joshimath on the road leading to Kailash which indicates the meaning and the belief behind this. It is a future Badrinath i.e. when Nar-Narayan mountain ranges will converge and meet each other, the current temple will no longer exist. This Bhavishya Badri will be the new pilgrimage site then. The idol of Lord Vishnu is in the Narsimha avatar indicating (incarnation of evil).

Half of God's form: A rock near this temple shows half the image of God appearing if one tries to see clearly and with trust. It is believed that when this rock will be completely transformed into the Lord's shape, the philosophy of Lord Buddha will become true.
Nearby Places to Visit Except For The Main Temple - Sighseeing Around Badrinath Temple
Pundukeshwar

A sacred place to visit located in-route to Badrinath i.e. just 22.6 km away from Badrinath and 18kms away from Joshimath. With an elevation of 1829m from the sea level, Lord Kuber is worshipped here.

Yoghayan Badri Temple

Located in Pundukeshwar itself and at a distance of 23kms from Badrinath, this temple is one of the Sapta-Badri temples i.e. one of the seven. A sacred place to worship Lord Vasudev.

TaptaKund

As the name indicates, it is similar to a Hot spring bath. It is considered very holy since the water remains constant at a temperature of 55-degree Celcius throughout the year regardless of the weather. It is mandatory for everyone entering the temple to bath once from here.

Neelkantha Peek

It stands at a height of 6596m above the sea level over the Alaknanda valley.

Charan Paduka

A rock with foot impressions believed, belonged to Lord Vishnu is a must to be worshipped. It is believed that it exists from the time when he came here in austerity.

Mata Murti Temple

Just 3kms away from Badrinath, this holy Devi temple is situated on the right bank of Alaknanda river.

NaradKund

A very sacred kund i.e. a hot spring bath where Adi Shankaracharya found the Lord Vishnu idol. It is a bay in the river Alaknanda enclosed by a giant rock forming a tub-like shape.

Ganesha Cave

A cave named after Lord Ganesha is just a km away from Badrinath. It is believed that Lord Ganesha penned Mahabharata(an epic) here.

BheemPul

It is located in the mana village. It is a place where Pandavas started their journey to heaven. Draupadi was not able to cross a river so bheem made a pul (placed a rock to cross it).

Brahma Kapal

A place where Lord Brahma lost his 5th head when he got into a fight with Lord Shiva and in anger, he burnt his head. It is a place where pay regards to their lost ones.

Sheshnetra

Just a few km away from Badrinath is this holy place whereas per Hindu mythology Lord Vishnu took retreat on a snake named AnanthaShesha.

Vyas Cave

Badrinath is the place where saint Vyasa lived. This cave exists in Mana village. It is believed that sage Vyasa composed the epic Mahabharata here with the help of Lord Ganesha.

PanchShila/Dhaara

As the name suggests, these are the 5 streams that originate from Badrinath i.e. PrahladDhara, KurmaDhara, BhriguDhara, Urvashi Dhara, and Indira Dhara. These together form 'PanchDharas'.

Satopanth Trek

It is also called Glacial Lake of Divinity. It includes a total i.e. the highest altitude lake. It is famous for the scenic beauty giving a new view to this holy place. It is just 25kms away from Badrinath.

Bhavishya Badri Temple

It is located on the road linking to Kailash parvat and is around 6miles away from Joshimath. This temple has very fascinating beliefs. It has a single statue and that of Lord Vishnu as Narasimha avatar (half-human and half-lion) and is considered as the new Badrinath of the future.
Best Way to Reach Badrinath: How to Reach
Any means of transportation can be used. All the routes finally combine Rishikesh which is 297kms away from Badrinath. After Rishikesh, the only option is to go roadways i.e. hire a taxi, take a personal vehicle or a bus can be used. From Rishikesh, you need to cross Devprayag, Srinagar, Rudraprayag, Karnaprayag, Joshimath and then Badrinath is on the destination. This is the easiest way as you may find many hotels and restrooms etc. in the way for better travel.
Airways

Flights can be used. You can board the flight and reach the nearest to Dehradun Airport. After that, roadways/ railways are an option to reach Rishikesh.

Railways

The nearest/ last railway station to Badrinath is Rishikesh. Then, no rails are connected further.

Roadways

There are some direct buses which board early morning directly to Badrinath or the other option is to hire a taxi or take your conveyance. The roads are wide and clean. So, this can be considered as the best way to reach there.
FAQ's
Q.

Is Badrinath Dham open for worship throughout the year?

No, Badrinath temple opens for only half a year i.e. from April to October/November. It opens on Akshay Tritiya and closes on the auspicious occasion of Bhai Dooj i.e. just 2 days after Diwali which is a year as per the Hindu Calendar.

Q.

What are the timings of visiting the temple for darshan?

It is open for darshan/worship for certain hours: morning timing is 4:30 am to 1 pm and evening timing is 4 pm to 9 pm. The rest hours are kept for Lord Vishnu's food or sleep time.

Q.

What do I need to carry when planning to visit Badrinath temple?

You need to carry one identity card (most important) and a few passport size photos for an emergency. Other stuff could be rain suits, trek pants, shoes, and similar stuff.

Q.

Is the ATM facility available or I need to carry cash?

Badrinath is not a remote area anymore. It has all the facilities from banks to ATMs and online payments are also accepted nowadays.

Q.

What about the food and accommodation facilities in Badrinath?

There is an entire range of restaurants, hotels, dharamshalas, or guest houses available in Badrinath offering multiple facilities. There are many shops or dhabas offering food too. You may get cheap to 5-star hotels to stay in or the one on your budget.

Q.

When is the best time to travel to Badrinath?

Generally, it is open from April to November only, but most of the pilgrims arrive during the time of summer (May to July), the temperature remains within 8 to 17-degree Celsius. But it is very populated. After mid-July, the monsoon starts and the temperature drops too. So, September and October are also considered apt by many people but the temperature is low during this time, i.e. it reaches 0 to 5-degree Celsius.

Q.

Is any registration required to visit Badrinath Dham?

Yes, there is a requirement for any registration. You need to make a registration either online or take help from any agency.

Q.

What is the road condition while traveling to Badrinath?

The highway roads are constructed from Rishikesh to Badrinath. You most likely get good and wide roads, but there are some areas where the condition gets poor due to continuous landslides.

Q.

Is there any trekking involved while traveling to Badrinath Dham?

No, there is no need for trekking, one can reach directly through the cars or buses in Badrinath Dham. You just need to walk around half a km from the parking lot to reach the temple.

Q.

Are there any other places to visit except for the temple?

No, there is no need for trekking, one can reach directly through the cars or buses in Badrinath Dham. You just need to walk around half a km from the parking lot to reach the temple.

Q.

Is it safe to travel on bikes or personal cars?

Yes, it is safe to travel. But there are a lot of landslides esp. in the monsoon season i.e. in August or early September, so better to think before you take your vehicle mainly motorbikes.

Q.

What is the importance of this Dham as per the Hindu culture or what is it famous for?

It is one of the 108 Divyadesams dedicated to Lord Vishnu. Lord Vishnu is given one of the highest honours amongst Shiva, Brahma, and Vishnu in the Hindu religion, he is considered as the preserver of mankind. Moreover, it is one of the main Dhams of the country. There are so many beliefs related to its which makes it so important.
Enquire Now