Top 15 Romantic Destinations in India for Valentine's Day Special
India has been one of the most famous tourist destinations of the world from a long time where people from all around the world come to spend their Honeymoon, Valentine's Day and other romantic trips. Even the people in India travel like to visit these places time to time as these places carry the very essence of romance that can is required to spark the relationship between two people.
Some of these places have been regarded as world heritage as the beauty of these places are simply mesmerizing that anyone can even think about.
Valentine's Day does not end with red roses, candle lite dinner and a kiss. It is time to think about the background too. On this day of love, are you planning to take a small vacation to kindle your love? Well, India is not a foreign land for love.
These are some of the Most Romantic Destinations in India to make your Valentine's Day more special with your loved one.
#1. Valentine's Day in Minicoy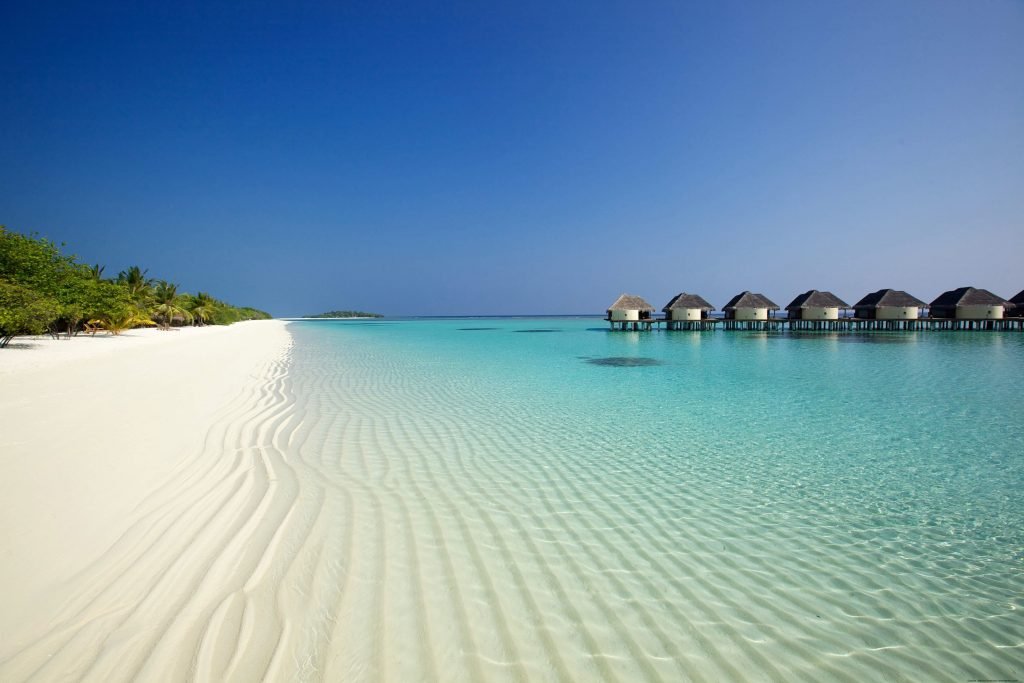 Minicoy is very famous for water and beach activities. You can find many interesting beaches, islands, coral reef, lagoons and others here. The second largest Island of Lakshadweep and the capital of the place has unparalleled exotic beach locations to enjoy a romantic time. The white sandy beach, paradise climatic condition and the fresh vegetation make the destination more beautiful. February is one of the tourism season too. You can find many private spots to enjoy a cuddling valentine's day.
Top romantic activities to enjoy in Minicoy are
Enjoy a beach picnic at any of the lagoons
Watch sunset with alcohol from any of the beach or lagoon
Catch a panoramic view from the lighthouse
Have a luxurious sunset yacht trip
Enjoy leisure private boating
Suggested Tour : 5 Days – Itinerary of Lakshadweep Tour
Explore: Top Tourist Attractions and Things to Do in Nainital, Uttarakhand
#2. Valentine's Day in Ooty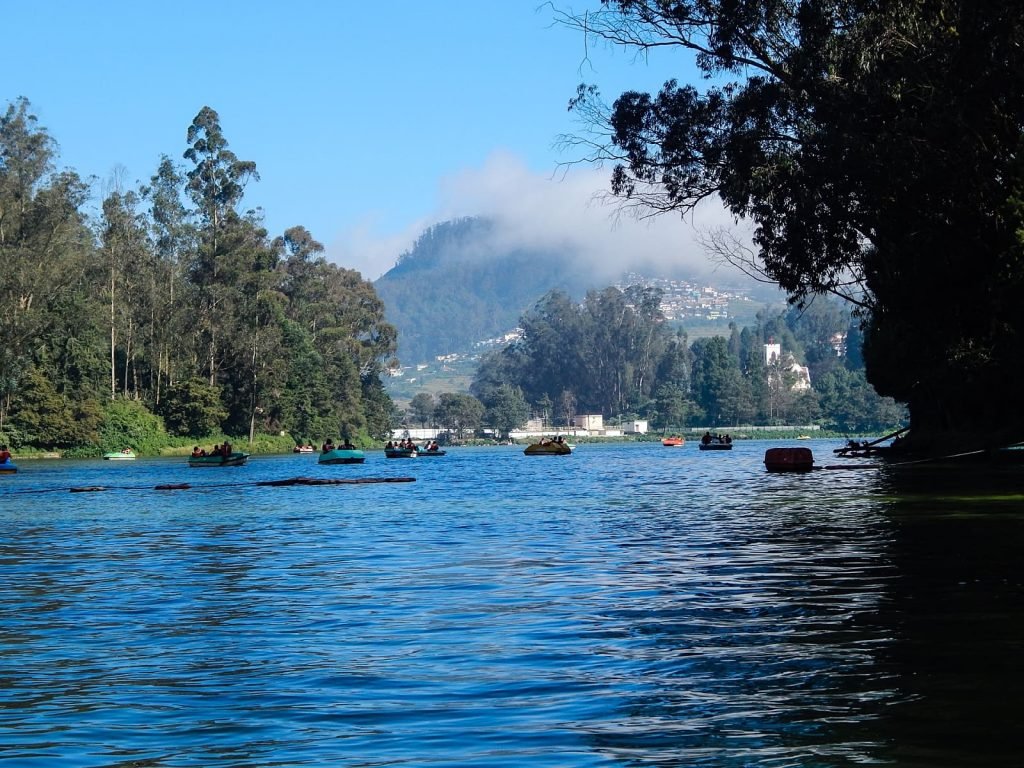 The Queen of hill station in Southern India is a cliché honeymoon destination. It has all elements that can kindle love between couple. Starting from the mild climate to the sweet dew nature, the place is a champion of love. The panoramic nature adds more rejuvenating strength to your vacation. It is recommended to enter Ooty via the toy train for an unmatched experience.
Top romantic experience in Ooty are –
Romantic plantation stroll early in the morning are late afternoon
Toy train ride
Picnic lunch at any viewpoint
Hand-in-hand stroll in the rose garden or botanic garden
Lazy boating on the Ooty lake
Suggested tour – 7 Days  Kerala with Ooty Hill Station Honeymoon Tour
#3. Valentine's Day in Nainital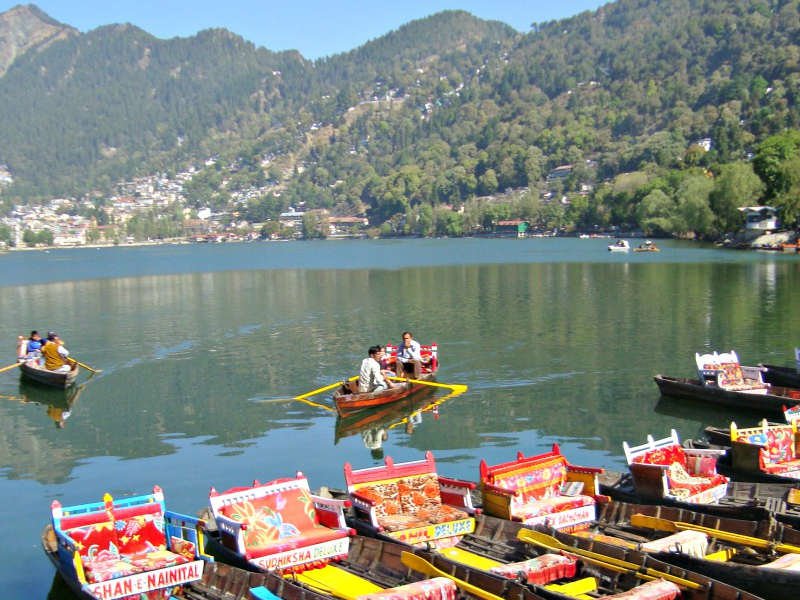 What can add fairy-tale effect to your Valentine's Day than a natural ecstasy location on a perfect hill station? Nainital is an iconic honeymoon destination in India that is famous for its natural elements. You can find many scenic spots to enjoy lazy strolls. Horse trekking, ropeway travel and cave exploration are some of the adventure activities to enjoy for adrenaline lovers.
Starting from romantic boating to exotic Himalayan botanical garden, this place has even tale-told elements that are customized for Valentine's Day. This is a great adventurous and romantic place at same time with the like of boat ride, trekking and other various activities that can make people fall in love with this place.
There are various places like the Naini lake, Cave gardens, Tiffin top, Snow viewpoint and many more where the couples can enjoy their time together. There is some famous zoo in Nainital which make the place worth a trip as it has a pleasant climate all time around the year.
Top classic romantic activities in Nainital are –
Sunset yacht ride on Nainital lake
Picnic or sightseeing at Naina peak
Watching sunrise from Naina peak is the iconic romantic activity here
Visit Snow View point to enjoy some quality time
Suggested Tour :
#4. Valentine's Day in Manali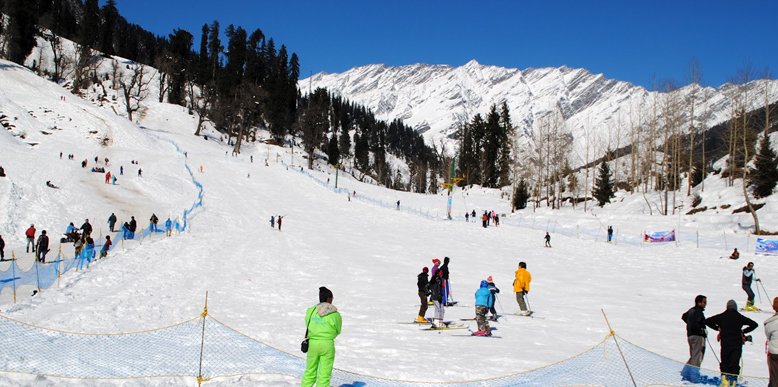 Are you looking for a Narnia styled destination? The snow filled Manali is not just for simple travelers. Do you want all nine yards for your day? You can enjoy adventure activities like trekking, paragliding and skiing to enjoy the adrenaline gush. Are you looking for a silent vacation? Manali is the dream location for your love day. You can find viewpoints, trail tracks and many others.
This is one of the best hill stations in the world with snow covered mountain and epic picturesque to bring the happiness among the couples. This is one of the best places to visit in the summer season to escape form the scorching heat of the sun. A lot of couples come here to engage themselves in adventurous activities and many more things to explore and go back with their best memories.
Top romantic activities in Manali are –
Stay overnight in a treehouse or a Swiss tent
Enjoy play time with snow at Rohtang Pass
Have a little snuggling over a hot cup of tea on any mountain pass
View any hill town for a picnic
Have a couple bathing time at any hot spring
Suggested Tour Packages – 8 Days Shimla Manali Kullu Honeymoon Tour
#5. Valentine's Day in Alleppey
Are you looking for a peaceful nature filled Valentine's Day? You can say it with the tropical paradise of Kerala. Houseboat ride on the backwater or a cruise on the backwater is the iconic romantic activity of India. This is possible here. You can also enjoy couple's Ayurvedic massages to let go of stress. Nature is served at its purest form with coconut groves, paddy fields, lush vegetation, palm covered canals, lagoons and others here.
Top romantic activities in Alleppey are –
Houseboat ride on the backwater
Sunset luxury cruise for a romantic evening
Couple's chocolate massage is an iconic honeymooner spa treatment of this place
Some lone time in a lagoon
Enjoying sunset from the backwater
Suggested tour – 7 Days Kerala Tour (Honeymoon Packages)
Read More – Most Romantic Honeymoon Places Of Kerala
#6. Valentine's Day in Goa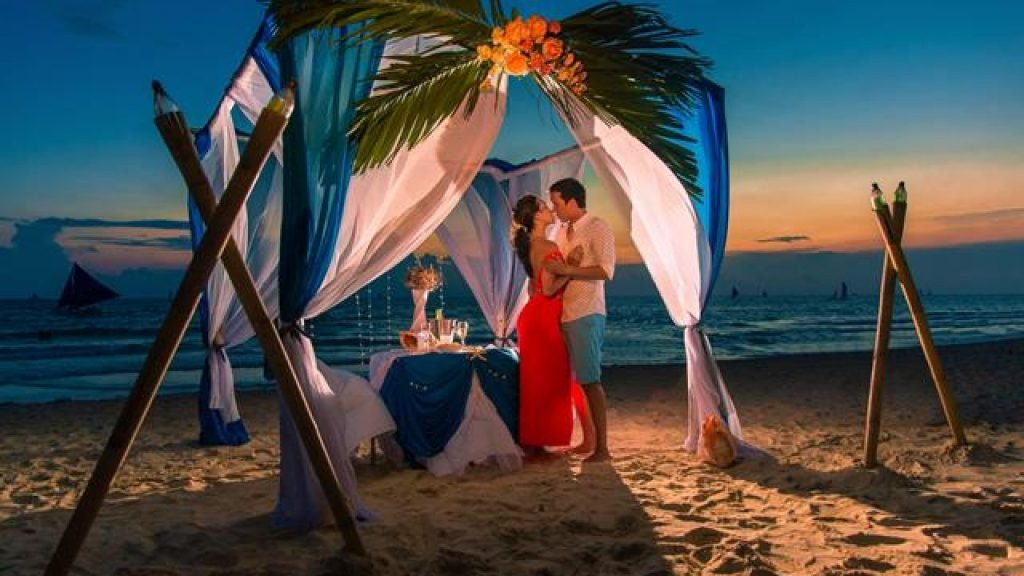 There are 31 different beaches in Goa. There are secluded beach for those who love romance time on the sandy beach. If you are the adventure one, you can choose busy beaches to enjoy almost all kinds of adventure activities and beach activities. Are you the partying type?
Goa is the Las Vegas of India with nightclubs and casinos, Goa Carnival everywhere pumping booze and music into your veins. Apart from these, you can find sightseeing spots, spice plantation and others for a mild vacation time.
The whole state is famous for its erotic beaches all over the world as it gives the opportunity for people to enjoy some nice sunsets along with the ability to drop their tension and take the romantic mood over them.
The weather here is one of the nicest with clean air and fresh breeze that can keep the romantic spirits high. There is a wide variety of cuisines available along with the cruise rides that couples often take where they can watch the rich cultural folk dance of the locals.
The locals often welcome the people who visit there, and a lot of local guides are seen helping people to help travel as well as try new dishes.
Top activities to enjoy on Valentine 's Day in Goa are
Enjoy sunset at any beach or from Chapora fort
Have a lazy beach picnic in a hammock under shady coconut trees
Enjoy couples massages in spas
Have a pumping night at any club with alcohol, music and dance
Suggested tour – 6 Days Goa Honeymoon Tour
Read also: Why Goa is the Most Preferred Travel Destination in India?
#7. Valentine's Day in Havelock Island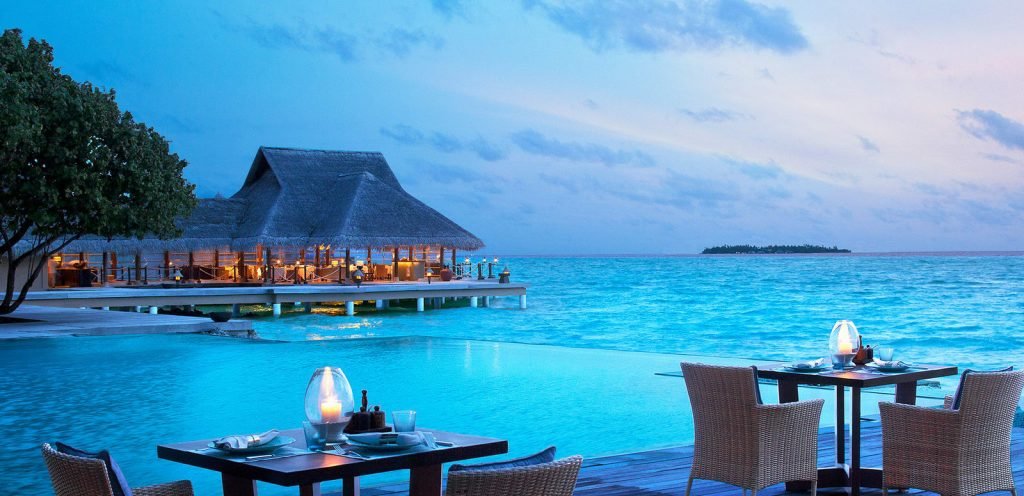 This is the largest island of Andaman and is famous for its collection of exotic sandy beaches, warm lagoons and exciting nature. The beaches are the best spot for water activities, romantic picnic and lone time with your special one. You can turn it into a beach party with bonfire, music and dance.
If you are looking for some adventure time, you can enjoy many water activities like surfing, diving, banana boating and others. Are you planning to add more water to your romance time? Rent a water bungalow for your stay.
The Andaman and Nicobar Islands are a series of Islands which are situated in the Bay of Bengal. They offer some amazing sea with a great landscape due to which a lot of people from all over the world and India come there to enjoy their time out.
The pristine water and uncrowded beach make it very romantic as well very peaceful for all the people who come there. A lot of activities like surfing, beach volleyball and many sports can be played along with romantic dinner dates along the beach which sets the spark for a romantic couple.
Top romantic things to enjoy at Havelock Island are
Romantic candle light dinner on the beach
Beach picnic in a hammock
Sunset from any beach as you share a drink
Dive into warm lagoon with your loved one
Enjoy water bungalow night or camping in luxury tents.
Also Read : How Safe Is Andaman And Nicobar Islands?
Suggested Tour:
#8. Valentine's Day in Kashmir
Kashmir is the answer to what happens when snow and lush vegetation mix. Starting from rich rivers to snowcapped mountains, this is the place for everything. You can enjoy the culture, complex cuisine, folk dances and others.
Are you planning alone time? You can enjoy boating, picnic and others. Are you adventure folks? You can stick with snow activities, trekking, hiking and others. You will never forget the magic that the land casts on you every second.
Top romantic activities for every couple in Kashmir are –
Stroll through Mughal garden on a misty evening
Enjoy long lazy walks in Kishtwar
Bhaderwah has the best streams for a picturesque picnic time
Silent drive to Uri and a private picnic in the valley
Enjoy sunset from Lolab valley or any viewpoint
Also Read : Best Places to Visit in Jammu & Kashmir
Suggested Tour :
#9. Valentine's Day in Udaipur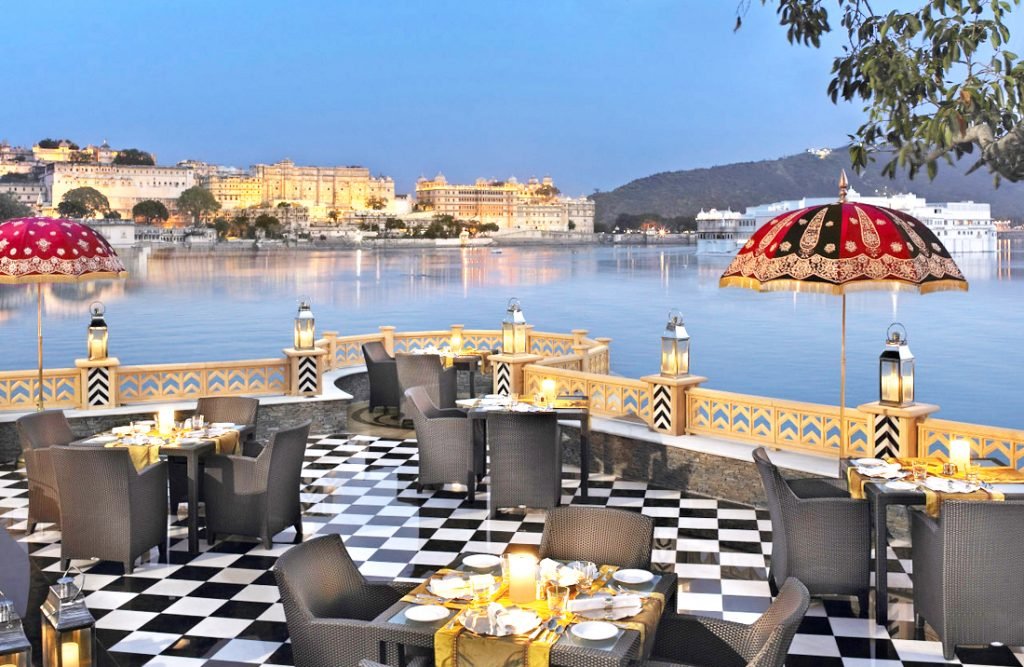 This is the City of Five Lakes, which are most famous for romantic elements. Sunset boating is the iconic romantic activity here. If you are looking for a luxury Valentine's Day, Udaipur can make a wonderful destination for you. Surrounded by forts and castles, this destination has the power to make your re-live as a royal clan.
This is one of the most beautiful cities filled with wonderful people and a lot of palaces and forts where a rich heritage has been preserved. The hotels are surrounded by a lake which give them a nice vicinity that anyone can think of.
This beautiful place makes it one of the most romantic places in India for anyone on the world to be in. the lakes can be used to ride on boats which will make the trip even more romantic as it has done for a lot of couples in the past.
People can easily approach the havelis, palace and other various buildings through the boat and enjoy the romantic trip. It has architectures from various rulers over the years and inscriptions carved on it that leave people spellbound.
Also read – 
Top romantic activities that are iconic to Udaipur are –
Watch sunset from the sunset terrace
Stay at any of the palace to have a royal romantic time
Dinner overlooking the glitter water at Ambrai restaurant
Camel safari with your special one
Suggested tour – 6 Days Rajasthan Honeymoon Tour
Explore our Udaipur Travel Guide
#10. Valentine's Day in Agra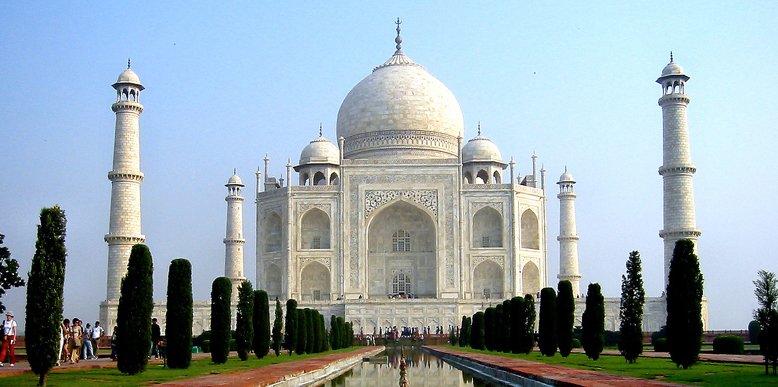 What can express love more than a World Wonder that was built was for love? Agra is the destination that can kindle love with architectural sightseeing. You can find many interesting viewpoints to enjoy the city too. Agra is also famous for shopping. If you are looking for a luxury time, you can rent heritage hotels overlooking the love monument, Taj Mahal.
The entire world perceives the image of affection that was worked in Agra by the Shah Jahan, a Mughal Emperor, for his cherished Mumtaz Mahal. It is worked with delicacy and itemized work of carvings and calligraphic messages on the white marble which makes it worth visiting.
Many individuals from everywhere throughout the visit this landmark to meet their couple objectives just as snap some awesome shots. Other than the Taj Mahal there are other great monuments built here like the Agra Fort and many other which are even recognized as World Heritage by UNESCO.
Top romantic activities to do in Agra are –
Visiting Taj Mahal
Lazy picnic near Keetham lake
Stroll through the gardens of Ram Bagh
Visiting Taj Mahal on a full moon night (night entrance is allowed on full moon night, the night before and after full moon)
#11. Valentine's Day in Jaisalmer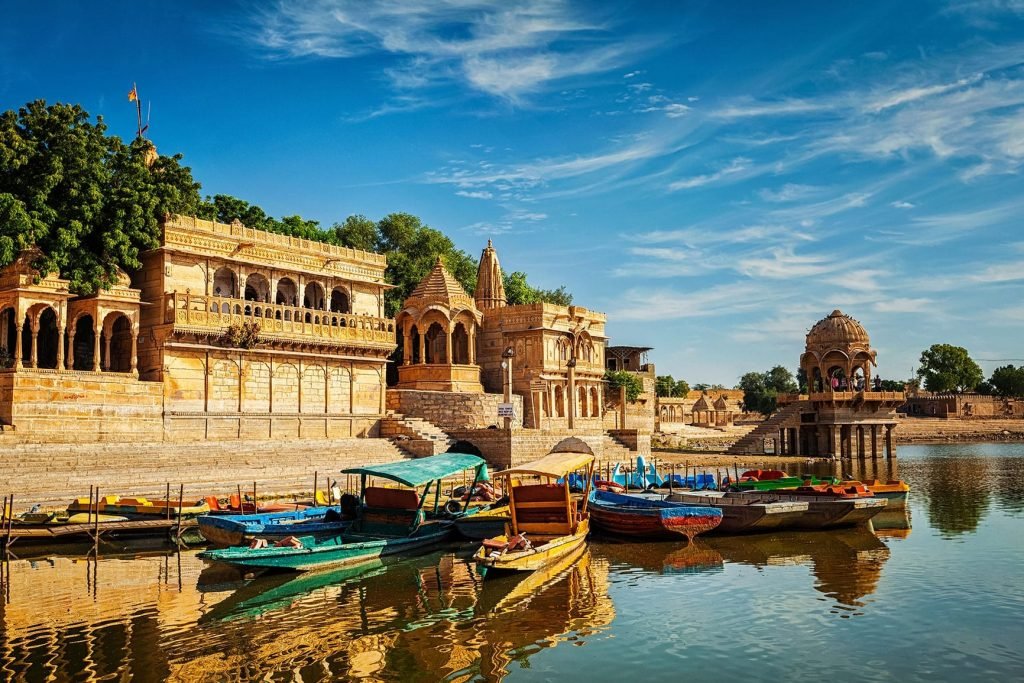 Jaisalmer is also referred as Romantic Arabian nights cliché as the beauty here remarkable along with the sandstones that formed magically by sand dunes in the middle of desert. This place has a historic importance for India as it connected it to West world.
Some of the forts here are built in 11th century making them oldest forts in India along with some great havelis, palaces and other remarkable great places.
Suggested Tour :
#12. Valentine's Day in Shimla
Shimla is one of the most beautiful hill stations in the world that even during the time colonial period the Britishers name it as summer capital for the pleasant and eccentric environment it has specially during the summertime. People can come here from trains to enjoy a clean and clear environment with steep heels and other various adventure activities like mountain tracking and hiking.
At the height of 2200m this place surely knows how to spark the romantic angle in various couples and hence it one of the reasons that a lot of people come here on their Honeymoon as well. There are some luxury hotels which can make the stay relaxing as well as enjoy some services like spa's city trips, gift shops and many more to take back some of the best memories as well as the romance in life.
Also Read : Best Places to Visit in Shimla
Suggested Tour :
#13. Valentine's Day in Kanyakumari, Tamil Nadu
The southernmost tip of India where both the Arabian Sea and Bay of Bengal meet along with the beautiful sunset and moon rise makes it one of the most beautiful and romantic journeys for couples.
There are few prominent temples here which make it busy with pilgrims and an opportunity for the couples to catch some picturesque sights along with blessings of the god to find peace as well romance into their life.
Suggested Tour : 7 Days – Tamilnadu Kerala Culture Tour
#14. Valentine's Day in Kodagu, Karnataka
The Coorg is the English name given to Kodagu region which alluring mountains that can mesmerize people. It is very famous for coffee plantation and the stunning beauty given by mountains is captivating.
It is one of the best places for any couple in the world to enjoy their Indian honeymoon with some great taste in food and excellent coffee that is available here. The fragment aroma along with spicy cuisines and beautiful scenery can make sure to turn on the romance in couple life.
The gardens here were enjoyed by kings of medieval times and now people from all around the world can enjoy it.
#15. Valentine's Day in Darjeeling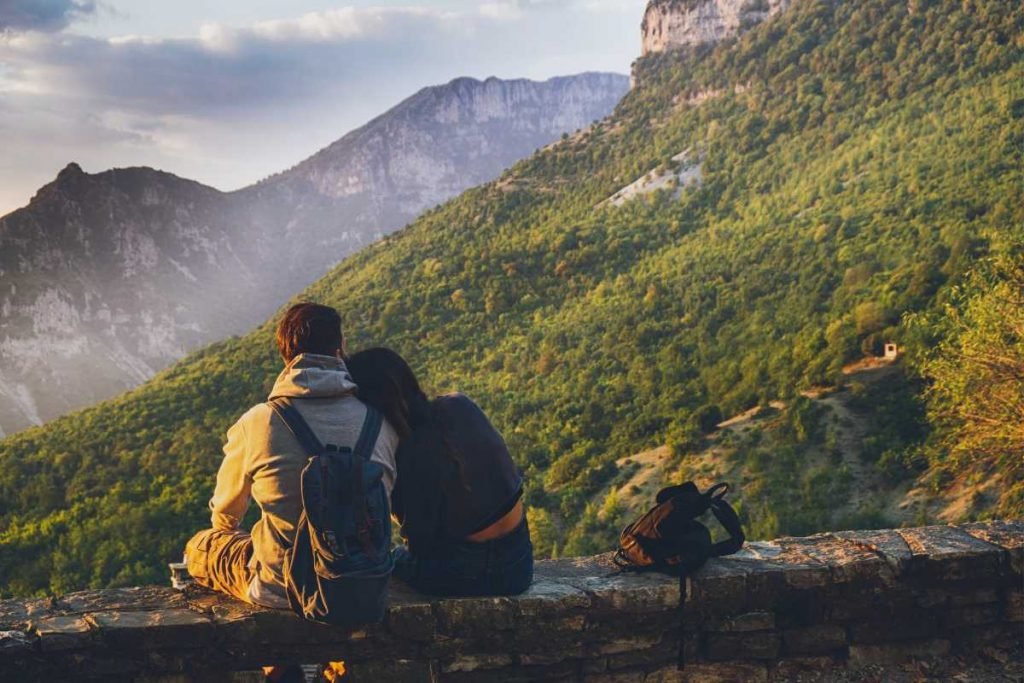 Darjeeling is a very famous place in West Bengal for its ability to produce tea leaves in large quantity and the wonderful hill station that it has been. The climate here is cool for most of the year and at the height of 2050 meters it receives a lot of rainfall and thus rejuvenating the romantic mood with its ancient style architecture.
The sweets of West Bengal are very famous along with the festivals people celebrate here.
Suggested Tour :
#16. Valentine's Day in Rishikesh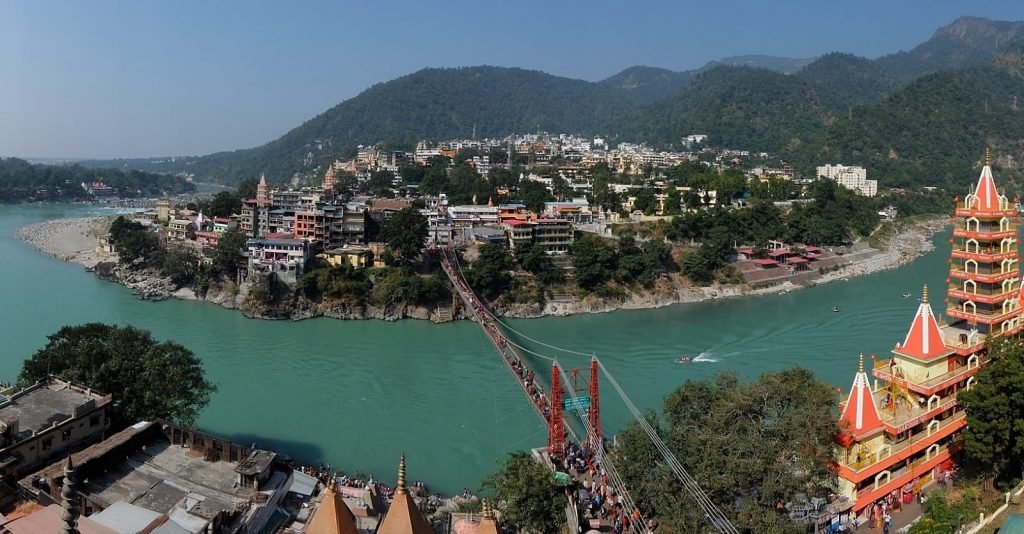 The Ganga River flows from this epic land which makes it one of the ultimate tourist destination as it allows the people to do a lot of activities like cannoning, kayaking, rowing and many other adventures activities with a group along with spa and massages as couples which can be relaxing.
There are a lot of hotels in Rishikesh where couple can stay during their honeymoon duration or romantic vacation to escape the city lives and hustle in exchange for peace and romance.
Read more – International Yoga Festival 2020
Suggested Tour :
#17. Valentine's Day in Kovalam, Kerala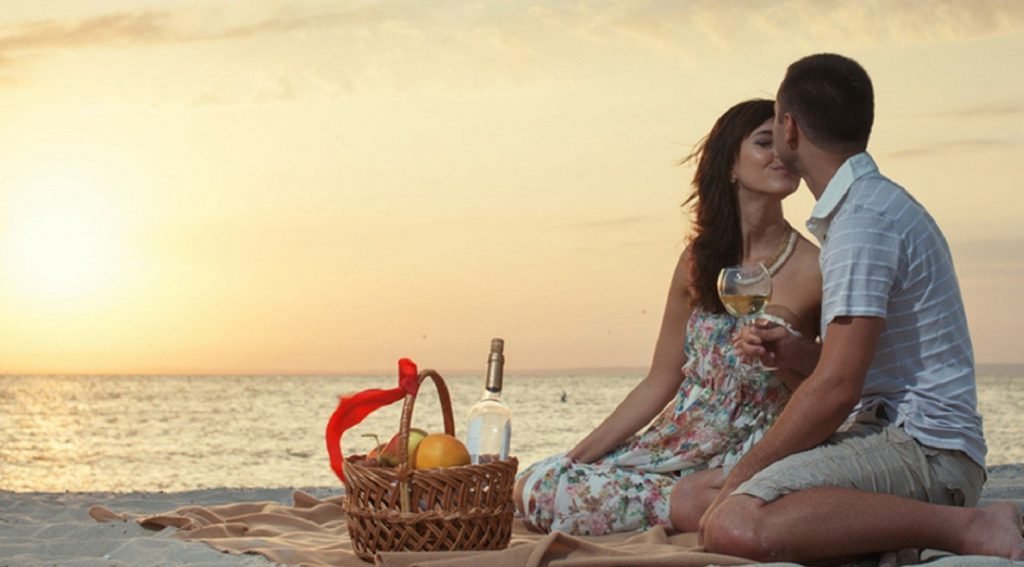 It is an exotic beach destination in Kerala where thousands of people visit, and romantic couple often make their way here from the Thiruvananthapuram lag. The state of Kerala is already the ultimate tourist destination in India and Kovalam is nothing less.
Couples in Kovalam can take a ride in bamboo boats which sets the mood for a romantic ride with the addition of night sight-seeing and slow rowing in amazing waters. The food and cuisine of Kerala are one of the best with the wide variety that is available to the people and couples.
The beaches in Kovalam are always considered good for surfing with the availability of spa and herbal treatment to cheer someone up.
#18. Valentine's Day in Imphal
It is one of the best romantic getaways where people can enjoy the untouched beauty on boat rides. The forests, lakes and the wildlife there is forth watching for along with the great service provided.
A lot of people who like to celebrate their honeymoon with adventure as well as a lot of romance often choose this as one of their destinations. Places like Imphal have decreased a lot over the action of time. Imphal has become a unique place in its own way and hence it should be visited.
Suggested articles –