Lake Pichola – Travel Guide to Udaipur's Finest Place
We all know that Udaipur as the romantic gateway of India and the City of Lakes but this glory and pride came from the beautiful lakes of Udaipur. Among them, most important and major significant attraction for Udaipur tourism is Lake Pichola. It is very common; the very first place sparkle in our minds when we hear the word Udaipur is Lake Pichola.
Now we are going to round up the attractions around Lake Pichola with this travel guide.
About Lake Pichola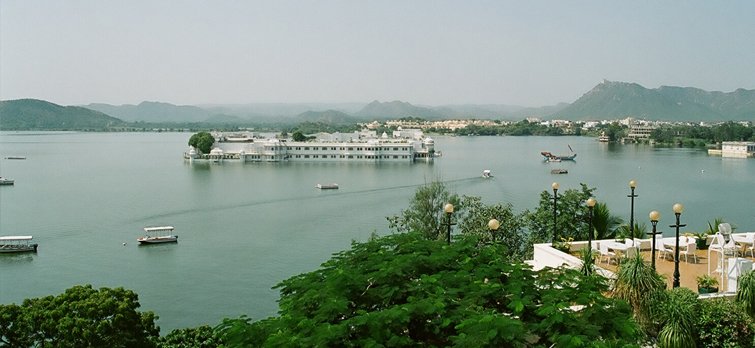 Lake Pichola is an artificial lake built in the 14th century and it is one of the major attractions of Udaipur. It is located amid of lush green hills and with majestic palaces, temples, bathing ghats, and monuments. In one word, it is the prime tourist spot in Udaipur to be visited.
The key attractions in and around this lake are Taj Palace, Jag Mandir, Mohan Mandir, City Palace, and Arsi Vilas Island. Completely there are four islands in this lake which are major attractions here.
Also read: Top 6 Tourist Attractions of Alwar
Suggested Tour Packages
The Four Islands of Lake Pichola
These four islands of Lake Pichola are the key attractions and they are Jag Niwas Island, Jag Mandir Island, Mohan Mandir Island, and Arsi Vilas Island. In these islands, different royal mansions, sanctuaries, and festival celebrating places are there. In these islands, you can witness many interesting facts of Udaipur royal kings.
1. Jag Niwas Island
Jag Niwas is located at the center of Lake Pichola and it is home to Udaipur's famous palace known as "Lake Palace" or "Taj Palace". This majestic palace was built by Maharaja Jagat Singh as a royal summer retreat and later it was converted into five-star palace hotel in Udaipur.
Explore: Top 10 Places to Visit in Bundi, Rajasthan
This Lake Palace is one of the finest and well-known five-star luxury hotels in Udaipur by the Taj group. At this palace, you will be mesmerized with beautiful architectural skills and the history of the palace through many themes and related things to royal families.
Lake Palace is the best hotel to stay in Udaipur and can enjoy the wellness a lot in the middle of Lake Pichola. It provides all facilities and requirements at any times with 24 hours business center and recreational arrangements like a swimming pool, conference center, bar, and restaurant etc.
Read also: 
2. Jag Mandir Island
Jag Mandir is another Island in the middle of Lake Pichola and it looks like a marble floating residence. It was named after to the honor of Maharana Jagat Singh as "Jagat Mandir" and also known as "Lake Garden Palace". This immense palace was built in the 17th century.
Tourist can reach this place with the help of boats from the Bansi Ghat. From the beginning of the palace to end, you can experience a wonderful marble usage in this palace. Here in this palace, you can experience the architectural styles of Rajputs and the white marble elephant structures welcoming tourists are the best examples.
The major attractions of Jag Mandir Palace are the Gul Mahal and a small museum. Gul Mahal looks very beautiful surrounded with red and black marbles apartments with murals and paintings.
Read also: Places to visit in Rajasthan in November
Must Read: Top 10 Tourist Places in North India for Winters
3. Mohan Mandir Island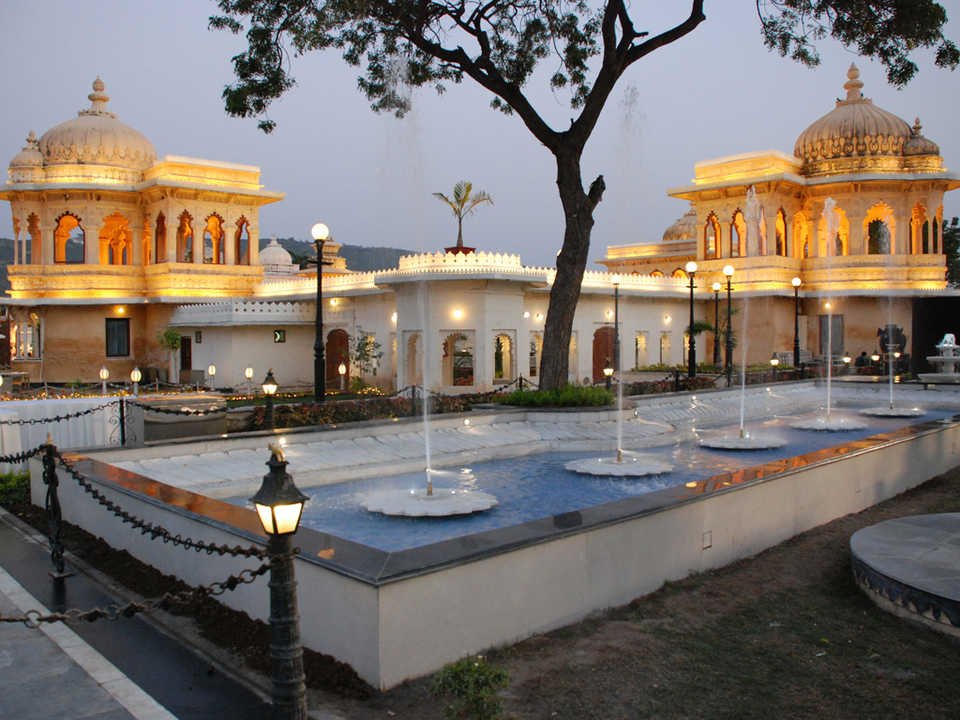 Mohan Mandir Island is comprised of a temple built by Jagat Singh in the 17th century. This monument looks like a temple but there was no deity in it. According to history, this monument was built in memory of the unofficial son of Maharana Jagat Singh. And the king used this site to watch the Gangaur festival celebrations.
At present this place was taken by the state government and it is now celebration spot for Ganguar festival. During the festival of Ganguar, you can witness huge fireworks on this Island.
Also read Famous Colourful Fairs and Festivals of Rajasthan
4. Arsi Vilas Island

Arsi Vilas is the last Island located on the west coast of Lake Pichola at the back of Jag Niwas. This Island comprises a palace and now as a retreat place for birds. Arsi Vilas was built by Maharana Arsi Singh to enjoy the beauty of Lake Pichola during sunset and also used for the armory. And if you observe Arsi Vilas has a lower platform which serves as a helipad also.
At present, this palace was turned into a bird sanctuary. Here many migratory birds stop like kingfishers, coots, tufted ducks, terns, egrets, and cormorants. Arsi Vilas is a great place to see many migratory and rare birds.
These are the four prominent islands of Lake Pichola with many interesting attractions and things to visualize the royal times of Udaipur. These are the tourist attractions inside of the Lake Pichola.
Must Read: 
Outside of the Lake Pichola
Attractions to be seen outside of the Lake Palace are immense like City Palace, Havelis, and Swaroop Sagar Bridge etc.
1. City Palace
City Palace is an immense monument and another major attraction of Udaipur on the banks of Lake Pichola. There is a lot you can see in City Palace because it is a complex of numerous palaces and temples namely Monsoon Palace, Jagdish Temple, etc. Here in this complex-palace, you can see the mixed architectural styles of Rajasthani, Chinese, European, and Mughal.
City Palace is also one of the important tourist spots in Udaipur on the banks of Lake Pichola.
Read also: Best things to do in Shekhawati
2. Different Havelis

At the banks of Lake Pichola, there are so many Havelis. Some are converted into heritage hotels and some have remained. Among them, Bagore Ki Haveli is the important one with a museum and every evening it conducts a cultural show.
Must Read: 10 Places to Visit in Mount Abu for Honeymoon
3. Swaroop Sagar Bridge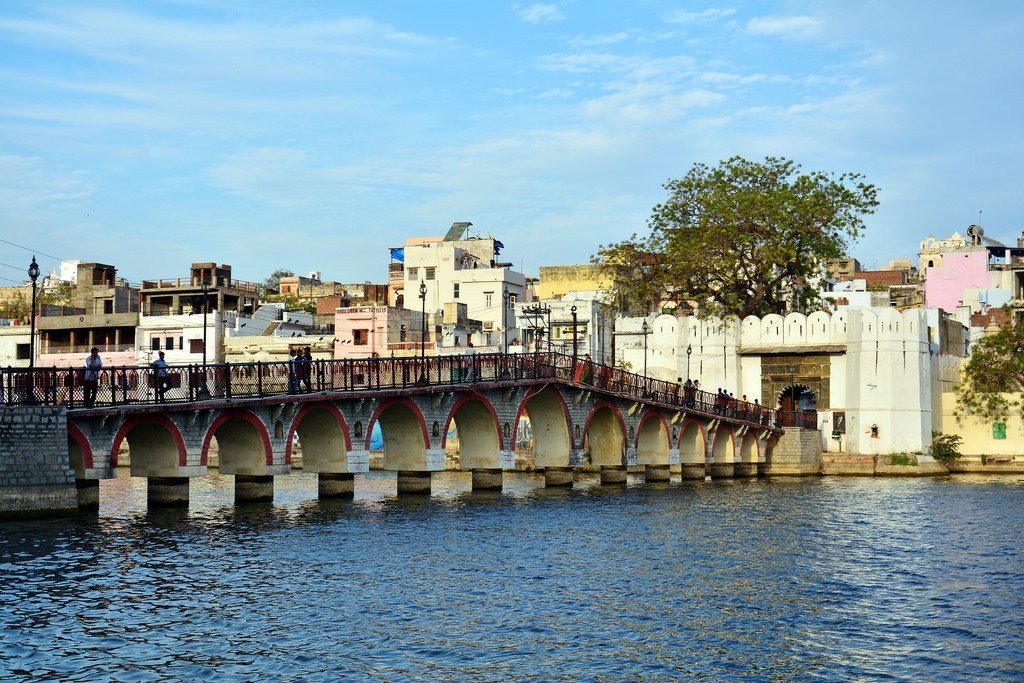 Lake Pichola is well connected to many different small lakes in Udaipur. Among them, Swaroop Sagar is one and this bridge was constructed on the meeting point of Lake Pichola and Swaroop Sagar. This ornamental bridge was built by the king Swaroop Sagar.
These are some popular tourist spots and most you can enjoy the lush greenery of Aravalli hills.
Read Also: Top 20 Must Visit Attraction in Rajasthan
Activities can be done here
Near Lake Pichola, you can enjoy many things like boating on Lake Pichola, shopping, having dinner on the banks of Lake Pichola.
1. Boating
Never miss a boat ride on Lake Pichola. It is the must-do activity to enjoy the beauty and charm of the lake. It will be more interesting and enthusiastic if you go for a boat ride in the evening. Even some will take a boat ride to Fateh Sagar Lake to enjoy the attractions on the way.
2. Dining Option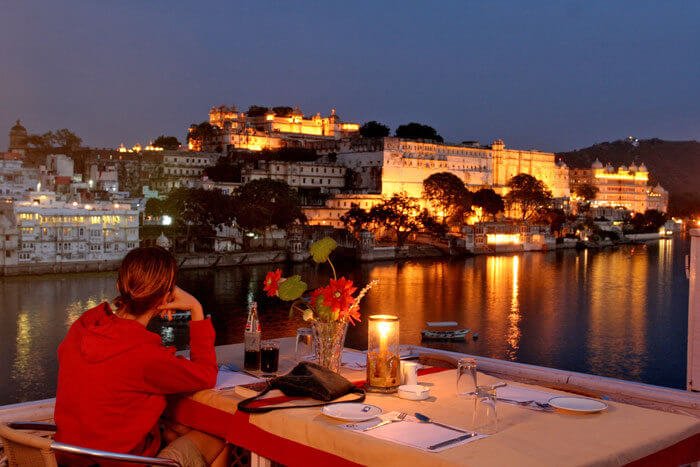 Ambrai hotel is a pleasant environment hotel on the banks of Lake Pichola. You can enjoy the calmness and beauty of Lake Pichola at night while you are having your dinner.
Also check some famous Restaurants In Udaipur
3. Special Ghats
Near Lake Pichola, go for a walk on the banks of the lake to capture the pleasantness. Famous ghats to have a special look of Lake Pichola are Lal Ghat, Hanuman Ghat, and Ganguar Ghat.
Visiting Hours: 9 am to 6 pm
Lake Pichola Udaipur Entry Fee – No Entry Fee
Morning Boat Ride:
400 per person for Adults
200 per person for Children
Sunset Boat Ride:
700 per person for Adults
400 per person for Children
Best time to Visit
Best time to visit the Lake Pichola means from October to March. During this time Udaipur is so pleasant with chilling weather and rainfalls. And the best time for boat rides is from morning 9 AM to 6 PM.
How to reach
Nearest airport to reach Lake Pichola is Udaipur airport or Maharana Pratap airport, 22 kms far away from Udaipur. And the rest of the ways are well connected to the city. So, you can easily reach to Lake Pichola by taxi or regular buses.
Also read about How to reach Udaipur