Travel Guide to Discover Pangong Lake in Ladakh
The beautiful Pangong Lake also known as the Pangong Tso is located in the Himalayan region and is 134 kms long. The Pangong Lake extends from India to China. The lake is situated at a height of nearly 4350 metres. The Pangong Lake is one of the biggest tourist attractions of our country.  This exquisite and aesthetic lake has attracted tourists only from different corners of our country but also from all over the world.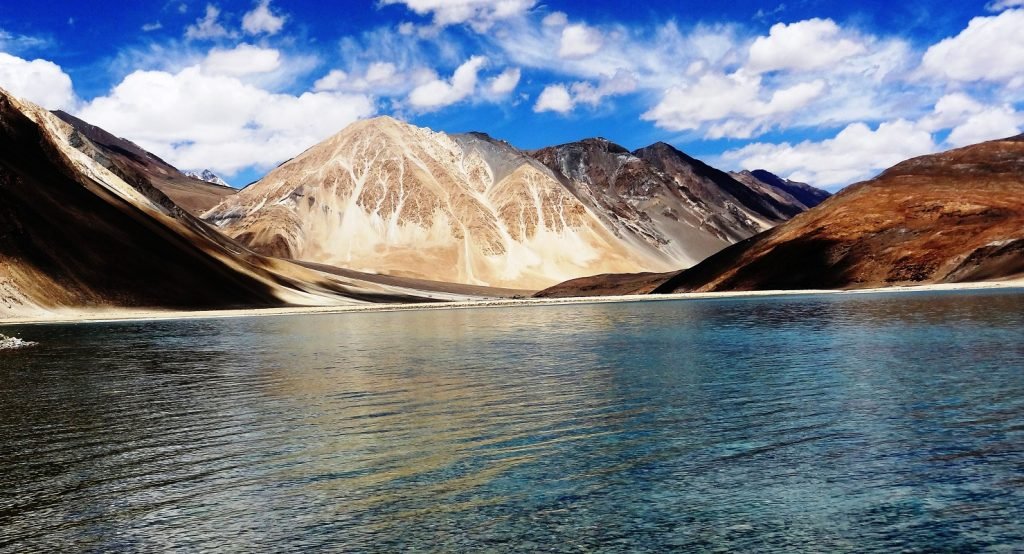 Under the influence of government policies and agreements, the lake is believed to be in a process of being identified as a wetland with international significance under the Ramsar Convention and if it goes that direction, the Pangong Lake will be considered the first in South Asia to become a trans-boundary wetland under this convention. The Pangong lake is situated in the Himalayan range and is nearly 140 kms from Leh which is located in Jammu and Kashmir.
About the Journey:
As it in terms of political barriers, the lake is a long stretch and one third of it comes under our country and the other two third goes to Tibet which is actually controlled by China.
Hereby it is very important for tourists to be precautions in this border region.
The Pangong Lake which is actually situated in Ladakh region, takes around a five hours drive from Leh. Ladakh is considered to be world's third largest motorable pass which is also termed as Changla.
Therefore while you get along the journey you will feel that the heaven is not so far way. The major tourist attraction of this place is the narrow stretch of land that goes straight into the lake. Photographers, travel bloggers, journalists and bikers find this place so special that they come here and record whatever they can as much as they can, truly an amazing environment.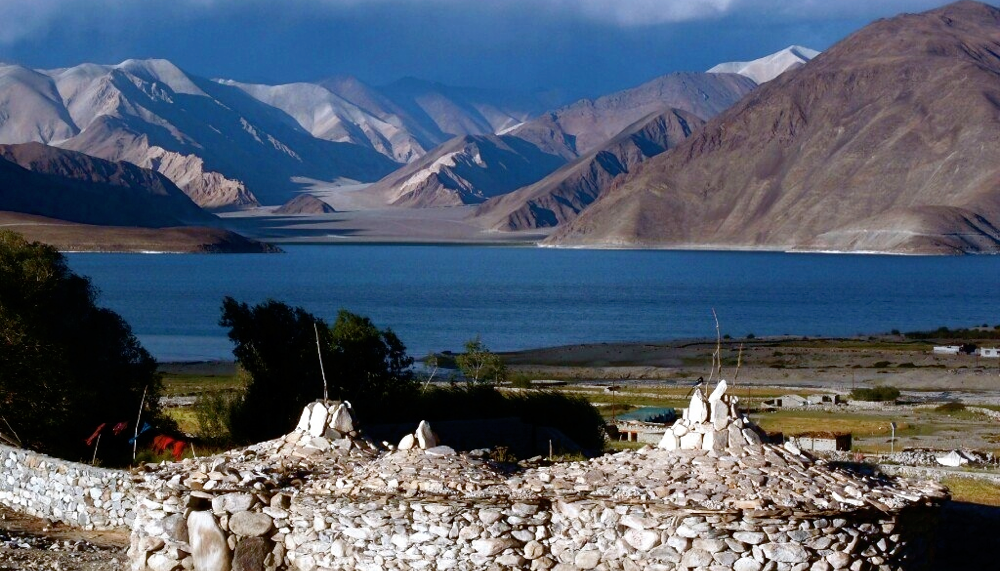 The winters are always no to visit the Ladakh region as the Pangong Lake use to be frozen and such the lake cannot even have any time of aquatic life as well as vegetation.
But Ladakh becomes more beautiful with a lot of migratory birds which includes seagulls, rodents and black necked cranes. The most important and the most fascinating thing which can be done near the Pangong Lake, Ladakh is camping and it will be on the shores of this beautiful lake.
Explore Top 8 iconic Buddhist Monasteries in India for Every Traveler
Things to remember at Pangong Lake, Ladakh
The Pangong Lake falls on the Sino- Indian Line of Control and one needs to take permission to visit the Inner line.
The visitors are allowed only till a certain area of the region as it is located near the Indo-China Border.
The visitors are allowed only to explore the lake till the Spagmik village for security reasons.
Winter clothes are essential even in the best visiting season.
Food is expensive near Pangong Lake and very limited, so one should carry good amount of food from Leh itself or buy some local food dishes from Spagmik village.
Camping facilities can be availed from Spagmik Village but camping is allowed only till the shores of the lake.
Accommodation is also available at Spagmik village where you can find descent hotels or local lodges.
Always pre-book hotels if in case one needs to stay only at hotels and not camping.
Suggested article: An Exhilarating Trip to Ladakh and Kashmir
What to eat at Pangong Lake, Ladakh
There are a very less option of food varieties near the Pangong Lake, Ladakh. If one expects good food and drinks, you will always need to score from Leh. However the Spagmik village will always help you out with their available food sources but with little more expense. The local food in Spagmik village can also be tasted.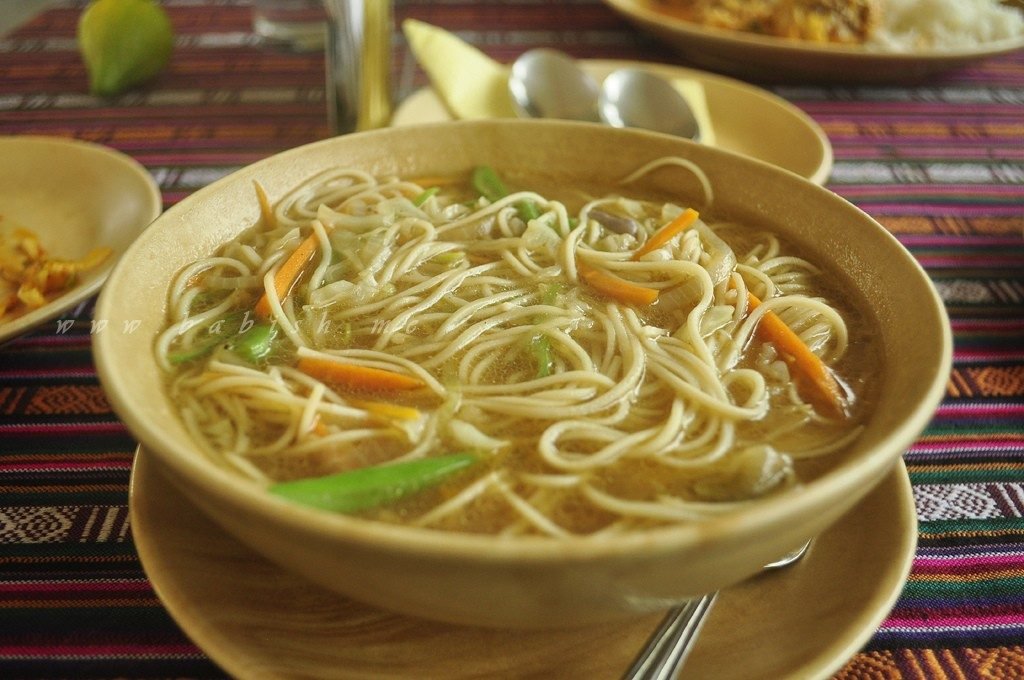 But generally restaurants have non vegetarian options generally Tibetan, Chinese, Korean and also with some local food items such as the Tsampa, Skyu, Momos and in drinks you can also get variety of Tea, Coffee, Beer and Chang which is an alcoholic local drink. If one can initiate the camping facilities near the Pangong Lake, you can easily carry some wooden sticks and arrange bonfire.
This will help you to cook some boiled food as well as fish or chicken barbeque can also be cooked if one can carry manageable equipments. Though maggi packets are also very useful food source. Explore the Cuisine of Ladakh.
You can also check some important travel tips of Ladakh 
Read more: What to expect in leh ladakh during each season?
More Nearby Attractions at Pangong Lake, Ladakh
The Leh-Ladakh region is also famous for the 'Magnetic Hill'– The phenomenon that defies gravity. By following the sign board of the magnetic hill, your car will start moving on its own at upward direction with engines off. This is a pure impact of gravitational forces.
However the location of the magnetic hills is the Leh-Kargil-Baltic National highway, 30 kms from the town of Leh and is located at an elevation of 14,000 feet above sea level. You can also feel the flow of the Sindhu River at the eastern side which originates in Tibet.
Explore: Top Tourist Attractions and Things to Do in Nainital, Uttarakhand
Ladakh is also famous for its Shanti Stupa which is one of the magnificent Tibetan structures. Shanti stupa is dedicated to Buddhism and is a white structured dome. It is located in the hilltop of Chamspa in Leh. It is considered to be one of the most important tourist destinations of this region. The Shanti stupa was constructed in the year 1991 by a Japanese Buddhist whose name was Bhikshu Gyomyo Nakamura.
The construction took place jointly among these Japanese and Ladakhi Buddhists to mark the the completion of 2500 years of Buddhism and also to promote world peace. Shanti stupa can be only reached after a short trekking of 15 minutes from Changspa to the Stupa. It is perched at an elevation of 4267 meters and also displays an amazing view of the Himalayan Ranges.
The Khardung La Pass also known as the gateway to Nubra Valley and Shyok valley is located in the Ladakh Region. It is also known as the Khardung La, is also a very important strategic pass of the Indian army to the Siachen glacier and is also considered to be the world's highest motor able pass at an elevation of 5,604 metres.
Read more about Complete Travel Guide To Plan Your Ladakh Trip
Check out some of the most famous adventurous activities of Ladakh:-
Must read: Famous Festivals and Event in December in India 2018
How to Reach at Pangong Lake, Ladakh
If one is travelling from a major city like Delhi by Road it will be around 1500 kms till Pangong Lake, but considerably if you are taking a rental car, or self driven car you need to first start from Delhi and stop at Manali by evening. By next morning  you will need to start from the Rohtang Pass with security permission are granted via Manali – leh higway via Pangong Tso route.
The route is Leh to Karu to Sakti then to Chang La to Durbuk then to Tagnste to Lukung then to Spangmik and finally to Pangong Lake. This route has one of the best routes. However one can also travel by flight from Delhi to Leh and then take rented car from Leh which will take you to all your desired locations in Leh-Ladakh including the Pangong Lake. Read more about How to reach Ladakh.
Suggested tour packages of Ladakh:-
Here are the few more Reasons to Visit Ladakh?
Explore the Suggest articles: