10 Most Popular Waterfalls in Karnataka, You Must Visit!
Karnataka, one of the well-known tourist destinations located in the Southern part of India, has been blessed with breathtaking natural beauty. Therefore, it draws numerous tourists from all across the world, every year. Below mentioned are the 10 must to visit waterfalls in Karnataka. These waterfalls dropping from the lush Western Ghats enhance the beauty of the place. These waterfalls become more majestic with the commencement of monsoon season.
1. Jog Falls
Jog falls is also known as the 'Niagara of India' and is considered as one of the highest waterfalls in India with the height of 250 m. It is recommended to visit during the month of August to January.
Read More: Top 10 Cities to Visit in South India
Suggested tour 15 Days South India Tour
2. Iruppu Falls
Iruppu Falls with the height of 170 feet is located in the Brahmagiri Hills, in between Srimangala and Kutta of Coorg District, in Karnataka. The locals also know the falls as Lakshmana Tirtha Falls. The fall is surrounded by thick forests. The ideal time to visit this fall is from August to January.
Read More: Best Summer Holiday Destinations in South India
3. Abbey Falls
Abbey falls or Abbi falls is one of the most famous attractions of Coorg, located amidst aromatic spice and coffee plantation. The falls gushes down from the height of 70 feet and form several small streams. Enjoy being there in between September to January.
Read More: 10+ Best Winter Holiday Destinations in India
4. Hebbe Falls
Hebbe falls is nestled inside the Bhadra Wildlife Sanctuary and Tiger Reserve, surrounded by thick forests and coffee plantations. From the height of 550 feet the falls rush down into a pool filled with herbs that have curative properties and also enhances its beauty. Visit the place in between November to February.
Read More: 25 Ways to Save Money on India Trip
5. Sathodi Falls
Being surrounded with lush green forests the Sathodi Falls make a perfect picnic spot. It is located at a distance of 32 km away from Yellapur district. The height of the fall is 15 m. Get refreshed by swimming there. The ideal time to visit this fall is from July till September.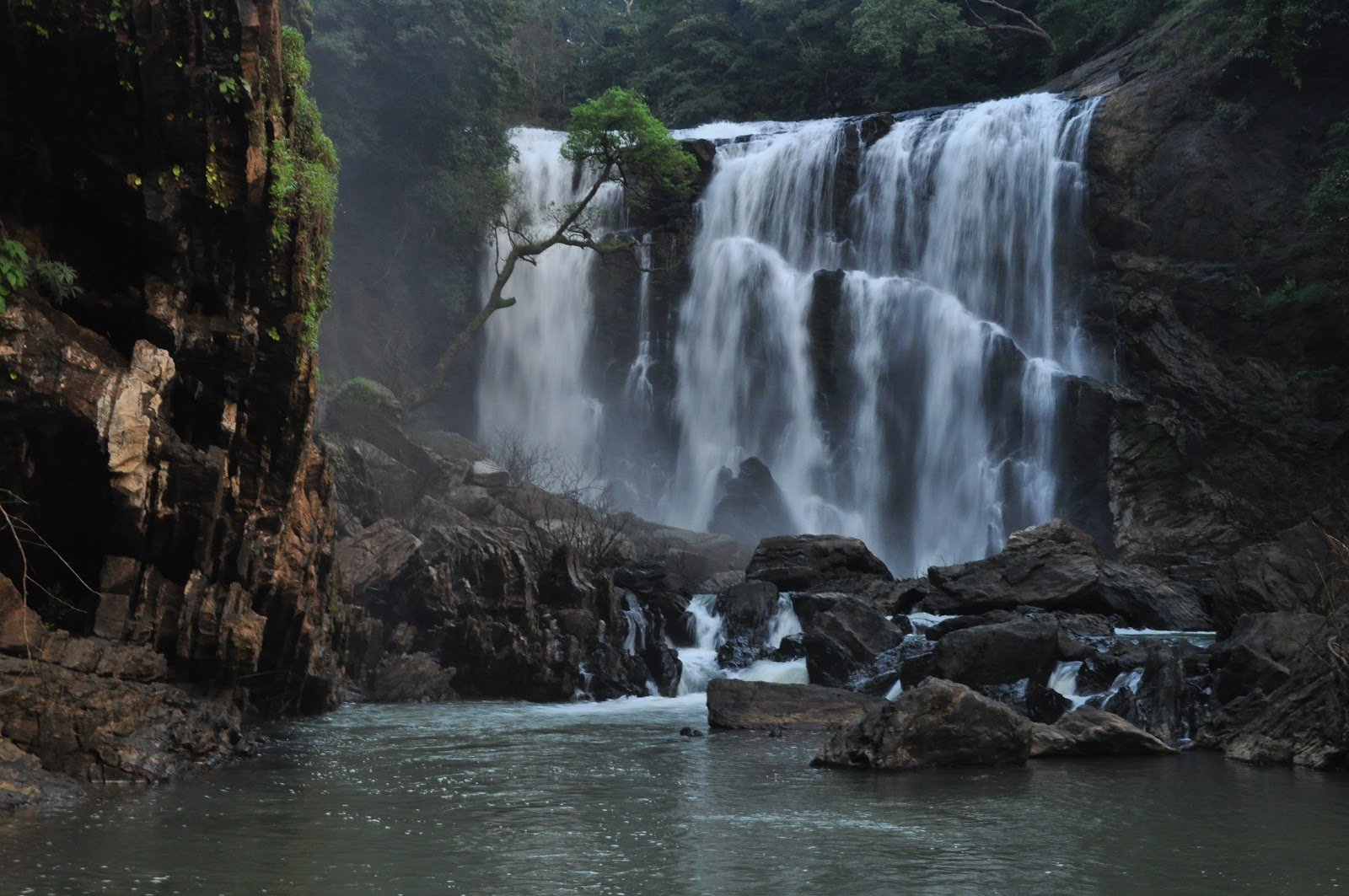 You can also Visit Tamil Nadu: 10 places to Visit in Tamil Nadu
6. Unchalli Falls
Unchalli falls is about 54 km away from Jog Falls, near Hegganur. The height of the fall is 380 feet high and is located amidst thick forests. This fall is also known as Keppa Joga as called by the locals. The British named the falls as Lushington Falls, which can be visited in the months of September to February.
Plan and enjoy your 3 Days Honeymoon in Kerala
7. Gokak Falls
Gokak Falls, also known as mini Niagra falls is formed by River Ghataprabha. It offers a stunning view as it gushes down from the height of 171 through a cliff of sandstone. The edge of the fall is shaped like horse-shoe. There is a hanging bride across the river at a height of 201 m. July to October is considered as the best time to visit this fall.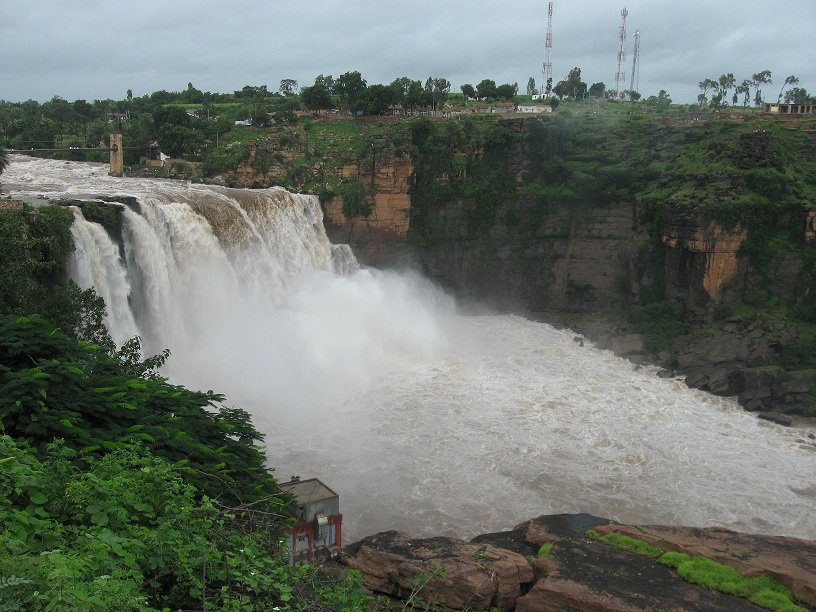 Related articles Most Romantic Honeymoon Places Of Kerala
8. Godchinamalaki Falls
Godchinamalaki Falls is also known as Markandeya falls at the center of lush deep valley, located in the Belgaum district. The fall rushes down in 2 sections- the first plunge is of 25 m and the second is of 20 m. Mid-June to September is the best time to observe the beauty of this fall.
9. Chelavara Falls
Chelavara waterfalls, a remarkable fall plunging from a height of 150 feet, which is locally known as Emepaare makes an ideal picnic spot. It is also considered as a trekking destination in Karnataka. Visit the Place in between September to November.
Read more Badami Caves Karnataka : Temple, Things to See, Food, Shopping, Hotels
10. Shivanasamudra Falls
81 km away from Mysore, is located the Shivanasamudra fall, which is a popular weekend getaways from Bangalore. The rainy season adds to the beauty of this place, which is a treat to watch from the watch tower. Shivanasamudra Falls plunges from a height of 320 feet. It is considered to be visited in between September to January. Take the south India tour packages and enjoy the various destinations such as Kerala, Goa, Andhra Pradesh, Tamil Nadu, Pondicherry etc.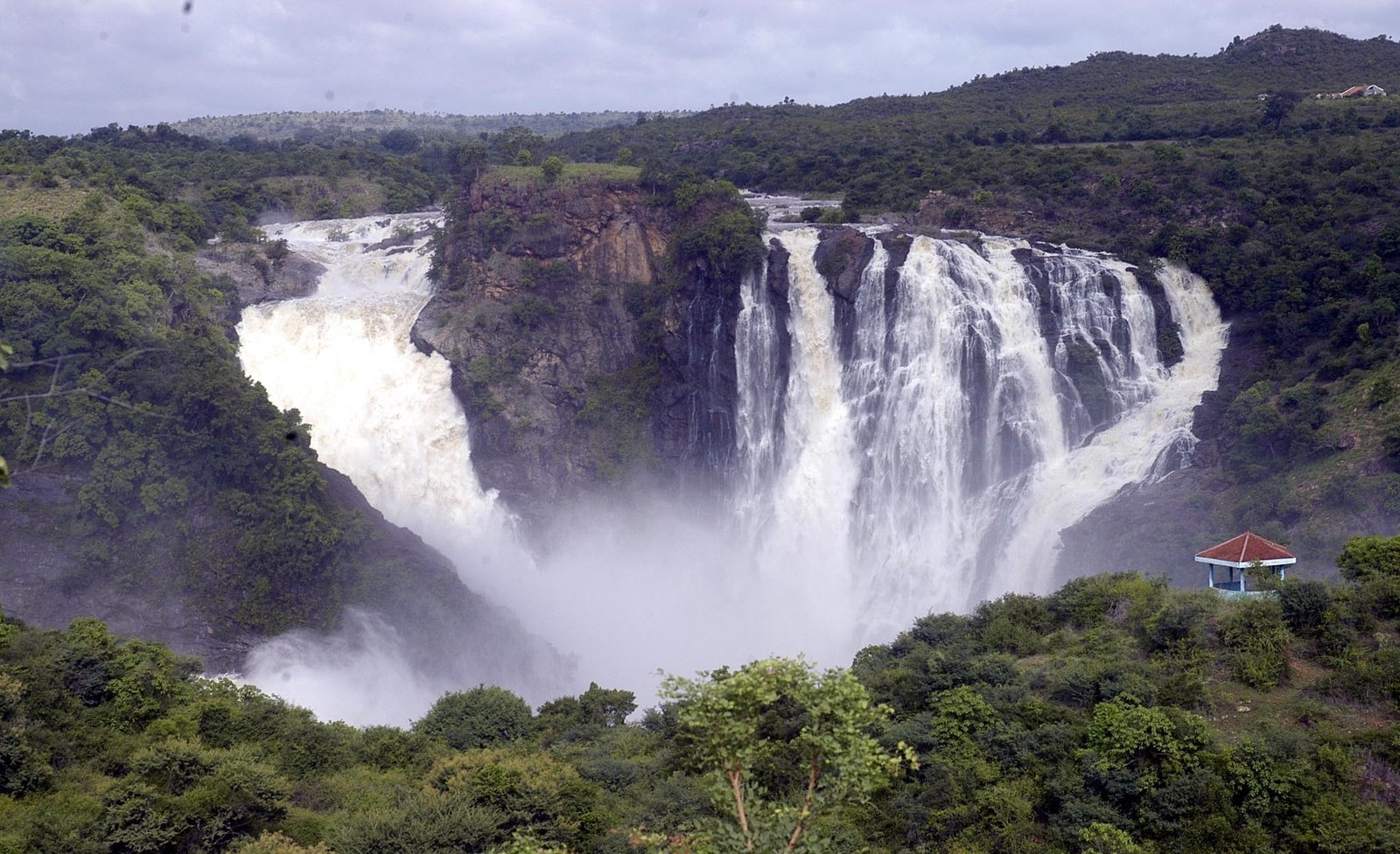 Suggested tour 15 Days Karnataka Tour Packages
Suggested articles related to South India:- 
Also read – Best National Parks To Visit In Karnataka