Top 5 South Indian Dishes for Hungry Travelers
The words Indian and food together may bring out an aromatic picture of soft, puffy naans, juicy butter chicken dishes, luscious kebab platters and spicy mixed vegetable curries with creamy lentil soup in your mind. But that's not all there is when it comes to Indian food. The aforementioned delicacies are just a part of the vast ocean that is the Indian cuisine and hails from the north of the country. South Indian cuisine is definitely polar opposite with amazing flavors and hearty tastes.
The south India mainly comprises of Andhra Pradesh, Telengana, Tamil Nadu, Karnataka and Kerala with each having their own variant of the commonly known south Indian dishes along with an array of regional specialities.
To get a good introduction to South Indian Dishes, here are the ones you must seek out:
#1. Masala Dosa –  South Indian rice flour crepes
This is a traditional south Indian breakfast item, but also eaten at other time of meals and is available with its own regional twist throughout the country. These dosa crepes can vary on their type of filling inside along with the level of crunchiness of the crepes.
They are usually served with an accompaniment of hot and sour lentil soup called sambar and some creamy coconut chutney often flavored with mint or curry leaves.  The top variants of dosa include – masala, plain and rava or paper dosa. The plain one is just hollow without any fillings the masala dosa has a filling of or is served with mashed potato with onions and tomatoes in the side. The rava variant is made with semolina and offers added crunch to the dish.
Nowadays other variants of the masala dosa are also available where several places have gotten creative with the inner fillings, like – cottage cheese, vegetables and others.
However, before you try the modern favorites it is strongly recommended that you go with the simple masala dosa first, as it is uniquely textured light on the palate yet filling and best taken hot out of the griddle.
#2. Idlis – Steamed rice cakes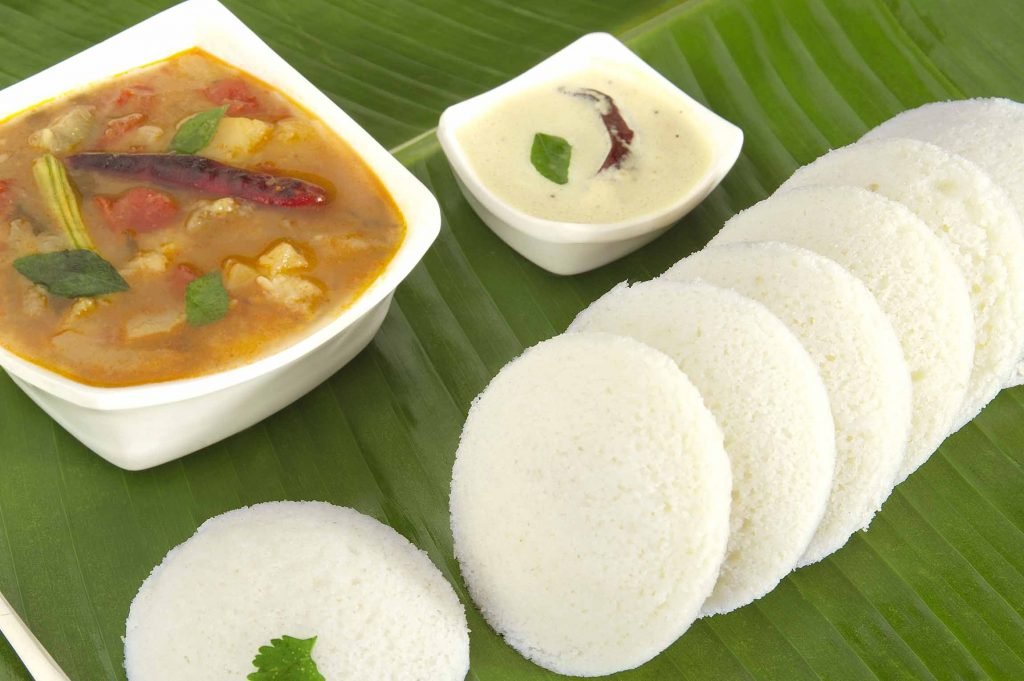 These are ivory coloured, soft, fluffy rice cakes with texture similar to soft bread but with unique flavors. Idlis are a hot favorite of many south Indian or simply Indian families and is a popular breakfast dish, served with hot and sour lentil soup with vegetables called sambar and coconut chutney.
If fiery flavors aren't your thing and you would rather try a comfort food with mild tastes and soft and fluffy textures, then idli is the way to go.
#3. Vada – Savory doughnuts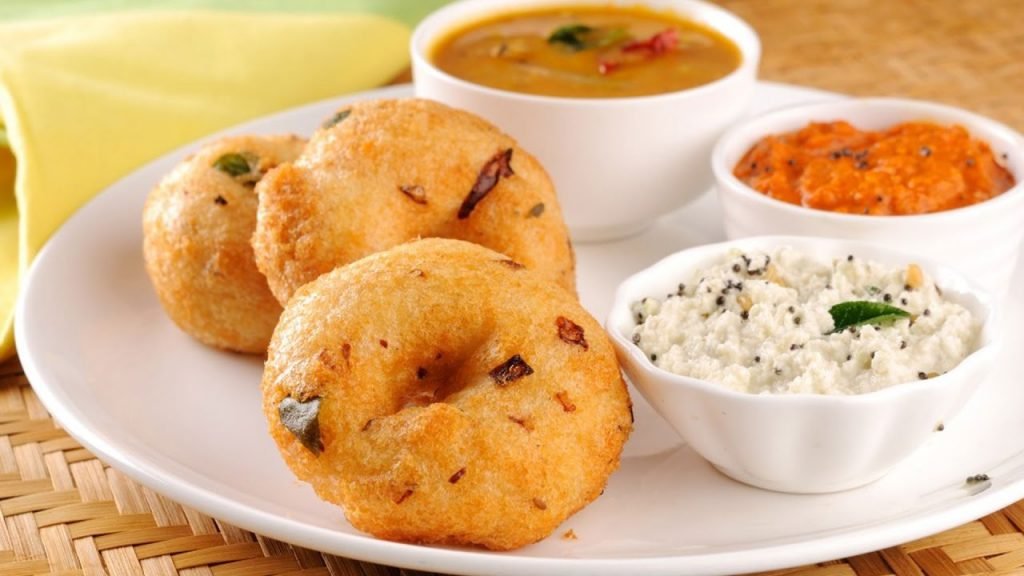 While the look of these might trigger you sweet tooth hankering but these are nothing but savory! They will however, satiate your cravings for deep fried, hot and crisp munchies and that too for breakfast! Another breakfast favorite in south India, these vadas look almost like doughnuts but are not at all sweet.
They are made from black lentil mixtures and are gently spiced with pepper-corns, curry leaves, cumin and chili and sometimes contain mild hints of onion. They are crunchy breakfast fritters, best enjoyed hot with a generous smear of coconut chutney.
#4. Uttapam – Pizza meets pancakes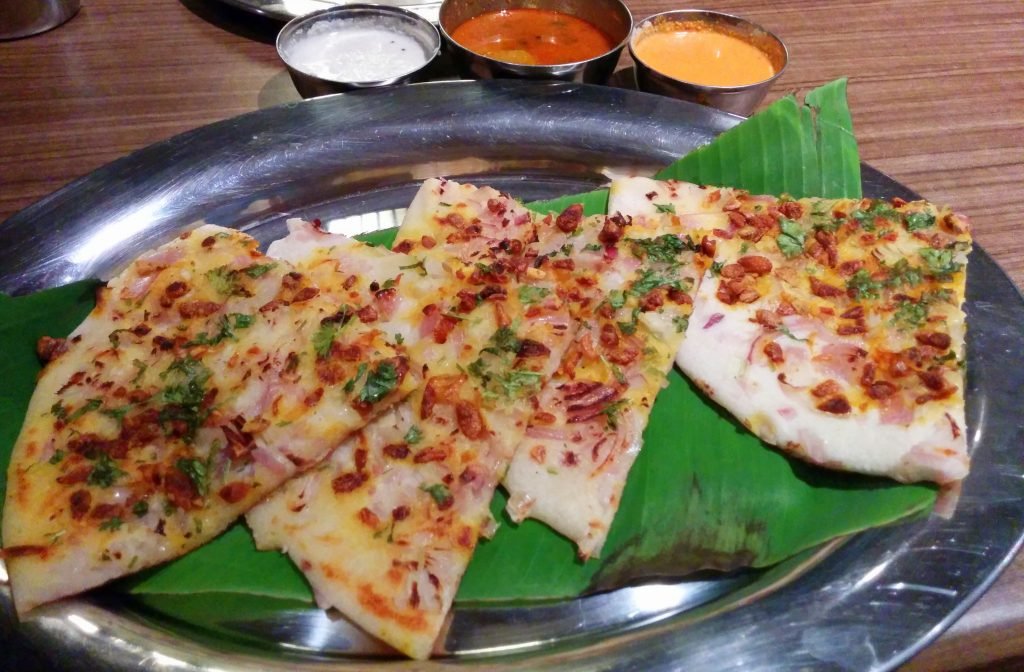 It is not easy to compare Uttapams with either a pizza or a pancake. But it is a harmonious hybrid of both with its own unique identity. It is cooked like a pancake with a ladle full of fermented rice and lentil mixture poured onto a hot griddle. Then they are sprinkled with toppings like chopped tomatoes, onions and chilies, coconut and carrots or other choice of toppings.
This results in a porous yet fluffy delicious dish called Uttapam, which is almost like dosa but softer and are usually sampled with or without other accompaniments of chutneys or soups.
#5. Appams with istew – Pancake with istew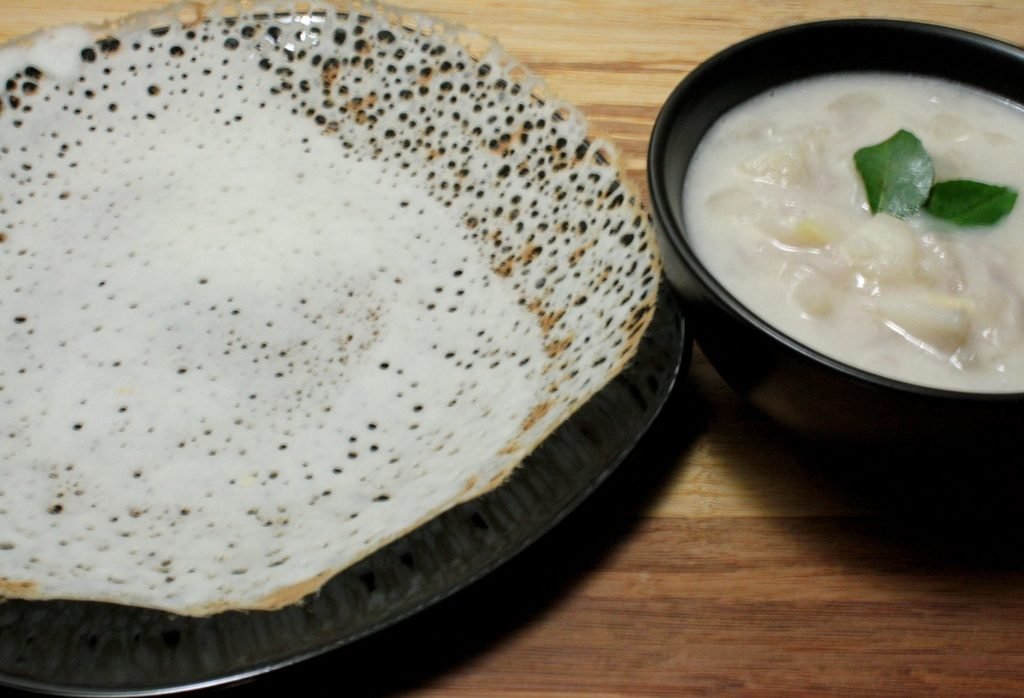 Appams are south Indian pancakes almost like crepes similar to dosa, made with fermented rice flour and coconut milk. They are soft, light and fluffy and best eaten with a generous serving of istew or ishtu. Istew is a freshly made coconut milk infused stew of fresh vegetables like shallots and peppers, spiced mildly with a cooked meat of your choice. The most common options are chicken, mutton or vegetable istew.
#6. Banana chips – Chips with a difference
These are yellow, hot and crunchy roadside delights fried freshly in hot oil. A common sight in South India, these are in famous tea time samplers usually mildly flavored with coconut as are fried in coconut oil. They are usually coated with salt and mild spices but may also be covered with jiggery.
You may also like to read related article about South India  such as:
Explore South India with 15 Day South India tour 
Suggested articles –