5 Must Visit Hill Stations in South India
1. Ooty – The Queen of Hill Stations
Located at Tamil Nadu, Ooty is one of the most beautiful hill stations of India. Encircled by the magical Nilgiri Mountains and carpeted with lush green grass, Ooty is blessed with natural bounties in South India. The must visit spots of Ooty are:
Botanical Gardens – Sprawling over 22 hectares, this Italian styled garden is a treat to the eyes with colorful lilies, beautiful shrubs, fern houses, orchids and a clear pool.
Ooty Lake – Boat rides over this L shaped waterbody are always pleasant, shadowed with lofty eucalyptus trees and shrubs.
Rose Garden – This is another spectacular tourist site of Ooty. The 10 acres of land comes with bright rose tunnels, pergolas and bowers wrapped with roses. The garden has approximately 3600 varieties of roses, including Hybrid Tea roses, miniature roses, Floribunda roses, Ramblers and roses of unique colors, like green and black.
Doddabetta Peak – Whether you want to go for trekking or you want a panoramic view of Ooty, you must climb this highest point of the city; an altitude of 2,623 meters. Avalanche and Mukkurthi Peak are the other trekking destinations of Ooty.
Ketti Valley – This is the second largest valley of the world, where you can experience the tribal life of Tamil Nadu, namely, of the Bagadas and Todas.
Besides exploring Ooty, you can satisfy your taste buds with yummy homemade cheese and bring back fresh spices like cardamom, cloves, nutmeg and pepper. Kids will love the handmade truffles, fudges and marshmallows. The camphor, eucalyptus and citronella oils available here are used for medical purposes. Last but not the least; you can refresh yourself every morning sipping piping hot tea, which ranges from masala, jasmine, and cardamom to chocolate.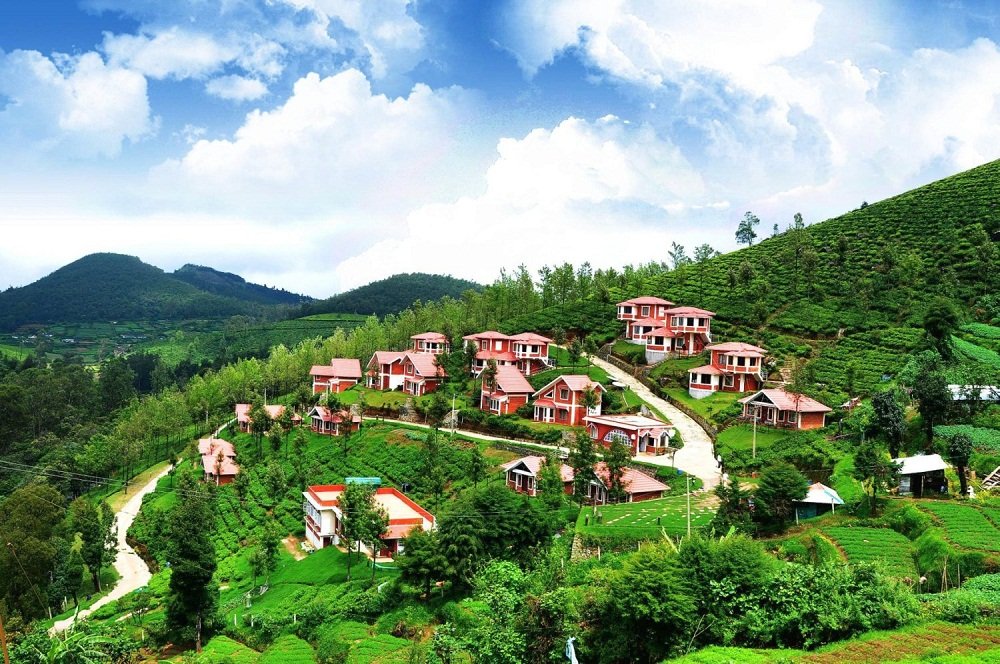 Read More : Top 10 places to Visit in Tamil Nadu
Suggested Tour : 7 Days Kerala with Ooty Hill Station Tour
2. Coonoor – The Paradise of Nature Lovers
Located at an altitude of 1858 meters, Coonoor is breathtakingly beautiful with lush green meadows filled with sunflowers, marigolds and rhododendrons. The tourist hotspots of Coonoor are:
Catherine Falls – This joyous waterfall falls from an astounding height of 250 feet. It falls from Dolphin's Nose, another amazing rock formation just like its name.
The Hidden Valley is a popular trekking spot, safeguarded by high mountains and soothing greenery.
Lamb's Rock is a picnic spot of Coonoor, with the Hulical Ravine just to its right.
Sim's Park – This 12 acres of undulating land exhibits some of the rarest shrubs, trees and creepers of the world.
Coonoor is also known for its aromatic tea, which you can get fresh from its tea plantations. Bring back handmade antiques and artefacts as souvenirs or soft stylish shawls for warmth. Fruit nectar, mulberry fruit, passion fruit, ambrosia to fine cotton clothes, there is lot to shop here.
Read More : 10 Things To Do In Kerala on Your First Visit
Suggested Tour : 6 Days – South India Hill Stations Tour
3. Kodaikanal – Ultimate Form of Serenity
If you want to be far from the maddening crowd of the metros, inhale some fresh air free of smoke and dust, spend this vacation at Kodaikanal. Kodaikanal is also known for the Kurinji flower, which blossoms once in 12 years and spreads eternal beauty to the hills. Located at an immense height of 2133 kilometers, this hill station is famous for:
Berijam Lake – The crystalline waters of this star-shaped lake is a beauty at the heart of the hill station. The lake is encircled with Shola forest, which consists of medicinal plants like Digitalis, Pyrethrum and Dioscorea.
Bryant Park – The glass house of the sprawling garden exhibits aromatic blossoms and ferns.
Shenbaganur Museum – This is a treasure house of South Indian architectural pieces along with different kinds of flowers and birds.
Kodaikanal Lake – This star shaped lake entertains tourists with activities like angling and fishing. Get a panoramic view of the Kodai Valley from top of the Pillar Rocks.
Boost your adrenaline with trekking through the mystic mountains of Kodaikanal or shop your heart out with wooden handicrafts, aromatic natural oils, dried flowers, marshmallows and organic cheese. The woolen shawls and brass jewelry will adorn your wardrobe.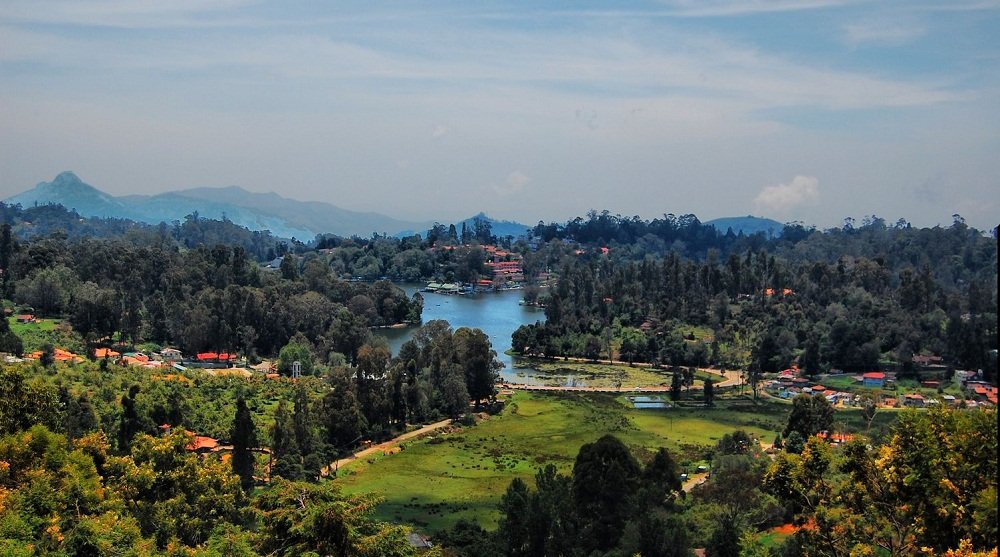 Suggested Tour Packages
Suggested article South India Travel Information
4. Munnar – The Confluence of Mystic Mountains
Once the summer resort of the British rulers, Munnar is one of the popular honeymoon spots of South India. Located at Kerala, at a height of 1700 meters, Munnar has numerous attractions, like:
Atukkad Waterfalls – These secluded cascades of Munnar is the best place to spend time with your special ones. It is also a popular trekking spot.
Muniyara Dolmens – These Neolithic burial chambers of Munnar gives a vivid view of the snowcapped mountains.
Echo Point – while the place is a fun to hear the echo of your voice, the slopes of the peak are adorned with Kurunji flowers. The picturesque lake of Munnar enhances the beauty of the landscape and is a photographer's paradise.
Eravikulam National Park – Located at an elevation of 2000 meters, this park is a safe residence to 700 species of flora and fauna; leopards, tigers, gaurs, wild dogs, golden jackals, dhole, jungle cats, sambar deer and NilgiriTahr to name a few.
Top Station – If you have always dreamt of walking over the clouds, visit this place, located at an altitude of 1800 meters.
Homemade chocolates, fresh cardamom, vanilla, pepper, cinnamon, clove, nutmeg and a variety of tea are the must-buy items of Munnar.
Read More : 
Most Romantic Honeymoon Places Of Kerala
Where to Stay In Munnar? 6 Best Options
Suggested Tour : 7 Days Kerala Honeymoon Tour
5. Coorg – Scotland of India
The enchanting beauty of Coorg has earned it this name; from majestic mountains to the pleasant climate, the natural ambience of Coorg is perfect for a stress-free vacation. Located at an elevation of 3500 feet, Coorg is nestled at the Western Ghats. Which places should you visit here? Let us checkout:
Raja's Seat – If you want to witness a mesmerizing sunset, visit this place. Adorned with a lush green garden, surrounded with towering hills and silent valleys, bask in the tranquility of nature here.
Omkareshwara Temple – This is a unique architectural piece, a Hindu shrine built in Muslim style; this ancient temple is dedicated to Lord Shiva.
Abbi Falls – The gushing waterfalls of Coorg washes away your stress with splashes of cool waters.
Gaddige – These royal tombs provide a bird's eye view of the hill station; constructed in Islamic architectural style, these tombs come with turrets and central domes. The glittering windows are made with brass and are carved with intricate designs.
Cauvery Nisargadhama – This 64 acres island lies at the heart of River Cauvery. As you walk across the bamboo bridge of the river to reach the island, the dense bamboo forests, the exotic aroma of sandalwood and the tall teak trees lures you. You can move around the forests on elephants or boat round the jungles. The deer park, children's park and orchidarium are the other attractions of the place.
ByleKuppe – This is one of the largest Tibetan settlements in South India. Spin the prayer wheels at the monasteries of Gera Gompa, Namdroling and Sera Mey or checkout the gold coated Buddhist statues of these monasteries.
Suggested Tour : 15 Days Karnataka Tour Packages
More information about South India Travel Attractions
You can buy a plethora of things at Coorg; curios, spices, dry fruits, pure Coorg honey, Chicory coffee, traditional weapons and chocolates to name a few. You can also relish authentic cuisines like MeenuSaaru, PandiKoliSaaru, Karri and Kadabu.
Suggested South India tour packages:- 
Hence if you want to be at the abode of natural beauty, pack your bags and head towards any of the above-mentioned hill stations.
Also Read :