Shravanabelagola – Historic Wonders of South India
Shravanabelagola is a historic destination located in Hassan of Karnataka. It is famous for its collection of Jain temples. The Gommateshvara Bahubali statue of this destination is a significant pilgrimage spot for Jains. Apart from this, the place is filled with monuments of yesteryear. Apart from being a Jain pilgrimage spot, this place is best for sightseeing, photography and exploration.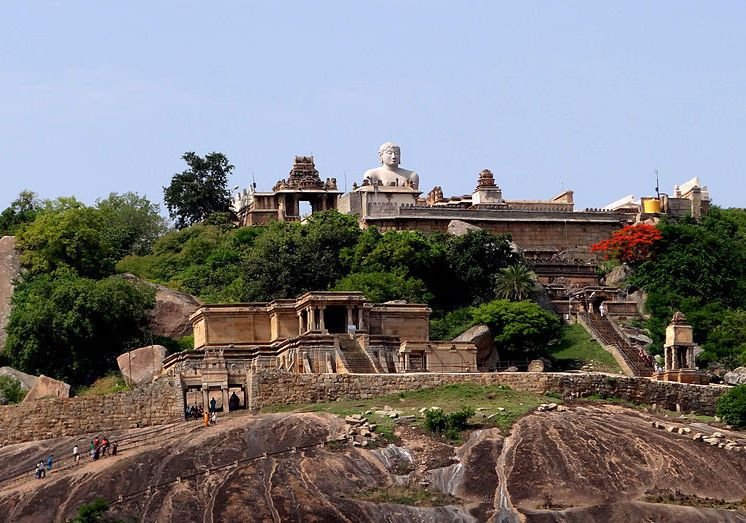 How to Reach Shravanabelagola
Bengaluru International airport is the closest international airport, which is 4.5 hour drive away from the town. This airport connects the state with many international and local destinations. The nearest railway station is located in Shravanabelagola. It links the town with important destinations of South India like Bangalore, Pune, Chandigarh, Coimbatore, Lucknow, Thane, Shimla and others.
If you are choosing road transportation, you can find frequent buses to and from Shravanabelagola. You can find both private and government buses connecting the town with many surrounding major cities. Hiring cab is an easier option during tourism season. The rate of cabs differ between service providers.
Shravanabelagola and Hirisave – 18 km
Shravanabelagola and Hassan – 51 km
Shravanabelagola and Mysore – 89 km
Shravanabelagola and Bangalore – 157 km
Shravanabelagola and Mangalore – 221 km
Shravanabelagola and Belur – 89 km
Suggested Tour Packages
Scaling destinations in Shravanabelagola
Once inside the town, you can find buses and autos to many destinations. You can find dolis to reach elevated places. Dolis is a cane chair that is carried by four people to tour all the hills. This service is available during tourism season. Within the town, it is easier to scale the place on foot. Most of the attractions are present around the town.
Best time to visit Shravanabelagola
The best time to visit Shravanabelagola is from October to March. Summer starts in April and ends in June. This is the hottest season in the state. Tourists avoid summer due to high humidity, temperature and risk of dehydration. Monsoon starts in July and ends in September. Rainfall is average to heavy here and thus, sightseeing will be hurdled during this season.
Winter starts in October and ends in March. Shravanabelagola will have a pleasant climate that aids in sightseeing. Tourist destinations surrounded Shravanabelagola will also be at prime beauty during this season allowing you to explore the state with ease.
Top attractions to enjoy in Shravanabelagola
Gomateshwara Temple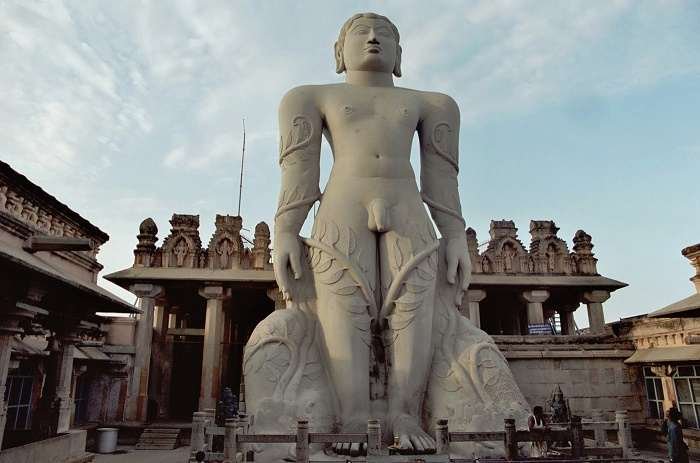 Located just one kilometer away from Shravanabelagola, this is an important pilgrim spot and sightseeing destination. This temple is famous for the world's tallest monolithic stone statue. The statue represents Bahubali, a Jain preacher. The temple is located on top of Vindhyagiri Hill. Tourists need to climb more than 600 steps to reach the entrance of the temple. The anthill behind the statue is said to be the place where Bahubali sat for penance. There are two statues on either side of Bahubali, representing his assistants. Apart from this, you can find many other statues here. You can enjoy many interesting rituals if you visit during Mahamastakabhishekam, a festival that takes place once in 12 years, which happens in February of 2018.
Chamundaraya Basadi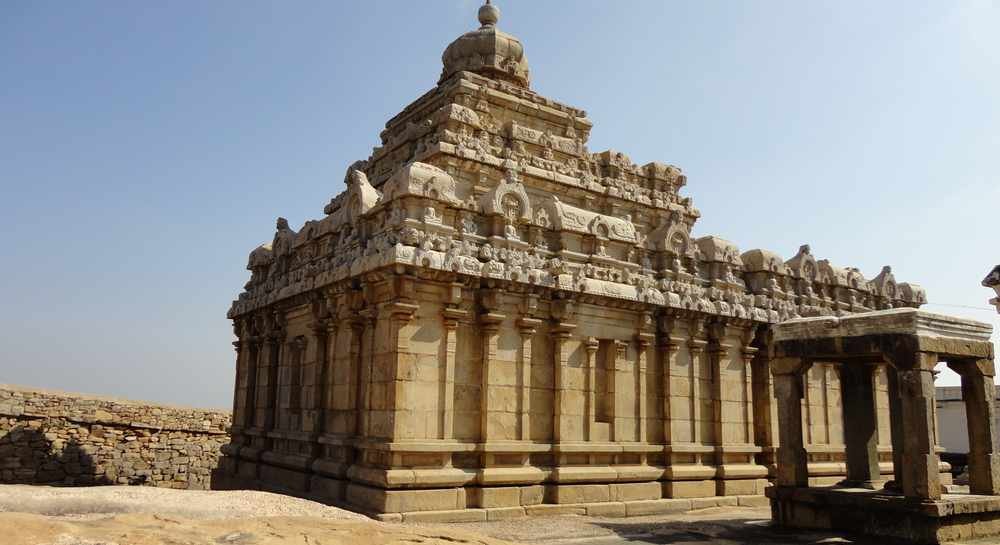 Located a little away from Shravanabelagola, Chandragiri Hill is an important destination. The hill holds a temple, Chamundaraya Basadi dedicated to Lord Neminatha of Jainism. Built in 982 AD, this is one of the holy sites of Jainism. This two-tier temple is famous for its architectural features too. Tourists climb up to the top through narrow steps to get a panoramic view of the surrounding areas. You can find cabs and autos from Shravanabelagola to the hill.
Odegal Basadi
Located on the Vindhyagiri Hill, this temple is very close to Shravanabelagola bus stand. This temple is famous for its ancient architecture. You can find sculptures made with black granite. You can find many interesting rituals near the temple pond. It does not take more than 30 minutes to explore this place.
Bhandara Basadi
Located near Shravanabelagola bus stand, this is the largest temple in Karnataka. This temple is located close to Gomateshwara temple. Built in 12th century, this temple is famous for Hoysala styled architecture, ornate halls, sculptures and wooden carvings. There are many shrines inside the complex. If you visit during the full moon day of March-April, you can enjoy the car festival of the temple. The temple is open from 6 in the morning until 1 in the afternoon and, 3:30 in the evening until 6 in the evening.
Aregal Basadi
Located a little away from Shravanabelagola town, this is rock temple famous for its ancient structures. It is famous for marble images, deity sculptures and others.
Parshwanatha Basadi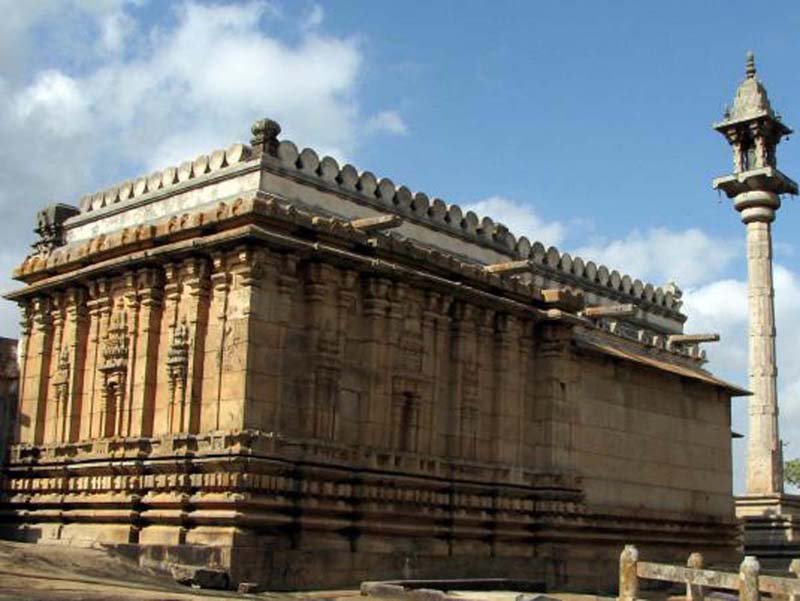 This temple is located close to Shravanabelagola bus stand. Located on the Chandragiri Hill, this temple is famous for ornate architecture, carved verandhas, images, sculptures and others. The pillars of this temple are the iconic attractions of this temple. The pillars are carved with interesting images.
Kattale Basadi
This temple is the iconic attraction of Chandragiri Hill. This temple is famous for inscriptions, sculptures and images. This is the largest temple in the hill.
Halebelagola
Located 7 km away from Shravanabelagola, this destination is famous for Jinalaya temple of 11th century. The temple is famous for halls, sculptures of elephants, ornate pillars and others. Many sculptures are at ruins today. You can find cabs or auto from Shravanabelagola to Halebelagola. Buses are also frequently available between the two destinations.
Kambadahalli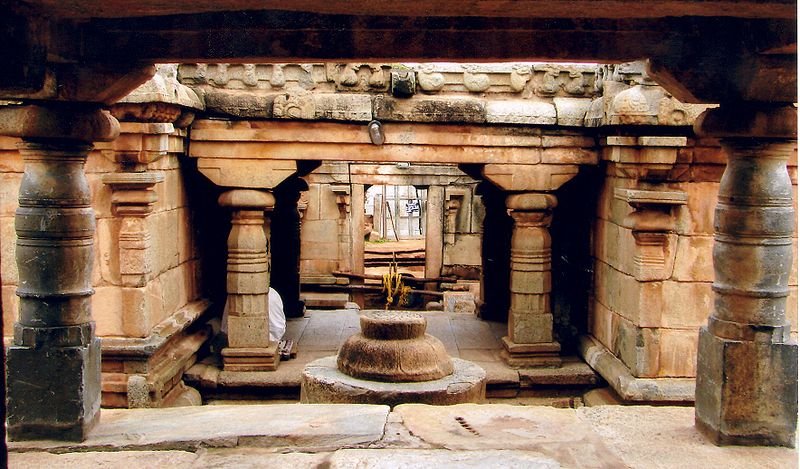 Also known as Kambapuri, this is an important pilgrimage destination. Panchakuta is a religious monument of 10th century, which is famous for shrines, carved pillars, halls and others. You can find many interesting idols here.
Shravanabelagola is famous for iconic hills around it namely Chandragiri, Jinanathapura, Indragiri, Vindhyagiri and others. You can find many monuments and temples perched on the hills.
Cuisine of Shravanabelagola
The cuisine of this land is similar to the cuisine of Bangalore, Hassan, Kolar, Mandya and others. Top dishes to enjoy in Shravanabelagola are
Akkirotti
Bisibele bath
Ravaidli
You ought to try traditional Kannadiga meal that is served on a fresh banana leaf. You can enjoy fresh tender coconut water at many spots.
Weekend Getaways from Shravanabelagola
Belur – Pilgrimage spot
Hassan – Pilgrimage spot and cultural center
Mysore – Modern city, nightlife and culture
Bangalore – Modern city, nightlife and culture
Dharmastala – Pilgrimage spot
Related articles of Karnataka –