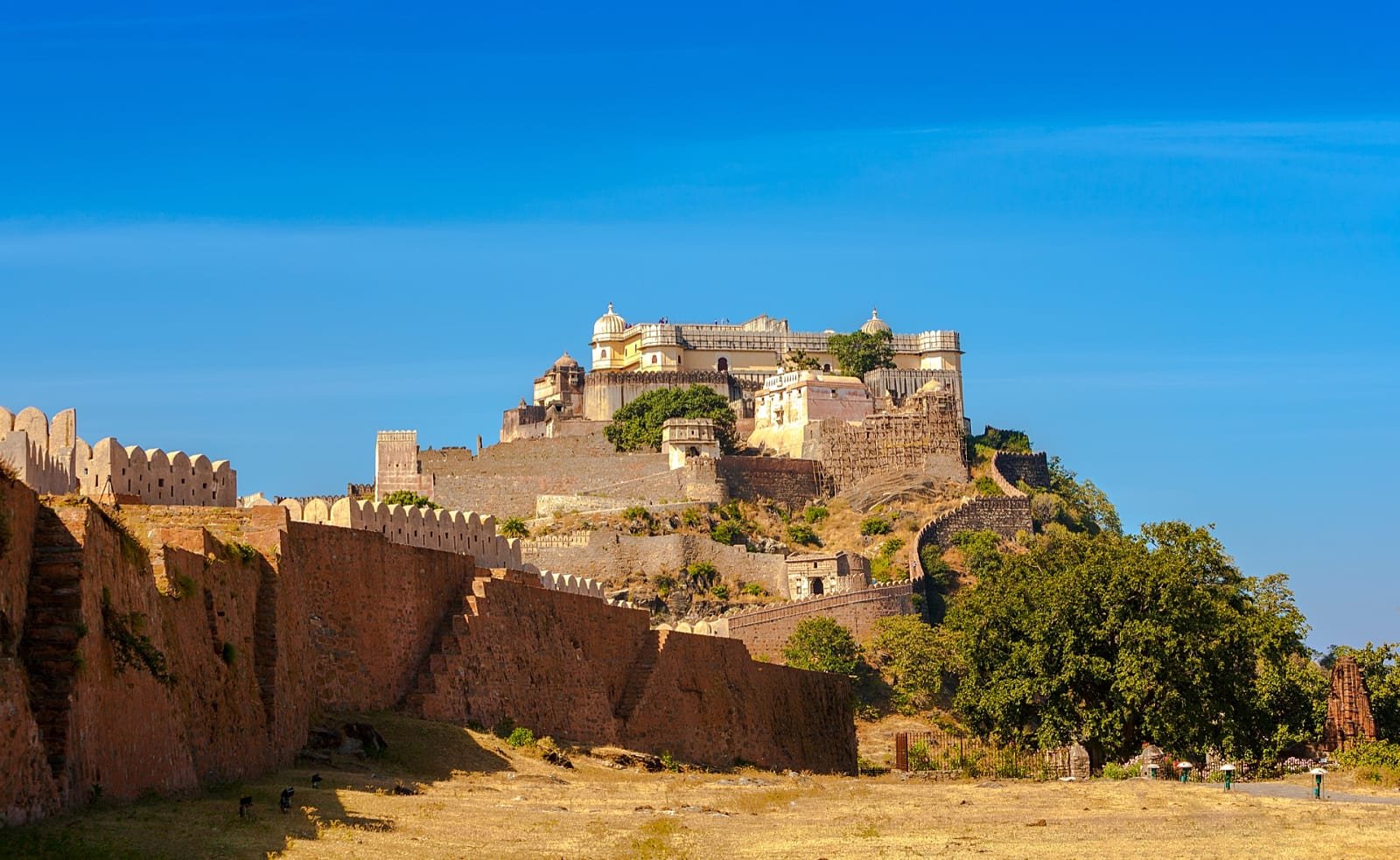 Rajasthan which is also known for its deserts, camel safari, colourful rajasthani turbans and many more is also famous for its forts namely Amber Fort, Chittor Fort, Jaisalmer Fort and the most important fort of Mewar Kumbhalgarh Fort.
We have all heard of The Great Wall Of China which is 22,000 km (approx.) in length and is the longest wall in the world.
But what most of us don't know is that Kumbhalgarh wall is world's second largest wall and is known as "The Great Wall of India" which is around 36km long.
History behind Kumbhalgarh Fort
It is believed that the original fort was built by King Samprati of Maura age during the 6th century and was named as Machhindrapur. Kumbhalgarh in its current form was built by Rana Kumbha, the Rana of Mewar.
Kumbhalgarh separated Mewar from Marwar and was used as place of refuge for the rulers of Mewar at the times of danger, especially Prince Udai who was smuggled to in 1535. This happened when chittaur was under siege. Prince Udai not only became the successor to the throne, but also became the founder of the Udaipur City. This fort is also known to be the birthplace of Maha Rana Pratap.
Architecture and Layout
Kumbhalgarh Fort, perched 3,600 feet above sea level on the Aravali range is the loftiest jewels in Rajasthan. It is around 23 miles long and is the second longest wall in the World after the Great Wall of China. Legend claims that eight horsemen could ride side by side at the top. The fort has seven gateways.
There are around 360 temples within the fort of which 300 are Jain temples and the rest are Hindu temples. The Siva Temple, the largest of them has over 52 canopies, an expensive courtyard and a pillared Corridor.
Interesting Facts About Kumbhalgarh Fort
It was built by Rana Kumbha in 1458 A.D and is the second largest Fort in India.
It is one of the 6 Hill Forts in Rajasthan to be declared a UNESCO World Heritage Site in 2013.
It is the birthplace of Mewar's Legendary King Maharana Pratap.
Maharana Udai Singh the founder of the city Udaipur also found refuge in Kumbhalgarh in his early childhood.
The main Fort can be reached after crossing seven massive gates.
It provided refuge for its rulers in times of attack.
How to Reach Kumbhalgarh Fort
You will find the nearest railway station and Airport in Udaipur in Rajasmand district, which is 84 km from Kumbhalgarh Fort. Udaipur is a city which is connected to the major cities of Rajasthan, Gujarat, Madhya Pradesh and Uttar Pradesh.
What I would suggest you is to take a road trip from Udaipur as the scenery from Udaipur to Kumbhalgarh is quite attractive. It is a two hour journey from Udaipur via road. You can easily hire a car and a driver from various travel agencies across Udaipur.
Also Read - How to Reach Rajasthan
Best time to Visit Kumbhalgarh Fort
The best time to visit Kumbhalgarh Fort is during winter month from November to February.
Rainy season between July – August is also a great time to visit because during that time the weather is quite pleasant and the entire landscape is magically green.
During summers the climate in Kumbhalgarh is quite hot and dry and can rise up to 42 degree Celsius. So I would suggest you to avoid it during that time.
Also Read - Best time to Visit Rajasthan
Timings and Tickets
The Fort is open for tourists from 9:00 am to 5:00 pm. To enter the Fort tourists have to pay an entry fee.
Entry fee of tourists from India, SAARC countries and BIMSTEC is Rs.15 while entry fee of tourists belonging from other countries is Rs.200.
Tourists have to separately pay Rs.100 for the light and sound show which is conducted in Hindi language. The light and the sound show start around 7:00 pm when it gets dark.
Car and bus parking is also available near Ram Pol. The entry tickets to the fort and 'light and sound show' are also available there.
Where to Stay in Kumbhalgarh
You can stay at Kumbhalgarh Safari Camp. You can also stay at Kumbhalgarh Fort Resort which is located 6 km from Kumbhalgarh Fort. There is also a Lal Bagh Resort. It is a beautiful natural paradise situated near Kumbhalgarh Fort. You can check the reviews and prices of these resorts.
Getting around Kumbhalgarh Fort
Vehicles are not allowed after you have entered the fort entrance gate, so the only way by which you can explore the fort is by walking and promise it will be worth it. There are some attractions located close to the main gate which might take you up to 1-2 hours and if you wish to see the entire complex it would take you around 6-7 hours.
Attractions inside the Kumbhalgarh Fort
Kumbhalgarh Fort has around 360 temples out of which 300 are Jain temples and the rest are Hindu. There are few famous attractions you can explore inside the fort. Such as:-
1. Rana Kumbha Palace
Tourists can reach Rana Kumbha Palace through Paghara Pol. The room of this palace is very small and non-decorative which suggests that it was made with the intention of being used as a refuge. It is basically influenced by Rajput architecture.
2. Badal Mahal
Famously known as 'Palace of clouds', Badal Mahal was built by Rana Fateh Singh and is the highest point of Kumbhalgarh Fort. The walls of Badal Mahal are decorated with paintings of 19th century. It is divided into two sections: the Zenana Mahal (womens' Quarters) and the Mardana Mahal (Mens' Quarters.)
3. Neelkanth Mahadeo Temple
It has six feet high shivling made of stone and is dedicated to lord shiva. Lord shiva is one of the very few ones being worshipped and maintained by locals in this fort and it is said that King Rana Kumbha used to worship this deity.
4.Mammdev Temple
Built by Rana Kumbha, Mammadev Temple is located below the Kumbhalgarh Fort. The temple houses an idol of Lord Kuber, the god of wealth. It had four huge slabs with history of the kingdom of Mewar attached on one of the slabs. Now the slabs are well-preserved in the museum of Udaipur. Now it has a couple of cenotaphs in memory of Rana KLumbha and Prithviraj Chauhan.
5. Vedi Temple
Vedi Temple is a revered Jain temple that is presided by Goddess Vedi. It is situated in the premises of Kumbhalgarh Fort in Hanuman Pol. The temple stands on 36 pillars and was built by Rana Kumbha in the honour of the sacrifice of the pilgrims. Later it was renovated by Mharana Fateh Singh. The temple is built in an octagonal shape. These are some places and temples inside the fort which you must visit.
Also Read - Tourist Attractions in Rajasthan
Travel tips about Kumbhalgarh Fort
Wear comfortable footwear and carry water with you because it will take you around 1-2 hours to reach the fort and it will be a tedious trip.
The slopes are quite steep so senior citizens with knee issue might find the climb strenuous and tedious.
Toilet facility is available inside the fort. It is free of cost.
You can purchase snacks and other eatables from couple of shops.
It is advisable to take a guide along with you so that you know the relevance and history of the place.