Top 7 Most Famous Bird Sanctuaries of India
India is blessed with its own diverse list of avi fauna. Apart from these, many migration birds find India to be a better breeding place during winter season. The topography, climatic conditions and other factors makes India preferable for more than 1200 species of birds including the migration species.
Here are the top bird sanctuaries that are considered as paradise by avid bird watchers and ornithologists.
1. Bharatpur Bird Sanctuary, Rajasthan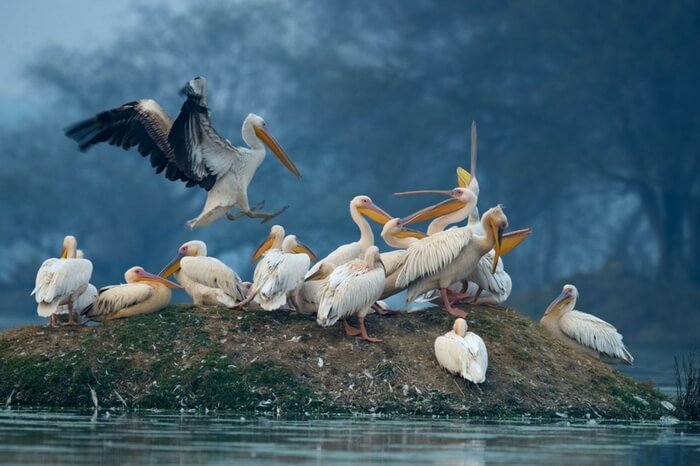 This is an iconic bird spot in Rajasthan. This sanctuary has a place in the itineraries of many luxury train routes of India. Also called as the Keoladeo National Park, this sanctuary covers 28 square kilometer area. This region is home for more than 36 species of birds. With this bird population, you can find the place more colorful.
Apart from the birds, you can spot more than 300 species of flowering plants, 13 species of snakes, amphibians, turtles, fishes, lizards and others. This bird sanctuary covers the Indo Gangetic plains, which has an interesting ecosystem.
2. NalSarovar Bird Sanctuary, Gujarat
This bird sanctuary is primarily marshes located in Gujarat. This is one of the largest wetland bird sanctuary in India. You can spot many endangered mammals like black buck and wild ass here. Top migration birds to spot are white storks, heron, brahminy duck, pelicans, flamingos and others. The shallow regions of this park will be filled with waterfowls. This sanctuary houses more than 250 species of wetland birds during winter and spring season.
If you visit between November and February, the sanctuary will hold numerous migration birds.
Top activities to enjoy here are day excursion in private vehicles, boating to get close to the birds, horseback ride around the lake, picnicking in the shacks and islands and much more.
3. Ranganthittu Bird Sanctuary, Karnataka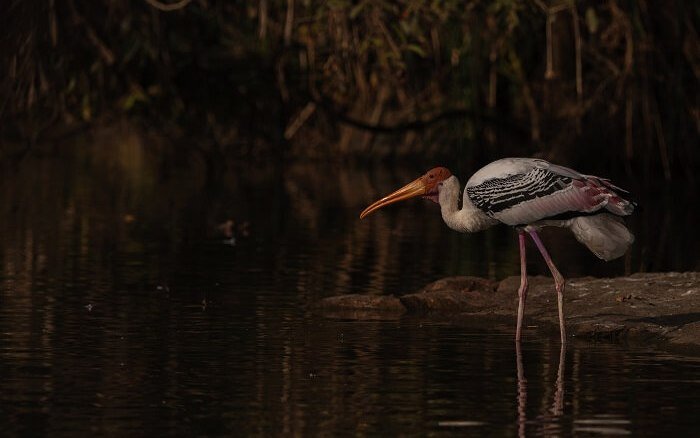 This is one of the largest bird sanctuaries in the southern India. Located in Karnataka, this park covers 40 acres of land homing 170 species and more birds. The region holds many islets, which are richly populated with birds and small mammals. Crocodile population is also high at the riverine reed beds. Also known as the Pakshi Kashi of Karnataka, this sanctuary attracts more than hundred thousand visitors every year.
Top activities to enjoy here are guided boat ride, interpretation center and birdwatching.
If you visit between June and November, you can spot many local birds.
In December or January, the place will be dotted with migration birds. The exact time of arrival of migration birds varies from year to year.
Also read – Best National Parks To Visit In Karnataka
4. Chilka Lake Sanctuary, Odisha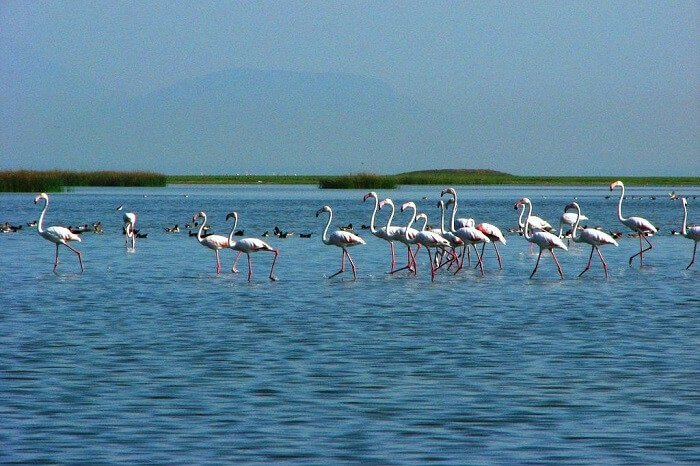 This sanctuary is the continent's largest salt-water pond located in Odisha. The pond holds many islands, which serve as the breeding spot for birds. The lagoon serves as a home for more than 160 species of migration birds, which fly from Aral Sea, Russia, Mangolia, Caspian Sea, Himalayas, Ladakh and others. You can find a few mammals and amphibians in this region. This pond is also used as a fishing spot and saltpans near the shores. Apart from birdwatching, the pond is famous for watching sunrise and sunset.
5. Sultanpur Bird Sanctuary, Gurgaon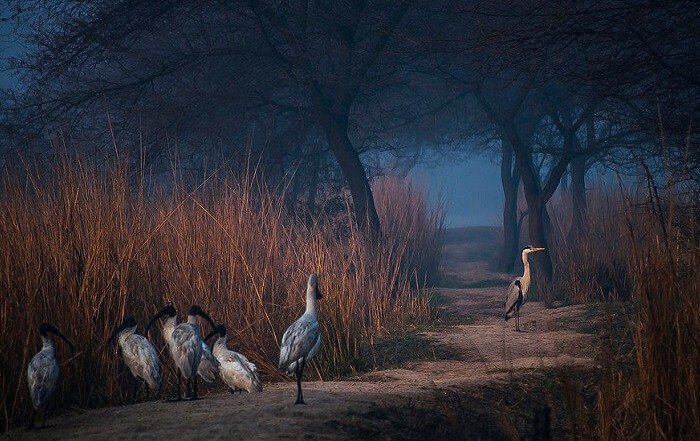 This is a wildlife sanctuary located in Gurgaon that homes more than 250 species of birds (local species). If you visit during winter, the place will be filled with more than 100 species of migration birds like black winged stilt, common teal, yellow wagtail, rosy pelican, northern shoveler, Greater flamingo, common greenshank and many others. During the winter season, you can find bird trails, trekking routes and much more. Per day, not more than 10 people are allowed to this sanctuary. Thus, it is very essential to pre-book.
6. Kumarakom Bird Sanctuary, Kerala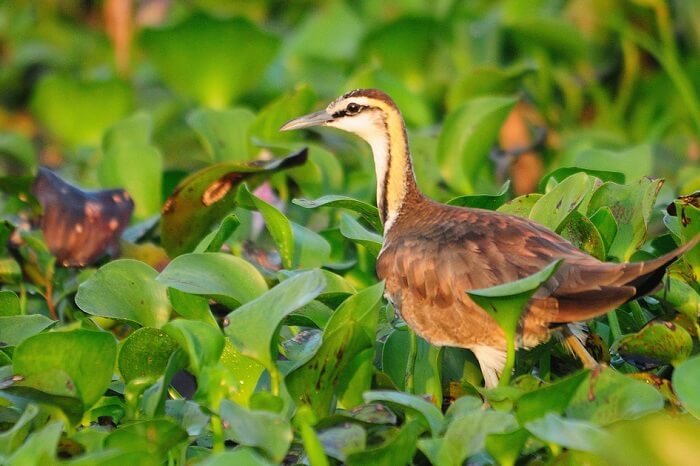 Located in the Kottayam region of Kerala, this bird sanctuary attracts both tourists and avid birdwatchers. Covering the backwater region of Kerala, this sanctuary attracts birds like parrot, flycatcher, lark, teal, Brahminy kite, darter, egret, moorhen and others. The bird sanctuary has a resort right in the middle for those who want to be as close as possible with the birds. There is also an interpretation center for tourists. For an interesting trip, tourists need to hire boat along the Kavanar River or Vembanad Lake to spot the birds.
7. Vedanthangal Bird Sanctuary, Tamil Nadu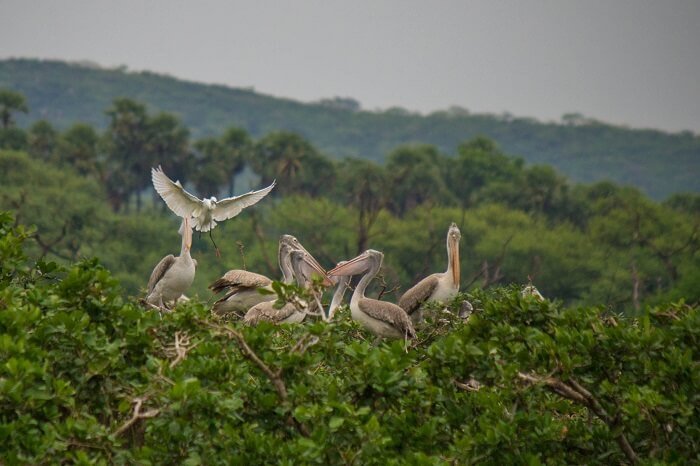 Geographically, this sanctuary is one of the smallest bird sanctuary in India. However, in the diversity of bird species, it is one of the rarest sanctuaries with more than 26 rare species of birds and various migration birds visiting during the winter season. This sanctuary is the oldest water bird sanctuary located in the Kancheepuram District of the state of Tamil Nadu, in India.
You can find migration birds from Sri Lanka, Australia, Bangladesh, Siberia, Burma, Bhutan, Nepal and others. It is easier to spot the nests of the birds in this sanctuary and you can find birds taking effort to maintain and feed their little ones. The sanctuary has an old watch tower. Tourists climb this tower to get a panoramic view of the sanctuary.
Apart from these, you can enjoy an exotic birdwatching excursion at Mayani Bird Sanctuary, Mangalavanam Bird Sanctuary, Pathiramanal Bird Sanctuary, Thattekad Bird Sanctuary, Nelapattu Bird Sanctuary and much more. You can find many interesting tourist activities in many sanctuaries.
Best time to visit  Bird Sanctuaries
The best time to visit the sanctuaries is from October to March. You can easily spot migration birds during this season. Peak summer and the rainy season are the worst times to visit the sanctuaries. Do not forget to bring your binoculars. Not all sanctuaries provide a very close view of the birds. Most of the sanctuaries offer walking trails only. Thus, you would be on your feet for many hours. Wear comfortable shoes and bring a lot of water with you.
Check out the most popular India tour packages
Suggested articles:-