Top 10 Romantic Tree Houses Resorts in India
Every single soul in this world grew up having a fantasy of a tree house fort. Indian tourism has paved way for reliving that childhood memories in a real-time luxury tree house. Tree houses resorts are becoming popular in India with a luxury accommodation on top of a couple of trees providing adequate view of the surrounding space and intimacy for romantic couples.
Here are the top ten tree house resorts in India that you ought to visit.
1. Hornbill Tree House Resort, Dandeli
Located in Dandeli, this resort moves itself away from the hustle of Goa. Located amidst majestic trees, this tree house is famous for its location close to Kali River of Karnataka. Thanks to the location, you can enjoy a lot of interesting adventure spots, bird watching, water rafting, coracle ride, rappelling and much more. The rooms boast of unimaginable décor and top amenities for a pampering stay.
Also read – Best National Parks To Visit In Karnataka
2. Tree House Resort, Jaipur
Jaipur is the land for any style of anticipated holiday. If you are looking for tree house stay, Jaipur is ready to take it to the next level with bewildering amenities, luxury accommodation and star-level services in a tree house standing on an exotic location, which keeps you as close as possible with nature. You can find a variety of accommodation options in Jaipur.
Also read – First-Timers Travel Guide to Jaipur
Explore famous itineraries of Jaipur 
3. Tree House Hideaway, Bandhavgarh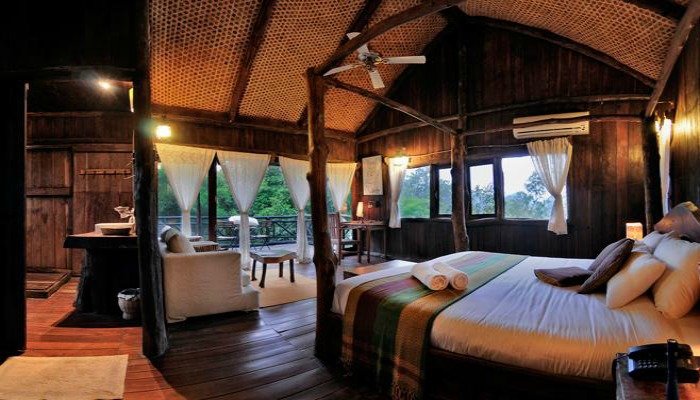 This resort gets its signature style because of its location. Located near the tiger reserve of Bandhavgarh, this tree house attracts wildlife lovers, adventure lovers and photographers. The resort holds just five tree houses with magnetic view of the fort, jungle and the river. You can also spot a few birds or small mammals from your balcony. Although it is not possible to spot exotic animals from your room, your stay will etch as exotic memory forever in your mind.
Also read – Top 10 Wildlife Destinations for Luxury Vacation in India
Check out the various wildlife tour packages of Bandhavgarh
4. Manali Tree House Cottage, Manali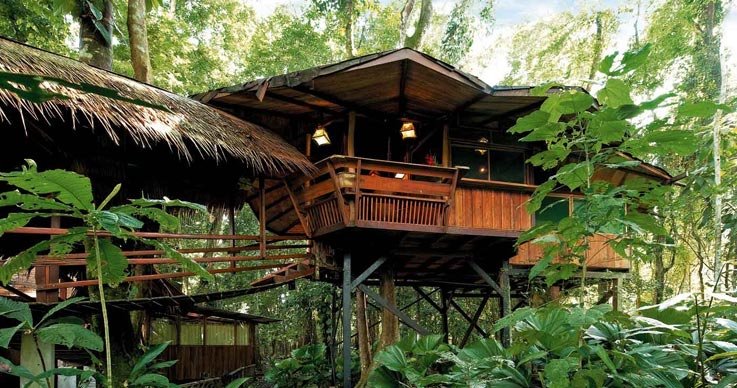 What can add more beauty to a tree house than a spellbinding valley view? Kullu Manali is one of the exotic destinations and with this resort; you get to stay on a tree house overlooking the crystal clear snow filled Himalayas. If you are visiting in spring or autumn, you can enjoy free fruits from the orchids like apples, plums and others.
The resort will be covered with wild and exotic flowers that can induce romance kindling. The view from the tree house and the service provided are one-of-a-kind.
Read also: Holidays Ideas for Kids Under 10 Years in India
5. Vythiri Tree Resort, Kerala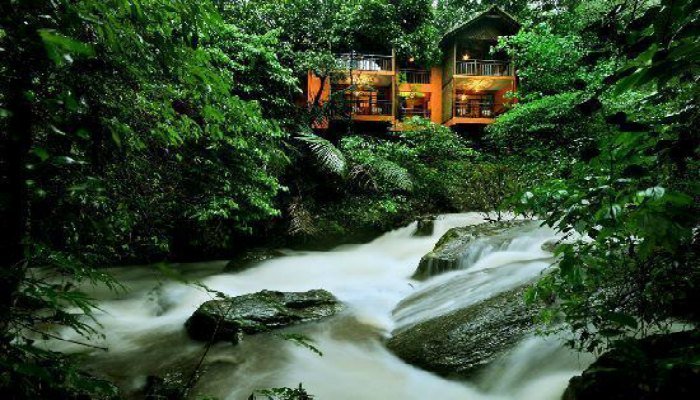 Located in the mesmerizing land of Kerala, this resort has been attracting quite a load of honeymooners for its submissive beauty. You can enjoy a tree house stay amidst thick canopy of forest. You get to stay in nature's close quarters enjoying a dew drop-filled forest throughout your vacation. You stay inside the warmth of Mother Nature enjoying perfect getaways that are exotic in genre and close to the resort.
Must read – 6 Romantic Kerala Beaches to Watch Sunset View
Check out the best of Kerala tour packages
6. Vanya Tree House, Kerala
Tree houses are not rare in Kerala. It is important to choose tree houses with signature location factor. To reach Vanya tree house, you need to make a three-hour journey from the international airport. The journey is the first beauty as you drive along the Periyar River, views of Idukki Hills, wildlife in Periyar National Park and much more. You will enter the tropical rain forest to find authentic tree houses riddled with modern amenities amidst the raw nature.
Must read – Top Six Best Beach Resorts In Kerala
7. Chunnambar Beach and Backwater Resort, Pondicherry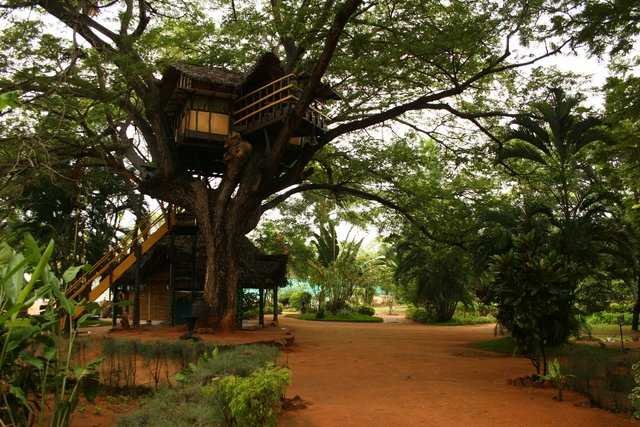 What do you think about fusing two exotic genres of holidays? Enjoy tree houses with close encounter with clear water. Enjoy all water based activities and the refreshing feel of tree house at the same place. You will be as far as possible from the commercialized life of Pondicherry. With this resort, you get to open the rare gates of Narnia of nature.
8. Machan, Maharashtra
Drive a little away from the urban life of Mumbai to reach Jambulne Island. This region is one of the romantic getaway spots from Mumbai. Machan is one of the biological hot spots in the world that offer tree houses on many unique trees. You will be staying 30 – 45 feet above the ground enjoying the forest beyond the canopy it has built. With nature around you, you can enjoy many adventure activities like trekking, camping, picnicking and many others.
9. Rainforest Boutique Tree House Resort, Kerala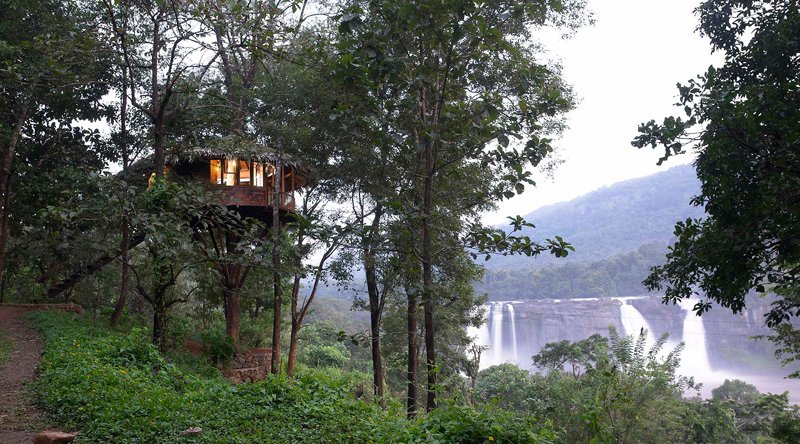 Athirapally of Kerala is famous for Ayurveda, boating, sightseeing and many others. Tree houses are one of its excellences that attracts tourists. A little away from the city, you can snuggle into the comfort of township to enjoy this boutique tree house. Luxury and lively décor are guaranteed. You can enjoy the view of Athirapally falls, man-made pools and much more just for your balcony.
Also read – 10 Things To Do In Kerala on Your First Visit
10. Nature Zone Resort, Munnar
Tree house on the slopes of a hill town is hypnotic for any stone heart. Visit the valleys of Munnar to enjoy the tree houses that are built in specific location to help you enjoy the scenic view over the low floating clouds. You can enjoy wildlife at close quarters and can easily spot wild elephants, mouse deer, Nilgiri wood pigeon, barking deer and others on hiking trips from the tree house. From your balcony, you can enjoy the plantations of Kannan Devan Hills.
Must read – 
Tree houses are one-of-a-kind and a unique experience for any type of travelers. You can find simple tree houses and boutique hotels on the trees in India. You ought to choose the right location based on the season you are planning your vacation, your budget and choice of activities you prefer during your stay in the tree house.