Travel Guide to Pench National Park in Madhya Pradesh
The real of home of our childhood friend Mowgli, the territory of the wicked Sher Khan, Pench National Park, is located in Chhindwara and Seoni district of Madhya Pradesh.
Started in 1977, The Pench National Park has a splendid history. The description of its magnificent beauty can be found in the 16th century document "Ain-i-Akbari (constitution of Akbar) written by Abu'I-Fazl ibn Mubarak. Rudyard Kipling's popular novel "The jungle Book" was also based on Pench.
According to the report of the State Forest Research Institute, published on Nov 26, 2016, this sanctuary is currently a home of 53 tigers. Among the other animals, predator like leopard, wolf, wild dogs and prey like barking deer, four horned antelope, sloth bear, palm civet can be seen here.
Named after the River Pench, this park is famous for trees like mahua, white kulu, Indian kino tree, aonla, saja, salai etc.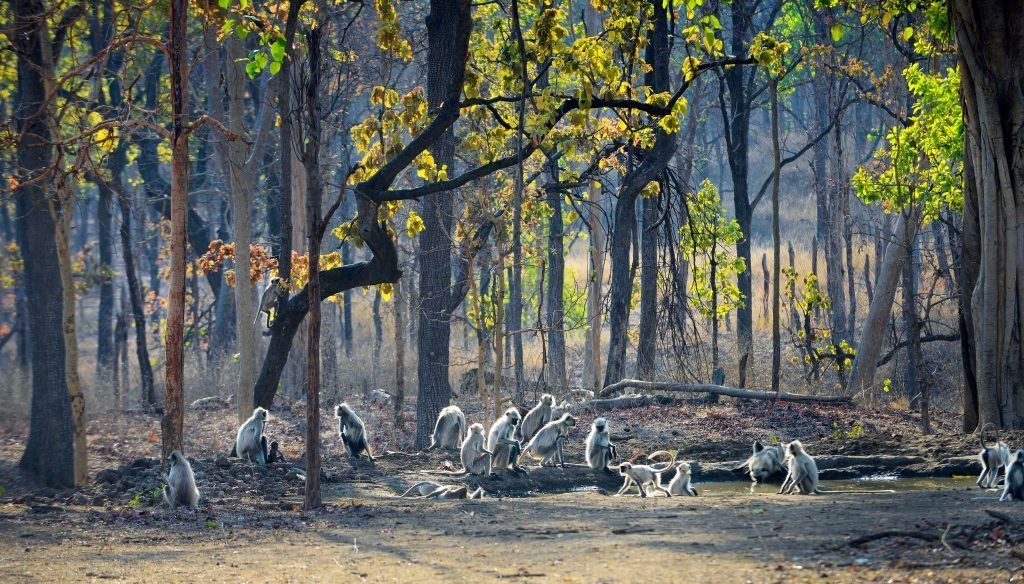 Timings of Pench National Park
The entry and exit timings of the park changes according to the season. During the winter, morning safari starts from 7:30 am to 10:30 am and in the evening from 15:00 pm to 17:30 pm. In the summer, morning safari starts from 6:30 am to 9:30 am and the evening safari starts from 16:00 pm to 18:00 pm.
Read more: Check out the list of adventure destinations in Himachal Pradesh?
Entry Fees and Charges of Pench National Park
Entry fees to the park is quite nominal. Per person the cost is –
For Indians – Rs 15/- 
For Foreigners – Rs 150/- only.
One can avail the mini bus with guide facility for Rs 150, arranged by the authorities.
Popular things to do in Pench National Park
There are numerous ways to explore the Pench National Park.
Jeep Safari
Early morning Jeep safari is best option to spot the wild life animals. One can contact their respective tour operator who provides jeep & local driver cum guide.
Must read: Ghost of Forest: Black Panther Spotted in Odisha
Bird watching
This wildlife national park harbours more than 210 species of birds including various migratory ones. Famous for magpie robin, crow pheasant, northern pintail, herons, Indian roller, myna, coppersmith and many more, this park is a heaven for the bird photography.
Elephant Ride
Another interesting way of exploring the Land of Mowgli is on the back of elephants. Enjoy the gorgeousness of the park on this pachyderm and be a witness of an unforgettable journey.
Other than this Night drive & Night Safari, Jungle walk and trek are also vary popular among the tourist.
Explore famous India Wildlife tour packages
How to reach Pench National Park
By Air
Nested in the lower southern region of Satpuda Hills, Pench National Park is 88 km away from Dr. Babasaheb Ambedkar International Airport of Nagpur.
By Road
With the help of National Highway 7,one can easily reach Khawasa which is 12 km away from the park.
By Train
Nagpur railway station is the nearest station, 92 km away. From the station it will take 2 hours to reach Khawasa, located near the Turia gate of the park.
Best time to visit Pench National Park
February to April is the best time to visit this sanctuary. Closed during the rainy season (July to October), Pench National Park remains open for visitors from 16th October to the end of June every year.
To make your journey extra ordinary you can board the luxury train, the Deccan Odyssey. Equipped with the modern facilities like air condition coach, internet connectivity and personalized guest amenities, Deccan Odyssey is surely one of the best option to reach the Pench National Park of Madhya Pradesh. Through its "Maharashtra Wild Trail Journey" one can visit the Pench National Park.
Rich in wildlife, dominated by mixed forest, Pench National Park is renowned among the tourist around the world. A visit to this park will surely leave you with some remarkable memories of life time.
Read more –