Romantic Beach Destinations in India
Beaches can kindle romance with its warm sand, swaying coconut trees, sheltered hammock, fresh air, interesting water activities and much more. Covered by water on three sides, the Indian peninsular is filled with exotic beach locations. Are you looking for a small vacation to rekindle romance?
Here are the top romantic beach locations of the country. There are thousands of beaches in the country. We have specifically chosen destinations, which are exclusively romantic.
Each beach location mentioned in this list have different prime time of beauty based on the geographical location. Learn about the climatic condition and tourism season of each destination before you plan your vacation.
1. Pondicherry
This colonial treasure is filled with medieval houses and interesting culture. Apart from these, Pondicherry city has five beautify beaches covering 32 km of coastlines. The beaches of this union territory is dotted with private luxury villas that provide unique service to allow you spend as much time as possible close to the beach.
Many resorts provide private beach area to enjoy your honeymoon in bliss. You can find floating restaurants, beach dinners or enjoy beach volleyball here.
Suggested article – Top 10 Amazing places that you should not miss in Pondicherry
2. Lakshadweep Islands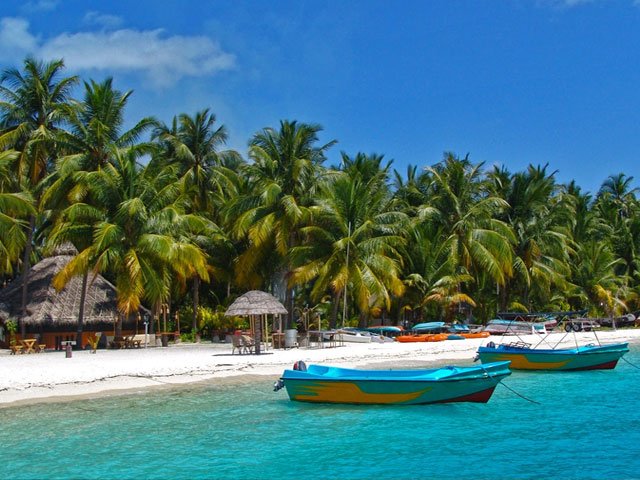 Located in the Arabian Sea, this cluster of island is famous for cliché tropical beach vacation. You can enjoy many exotic water activities and move from one island to another to enjoy in a spot that suits you. Top places to visit in Lakshadweep islands are Agatti Island, Bangaram atoll, Kadmat Island, Kalpeni, Kiltan and much more.
There are numerous islands, which are famous for a particular activity. You can hop from one island to other, enjoy water activities, private time or even roam through fishing villages to enjoy the culture of the land. You can easily find private area to spend a lazy afternoon on the beach; just the two of you. This is the right place for couples with more energy to spare.
3. Marari Beach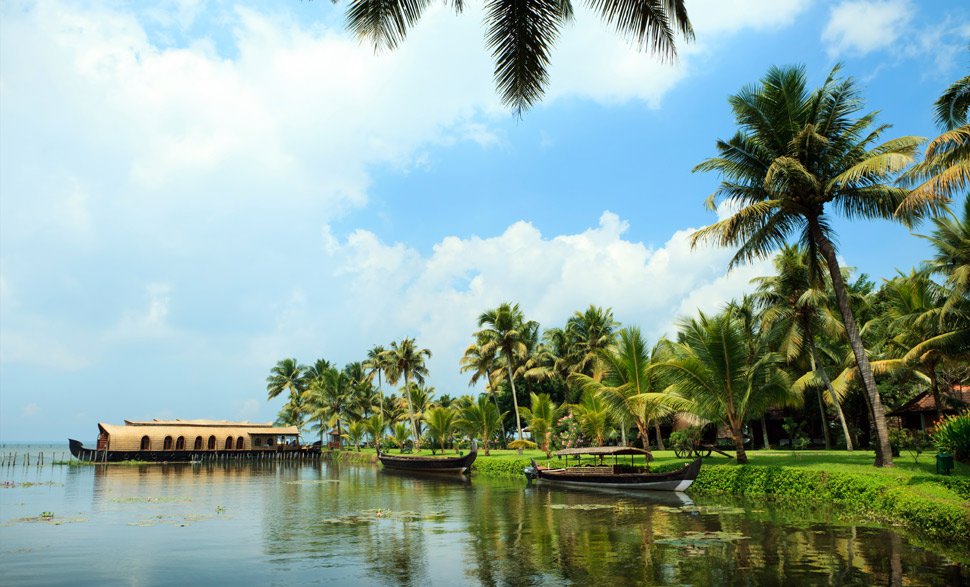 Do you want to make a complete vacation out of a beach location? Located in Kerala, Marari beach is a serene spot for nature lovers and beach enthusiasts. You can easily explore the backwaters from this beach. The beach is filled with vegetation making it more interesting for backwater canal rides.
You can easy reach Kumarakom bird sanctuary and other attractions from here. The beach has many palm trees that provide good shade for picnic lunch and even hammock. Do not forget your camera; you would regret it.
4. Andaman and Nicobar Islands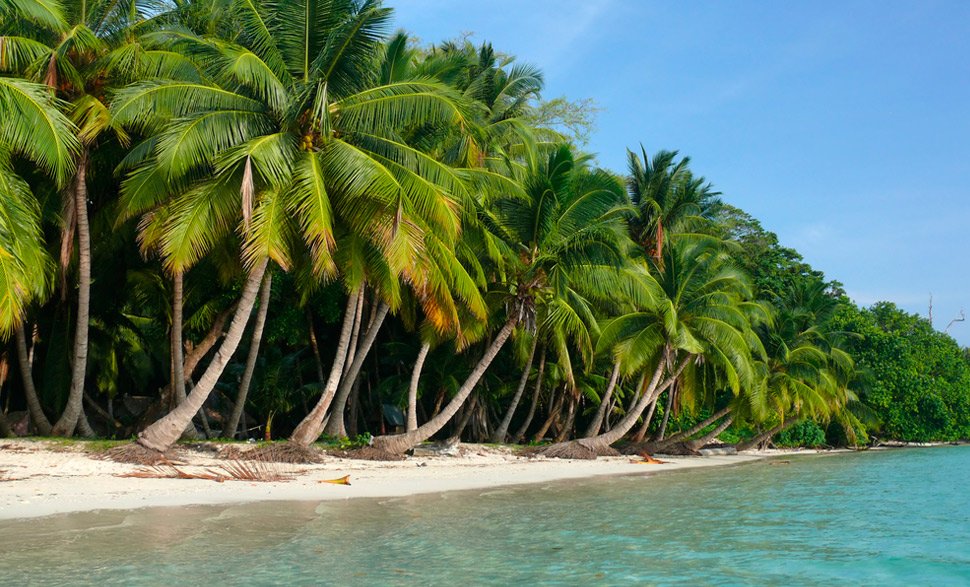 Are you looking for a Hollywood-style beach flavored vacation? This is the right place. It has lagoons, water activities, exotic beaches, underwater activities, luxury resorts, water bungalows and much more. This is a typical honeymoon destination. The place holds all exotic water activities starting from jet skiing to snorkeling.
You can find exotic spots to wade away time with your special ones. Some resorts provide night parties on the beach to enjoy an adrenaline pumping time, right next to the sea. This group of island has enough water activities, which can keep you close to water throughout your vacation.
5. Daman and Diu
Located in Gujarat, this is a magnetic place for new couples. Enjoying the Arabian Sea from the land of colonial beauty is a treat. The two cities are separated by the Arabian Sea. You can enjoy a unique style of beach vacation, away from the commercialization of the tourism. Stroll through the beach, enjoy private picnic and much more. This is the destination for anyone who is interested in a quiet and romantic spot to spend his vacation.
6. Kovalam
With a list of luxury amenities and exotic water activities, Kovalam beach is a heaven for honeymoon. Kovalam is located in Kerala, which is famous for its natural beauty and lush vegetation. This destination has both beach and backwaters and thus, you can spend your whole vacation in water.
This is one of the iconic tourist destinations and thus, crowd is inevitable during peak tourism season. Stroll to the lighthouse and watching sunset from the beach is an iconic romantic activity of the beach. This beach also holds many Ayurvedic massage centers nearby for couples' massage.
Suggested article – Travelers' guide to Kovalam's Beach Paradise
7. Goa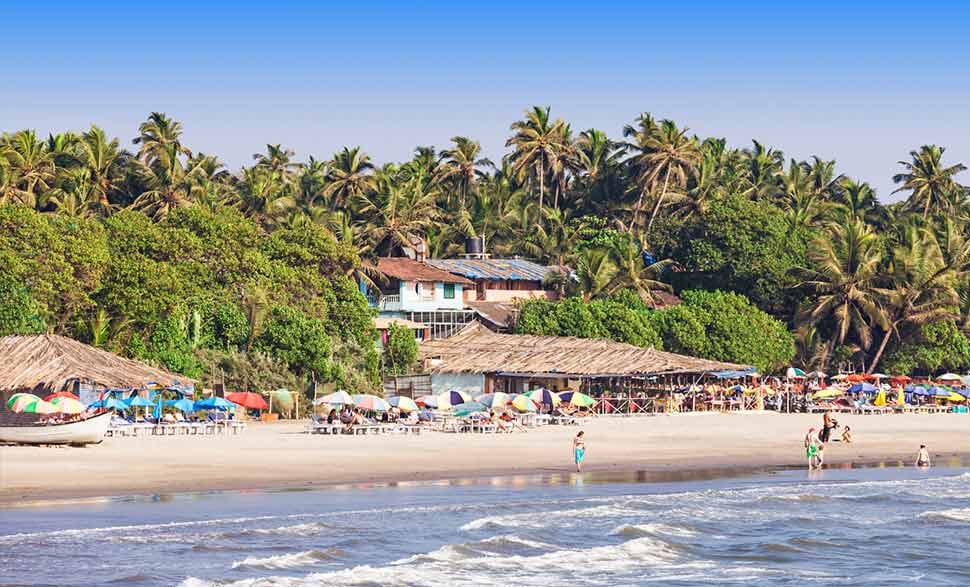 Goa is the classic beach location with 31 different beaches. Some of the beaches hold all water activities and are filled with tourists. In the evening, these beaches turn into a carnival of dance, music and booze. You can also find exotic activities like hot air ballooning here. There are beaches that are seldom populated with public.
These beaches are the spot for romantic visitors. Bestowed with natural beauty and with no people around, romantic travelers find good spot for picnic, strolling and others. Top beaches to visit in Goa are Agonda beach, Cavelossium beach, Mandrem beach, Benaulium beach, Candolim beach and much more. Goa is also famous for Yoga Retreat, check out some of the famous yoga retreat in Goa.
Suggested article – Which is Best Goa? – North vs South Goa Attraction
Read more: Delicious Dishes in Goa: What and Where to find ?
8. Vishakhapatnam
This is a beach destination located in Andhra Pradesh. Although not a popular destination, the beauty of beaches of this coastal region is spotless. You can find unspoiled beaches with no signs of commercialization.
You can enjoy a relaxed vacation with your special one here. If desired, you can accompany the locals in a fishing tour. This is the destination, which is preferred by people who want to spend time in a calm environment.
9. Kannur
Kannur of Kerala holds the only drive-in beach in the continent. This is an amazing beach spot with serene natural beauty. During April, an adventure festival takes place in which, people perform car stunts, bike wheeling and others.
Romantic couples prefer smooth drive along the beach, picnic, sightseeing, bathing and sun bathing. Surrounded by black rocks, the beauty of this place is unparalleled. Since not very common among tourists, you can enjoy a peaceful lone time in the beach with your special one.
These are not the only beach locations in the country. You can find numerous destinations along the coasts of Arabian Sea, Indian Ocean or Bay of Bengal. If you like to spend a beach vacation for rekindling romance, India is one of the best countries to choose.
Read more suggest articles: