Top Yoga Retreats in Goa
India which is famous for its particular old skills of curing and different therapies offer not only best Ayurveda to Naturopathy to Yoga and Meditation practices but this is one of the country's USP that allure tourists from all over the world to folk here. So if you are also yoga admirer and thinking about the best yoga retreats in India then don't think more, head "Goa", yes right, with beautiful surroundings, rotating hills, deep blue waters and bright sand beaches, Goa offers an ideal platform to calm your mind and free your body and soul from the tiredness of the daily life.
If you think , that's it, so wrong,  Goa is popular, as its abundance of  yoga retreat and holiday centers offers everything from drop in classes to long courses and spiritual retreats for all budgets to tourists, then don't think more, without ado, head any of the best yoga retreats in Goa and revive the inside saint in you!
Here for your convenience we have selected some of the famous "Yoga Retreats in Goa" where you should go
1. Purple Valley Yoga Retreat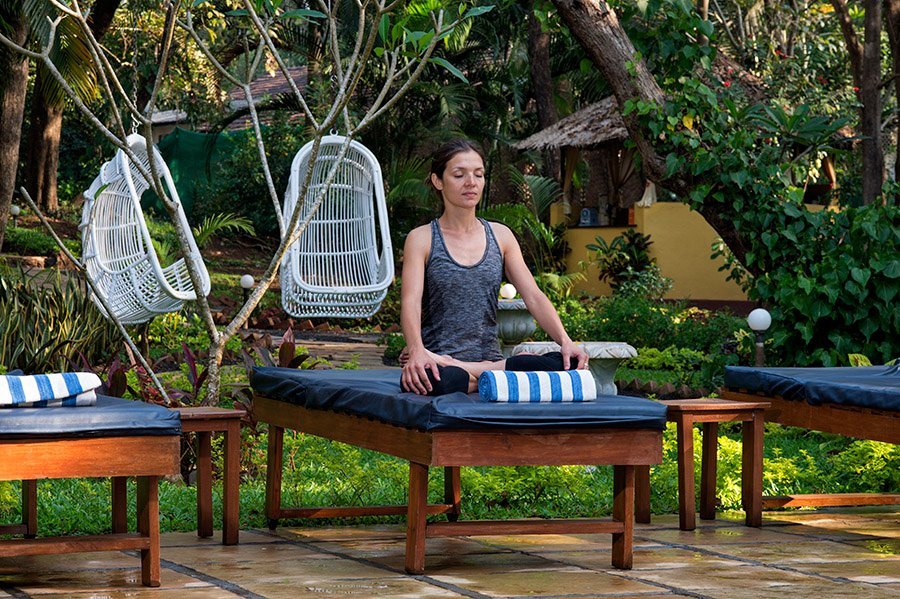 Nestled in a smooth valley in Assagao, North Goa,"Purple Valley Yoga Retreat" is one of the well-known Ashtanga Yoga Retreat Centres in Asia. Here in morning everyone will practise "Ashtanga (Mysore style)" self-practice – an absolute balance for all levels and abilities and in afternoon, Asana Technique, Yoga Philosophy, Pranayama, Meditation and Group Discussion held which offer a great chance to discover and learn the practice at broad level.
If you think, only Ashtanga practise is here, so wrong, its uncountable retreat facilities (Massages, Traditional Ayurvedic and Beauty Therapy Treatments), two Portuguese-style accommodation named "Ganesh House" and "Savasana House" which is situated in wonderful surrounding of lush gardens with swimming pool, ayurvedic spa, common areas for eating/reclining and separate spaces for meditation is peaceful,familiar and inspiring.
Last but not least, if you want some more fun except yoga, then tour to the local markets,spice plantation and famous movie night under the shimmering sky awaits you.
Must Read: Best Luxury Boutique Hotels in Goa for a Memorable Stay
2. Bamboo Yoga Retreat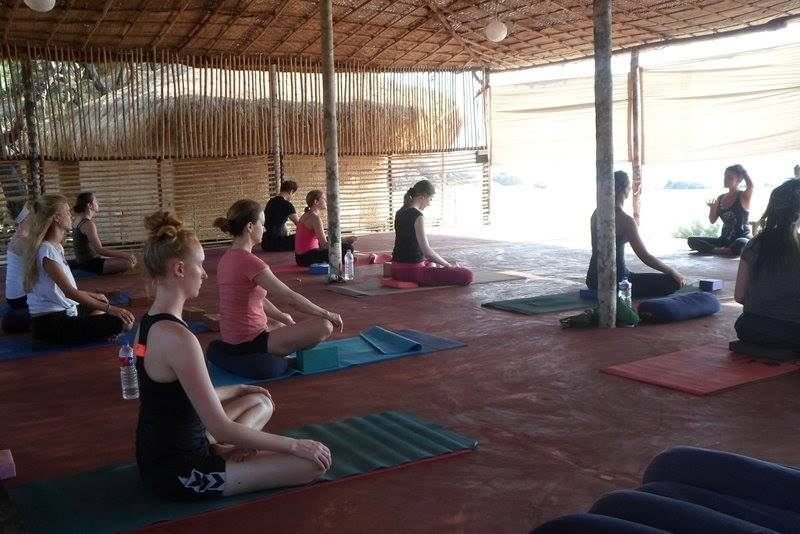 Situated in the end of Patnem beach, South Goa, with four well-appointed yoga shalas, "Bamboo Yoga Retreat" is an ideal place to recline and enjoy the sunlight.
This retreat which is encircled in almost more than 3 acres of lush gardens has many lucrative point that surely enthrall you to head here like Array of meditation and philosophy sessions, group beach side dinners, boat trips, magnificent chill out lounge, outdoor restaurant and phenomenal spa that offer treatments like Deep tissue massage, Reiki, Shiatsu, Kerala foot massages and traditional Indian head massages.
Read more: Delicious Dishes in Goa: What and Where to find ?
3. Satsanga Retreat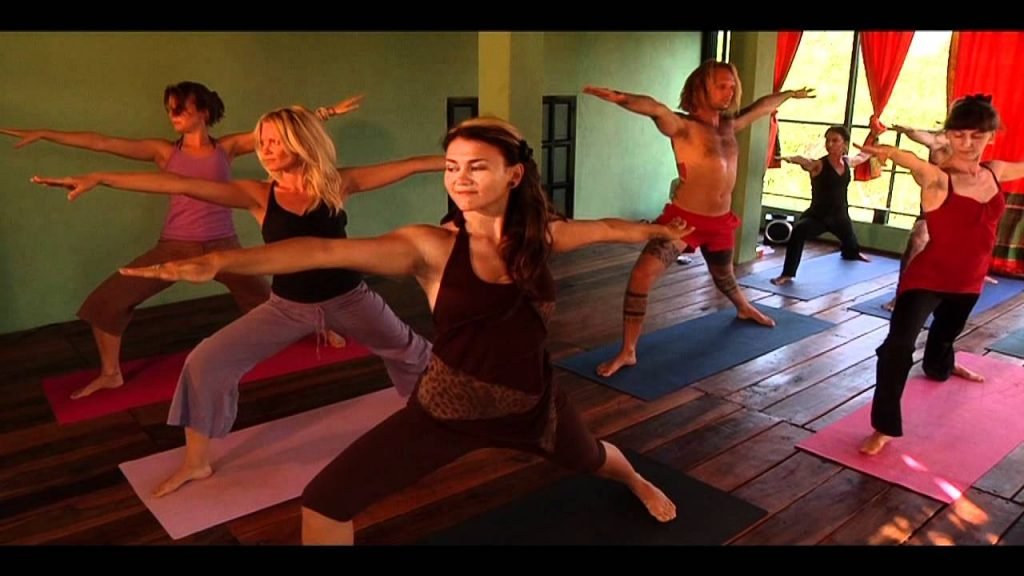 Located in the little village of Verla Canca, "Satsanga Retreat" is a home-away-from home experience. And I assure you once you embarked here; you never want to go back, as this vibrant centre has verdant gardens, 18-metre swimming pool, 15 well-furnished guest rooms, yoga workshops such as Asatoma Sad Gamaya, Tamasoma Jyotir Gamaya and Mrityorma Amritam Gamaya and many comfortable places to sprawl and recline.
And not only this, if cooking is your hobby/you like to cook Indian vegetarian food, then here you can develop your skill from not other than experienced chef and yeah before leaving this yoga retreats don't forget to pamper yourself with Spa Ayurveda treatments such as pedicure, manicure, and waxing.
4. Ashiyana Yoga Resort
If you are searching for a yoga retreats where you can detox and treat one, you should go "Ashiyana Yoga Resort" in Mandrem.
Here you will not take part in yoga programs such as Elemental Yoga Therapy, Detox and Rejuvenation Retreats and more but the retreat Turkish sauna, six treatment rooms offer particular therapies, day spa packages, elixir programs, organic restaurant (for non-vegetarian, chicken and fish are available on a couple of evenings every week) and accommodations that begin from sea facing beach huts to lavish shore suites and eco-lodges are few things that recline your body, cool your mind, and arouse to your inside quietness of being.
5. Kranti Yoga Village Beach Resort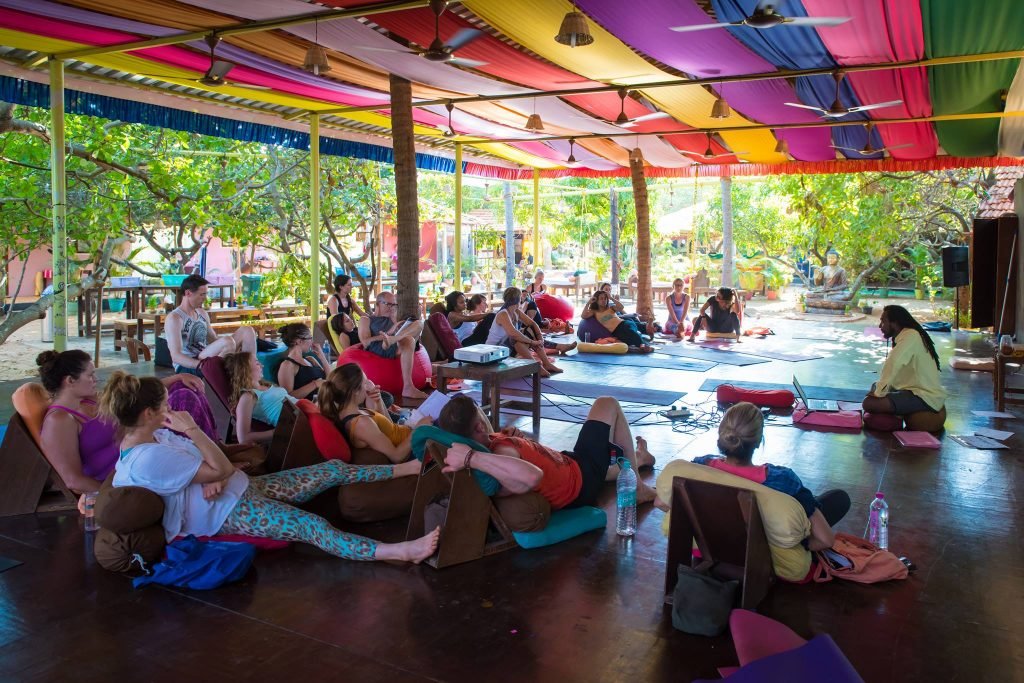 Boastfully completed 10 years, "Kranti Yoga Village Beach Resort", is mainly for keen yoga enthusiasts. Here yogis and yoginis will not find 100, 200, 300 and 500 hour Yoga Teacher Training Courses in Ashtanga Vinyasa Flow Yoga and week-long comprehensive yoga but daily pranayama, meditation, kriyas, asana, restorative flow and yoga nidra practices are all part of sessions.
After reading, if you are thinking, very hectic schedule held here, so relax, its tranquil environment and alternate activities like full moon and candlelight meditations, yoga movies and more entice you sure and give a varied experience of lifetime.
6. Yoga Gypsys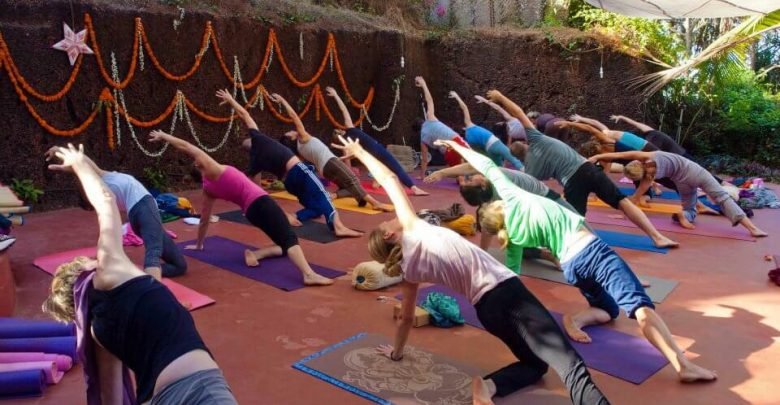 Nestled at Aswhem Beach, Goa, "Yoga Gypsys" offers a quiet environment that moves everyone into a mood of recreation. Usually daily "Hatha Yoga Classes" held here but its nearby beach setting offer a great chance to yogis to do some yoga poses facing the rising sun on the beach.
Except this, its splendid accommodations (Tipi Tents, Zen Huts and Portuguese Style cottages) and hygienic organic food on the rooftop restaurant will always welcome and allure you.
7. The Beach House
Located on the wonderful Sernabatim Beach, Sanda Retreat's signature (an international brand famous for customized all-inclusive wellness programs) "The Beach House" is an ideal retreat that offers a huge range of innovative and all-inclusive wellness programmes from Total Body Re-Balancing to comprehensive Yoga Retreat concentrate on both theoretical and practical aspects of yoga.
Despite this, the thing that makes this retreat center unique is its 15 beautifully designed rooms that provide all lavish service in a peaceful environment and the team of in-house specialists include knowledgeable and credible yoga instructors, ayurvedic doctors, nutritionists, and hypnotherapists.
Suggested Read – Top Adventure Activities to experience in Goa
8. SWAN Yoga Retreat
If you want to live ashram life in Goa, then "SWAN Yoga Retreat" is for you. Surrounded in the dense heaven of Assagao, SWAN Yoga Retreat is one of the yoga centers in India which is based on the teachings of "Paramhamsa Swami Satyananda Saraswati".
Except this,the main lucrative point of this center is here yogis will not learn only yoga but holy tantric fire rituals, puja, kirtans, mantras and yogic kriyas are some of the points that  make us differ from other yoga retreats of Goa. Now if you are thinking, here accommodation is one of the big issues, so wrong, inexpensive spacious and comfortable accommodations in eco-friendly environment are avail here.
9. Little Cove Yoga Holiday Retreat cottages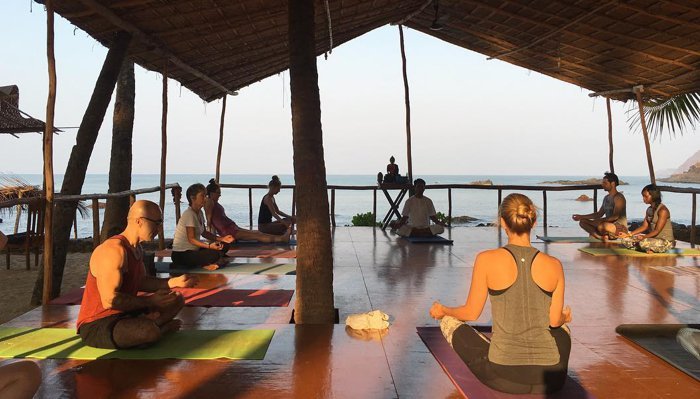 Situated on the riverside of Cola Beach in South Goa, "Little Cove Yoga Holiday Retreat cottages" offer splendid yoga experience.
In addition to daily yoga classes, it's astonishing single or double cottages, organic vegetarian Indian meals (including vegan and gluten-free), complimentary cooking classes, Ayurveda facilities and different 10-15 day themed yoga retreats by world famous yoga teachers offer remarkable experience that you cherish forever.
Suggested Read – Top 10 Places to Visit in Goa
10. Banyan Yoga Tree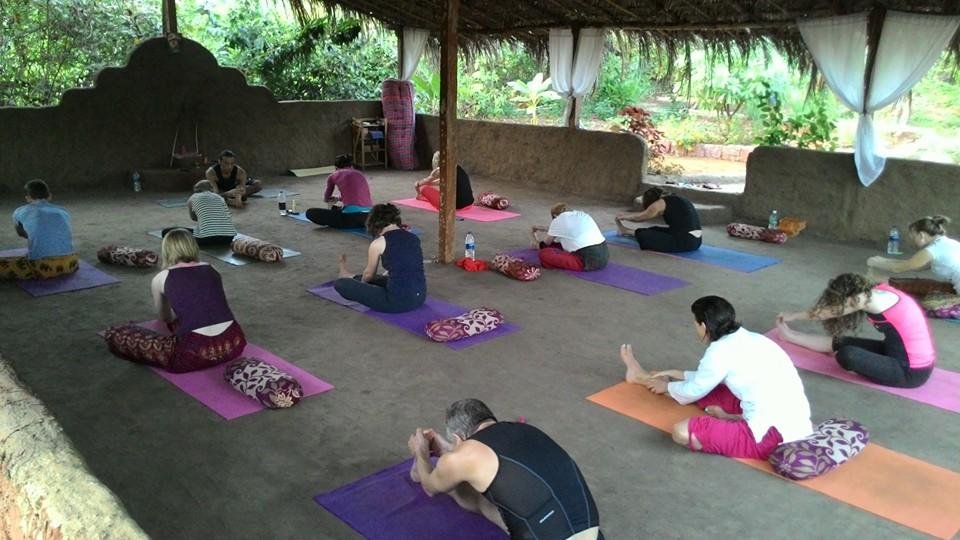 Located next to Bhumika Temple, Mandrem, "Banyan Yoga Tree",  according to its name, is the place of ten usable huts made from Banyan wood.
Like the other yoga retreat in Goa, the main objective of this retreat is also to help visitors to fulfil their wellness goals by offering good choice of innovative yoga packages like (combining classes in hatha yoga, meditation and more). Except this, its alternate detox programmes, massage therapy option and so more reclining facilities entice and mesmerize visitors to head here.
So after reading this, I am sure you made a fan of all this Yoga Retreats in Goa and ready to soak in the integrity of Yoga.
Also check 10 Best Luxury Spa and Ayurvedic Resorts in India
Explore more information about Goa –