Interesting facts about Mehrangarh Fort in Jodhpur
Rajasthan is the best synonym to majestic forts in India. Among them, one is Mehrangarh Fort in Jodhpur which is a famous historic monument with beautiful attractions. Mehrangarh Fort is very popular for its architectural styles, beautiful complex carvings, and different palaces inside the fort.
But all these things and attractions are almost known to every one who is interested to visit it. If you go crazy on this historical monument you will meet up with some interesting facts. By this, you can understand that we are sharing some interesting facts about Mehrangarh Fort.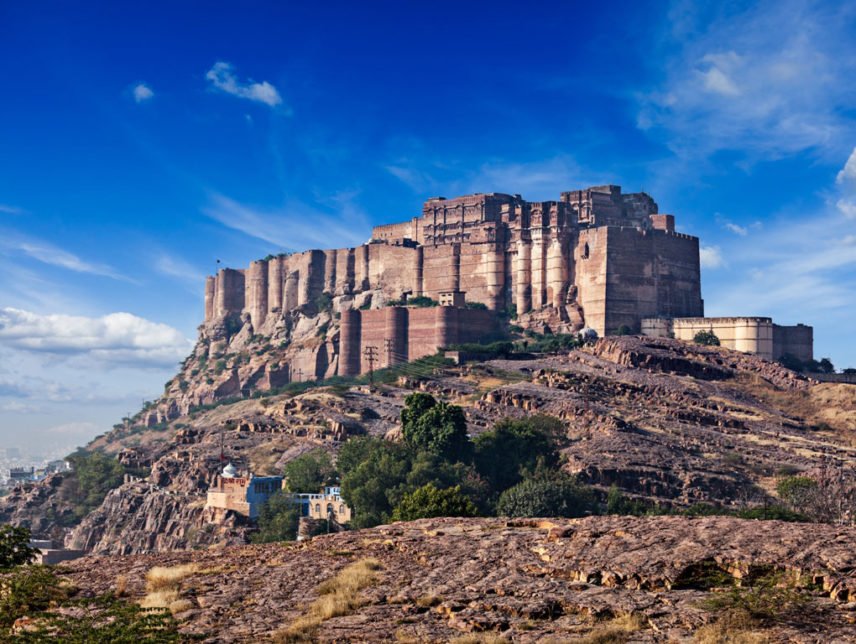 Read also: Top 20 Must Visit Attraction in Rajasthan
History behind the Mehrangarh Fort
Rao Jodha the fifteenth Rathore ruler who was the founder of Jodhpur city and Mehrangarh Fort in 1459. This huge and vast Fort was laid on Malani Igneous Suite Contact rocky hill known as "Bhaurcheeria" means the mountain of birds. There is a story behind this monument before planning to construct.
A hermit called Cheeria Nathji, the lord of birds was an occupant of this hill. For the construction of this fort, he was asked to move and this made his anger and cursed the fort as it will remain drought of water scarcity. To satisfy him, Rao Jodha constructed a separate temple to him for meditation. But even today for every 3 to 4 years drought will suffer this place.
Suggested tour – 16 Days Exotic Rajasthan Tours
Man buried under foundation: Rao Jodha had taken an immoderate measure to bury a man under the foundation for the fortunate of Fort. For this act, a man named "Raja Ram Meghwal" was sacrificed his life dying under the foundation. But in return, he requested Rao Jodha that his family should be treated superior after by the Rathores. Even today family of Raja Ram Meghwal treating with equal to Maharajas.
However, the history of Mehrangarh Fort is very different because it was laid on a buried man and cursed by the hermit. But now it is very famous and popular among people but these stories make people very interesting and unimaginable.
Read more –
Adventurous act at Mehrangarh Fort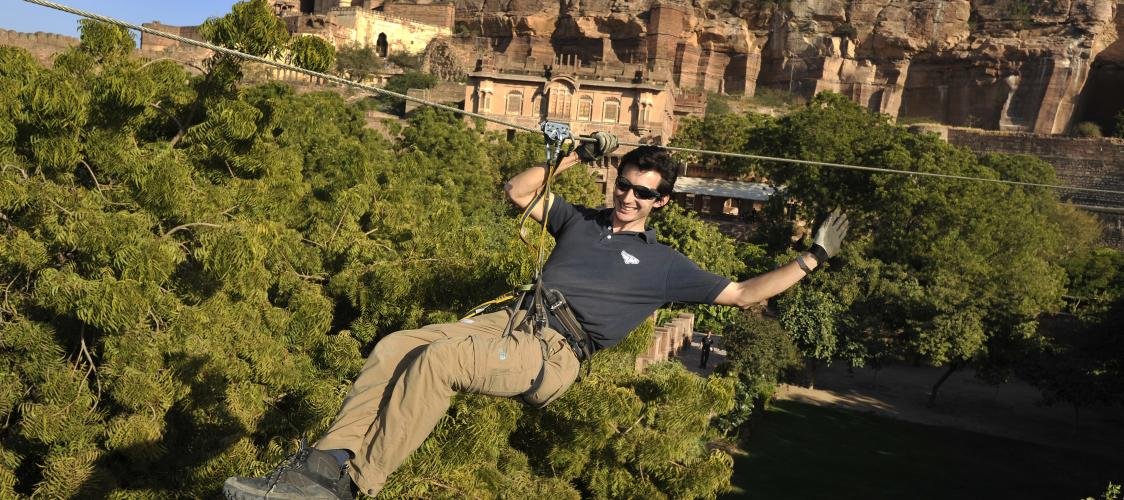 Mehrangarh Fort offers an adventurous flying fox activity over the walls of the fort. Flying Fox is the most wanted act to do here to have a fantastic view of crossing over huge bastions, walls, and lakes of the fort on the north side.
When you visit Mehrangarh Fort never miss this adventurous act because it will give a lot of fun with action. Cost for this activity depends on how many numbers of zips you select. Actually, this activity is a two-hour circuit of six zip line. It will be very interesting and a joy ride to take part.
Read also: Where to Travel in Rajasthan in November?
Famous Attraction in Jodhpur – Mandore Garden – Beautiful Royal Garden in Jodhpur
Popular Tour Packages
Gateways of Mehrangarh Fort
Actually, there were only five gates at the initial stage but due to the expansion of Jodhpur Kingdom, two more gates were added. At now there are totally seven gates to enter the Mehrangarh Fort. Each gate has a specific significance and attractions.
The total seven gates names are Fateh Gate, Gopal Gate, Bhairon Gate, Toati Gate, Dedh Kamgra Gate, Marti Gate, and Loha Gate. Among them, some gates are very interesting with different specifications.
The first gate Fateh Gate means symbol of victory and this gate was made of spikes and a barbican which makes easy to counterattack on enemies. This gate was built by Maharaja Ajit Singh to make a strong defence to the fort.
Suggest article: Exploring Jaisalmer – Top 20 Places to Visit
If you visit fifth gate Dedh Kamgra Gate you can visualize the cannon shots on the fort walls during the wartime with Jaipur kings. The sixth gate Marti is a large passageway with guardrooms. The last gate Loha gate led people into the main part of the fort and you can observe the 36 hand prints of the wives of Maharajas.
Finally, the remaining three gates are Gopal gate, Bhairon gate, and the Toati gate. But the Toati Gate was missing and the remaining two gates are flanked with large guardrooms.
But the main entrance to the fort is the "Jay Pol" means victory built by Maharaja Man Singh in the 17th century to symbolize his victory over Jaipur and Bikaner armies.
Also read – 
How the name came to Mehrangarh Fort
For the Rathore dynasty Sun is the superior God to them and in respect to Sun God they named the Fort as "Mehr-Garh". Mehr means Sun and Garh means Fort. But the locals of Jodhpur pronounced it as Mehrangarh in their local language and then it was turned as Mehrangarh Fort.
Read more: Best things to do in Shekhawati
500 years background monument
Actually, this fort was started in the 15th century by Rao Jodha. But many palaces and structures present in the fort are added by his next generations. Nearly this gigantic fort was constructed across 500 years by expanding it and adding some more attractions to it. The present fort we see now mostly built by Maharaja Ajit Singh in the 17th century.
One of the most luxurious hotels in Rajasthan – Umaid Bhawan Palace in Jodhpur
Mehrangarh Fort Museum
Mehrangarh Fort Museum is a group of palaces which are beautifully decorated and designed and also reflects the architectural style of Rajput. Famous palaces in the museum are Moti Mahal, Phool Mahal, Sheesh Mahal, Sileh Khana, and Daulat Khana.
Mehrangarh Fort Museum was the best museum in Rajasthan displays the collection of miniatures, furniture, palanquins, howdahs, royal cradles, musical instruments, and costumes. All these collections belong to the time of Maharajas.
Explore: Top 10 Places to Visit in Bundi, Rajasthan
The major attraction of the museum is the Daulat Khana or also known as Treasures of Mehrangarh Fort. This palace displays the important things of the Mughal period. Because the Rathore rulers are maintained a close relationship with Mughal rulers at that time.
Interesting things in this museum are the Shah Jahan red silk and velvet tent with gold thread work which was used in Mughal campaign was preserved in Tent Room. The painting gallery in Mehrangarh Fort displays the Marwar paintings.
Takhat Vilas is another interesting place to be visited in Mehrangarh Fort built by Maharaja Takhat Singh and also he was the last ruler. Takhat Vilas was beautifully decorated with different architect styles, traditionally, and different colors tree balls hanging to the ceiling etc.
Finally, these are the interesting and pleasurable things in Mehrangarh Fort. All these palaces and galleries in this museum have their own specifications and uniqueness. It will be very nice if you visit the Mehrangarh Fort.
Read more – Top Things that you should not miss in Jodhpur
Ancient volcanic rock
From the downward of Bhaurcheeria hill, there is a Desert Park known as "Rao Jodha Desert Park" and this park ecologically restores vegetation of barren and desert land. An interesting thing about this park is around it many volcanic rocks and sandstone formations will appear and these are formed nearly 600 million years back.
This park attracts tourists with its cafe, gallery, and a native plant nursery. By visiting this park you can experience the ecosystem of the desert like local birds, reptiles, and butterflies etc.
Explore more – How to Spend 3 days in Jodhpur
Cultural and Folk Performances
Mehrangarh Fort is very popular for different traditional and cultural folk performances all over the famous forts in Rajasthan. Everyday cultural and folk performances are conducted in the different places of Fort and it is a great treat to visualize the famous artists performing different Rajasthani folklore. It will be very amazing to watch this cultural shows with the background of beautifully carved courtyard walls.
Suggested tour – 24 Days Cultural Rajasthan with Camel Safari
Visitor Information
Timings: From 9 A.M to 5 P.M every day.
Entry Fee: 60 Rs for Indian and 400 Rs for Foreigners.
The best time to visit this majestic fort is in between late October to early March. These months are suitable to enjoy all the attractions of the Fort and the minimum time required to complete the tour of Mehrangarh Fort is just half a day.
These are all the interesting and some are unknown facts of Mehrangarh Fort. However, Mehrangarh Fort is the most wanted fort in Rajasthan to be visited. Many attractions and things in Mehrangarh Fort attracts a large number of visitors daily.
So have a visit to Mehrangarh Fort with your family or friends to enjoy the beauty of the Fort. It is the right place to enjoy the feast of architectural styles and many more attractions.
Best tour packages – 13 Days Best of Rajasthan Tour
Read more some articles: