Top Attractions to visit near Mysore
Mysore is an important tourist destination with palaces, monuments, scenic spots, shopping centers and others. If you are visiting Mysore, never restrict your itinerary to the city, alone. Here are the top attractions that are a little away from Mysore and are worth the travel time and effort. Those who visit Mysore usually visit these attractions as a day trip.
Ranganathittu Bird Sanctuary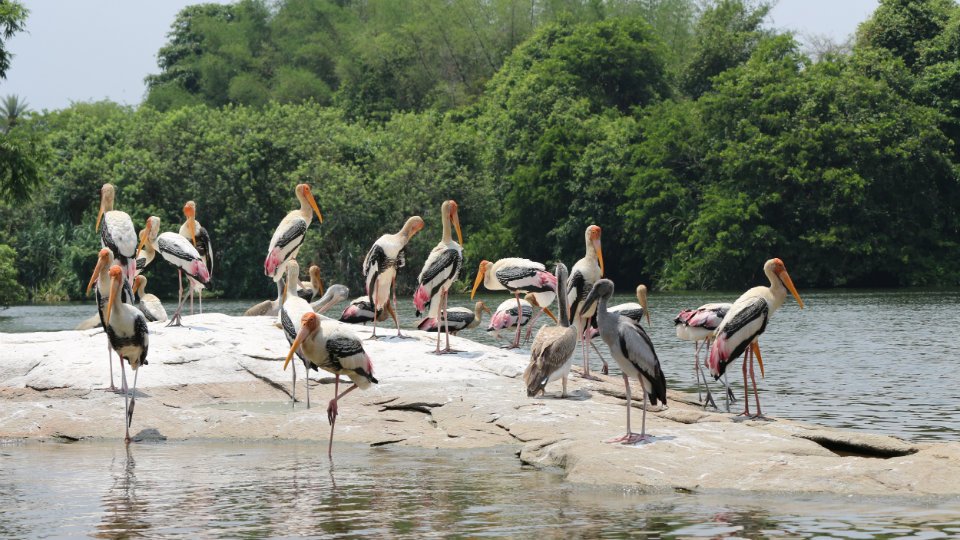 Distance – 16 km from Mysore
Type – National Park
If you are a bird lover, you ought to visit this place. This sanctuary holds six islets located on the banks of River Kaveri. In 1940, this sanctuary was inaugurated and since then, this has been a paradise for bird watchers.
Top birds to spot here are white ibis, cormorants, painted storks, spoon billed stork, kingfishers, sandpiper, egrets, herons, terns and others. The best way to enjoy this sanctuary is via boating. The best time to visit this sanctuary is from June to October.
Brindavan Gardens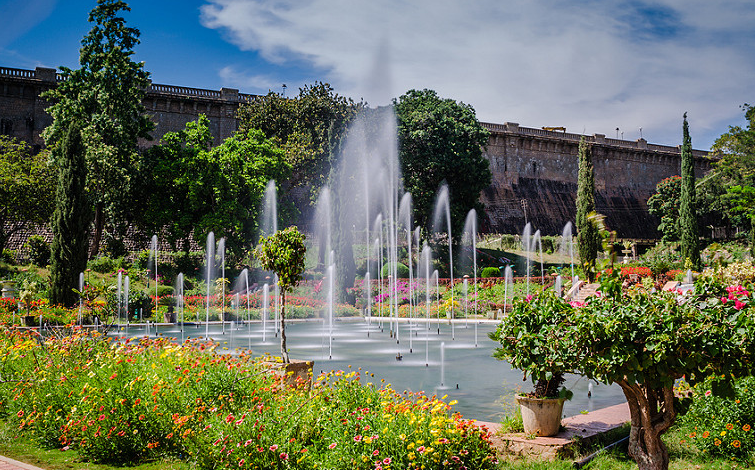 Distance – 19 km from Mysore
Type – Park
This beautiful garden is famous for its collection of lush flora, fountain, green lawn water channel, parterres and others. The musical dancing fountain is the iconic attractions of this garden. Thus, if you are willing to enjoy this fountain, you ought to visit during or after sunset.
The southern part of the garden is turned into a luxury hotel for tourist accommodation. Apart these, you can also enjoy a short boating trip inside the park.
Srirangapatna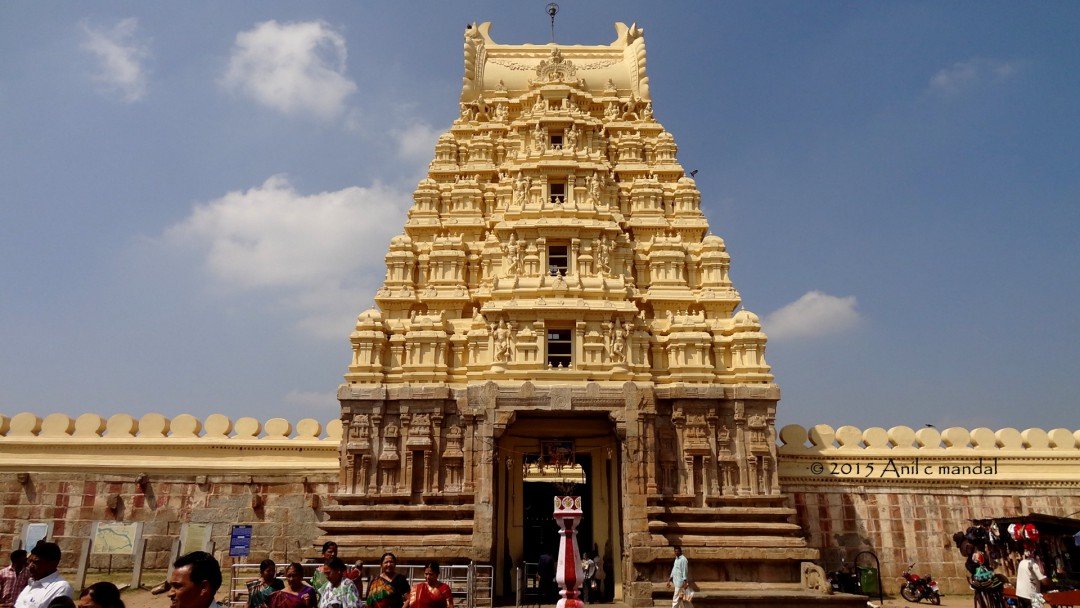 Distance – 18 km from Mysore
Type – Historic site
This historic temple town is located in Madhya district. This 9th century region belong to Vijayanagara Empire.  You can find numerous temples of Lord Vishnu in this region. The town also holds the largest Vishnu temple of the state.
Apart from temples and religious spots, you can find Palace of Tipu Sultan, Gumaz, Sangama and others. Visit during Buddhist and Hindu festivals to enjoy many rituals here.
Suggested tours – 11 Days Karnataka and Kerala Tour
Somnathpur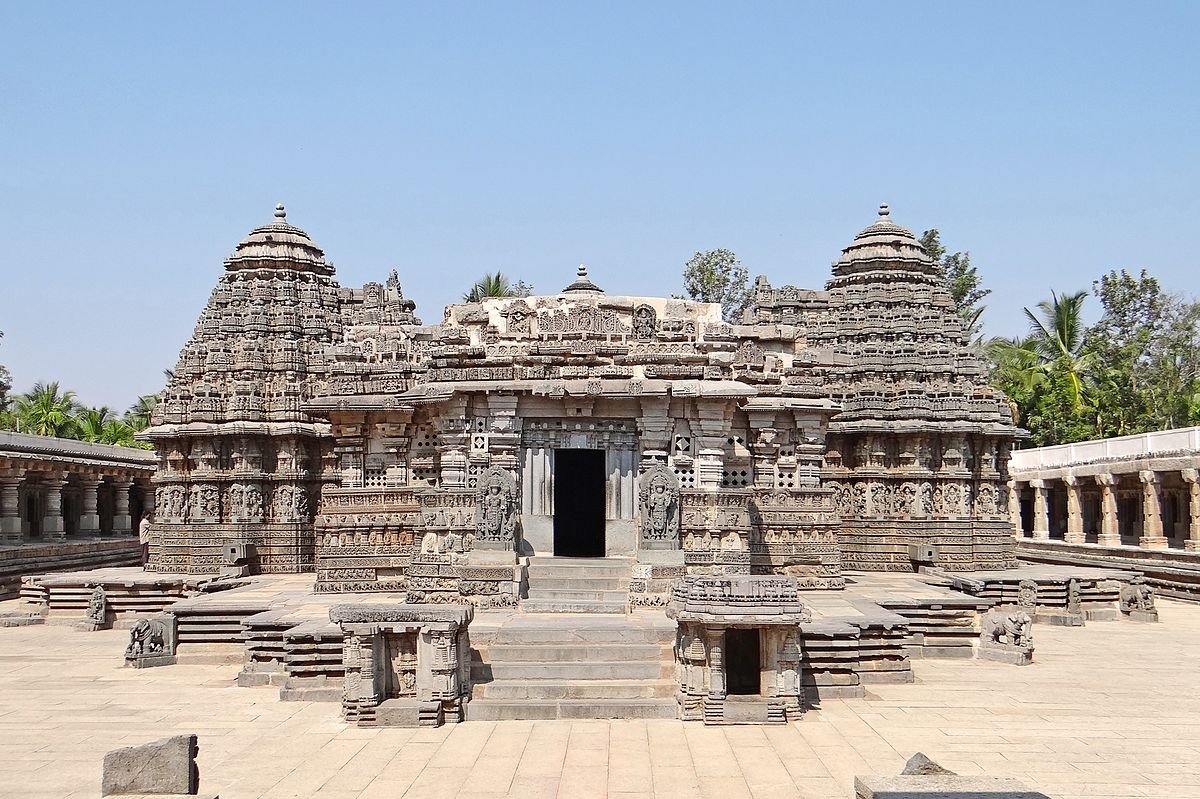 Distance – 35 km from Mysore
Type – Temple town
This town holds a large number of examples of Hoysala temples, heritages sites and others. This is an important weekend getaway for local and tourists in Mysore. The temples are famous for rituals, intricate sculptures, minute carvings and others. Visit the temples to enjoy the ceiling paintings, deities decorated with enormous jewelry, towering crowns and others.
The best time to visit Somnathpur is during winter, which starts in October and ends in March. The pleasing climate makes it easier to scale the place. It would not take more than three hours to scale the whole town.
Suggested tours – 7 Days Karnataka Tour ( Bangalore, Mysore, Hassan)
Talakadu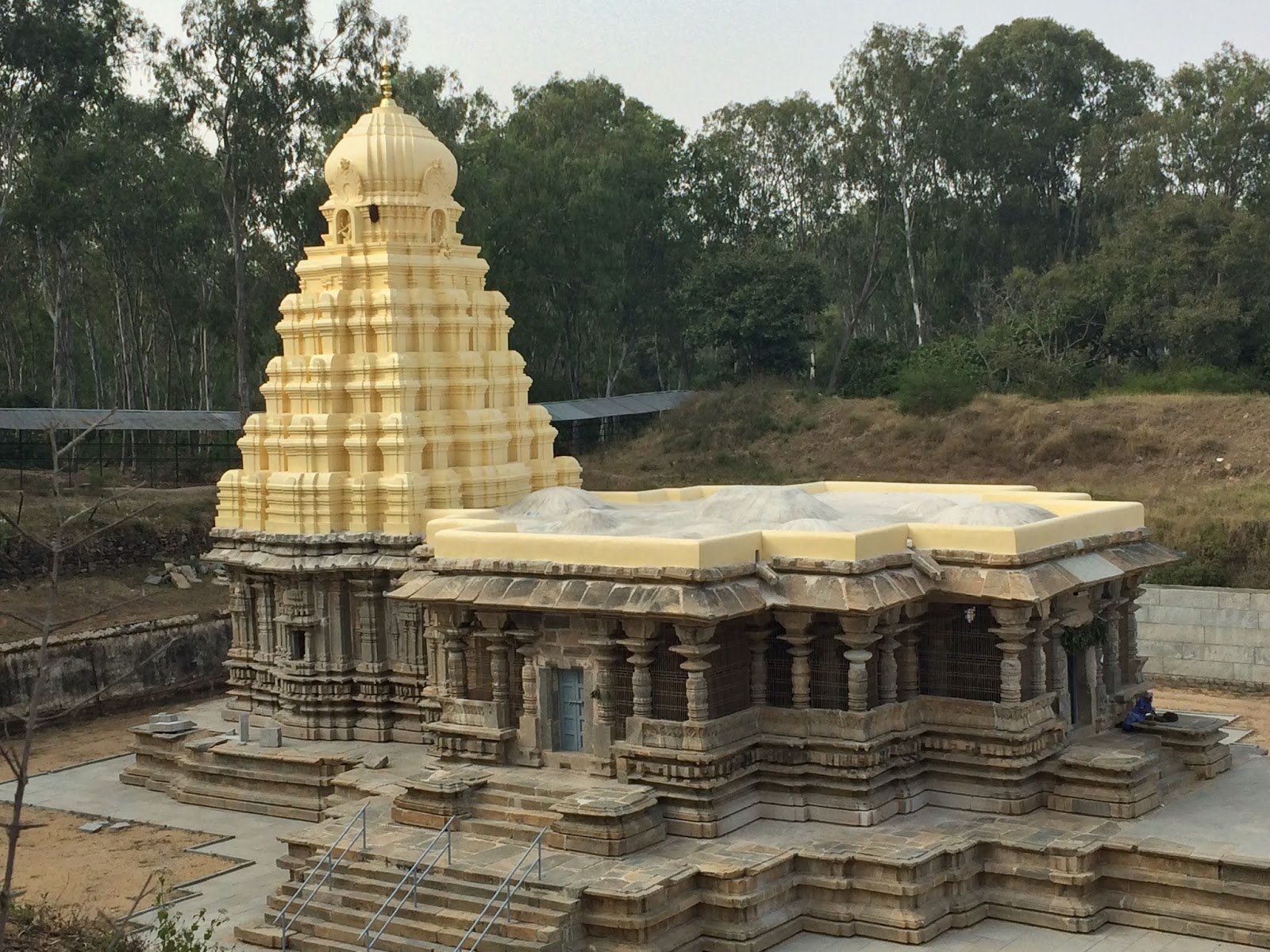 Distance – 49 km from Mysore
Type – Temple town
This temple town holds more than 30 temples. People, who visit Somnathpur, take up a trip to Talakadu. The festival of Pancha Linga Darshana is celebrated once in 12 years in this town. It would not take more than a few hours to scale all the temples in and around Talakadu.
Top temples to visit in this town are Vaideeshwara, Maruleshwara, Pathelswara and Arkeshwara temples.
Best of tour packages – 15 Days Mumbai Goa Karnataka Trip
Read More: 20 Best Places to Visit in Asia
Bandipur National Park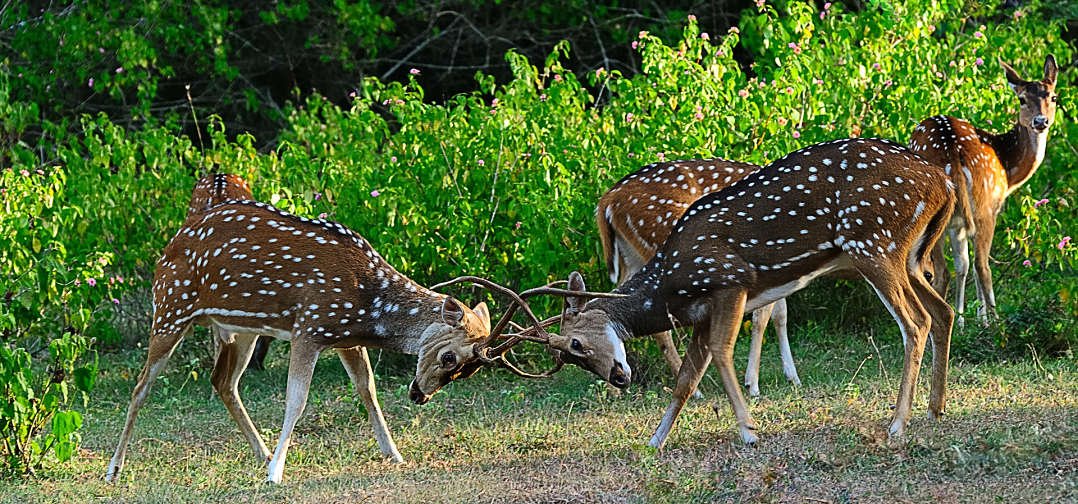 Distance – 80 km from Mysore
Type – National Park
Bandipur national park is located in Chamarajanagar district. This national park is flourishing with the help of Kabini reservoir. Covering more than 870 square km, this park is a part of Nilgiri Biosphere. This should be a must-visit destination if you are visiting between April and May or September and January.
The park holds tigers, elephants, gaur, leopard, sloth bear, leopard and others. Top activities to enjoy in the park are jeep safari, mini bus safari, elephant safari and others.
Also explore – Best National Parks To Visit In Karnataka
Suggested tours – 16 Days South India Wildlife Tour 
Shivanasamudra Falls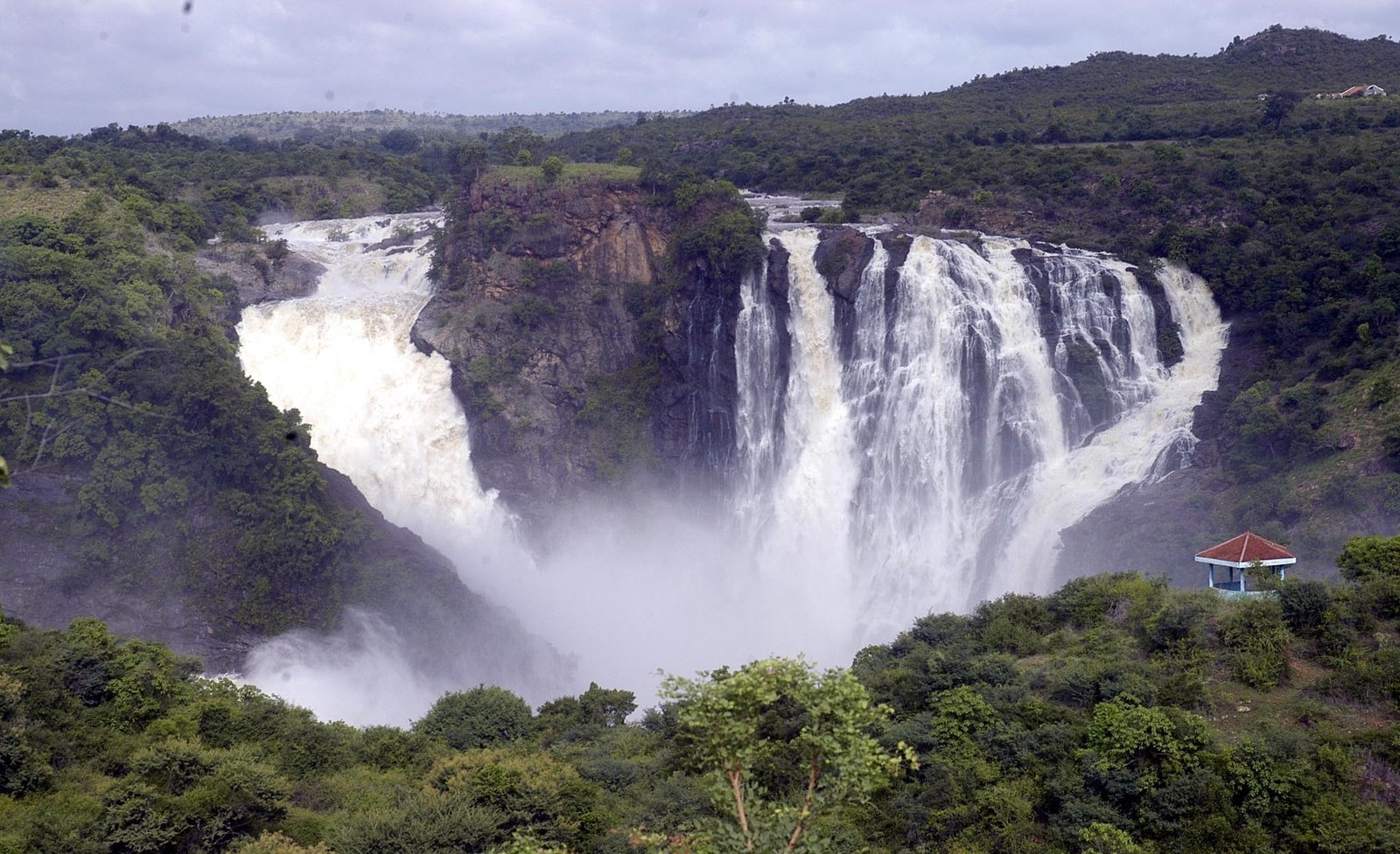 Distance – 81 km from Mysore
Type – Water falls
This is the destination to visit if you on a winter vacation to Mysore. This waterfall is famous for picnic, sightseeing and adventure activities. The Shivanasamudra Falls contain two waterfalls, which will be impregnated with water during winter season. During monsoon season, most of the activities close to the waterfalls might be banned. Swimming is not permitted in this region.
However, this is the best place for sightseeing and picnic. If you are looking for adventure activities, take a coracle ride to the mouth of waterfall or visit Barachukki to enjoy bathing. Barachukki is a small region of the waterfall where the current of the water is far less low.
Also read – 10 Most Popular Waterfalls in Karnataka, You Must Visit!
Shravanabelagola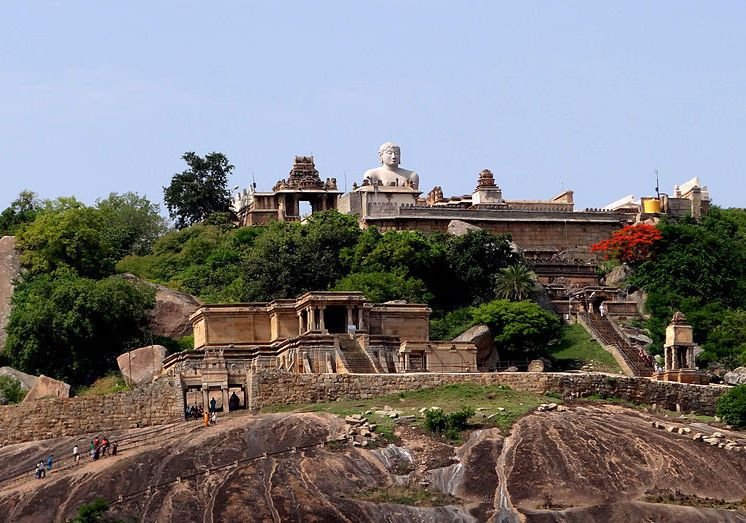 Distance – 83 km from Mysore
Type – Historic site
This is an important Jain pilgrimage spot. This historic site is famous for the tallest stone statue of the world. The statue belongs to Jain preacher and King Bahubali. The Gomateswara temple is the main attractions of this region. The region holds two hills, where most of the monuments can be found.
There are numerous shrines around the monuments for sightseeing and pilgrimage activities. Trekking is an important activity here to visit all the temples and monuments. If you are not able to trek the hill, you can find dolis to carry you.
Read more – Shravanabelagola – Historic Wonders of South India
Golden Temple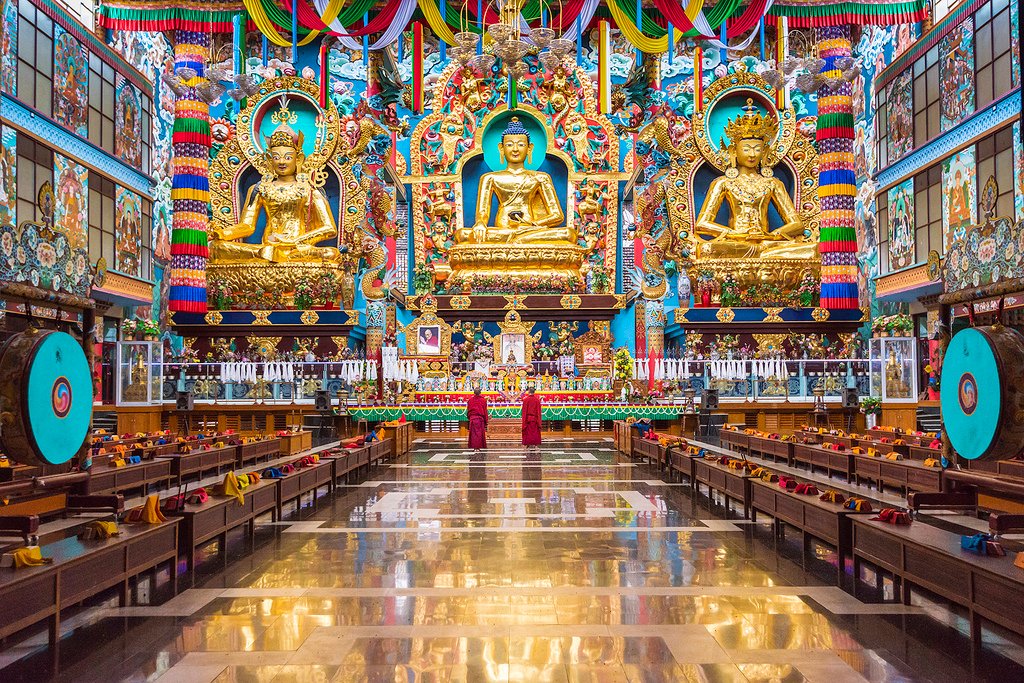 Distance – 87 km from Mysore
Type – Monastery
Located in the Coorg region, this Buddhist monastery is the main attractions of Bylakuppe, the second largest Buddhist settlement region of the country. Apart from Golden temple, the region holds numerous tourist attractions, pilgrimage sites and others.
The Golden Temple is a large complex that houses a 40-foot long image of Guru Rinpoche. The temple has an ornate tower. The walls are decorated with mural artwork, paintings and others. You can enjoy exploring the monastery, take part in rituals and prayers.
The best time to visit is during the Tibetan New Year, which takes place in February. The monastery holds Losar festival, which stretches for fifteen days.
Read also: Most beautiful tourist places in Telangana
Nagarhole National Park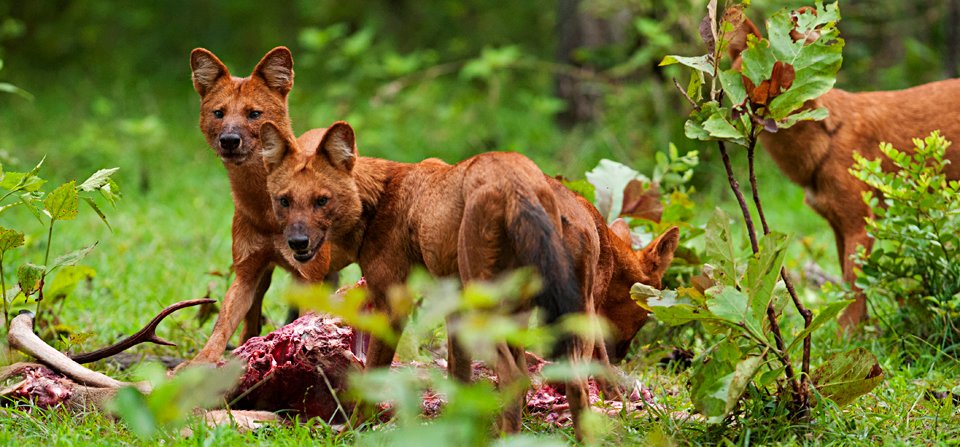 Distance – 88 km from Mysore
Type – National Park
Nagarhole National Park comes under Coorg district of Karnataka. This park is at prime beauty between April and May. This is one of the best national parks for adventure activities like trekking, rock climbing, camping and others.
Top animals to spot here are spotted deer, barking deer, four horned antelope, sambhar, marsh crocodile, monitor lizard, rock python, jungle cat, slender loris, leopard cat, flying squirrel and others. You can tour the park on 4 WD cars or take a boat trip from Kabini River Lodge.
Suggested tour 15 Days Karnataka Tour Packages
Apart from these, there are numerous other destinations close to Mysore like Mudumalai Wildlife Sanctuary, Cauvery Nisargadhama, Folk Art Museum, Channapatna, Melukote and others.
Read also: Famous Places to Visit in Bangalore