Parambikulam Tiger Reserve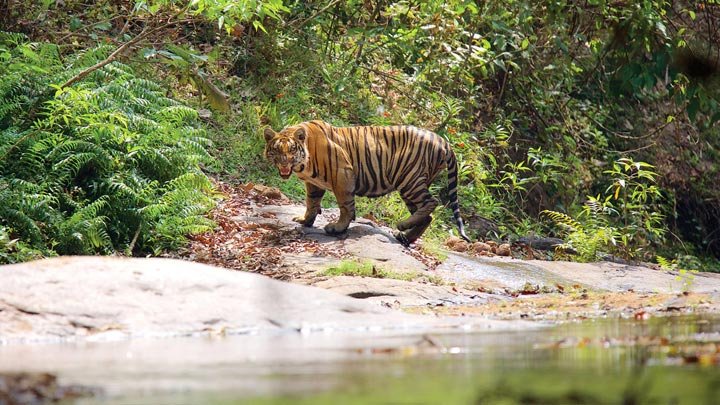 Located in Palakkad district, this is one of the tiger reserve and birdwatching spots in the state. With more than 250 species of birds, this wildlife sanctuary is a worthy visit for all photographers.
Best time to Parambikulam Tiger Reserve
October to April
How to reach Parambikulam Tiger Reserve ?
Nearest railway station Palakkad railway station (80 km away)
Nearest airport Coimbatore international airport, Tamil Nadu (84 km away)
Nearest town Pollachi, Tamil Nadu (41 km away)
Entry charges
Park entry fee : is INR 30 per head for all visitors.
Light vehicles INR 70
Mini bus INR 150
Bus INR 200
Vehicle guard fee INR 150 per vehicle. A forest guard will accompany each vehicle. It is mandatory to enter the reserve with the guard.
Camera fee INR 50 per camera
Video camera fee INR 200 per video camera
You need to enter the reserve through Top Slip sanctuary, which is located in Tamil Nadu. The entry fee of the Top Slip sanctuary is also levied on the tourists.
Timings
The reserve is open from 7 in the morning to 4 in the evening.
Things to do in Parambikulam Tiger Reserve
Trekking
Jungle Safari
Camping
Bamboo Rafting
Birds and Animals to Watch out For
Leopards, tigers, king cobra, pit viper, Asian elephants, lion tailed macaque, great pied hornbill, spotted deer, flying squirrel, Malabar giant squirrel and wild goat are commonly found here.
Places to visit Near Parambikulam Tiger Reserve
Kumily town
Shri Ayyappan Temple
Mangala Devi Temple
Suggested places to Stay
You can find tents, huts, tree houses lodges and other accommodations with varying tariff inside the reserve. You can also find luxury accommodations in Pollachi and Coimbatore, Tamil Nadu.
Tips
Most of the activities are open to tourists visiting during day time.
Bring caps and thick shoes during your visit.
No alcohol products are allowed during the safari.