Chinnar Wildlife Sanctuary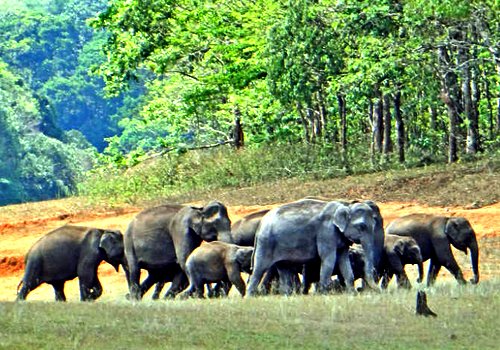 Located in the highway of Idukki district, this park holds 225 species of birds. This is one of the famous spot for birdwatching in Kerala. You can also find a few species of fauna in this park. This park covers 90 square km in area and is a famous tourist destination in the state.
Best time to Chinnar Wildlife Sanctuary
December to April
How to reach Chinnar Wildlife Sanctuary ?
Nearest railway station : Kottayam railway station (114 km away from the park)
Nearest airport : Madurai international airport (140 km away)
Nearest town : Kumily (4 km)
Entry charges
For Foreigners

INR 100 per person

For Indians

Adult : 10 INR
Child : 5 INR
Charge for Camcorder Entry : INR 150
Charge for Still Camera Entry : INR 25
Timings
The park is open from 6 in the morning to 6 in the evening, throughout the week.
Trekking is allowed from 9 am to 5 pm
Safari – 9 am to 11 am
Things to do in Chinnar Wildlife Sanctuary
Night safari
Jeep safari
Trekking
River trekking
Trail walking
Elephant ride
Boat ride
Birds and Animals to Watch out For
Top mammals to spot are panthers, spotter deer, tigers, Indian elephants, hanuman monkey, bonnet macaque, giant squirrel, rusty spotted cat, Nilgiritahr and others.
Top birds to spot are yellow-throated bulbuls, serpent eagle, black eagle, little egret, grey heron and others.
Other notable animals include mugger crocodile, garramullya minnows, butterflies and others
Places to visit Near Chinnar Wildlife Sanctuary
Munnar : Hill station, spice plantation, sightseeing, adventurous activities and others.
Marayoor : Sandalwood forests, dolmens, sugar factories and others
Lakkam waterfalls : For picnic and sightseeing
Suggested places to Stay
You can find basic accommodations inside the park provided by the forest authorities. You can also find many cabins, log houses and basic accommodations near the park. If you are looking for luxury resorts, choose hotels in Munnar
Tips
Wear thick clothing and waterproof shoes
Carry a lot of water with you
Harming animals or plants can cause legal consequence
Bonfire or camping are not allowed inside the park