Kerala Elephant Festivals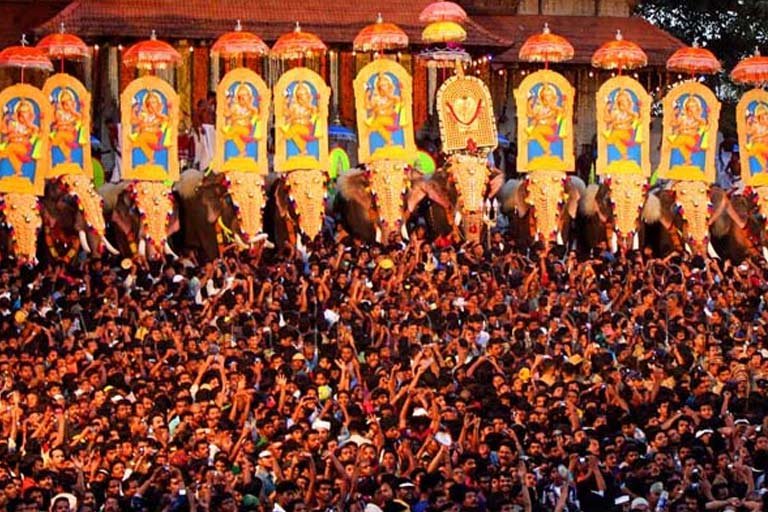 Kerala is known as God's own Country. This tourism hub has preserved its culture. Even today so many festivals are celebrated in the state of Kerala. People come out from their houses and join in the colorful celebrations. As mentioned earlier Kerala is a state rich in culture and it shows in the festivals they celebrate. There are numerous festivals but one that stands out is the elephant festival of Kerala.

A Grand Cultural Event with Decorated Elephants
The event is known as Pooram Gajamela which translates to "Festival of Elephants." The elephant processions gather the largest crowds with music, percussion, and classical dance performances accompanied by lots of frenzy. Some of these celebrations continue through the night and even last a few days. One can cherish the sight of elephants dressed up in gold and red silks.
Thrissur Pooram
This is one of Kerala's popular and grand festivals celebrated with much energy. It takes place during the calendar months late April or early May near Vadakkumnathan temple which is located in Thrissur. In the Malayalam month it is celebrated at Medam. There are nearly 30 elephants accompanied with 250 artistes beating rhythmic drums. This is a festival or celebration where a competition is organized called Kudamattom. It involves movement of decorated umbrellas in a step- by- step timely manner.
Arattupuzha Pooram
If you thought 30 elephants were so many, then take a look at this elephant festival organized near the oldest temple in Kerala, Arattupuzha Temple. With 60 elephants participating in this Pooram held during the summer months of Late March or Early April this is another grand festival of Elephants celebrated in Kerala.
Peruvanam Pooram
This is one of the first and most ancient elephant festivals celebrated in the state. Kerala's Cherpu in Thrissur district's Peruvanam Temple sees a fabulous procession with drums beating constantly for about four hours. This is one of the oldest and is believed to be around 1,500 years old. It is followed by colorful and noisy fireworks in this festival that is celebrated in Late March or Early April.
Parippally Gajamela
This culture festival is held at two places. The one at Kodimoottil Bhagavathy Temple has around 50 pachyderms participating in the huge affair. The other one is held near Chinakkathoor Bhagavathy Temple in Palakkad district's Palappuram which has around 33 elephants participating in the cultural affair. Moreover there are cultural events held here. This includes puppet shows in shadows and horse and bull effigies and a traditional percussion. The festival is held during the month of March.
Pariyanampetta Pooram
This is one of Kerala's lengthy festivals as it lasts for duration of one week/ 7 days. Held in the calendar month of February at the Palakkad district's Kattukulam near Pariyanampetta Bhagavathy Temple. This specific elephant festival is popular for the ritual known as Kalamezhuthu Pattu. In this ritual, there are images and drawings of goddesses on the ground. This is done using natural powder colors. There is singing and various traditional art forms. The last day sees the special elephant procession.
Uthralikkavu Pooram
This is the lengthiest elephant festival also held in the month of February. But this one is celebrated over a period eight days. The festival is organized close to a standalone temple called Rudhira Mahakali Kavu in Vadakkancherry, Thrissur. The eight day long festival is dedicated to Goddess Kali. The highlight of this festival is its scenic setting with aligning paddy fields. This is one of the most celebrated and grand festival with elephant processions taking place in daytime and celebrations all through the night too. There are various traditional ensembles with music and percussion accompanied. There are three villages celebrating, competing with each other for the most extravagant parade.