How Navratri is Celebrated in India?
India is a land of different cultures – everything here is different from one another on the basis of region, culture, etc. So, do not be surprised to know that any same festival which is generally a major Hindu festival like Navratri (meaning Nine Nights in Sanskrit) is celebrated with different flavour. It could be a change in customs and rituals performed on the day, the pre – festival preparations, or even the significance of the festival to the people of that region. The Joy and Celebrations definitely are same across the country. Let's read on how Navratri is celebrated in India.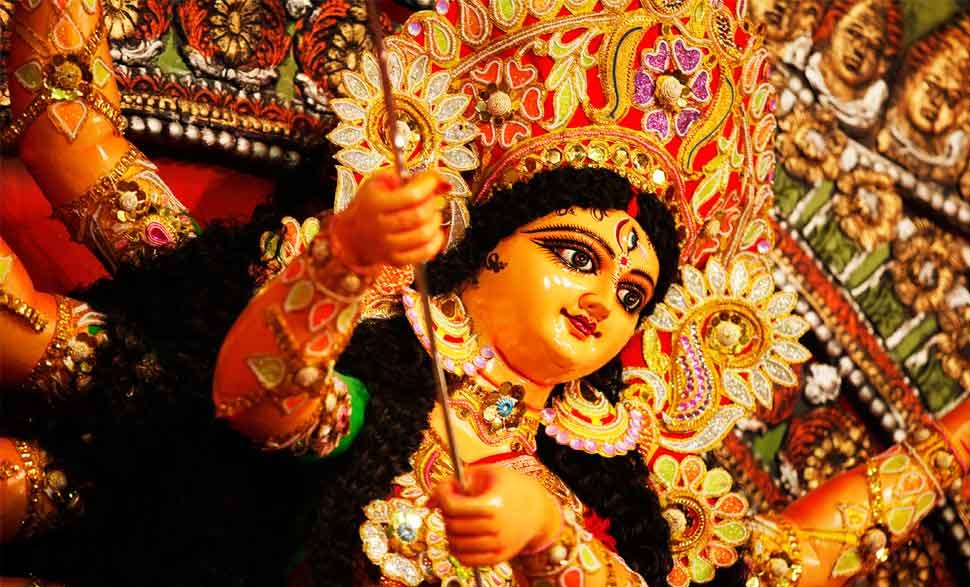 Navratri is one of the major Hindu festivals in India celebrated at two times of the year – around April and in September. It is a 10 day festival consisting of nine nights where people fast or maintain silence. Business people also pray for the prosperity of their business. It is to please the Goddess Durga and is to celebrate the feminine strength.
So, one of the rituals is 'Kanya Pujan' where girls are given sweets, money, gifts or any one of these things and given something like channa, poori, or halwa to eat. Kanya Puja means Girl Worship. After this, they generally break their fast. Some people break the fast on the eight day which is called Ashtami or ninth day which is called Ram Navami.
Read more – Famous Fairs & Festivals Celebrated in India in February 2020
The Nine Days Festival of Navratri 2020
Starts on Saturday – 17th October, 2020
Ends on Sunday – 25th October, 2020
| | | |
| --- | --- | --- |
| Important Occasion | Date | Day |
| Pratipada, Day 1 | 17 October 2020 | Saturday |
| Dwitiya, Day 2 | 18 October 2020 | Sunday |
| Tritiya, Day 3 | 19 October 2020 | Monday |
| Chaturthi, Day 4 | 20 October 2020 | Tuesday |
| Panchami, Day 5 | 21 October 2020 | Wednesday |
| Shashthi, Day 6 | 22 October 2020 | Thursday |
| Saptami, Day 7 | 23 October 2020 | Friday |
| Ashtami, Day 8 | 24 October 2020 | Saturday |
| Navami, Day 9 | 25 October 2020 | Sunday |
| Dashami, Day 10 | 26 October 2020 | Monday |
The historical legend goes that there used to be a king demon called Mahishasura who got his powers by following and worshiping Shiva. He got divine powers to do powerful things. This made him proud and he believed that he is God. Soon, he started doing atrocities on weaker people around if they did not worship him. So, to stop his powers from destroying the people of the world, the three Gods – Brahma, Vishnu and Shiva joined together to make a big powerful force and is the Goddess Durga.
The demon king Mahishasura saw the beauty and got attracted to her and even sent a proposal for marriage. She agreed on a particular condition that she will marry him once they fight a battle and only if Mahishasura defeats Goddess Durga. The demon king immediately agreed as he was very confident of his great mighty power. The battle between them lasted until end of ninth night. This battle is known as the festival of Navratri – Nine Nights.
Read more – Famous Festivals of Mumbai – Ganesh Chaturthi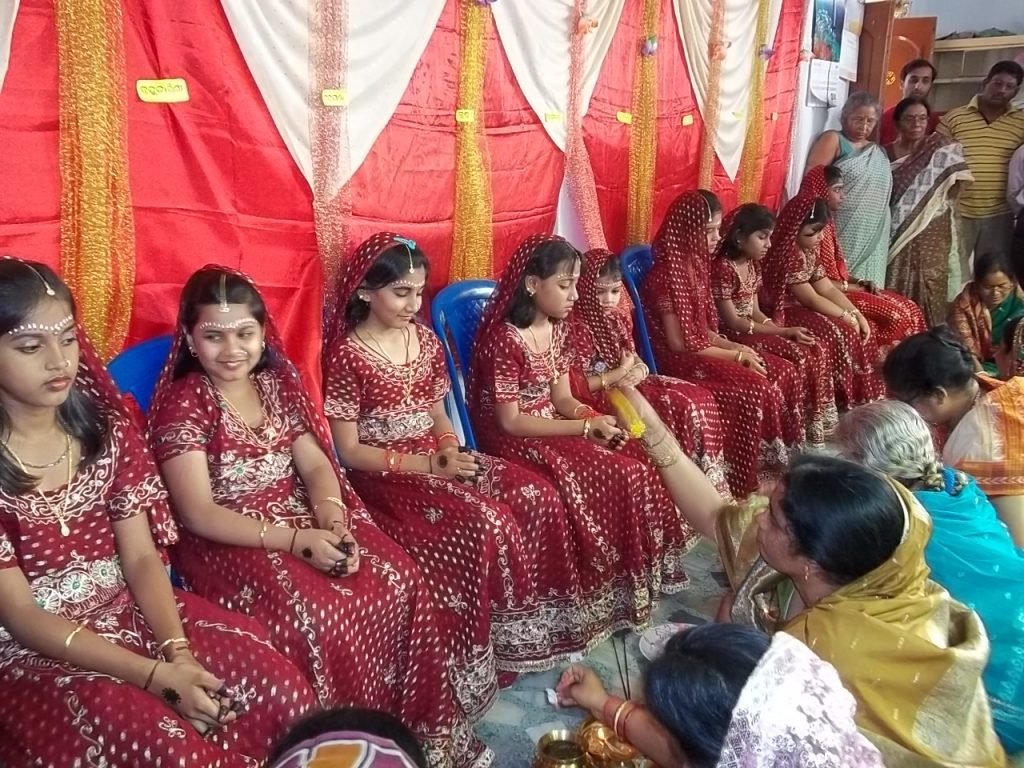 The Hindu devotees of Shakti or Goddess Durga follow strict rituals with great fervor. There is a fasting period of nine days. These days are known as the 'divine nine days' fast. They do not do certain things such as eating meat, or watching a movie, etc. Everyday, they sing a bhajan or religious song at evening and do a puja at home.
They install an idol in their houses. They only eat curd, fruit, potatoes, or kuttu ka aata, all these are called 'satvik' foods. Many women also visit a temple on all the nine days. They offer prayers to Shakti or the mother deities. They also chant special 'Navratri mantras'.
During this time, as it is a festival to celebrate feminine power, many households will call young girls or small girls to their house to give bhog, a sweet ball. Some even give money, chat, etc. This is sometimes done over the last three days out of nine day festival. They finally break the fast on the last day which is the ninth day with Prasad or havan offered to the Goddess.
In all, the festival of Navratri is celebrated in India is to rejoin, reconnect, and give time to ourselves by connecting with inner self.
Read more – Famous Colourful Fairs and Festivals of Rajasthan 2020
1. North India
The ten day festival is celebrated as the defeat of evil. This is significant of the battle fought between Rama and Ravana of pre-historic times. The nine days during this festival is spend in doing special pooja, fasting, maintaining silence, singing bhajans, dancing to honor Mother Divine, etc.
It is a time when people also have some time together watching various plays that enact the mythological scenes of Ram-Lila. They also ceremonially burn large effigies as Ravana and celebrate the victory of good over evil. This is known as Vijaya Dashami. People exchange gifts, sweet boxes, or new clothes on this festival.
Read more – Top 10 Famous Monsoon Festivals of India
2. West India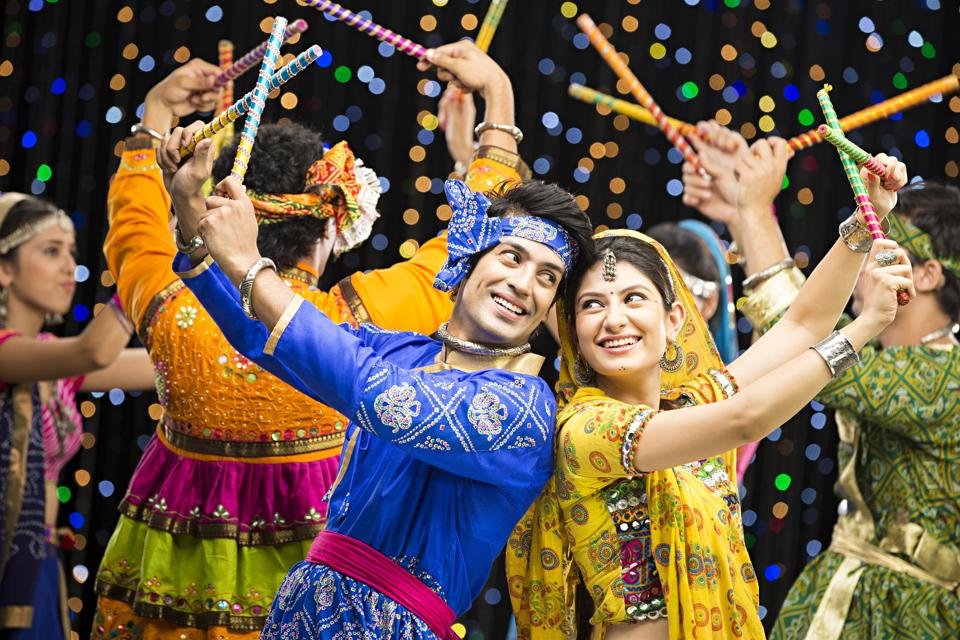 The people of Gujarat which is one of the western states of India celebrate the festival of Navratri with pomp and great colors. The western states are famous for their Garba celebrations and Dandiya dance forms. As said by residents of the state, the people there do more of celebrations than pujas or rituals. Of course, there are many people who also fast during these nine days time, but the kind of same dance is done differently in each city of Gujarat.
Societies and social clubs organize these Garba meaning 'womb' play which is a pot with a lamp in it. This is significant of the womb with a life inside of it. The dance is done in a circular form around this lamp within a pot.
The Dandiya is a dance wherein the guests watching the dance show will also feel like lifting up from their seats and grove to the fast – paced rhythm of the dance. There are colorfully decorated small bamboo sticks used in this dance.
The dancers including men and women start a slow beat dance that gains speed and they end is so energetic that they create the beat with the sticks and dance with that beat. There are small bells attached to the sticks to make a tinkling sound whenever the stick hits.
3. East India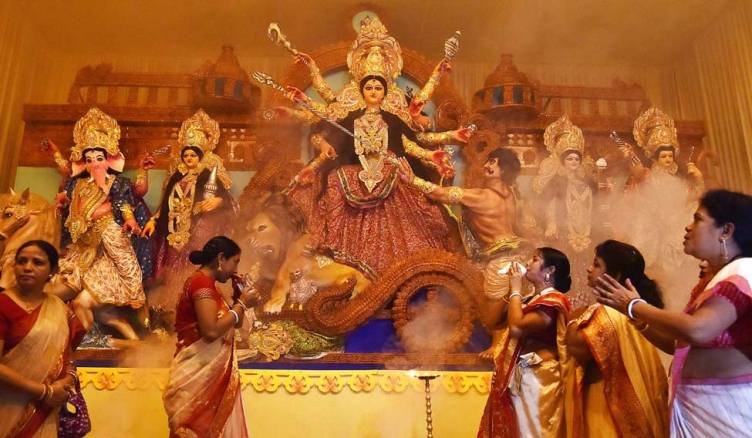 Navratri is connected with the feminine power and in West Bengal it is one of the major festivals. Most common sight in Bengal is the idol of Durga riding on a lion with a Trishul in her hand. The lion is significant of dharma – will power and the destructive weapon meaning to destroy negativity in and around themselves. This is such a big festival for the Bengalis that they plan many months in advance for this.
The eighth day is very important as they call it Durgashtami. Life sized idols of Durga and demon Mahishasura are seen in almost everywhere with a scene of her slaying the demon. On the fifth day the idols are immersed in the water. Special pandals are set up with such clay idols each with a different theme.
Families go together and have a good time as they are also done with great lighting and booming musics. It is the favorite time for the women as they drape in saris with Bengali silks, men in Kurta Pyjama, and they all go for the Maha Aarti ceremony each evening with background 'Dhol'.
Read more – Top Famous Indian Festivals Celebrated in October 2019
4. South India
In South India the festival of Navratri is considered very auspicious and temples organize special pujas, etc. People visit the temple during these nine days time and others sit at home and do the puja. In the evenings, they visit each other, invite relatives, neighbors over to their houses, etc.
The main feature is the 'Kolu' meaning an exhibition of the idols or smaller figurines and dolls in their houses. In different southern states of India there are different names for these 'figurine scenes'. In Kannada it is called Bombe Habba, in Tamil Nadu they call it Bommai Kolu, in Kerala, they call it Bomma Gullu, and in Telugu they call it Bommala Koluvu.
However, they call it Dusshera in most of the South Indian states. There are huge cut-outs to depict various scenes of mythology. There are also mythological statues that are transported to various places for part of the celebrations of Navratri. Similar celebrations takes place in various states like Tamil Nadu, Goa, and Kerala. In Kerala, the Vijaya Dashyami is called Vidhyarambham.
Read more – 10 Traditional Festivals and Events Celebrated in Kerala
Especially in the state of Karnataka which is famous for this festival time, this 10 day festival is celebrated on a very grand scale. The Mysore Palace is decorated and lighted up and the streets approaching it are illuminated with delicate lights. It is a spectacular view and makes the people think that it is once again in royal times. This festival time is known as Mysore Dasara celebrated with rich grandeur, pomp and show.
Once again, it is the significance of celebrating victory of good over evil. The festival of Mysore Dasara begins with Navratri and ends on the tenth day with Vijaya Dashyami. These grand celebrations takes place with various processions happening on the streets of Mysore carrying Goddess Chamundi.
It is also highly regarded festival and is officially the State festival. It is also revered and celebrated richly by the Royal family of Mysore. There is an elephant led procession well known as the Jumbo Savari which is also telecast live on national TV.
Read more – Famous Festivals and Events Celebrated in January in India in 2020