Sunburn Festival in Goa – Biggest Music Festival in Asia
What is Sunburn Festival in Goa?
This is the biggest EDM or Electronic Music Festival in the whole continent of Asia. Now, the Sunburn Festival is third in line to leading and top international music festivals such as Tomorrow land and Ultra. Music buffs from across the globe flock to this festival that was earlier held in various cities such as Pune, Goa, etc.
The Sunburn Festival is back to rock the young music lovers in the very own homeland of Goa. The pompous and nobles of dance on stage and a host of the top electronic acts at Sunburn Goa 2019.
When is the Sunburn Festival in Goa in 2019?
The EDM festival is organized for 3 days this year at Vagator Beach, Goa. From 27 December 27 2019 to 29 December 2019
How much does Sunburn Festival in Goa ticket cost?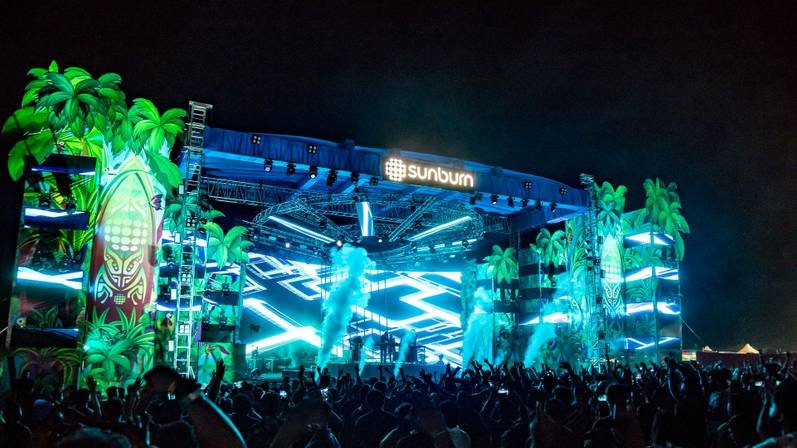 Cost of Sunburn 2019 Passes Starts from INR 2,750/- onwards.
There are two categories of tickets – GA or General  and VIP Pas

s which allows you fast track entrance and an elevated view.
You can also go for a Single Entry or Multiple Entry such as One Day ticket pass or Two Day pass, etc. Check well before buying as they will not allow re-entry on a single day pass.
You are allowed to purchase even up to 10 tickets per transaction.
There are counters at the venue who sell tickets and wristbands. BookMyShow is also offering online tickets with slight extra charges. There is also up to 50% Early Bird offer to book months in advance before the Sunburn 2019.
Remember, that if you lose your ticket, or if it is lost / stolen they will not issue you a refund. Even if you cancel / upgrade / reschedule your ticket, you will not be refunded. You cannot attempt re-sale or exchange of the ticket. It is unlawful.
IF booking online you are required to take a print out and the copy of the transaction to show it at the venue. Moreover, if the ticket bar-code or hologram looks tampered they may consider it invalid, so keep and carry your ticket safely and carefully.
How is Sunburn Festival in Goa celebrated?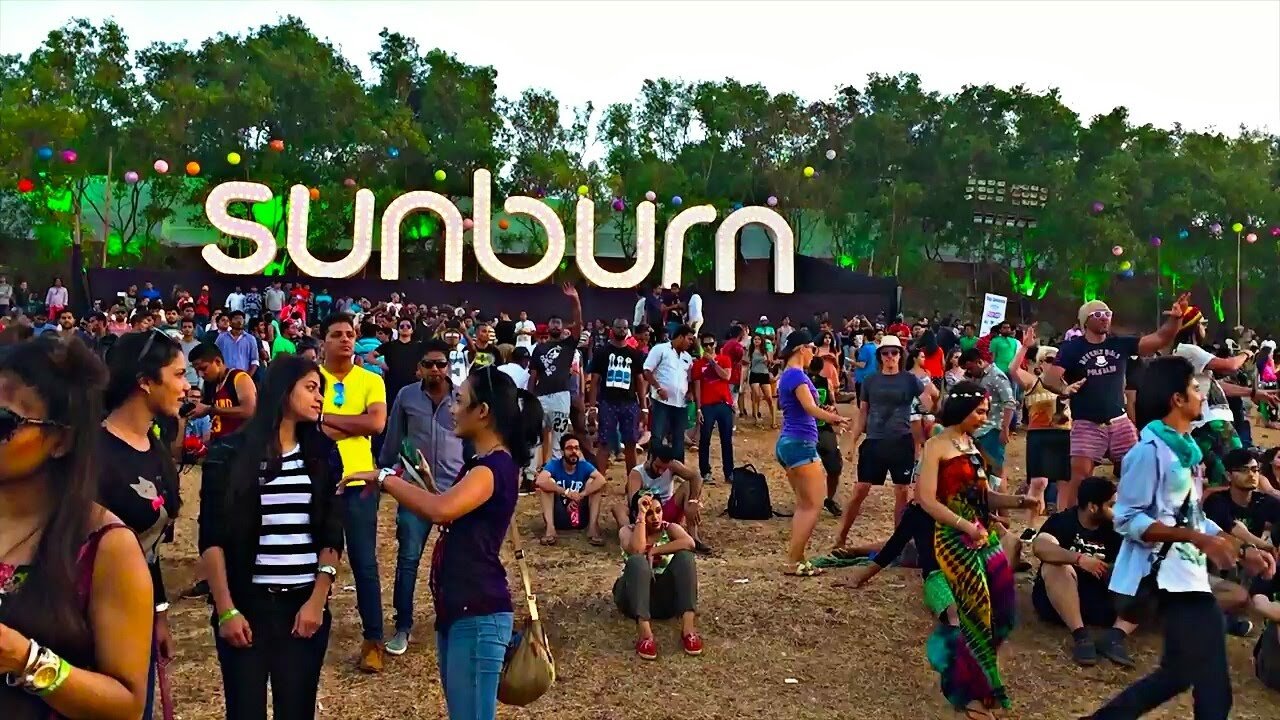 The best and biggest music festival in Asia with exuberance, energy, recreation, fun, amusement and of course EDM !  Enjoy with the End of Year Seasons Christmas and New Year 2020.
The 12th annual season of the Sunburn EDM Festival is back in Goa with a huge line-up of artists. Each year top DJ and music enthusiasts from various genres entertain the crowds with EDM that is from another planet!
Some top Indian and International performers in the past include Pete Tong, Shermanology, DJ Snake Andrew Rayel, Anish Sood, Sartek, Arsh, Quintino, James Zabiela, Tiesto, to name only a few of them.
The great music festival is also in the top year end vacation destination and party capital of India – Goa. With amazing and lively beaches, nightclubs, carnivals, and of course EDM. Vagator beach is one of the best tourist destinations in India for the energetic and happening crowds. Music lovers enjoy 3 days of unmatched music, lights, fun, and the beautiful destination.
The massive sound systems, electronic music and laser lights display of colors and visuals and the huge crowds grooving to the rhythm.  This is a festival at the year end which means you can also extend your stay for Sunburn EDM Festival to the New Year Celebrations in Goa. The perfect timing can't get better.
People from across borders come to participate in Asia's biggest music festival and the World's 3rd largest music festival. Parts of the celebrations at the Sunburn festival includes making new friends from different regions of the world. Get to know new musicians, their journeys, and stories in life.
The best part of Sunburn Goa Music Festival is you get to see, listen and enjoy the performance of not only seasoned and professional music artistes and  DJs but also New comers with new fresh talent to show.
This is one of the biggest production scale music festival and most happening music festival in 2019.
What are the main attractions of Sunburn festival in Goa?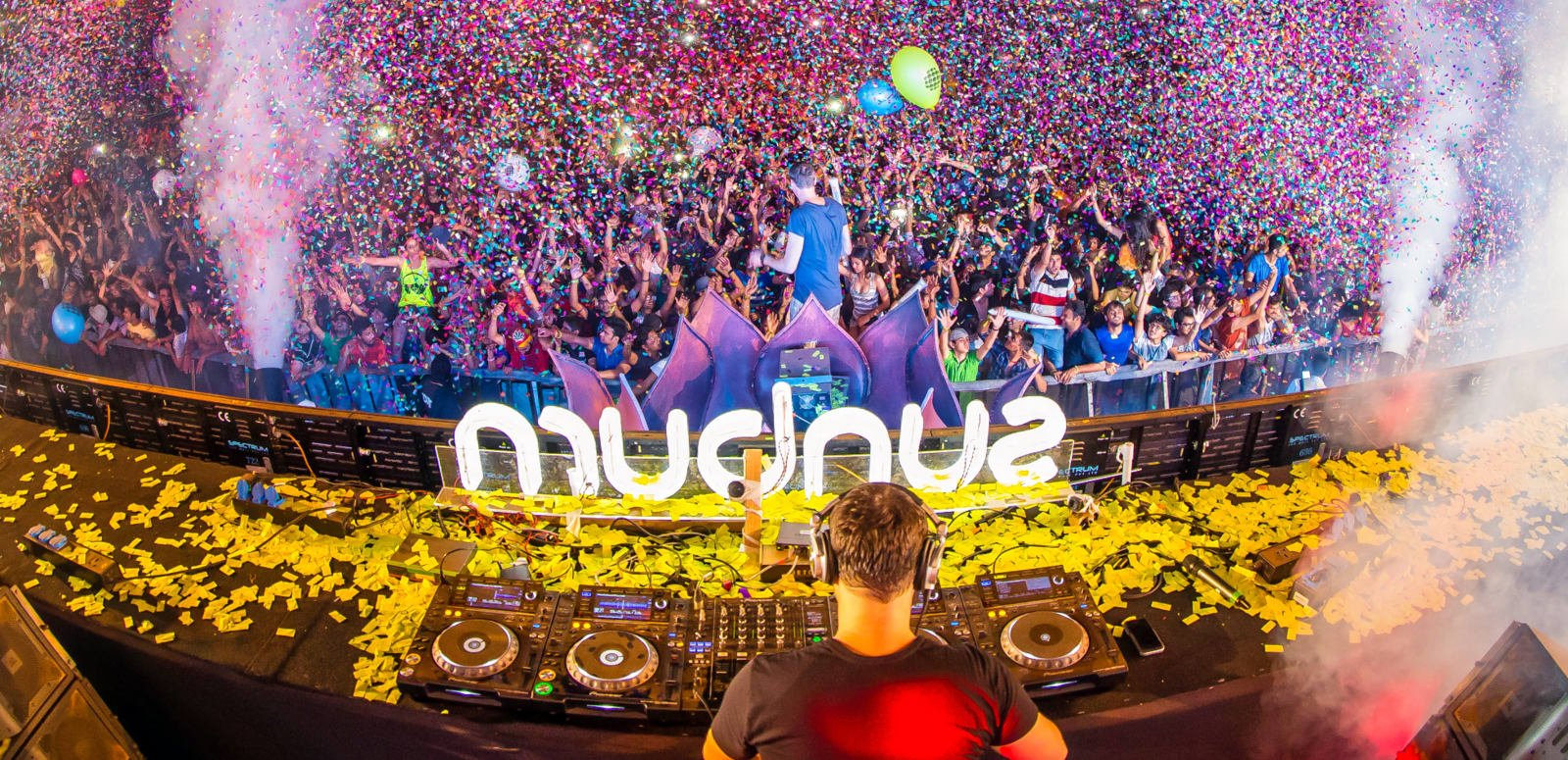 The Sunburn Goa Music Festival 2019 happens on 3 days – from December 27, 2019 to December 29, 2019. there are various stalls, eateries, amusement recreational facilities, various workshops organized. It is for those who would like to showcase or learn talent and for the adventure enthusiasts. As music starts pounding at evening time you can check out the main attractions of Sunburn Festival 2019 during the daytime before the music begins.
Adventure Activities at Sunburn Festival
Zorbing
Ziplining
Giant Wheel
Bunjee Jumping
Mechanical Bull
Read more – Top Adventure Activities to Experience in Goa
Workshops at Sunburn Festival
Kite and Kite Making Workshop
Dream Catcher Workshop
Drums Workshop
Tattoo Workshop
Workshop to Learn to play Instruments
Food Stalls & Snacks at Sunburn Festival
There are various offers on snacks including burgers, pizzas, snacks and lip smacking tangy food. Even offers on food such as 'Buy one Get One Free' are available.
The timings during these offers:
1:00 PM to 3:00 PM – All 3 Days of Sunburn 2019
Where should you stay?
 The biggest EDM Electronic Dance Music Festival Goa 2019 is back after two year period in its very own town of Goa, Vagator Beach. This is a quaint region compared to its lively and famous beach nearby – Anjuna Beach. However, there is no fear for where you will stay during this Sunburn Festival 2019.
The Vagator beach area is also dotted with many eateries, restaurants and bars too. These are great accommodations in authentic Goal style and Portugal style from where you get panoramic views of the sea, and enjoy the cliffs and rocks nearby.
1. Leoney Resort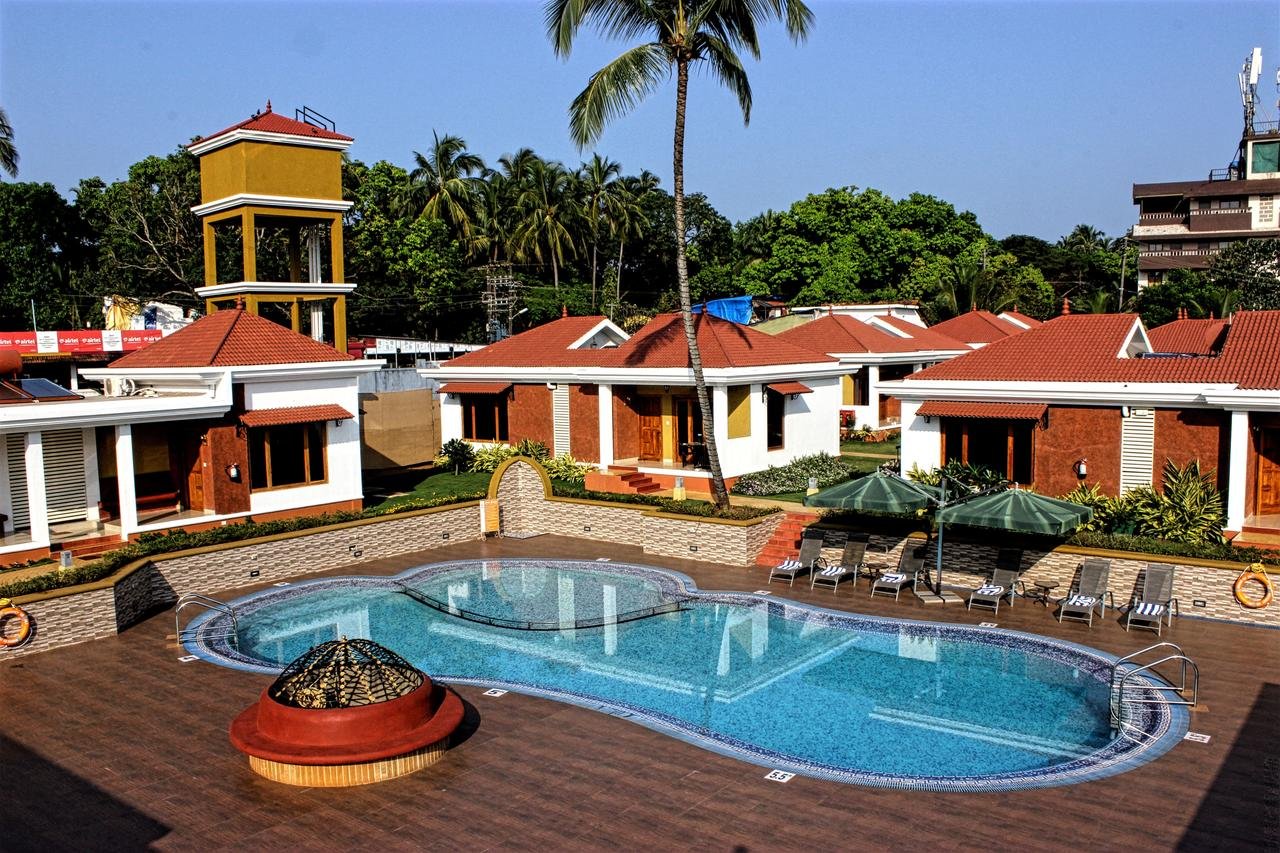 This is definitely one of the best properties in Goa with colonial style of Portugal architecture. These villas are amidst manicured gardens and there is no better way to feel the warm sunrise. You can also opt for a cottage equipped with a balcony. It should be available so book earlier. It is only 10 minutes walk from the beach. So, what are you waiting for? You've got an accommodation so close to the Sunburn 2019 venue.
2. Casa Vagator
This is one of the best places to have a quiet time after a hectic time of music and dance. Relax your senses in this beautiful property resort on the lines of Vagator Beach. You can get amazing views of the ocean waters by the beach at this boutique hotel resort Casa Vagator.
3. Cochichos Resort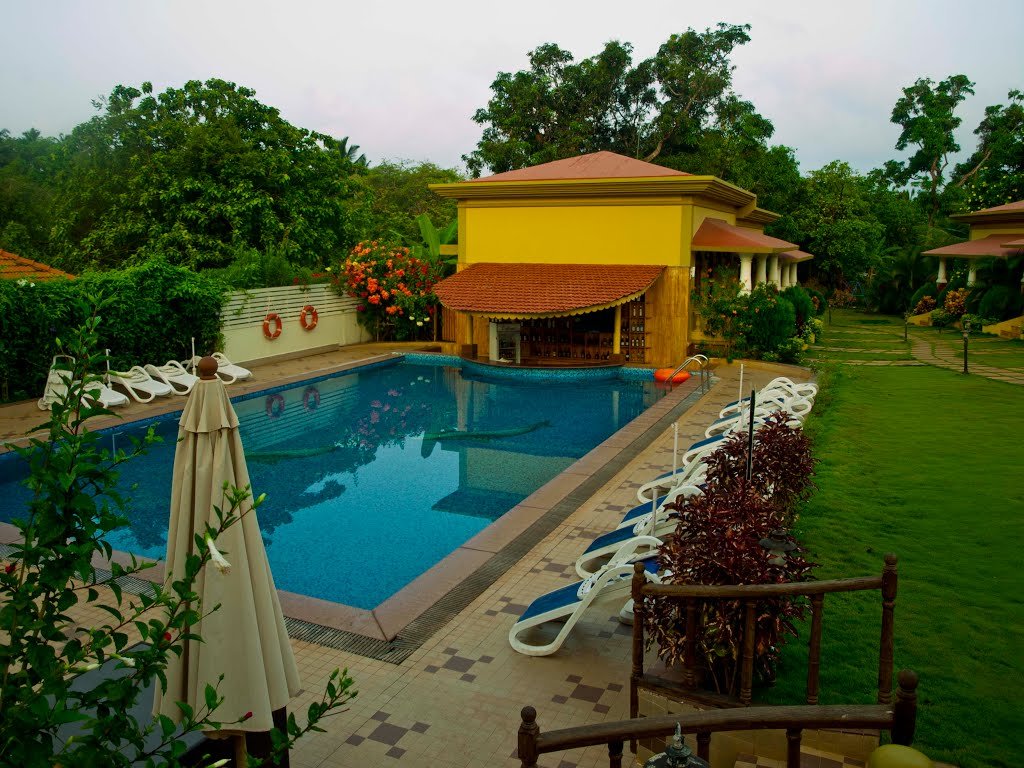 There are beautiful hills surrounding the Vagator Beach and there is no better place than the Cochichos Resort to stay for Sunburn 2019 Festival. You can admire the beach as you get a great view from there. The place is in authentic Goan style and there are a range of various types of accommodation available such as standard rooms, family rooms as well as Suites.
4. Santonio Resort
This is a great old rustic accommodation where you find everything you need in luxury. It is a wooden cottage which is eco-friendly and all of 5 minutes to Vagator Beach, the venue for the Sunburn EDM Festival 2019, by walk.
5. Hacienda de Goa
This is the best place for resorts in Goa for the Sunburn event. It is older styled buildings in Portugal charm that gives you a quiet time before and after your party time. There is a one hour meditation below the Hacienda de Goa vast area of the banyan tree.
6. Living Room Hotel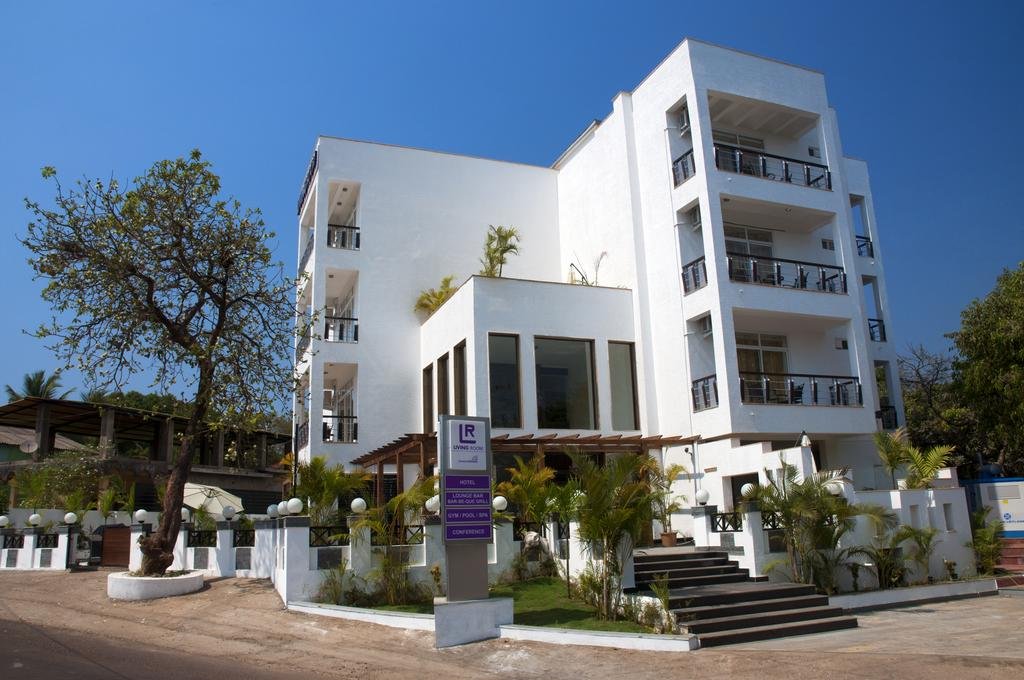 This is one of the most popular hotels especially for the venue of the Sunburn Festival 2019. there is transportation to and from the Hotel Living room to the venue. This makes it the best choice during this Vacation time at Vagator Beach, Goa.
Things to Remember While Heading to the Festival
You may be a first timer to the 2019 sunburn electronic music event or you may have enjoyed yourself at the festival earlier. But these are Things to Remember While Heading to the Festival so you that enjoy yourself instead of being worried after going there.
The music festival requires some permissions from the government which is subject to rescheduling. So, in case the music event is completely canceled then you will get your refund. However, if the dates change due to some reasons then there is NO Refund given for this. You have to adjust your dates.
the organizers of the music festival is not responsible for any damage or loss to your vehicle which is parked outside or nearby or within the accepted parking space. So, you park there at your own risk.
NO food, liquids, drink, substances, or water is allowed inside the place. Leave it outside. Food and Beverages is available inside during the festival.
The organizers of the music festival will not take accountability for any sort of ill effects of the drink and food items taken by guests if any. So, you are advised to drink in moderation and consume food and drink moderately.
There will be first aid available in case of any sudden problem but the organizers will not be held responsible if there is any such incident.
You are not allowed the use of Cameras, recording devices, any weapons, substance, arms or ammunition is not allowed to the festival.
The organizers have right to perform a security check of the audience especially at the entry point for security reasons.
There is NO re-issue or duplicate ticket issue for any stolen, lost or damaged tickets.
There is NO re-issue or duplicate wrist band even for wrist band that is removed, tampered, and NO replacement of wrist band.
Organizers are not responsible for any lost / stolen personal belongings inside the music festival.
Organizers or its members or staff such as employees, officers, agents, etc. are not responsible for any occurrence of injury or incident like loss, theft, damage, incurred costs or losses due to the event, in the event or as a result of any part of the music festival.
No substance/ drugs allowed inside for sale or consumption.
The line – up of artists or performers and billed attractions may be subject to changes anytime.
If you want to take any belongings inside there is no storage facilities. Any kind of bags or handbags are NOT allowed inside.
Entry age is 15+ years of age. The require a Government ID with proof of Age.
They provide LDA bands meaning Legal Drinking Age and on proof of date of birth they will serve drinks.
The ticket holder is allowed only to enter festival grounds. To attend any pre-parties or post-parties then you may require other ticket and purchase separately.
No transfer or re-sale of the tickets are allowed so keep it safe and undamaged. Even for attempted unlawful resale of such sort In such a case they will cancel or seize such tickets.
If there is some damage to the hologram bar-code on the ticket they may take it as tampering and it is invalid. They will not issue any refund or compensation.
One ticket allows entry to only one member. No ticket upgrade or exchange is possible
If you have a Single Day Ticket it means you can only attend one day of the festival. They will not allow such a ticket holder re-entry to the event.
Even if your ticket is valid the organizers have the right to refuse you admission into the festival as rights to admission are reserved.
You may be subject to a search if the organizers suspect you of carrying anything dangerous or illegal or performing any sort of illegal entry inside.
If you are a camera shy person then stay away as far possible. The ticket holder authorizes the festival organizers to use any part or all of any recording that has your image for broadcast on any channel or global media for promotions, publicity and advertisement.
If any ticket holder does not adhere to the rules or terms and conditions then the organizers reserve the right to refuse the entry to such a person or even remove them from the premises if they entered or already inside.
It is advisable to read the terms and conditions for the Sunburn Goa Music Festival 2019 before purchasing the tickets or entry. Book a tour to Goa and enjoy the biggest EDM and year end Vacation !
Read more information about Goa