Adventurous Sports in Manali – Paragliding
Want to feel like the Great Himalayan Eagle? Soar up the blue sky with paragliding. Racing against winds and gravity; notched up with a huge glider sailing tens of feet above the ground is the best way to experience adrenaline gush. This is an extreme activity for adventure lovers.
Manali is an important destination for those who love adventure activities. Starting from skiing to paragliding, you can find many extreme activities here.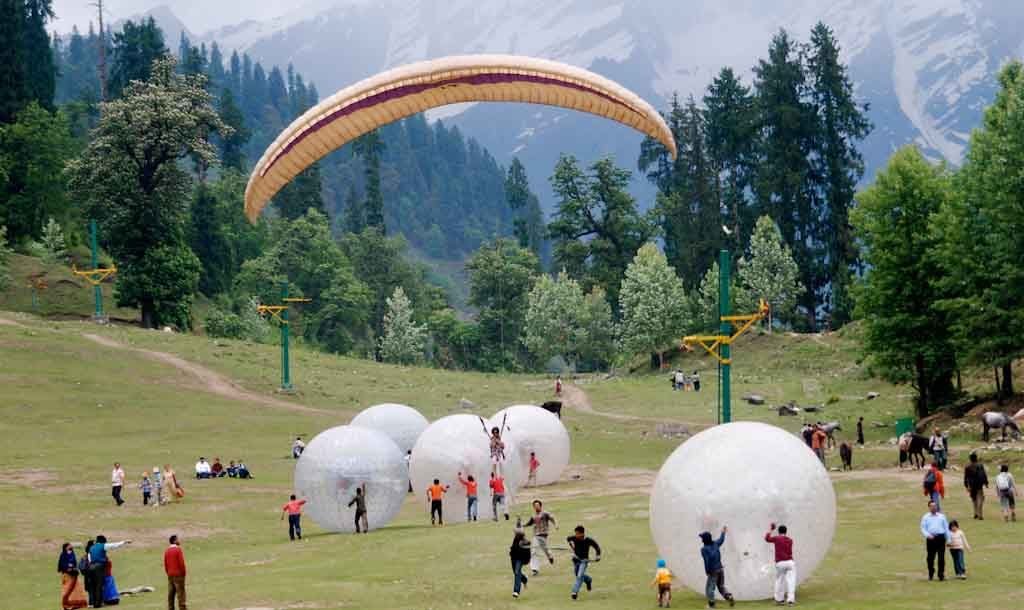 Time taken in Paragliding
The maximum time prescribed for a beginner is just 15 minutes on flight. The time taken for the service and the queue length depends on the season. The travel distance depends on the type of accommodation you are choosing. Many operators request one-day advance booking. You can also avail cable cars to reach the top. The cost of the cable car varies with different service provider.
Best Time to Visit Manali for Paragliding
The best time to visit the place for paragliding experience is from October to May. Early summers and winters are the best time. Monsoon is the worst time to visit the place for any adventure activity. Heavy rainfall is very common in Manali with strong winds. This leads to temporary ban of all adventure activities including paragliding. Monsoon starts by late June and ends by October. Summers will give you a good panoramic view of the green valley. Summers start in March and ends in June. If you choose late summers, the humidity will be very high. Winters are best throughout the season for paragliding. It starts in October and ends in February.
Read more:- Six Reasons To Choose India As A Summer Destination
Where is Paragliding Location?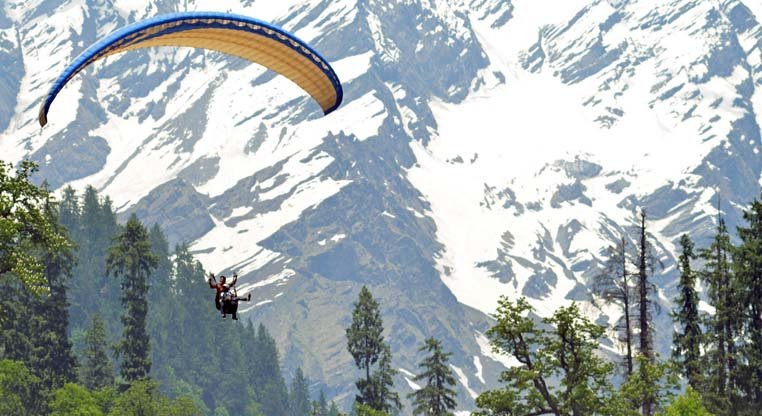 There are many paragliding areas in Manali. The topmost option is Salong Valley, which is 11 km away from Manali. You can also find paragliding at Gulaba, Naggar Road, Fatru Mountain and others.
Manali has an airport very close to the city in Bhuntar. The closest busy airport is located in Chandigarh.
You can find flights to Chandigarh from Kolkata, Mumbai, Hyderabad Chennai, New Delhi, Bangalore and others.
If you are choosing train, the nearest railway station is in Jogindernagar. It takes 4 hours to reach Manali from the railway station via Mandi and Bhuntar.
You can find trains from Jammu, Patna, Bangalore, Chennai, Hyderabad, Amritsar, Kolkata and others.
You can find many private and government buses from Chandigarh, Delhi and other surrounding cities to Manali. You can also hire cabs from important cities near Manali. Daily buses to Manaliare found from Delhi, Chandigarh and Dehradun.
How Much Cost of Paragliding?
Short flight that last for one minute is generally around INR 600. 15 minutes flight costs INR 1600 onwards and long flights that span for more than an hour would cost more than INR 3000. The cost depends on the location, service operation, season and other facilities.
The short flight takes you up to 150 meter above the ground level for a maximum of 90 minutes. On an average, you would be above the ground for a minute. You will be given a two-seater glider and will be accompanied by a pilot-cum-instructor.
The high flight keeps you up for around 20 minutes. This is very common at Kothi, Bijli, Fatry, Mahadev and others. This should be chosen by experienced paragliders.
Long flights will glide you for more than an hour and is strictly for experts.
Travel Tips of Paragliding
Choose a service, which includes an experienced instructor-cum-pilot.
Do not overpay any service provider because his service has extra-special safety equipment. Any registered service provider should have the safety options declared by tourism department and there is no such thing called 'special safety equipment'.
Ask pilot to show his registration license. Choose a service operator who is registered with the tourism department.
Bad weather can be dangerous for paragliding. Always choose a day with clear sky.
Stick between 9 am and 5 pm for paragliding.
Must Read: India's 10 Best Summer Destinations for Perfect Vacation
What to Wear at the time of Paragliding?
If you are choosing winter, always carry gloves, jacket, sweater, monkey cap and wear thick clothing. It will be very cold during winter. Wear thick clothes and have a thin sweater if you are visiting during summer.
Explore 8 Days – Shimla Manali Kullu Tour which also includes the paragliding at Solang Valley
Suggested articles:-